Few days ago, we wrote a post about 10 Creative and Functional Chopstick Designs which got heated response. Today, we will continue our exploration of those creatively designed tableware and present you with 12 Creative and Unusual Fork Design. They either have some special function or have unusual looking or full of fun. You might find them useful or just crazy…
1. Wrenchware Tableware [link]
The perfect flatware set for the mechanic! 3-pc. set includes a fork, spoon and knife with unique handles - one has a box wrench, one a pliers jaws and one an open-ended wrench. It's dinnerware with real flair!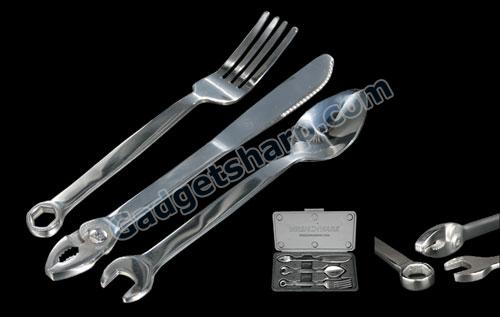 2. LightWARE cutlery - LED Forks Are Here [link]
lightWARE cutlery is a heady combination of silver, crystal and LED lights. With a silver head and engraved crystal body, the least you expect from a cutlery is to emit soft colorful lighting. At the tip is a removable silver cap that hosts the LED and a watch size battery. Giving the adage ?Silver Spoon? a totally luminous meaning, I reckon this will be a hit during the dating season!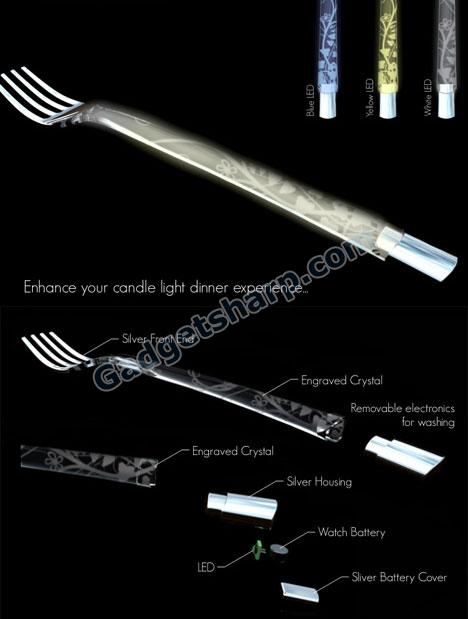 3. Constructive Eating 3 Piece Kids Utensil Set [link]
his award-winning utensil set includes the Fork Lift Fork, Bull Dozer Pusher, and Front Loader Spoon and all are designed with function and play value in mind. Textured, easy grip handles and detailing allow little hands to hold on tight. Even the youngest child will animate our construction machines with their true to life color, scale and shape. These utensils can be used for every meal; each is rugged, light weight, and dishwasher safe. They are great when going out to eat, trying to extend productive eating time at the table, encouraging those not-so-favorite foods, or just for fun!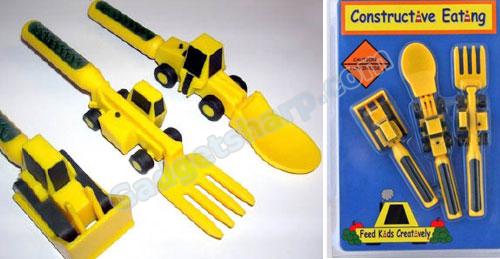 4. Din-ink Cutlery Retools the Bic-Pen [link]
If you associate the affordable and ubiquitous ?Bic pen? with disposable, throw away office culture ? think again, as Zo-loft design has added a whole new dimension to desktop utility. Their ?Din-ink? series of Bic pen style tops allows you to instantly convert your writing tools into ready made cutlery. With one easy step that trusty chewed-up pen of yours can become a sleek spoon, fork, or knife for that classic dining ?al desko? experience.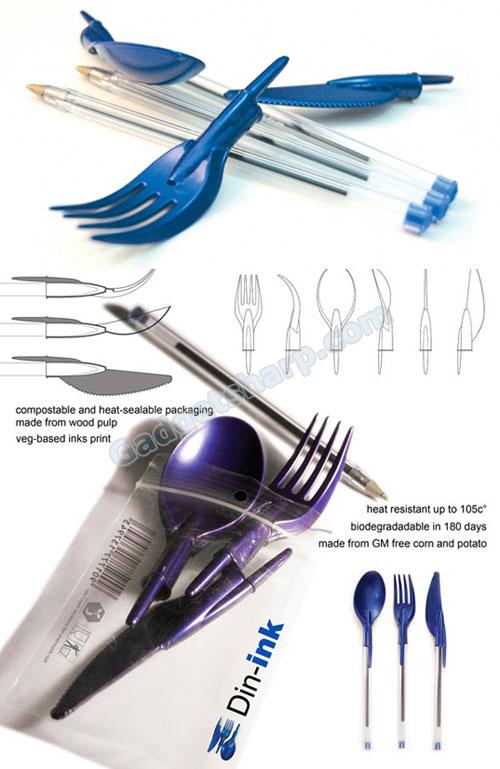 5. Nyfork [link]
Slice and Eat Pizza with One Utensil!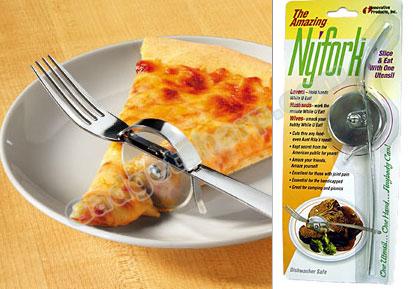 6. forked up [link]
it?s a bottle opener, it?s a fork, it?s a dessert topping. OK we lied about the dessert part.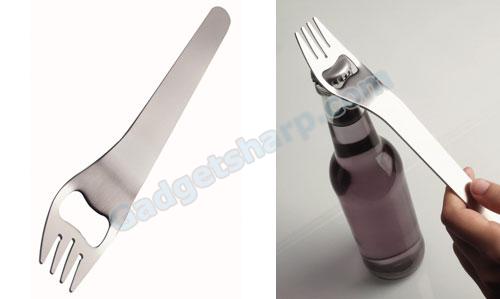 7. Digital Thermometer Fork [link]
Prepare the perfect Thanksgiving turkey, Christmas ham, or summer BBQ briskit with this digital fork meat thermometer from Treasure Cove. The Easy-to-read LCD display can help you avoid embarassing undercooked or overcooked holiday meals by instantly displaying to you the doneness of beef, lamb, pork, chicken and turkey.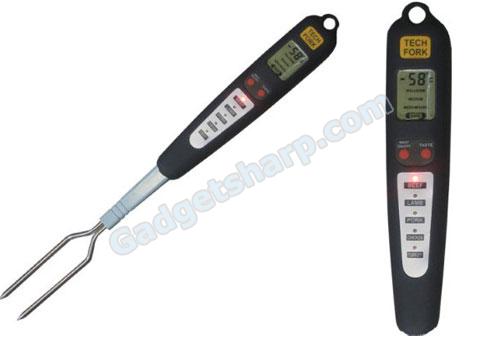 8. Pasta fork set [link]
Believe it or not, there truly is a better way to eat noodles! Calamete is a uniquely designed Japanese fork modification made especially for spinning your favorite noodles with ease due to its projecting ?thumb? piece that simulates a hand. Perfect for any spaghetti or other long noodle lover.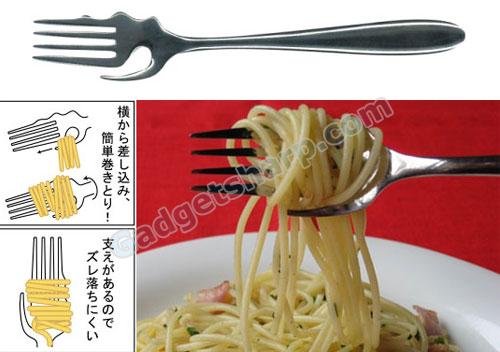 9. A silver oyster fork [link]
A double ended oyster fork/knife, the blade to separate the oyster from its shell and the fork for eating it, based on a late eighteenth century prototype by Abraham Barrier.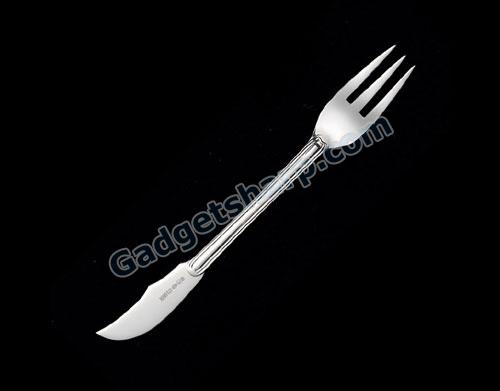 10. Finger Forks [link]
No more sticky fingers! Feel like Edward Scissorhands as you stab at your party food delights. These stainless steel finger forks are ideal for buffets and parties. Good fun and great to use!
Sharp enough to pierce your food but not enough to skewer your other fingers!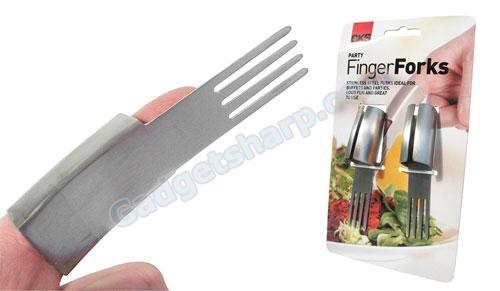 11. Titanium Spork [link]
The Titanium Spork is ready for the challenge. Titanium is known for its great strength, corrosion resistance, and light weight, which makes this spork a valuable asset around feeding time. Imagine how much more food you could shovel in at your local buffet if you didn't have to worry about the strain of picking up a heavy fork or spoon. Your food consumption can become the stuff of legends.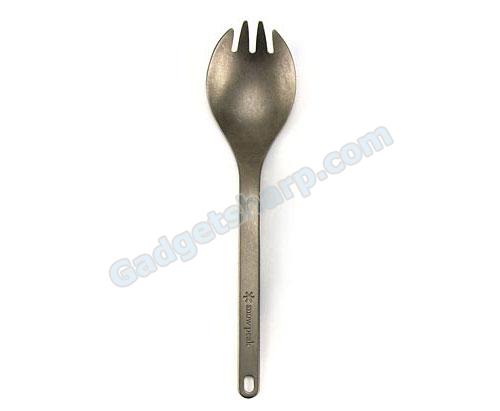 12. Skeleton hand serving forks for Mignolian diners [link]
There is no better way to serve up your traditional Halloween salad than with this pair of skeleton hand serving forks. Beside giving you the lovely feeling of being almost cannibalistic, those skinny little fingers look like they do a fine job of picking up almost any kind of food. Their usefulness should get rid of some of the irrational fear you have of skeletons.