Summer time and BBQ time. Are you ready to host your backyard BBQ party and be a BBQ master? We rounded up a collection of useful tools and gadgets which can simplify your preparation, perfect your food as well as add more fun in your BBQ party. Hope you enjoy!
1. BBQ Apron Tote [link]
The red BBQ set, It is cool. Shoulder tote with deluxe barbecue set, made of 600D polyester canvas. The BBQ Apron Tote is perfect for the grill master in all of us. Inside which you will find a deluxe BBQ set that includes a mitt. I think add a red hat is good, I don't know it is included or you buy one.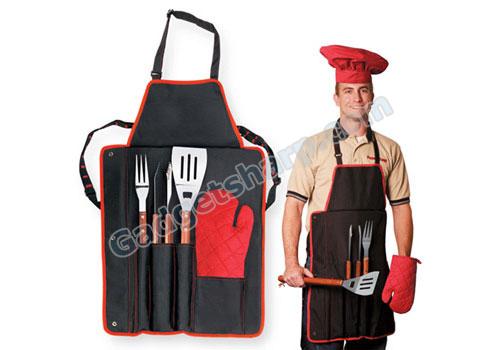 2. The Grillslinger Sport [link]
Don't want wear apron? Here is the awesome belt has the same function
The Grillslinger Sport Box set includes:
* Grillslinger Sport Tool Belt
* Two Lock-and-Load Washable Inserts
* Speed Tongs
* Pro-Flipper (Spatula)
* Insulated Beverage Cooler
* Twelve month warranty on the quality of your Grillslinger Sport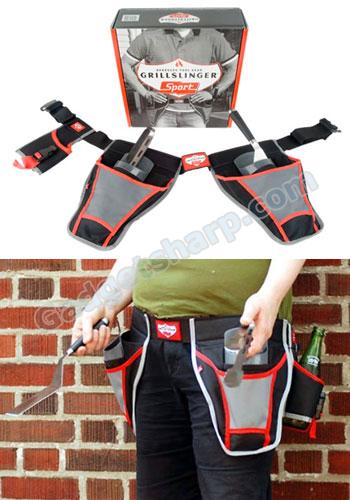 3. Barbeque Basting Bottle Brush [link]
Keep your hands clean and away from heat with our Barbeque Basting Bottle Brush. This hassle-free bottle not only control the flow of sauces, it is also easy to clean. Don't worry about shedding because the heavy-duty silicone bristles won't burn or shed. The plastic bottle holds 13.75 fluid ounce. Brush withstand heat up to 550 degree Fahrenheit. Dishwasher safe.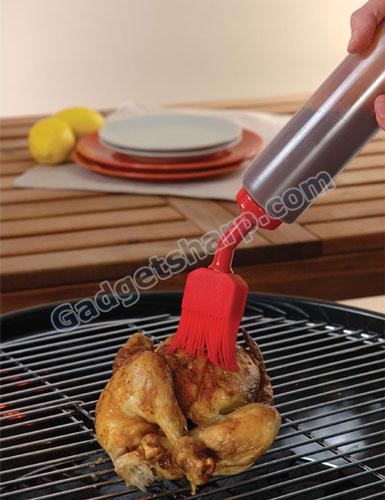 4. Notebook Portable Flat-Folding BBQ [link]
It?s a compact, folding barbecue that?s designed to be taken anywhere. It weights 4.0Kg. Now you just take it to where you choose and 1. Fold it out. 2. Fill it up. 3. Light it up.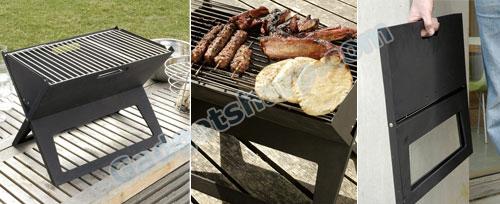 5. Digital Thermometer Fork [link]
Prepare the perfect Thanksgiving turkey, Christmas ham, or summer BBQ briskit with this digital fork meat thermometer from Treasure Cove. The Easy-to-read LCD display can help you avoid embarassing undercooked or overcooked holiday meals by instantly displaying to you the doneness of beef, lamb, pork, chicken and turkey.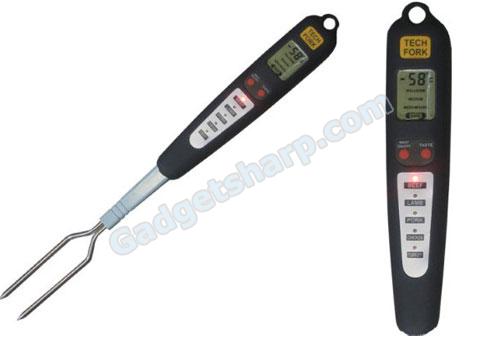 6. Digital BBQ Tongs [link]
Fork is not enough? Here is another helpful BBQ tongs with built-in LCD display. This digital BBQ tong look like a half-decent accessory for what little there is left of Summer. Sensors in the tip measure the meat?s internal temperature and sound an alarm when it?s ?done? according to one of the seven meat-type presets you?ve selected. It of course also includes a built-in LED flashlight for grilling in the dark or during a solar eclipse, and runs off 2xAAA batteries which are actually included.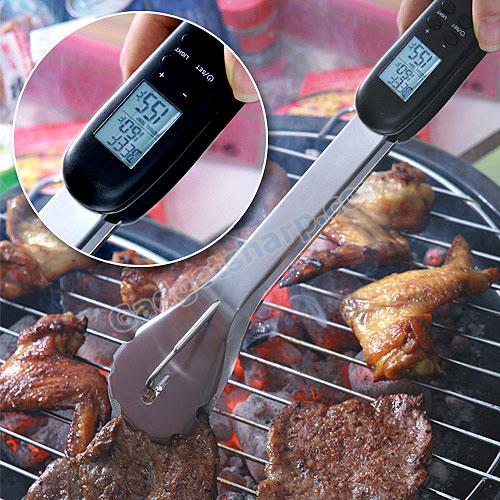 7. Gourmet Corn Grilling Set [link]
The set comes with a non-stick corn basket and has settings for adjustable height and is furnished with a rosewood hand. This heavy duty corn grilling basket will hold up to 4 ears of corn. The set also includes 8 deluxe corn holders and a rosewood basting brush.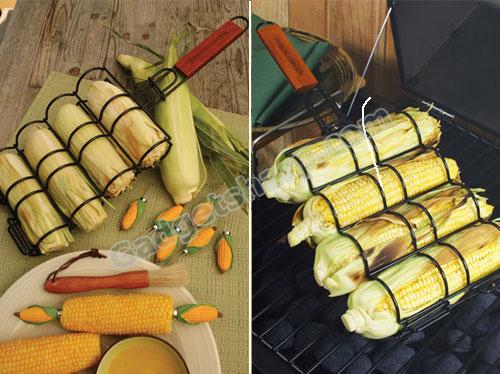 8. Reusable Steak & Poultry Button Thermometers [link]
With the Reusable Steak & Poultry Button Thermometers (set of 4), you will no longer have to yell at your kids whenever he/she cooks your steak the wrong way. Just plop the reusable thermometer inside your steak and watch as the gauge goes from Rare to Medium to Well. You got it right! It's as simple and easy as that. Hand wash recommended.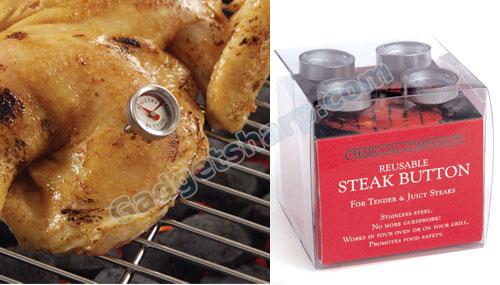 9. BBQ Branding Iron [link]
If your meats always stole by your friends, you will love this tool - BBQ Branding Iron. The BBQ Branding Iron allows you to brand your message(or your name) on your meat. You can customize two lines of letters, lock them and shove the iron in the barbie. Then hot brand your meat'C phsstt! Use it on steaks, chops, chicken, burgers or even (gasp!) tofu. A good idea, I love it!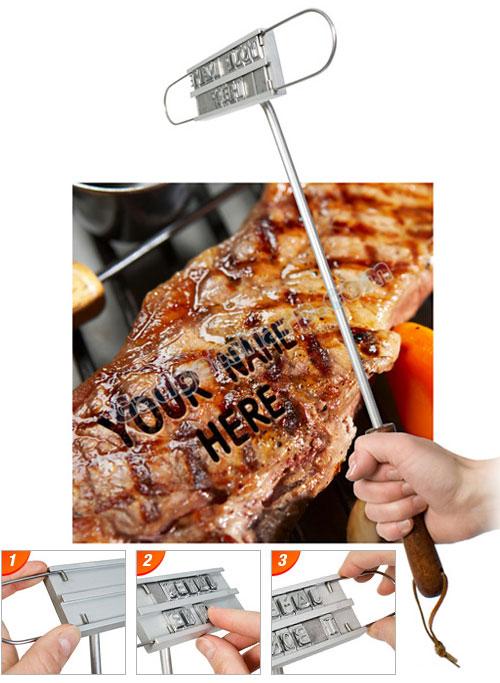 10. Trongs - Finger-food Utensil [link]
The folks at Trongs sent us some Trongs to try out and they are great. It takes less than a minute to get used to the usage of the utensil, best of all you just open your fingers to take them off. Wing night will never be the same again.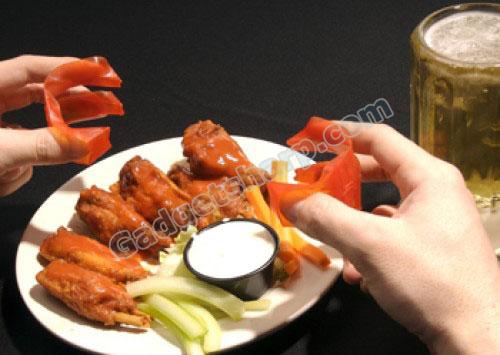 11. CONDIMENT GUN Picnic BBQ sauce Gun [link]
This brilliantly ridiculous sauce dispenser looks just like a comedy cartoon six-shooter and it?s ideal for anyone who loves squirtable condiments such as ketchup and mustard.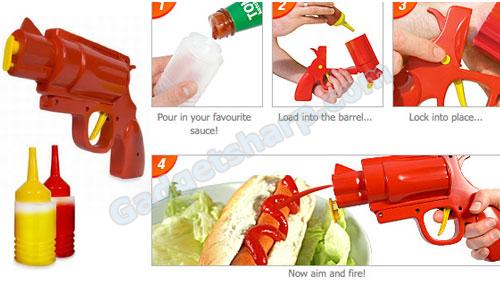 12. Remote Control Beverage Buggy [link]
As with the BBQ Condiment gun, the remote control beverage buggy requires no license, though it may require some modification if you intend to drive it on the road!
By using the radio controller, you can effortlessly guide your desired drinks to their destination with a minimum of fuss and spillage.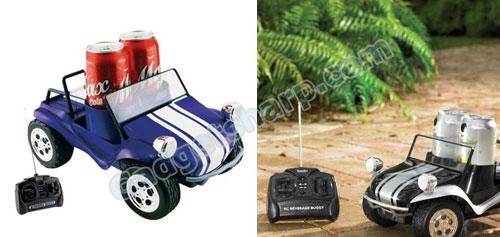 13. Double Head Scrubber Grill Brush-Short Handle [link]
Last but not least… the useful utensil helps you clean your grill.
Take half the work out of maintaining your grill with this Double Head Scrubber Grill Brush-Short Handle. The brush features mesh pads made from hard-wearing stainless steel and comes with 2 refill mesh pads - enough to last you all season. This will easily clean all left over food and charcoal. Safe for porcelain grills.