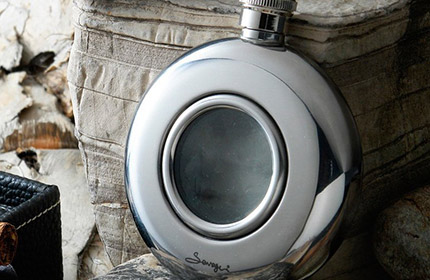 There is only one week away from Father's day. If you haven't got your gift ready, check the Cool Glass Front Stainless Steel Hip Flask featured in this post. A truly sleek round personalised hip flask with a screw top, highly polished finish. With a glass window, so you can clearly see how much precious cargo have left in the flask! The stylish hip flask is made from highly polished pristine stainless steel giving it a tough durable finish, and it is a great size to fit into any pocket, bag or clutch.
Read More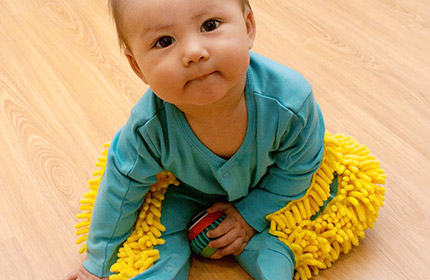 Built out of 100% cotton, called "Baby Mop", this comfortable baby wear is a unconventional tool that can help your floor cleaning task if you happen to have a baby crawling around at home. The onesie made of ultra-absorbent mop microfibres is the secret that it enables your kids to be a big contributor in your chart of daily chores. And it is said you don't need to worry about harming your kids by making them wear one, since it is super cozy and actually keep your baby happy while they crawl around. Sounds like an interesting idea, but how practical it is? That's your decision.
Read More

Your baby needs a lot of sleep, however, they are so easily waken up especially they are on road. Sleepy hat is designed to solve the problem. Designed with safety in mind this hat is completely breathable, super soft and 100% organic cotton, you can feel good about putting it over baby's delicate skin and eyes. The white convertible beanie with shutting eyes has that cuteness in design and helps to block light and visual stimulation out, giving your baby a restful sleep.
Read More

The fatboy Bunny is a huge beanbag with measuring an impressive 83-inch by 59-inch! Covering with 100% soft, stonewashed cotton, it is super comfortable. Sit on its leg, lean on its belly … simply find your favorite cuddly spot on your bunny. Available in four colors: orange, brown, lime green and grey. A really amazing item that's sure to be a hit with the kids and a BIG talking point with guests.
Read More

Do you ever worry about your plant when you are on vocation? If you do, then you should check this "Boskke Cube", a clever self-watering planter you only need to water once a month! The cool Boskke Cube has a transparent body which not only reveals the water, soil, and roots of the plant, but also provides a large water reservoir, and the Slo-Flo watering system allows water to feed up into the soil, keeping your plant healthy and watered for extended periods. To water, simply fill the outer reservoir with water and the permeable terra-cotta disk at the base of the inner pot will allow it to soak in over time to self-water. Coming with two versions: one cube or three cubes.
Read More

If you are bored with your current old shot glasses? Designed by Christopher Cordingley, this cool new Shot Glass Crawlers […]
Read More

Find a little dull at home? Want to add some life to the space? Maybe, it is time to have a little aquarium at home. Coming with three sizes (4 gallons, 8 gallons and 16 gallons), the biOrb Aquarium combines the looks of a traditional fish bowl with the performance of a 'hi-tech' aquarium. Its self-filtering system uses 5-stage method combining biological, mechanical, and chemical filtration, keeping water healthy and clear for months at a time. Made from crystal clear acrylic that is 10 times stronger than glass, the stylish, globe-shaped design will prove an eye-catching feature and silver trim looks great in home or office.
Read More

Hanaga Tap, the unusual nose-shape outlet is another crazy design from Japan-based design studio called ekoD Works. ekoD are known for their tongue-in-cheek approach to product design and this "nose" will transform your outlets into a body part you never expected to see sticking out of the wall! This funny nose plugs into a standard two-pronged outlet and things can then be plugged into its nostrils. What else it does? Humm, nothing. So why we need that? Just in case you want to add some fun to your electrical outlets. But anyhow, this is a fun, eye-catching and a bit creepy design. Available in three colors: pink, black, or white.
Read More