Whether finally becomes nice in North America and it is time for barbecue. There are so many things to prepare if you want to hold a BBQ party and impress your guest. To help you, we listed some cool grilling equipment and serving accessories here. Take a look and hope you find it useful.
1. Barbuzzo BBQ Branding Iron with Changeable Letters [amazon]
Cooking steaks and burgers to perfection is an art. The trouble is that, once they're done, they all look the same. The BBQ Branding Iron solves this problem. Serve your steaks and burgers with style and avoid mix-ups by branding your meat. Create your name or a message or say just about anything. Comes with 52 letter and spaces.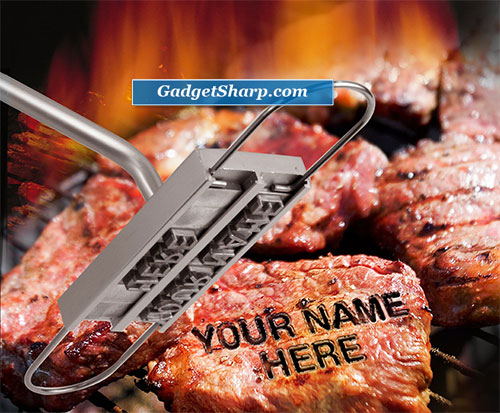 2. Koziol Small Talk Snack Dish [amazon]
The snack plate Small Talk is on everyone's lips at gatherings and parties. It's also a magic wand to mobility. Long stemmed glasses rest securely in the hold in its rim, so guests always have one hand free for meeting, greeting and eating! Perfect for parties, stackable and dishwasher safe. Not microwave safe. Measures 9.84 by 7.68 by 0.63 inches.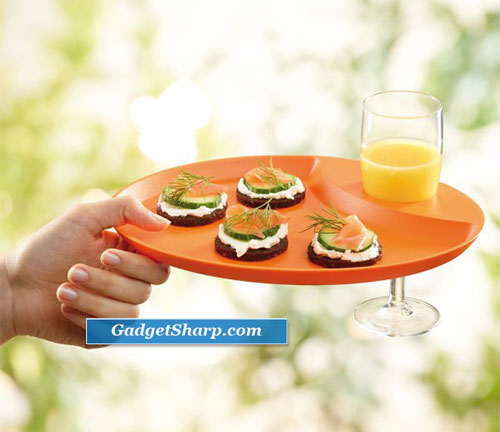 3. Progressive International HPM-1 The Perfect Burger Press [amazon]

This 3 piece to burger press helps you make the perfect burger every time. The set includes a removable dimple insert, a non-skid base and comfort grip pusher. The insert creates an impression in the center of the burger allowing it to cook more evenly and faster. Use the press without the insert to create all kinds of seafood burgers. Dishwasher safe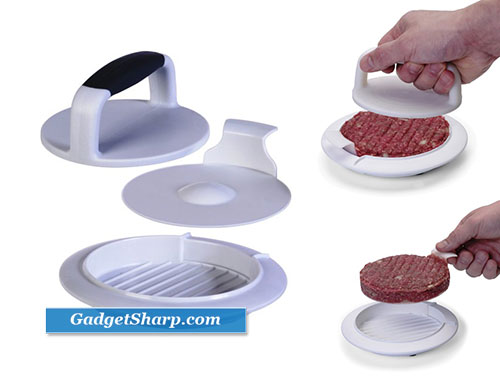 4. Picnic Table Condiment Set [amazon]

Grill-Set Picnic Table will provide the barbecue accessories necessary for adding a bit of spice. And, we?re talking about: salt, pepper, ketchup and mustard, with each having an appropriate container, which all are easy to fill.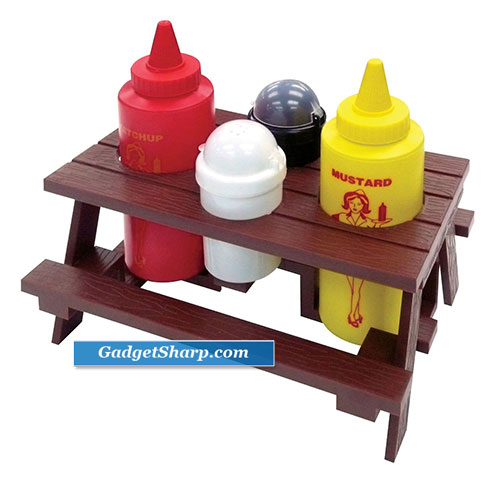 5. Prepara Ice Cube Forms Ice Pods Set of 4 [link]

Just open the forms and, according to taste, place mint leave, lime slices, basil, edible flowers, lemon slices or fruit pieces inside. Close each Ice Pod and through the colored clip on the top, simply pour in water, juice or any other liquid and then place them in the freezer. This is how you make colorful ice balls, based on your mood or taste, that will please the eyes as well as the palate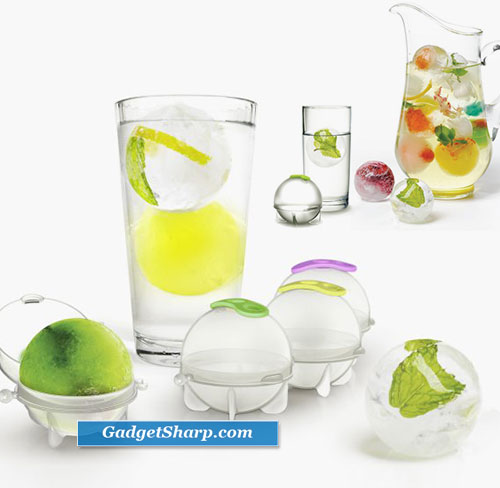 6. VinOice Wine Chiller [amazon]

Cork Pops VinOice Wine Chiller keeps chilled wine at the perfect drinking temperature for up to one hour. Prior to use chill rod in freezer for 30 minutes. Pour one glass of chilled wine before inserting VinOice unit into the bottle of wine. Attach the chilled rod to the top pouring unit. Insert assembled chilled rod into the bottle by placing your thumb behind hinge and firmly grasp the VinOice rod. With our gravity pour feature, simply tilting the bottle forward allows wine lid to open.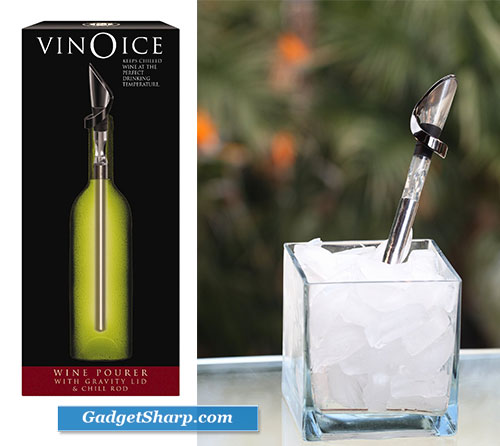 7. La Fiesta Grilled Taco Rack [link]

Warm tacos on the grill without worrying about them falling apart in our grilled taco rack! This innovative taco holder fits four hard shell tacos and is perfect for a small dinner party or fiesta with your amigos (friends). This taco rack features two side handles for easy lifting and placing on the grill and four individual sections. Just assemble your tacos, place in the taco holder, and warm on the grill! La fiesta grilled taco rack is made of grill-safe metal and measures 14? (including the handles). Taco rack alone measures 10??. Not dishwasher safe. Rack will become hot when on the grill; use caution when handling.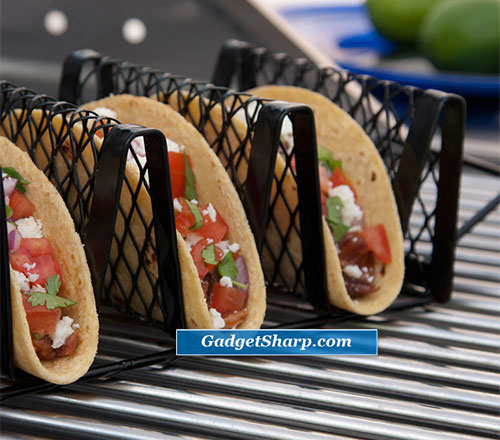 8. Kitchen Art Ham Dogger [amazon]

Now you can please both the hot dog and hamburger lover. You will never have to buy two kinds of buns when you have Kitchen Art Ham Dogger. The Ham Dogger is easy to use and makes 1/4 lb. hot dog shaped hamburger patties. Make specialty dogs using ground sausage or turkey.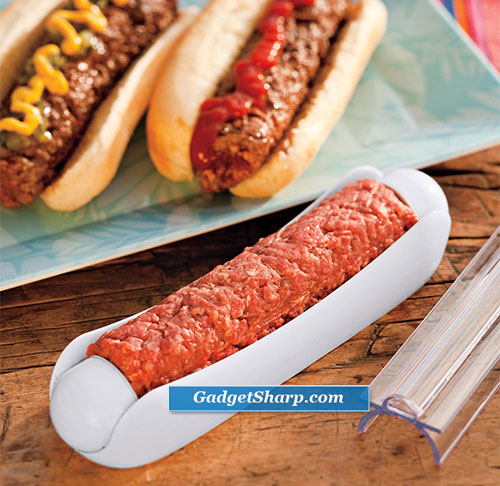 9. Vegetable Grill Clips [link]

If you really love grilled asparagus and other similar singular vegetables, but tend to fling them or drop them into the flames when flipping, then you need these cool new Vegetable Grill Clips. Although they may look like stainless steel clothespins, this set of four handy grill clips are designed to keep individual portions of asparagus, green onions, zucchini slices, etc. organized and easy to flip on the grill.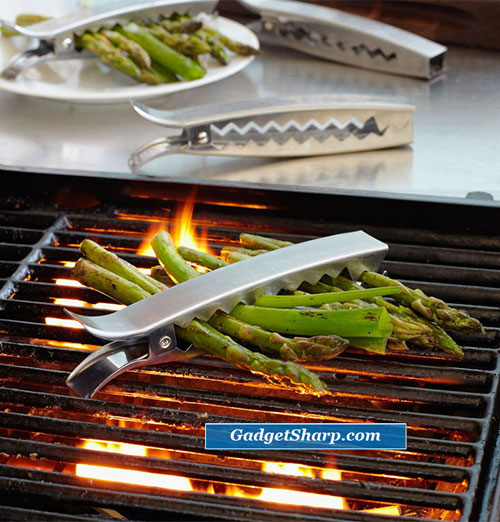 10. Slide and Serve Skewers [amazon]

Make your cookouts a knockout success. Sliders is a set of 4 double-prong skewers that keep food securely on while grilling. The ceramic sliders stay cool enough to touch and guide food off easily when you?re ready to eat. These are so simple to use that everyone can just focus on the cuisine and each other.