Food storage is useful to keep your food fresh and organized while storage options are not all alike. Introduce color and convenience into your kitchen and kitchen shelves with our selection of food storage. Let's create a stylish, unique and artful look into your kitchen and keep your provisions fresh and in style.
1. Lekue Fresh Silicone Storage Bag [amazon]
Keep your food fresh and organized in these versatile silicone bags by Lekue. The 1 Liter bag can be used for hot or cold food, you can reheat it. freeze it, or use it as a storage unit. The surface features a writeable label that you can write on again after washing. Bags are dishwasher safe.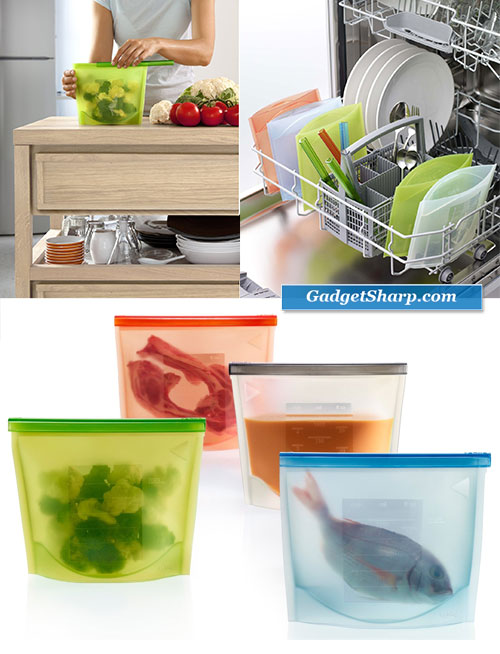 2. Zevro Smartspace Food Dispenser [amazon]
Zevro's Indispensable Dispenser SmartSpace Edition features space-saving, contemporary design. Convenient storage and portion control distributing 1 ounce per twist. Allows for as-needed dispensing, keeping food sanitary and germ-free. Suitable for dry foods, and designed to preserve freshness for up to 45 days. Canisters are made of scratch-resistant and shatterproof materials. Each canister holds 1 liter or 13 ounces of dry food.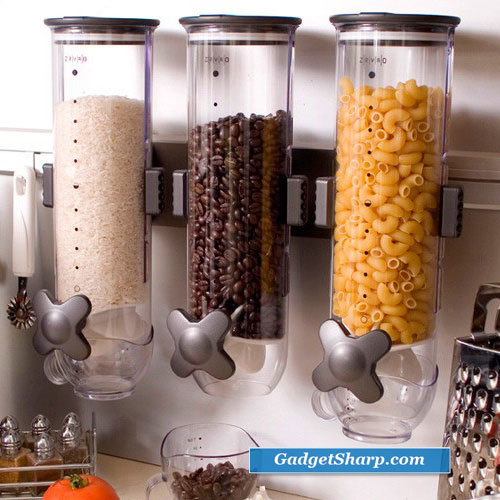 3. Pourable Canisters [amazon]
Three Piece Set includes: 1.5 qt., 1.75 qt., and 2 qt. canisters Elegant Form for counter display Grip neck for comfortable handling and pouring These cansiters were inspired by the timeless design of sake bottles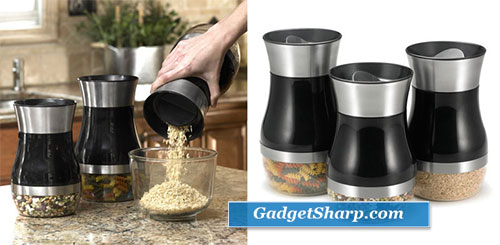 4. Vacu Vin PopSome Nuts/Candy [amazon]
The Vacu Vin PopSome Nuts and Candy is a convenient container that pops open to pour and serve and then seals again for storage. The flexible lid pops up to pour out candy or nuts so hands and germs never touch the food. Push down to close the lid and the patented Oxiloc system creates an airtight seal after use.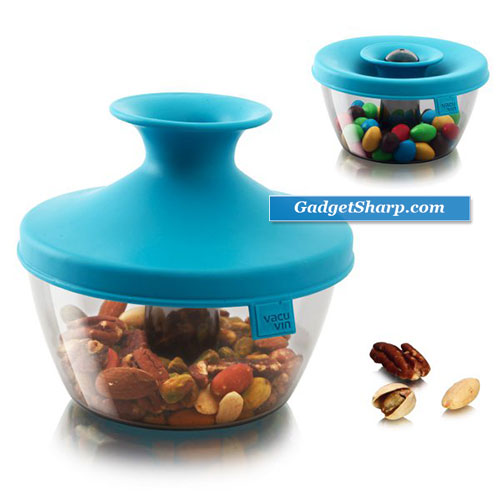 5. Spaghetti Tower [amazon]
Spaghetti Tower - the smart dispenser Cap can be opened to 4 different openings Determining the amount of dispensed spaghetti Dispensed amount ranges from 1 to 4 portions Made of plastic, dishwasher safe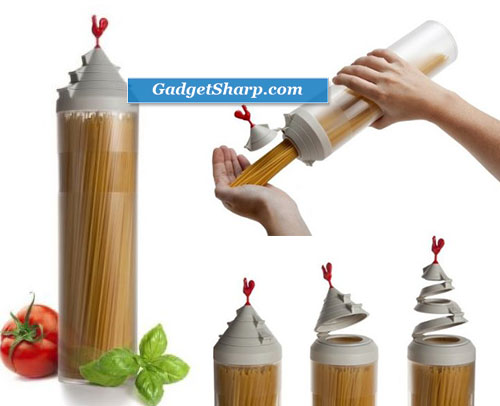 6. Polder Stainless Steel Window Canister Set with Lids [amazon]
Keep flour, oats, coffee grinds, sugar, and other essential kitchen staples fresh in these attractive canisters from Polder. The three-piece set canisters with a sleek, durable, stainless steel design that complements any kitchen decor.
Product Measures: 10.1" wide x 6.5" long x 6.4" tall/deep Features: 3-piece set includes 2-Quart, 3-Quart, and 4-Quart window canisters Constructed in 18/8 stainless steel; acrylic windows allow users to check contents and supply level at a glance Airtight lids keep ingredients fresh and safe from pests or water Dishwasher-safe; hand drying prevents water spots for enhanced beauty