For the foodie who is always making snacks, snack-making appliances are an amazing time-saver. With the help of those devices, you can easily create soft pretzels like the ones found from concession stands or cook delicious donuts holes and other pastries at home without even turning on an oven. With easy-to-use dessert makers, even children can create their own delights such as miniature cotton candy confections and bowls full of popcorn. These appliance are fast and fun, which allow you to make delicious snacks without fuss and mess.
1. Cuisinart EasyPop Hot Air Popcorn Maker [amazon]
Pop healthier popcorn with hot air! The Cuisinart EasyPop Hot Air Popcorn Maker is exceptionally easy to use. Kernels go into a popping chamber ? no oil is required ? and hot air sends up to 10 cups of popcorn up and out the chute right into a waiting bowl. And it all happens in less than 3 minutes!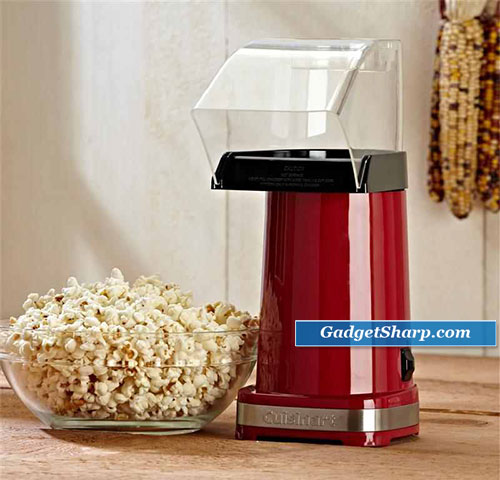 2. Snacks on a Stick Maker [amazon]
Why wait for the carnival to roll into town to enjoy unique and delicious snacks on a stick? with Nostalgia Electrics SOS-600 Snacks on a Stick Maker you can now make those same mouth-watering treats anytime right in your own kitchen These treats are as fun and easy to make as they are to eat and are great for parties, holidays or any day of the week. Cook up to six snacks on a stick in just 5-8 minutes. Follow the included recipes, or create your own scrumptious snacks.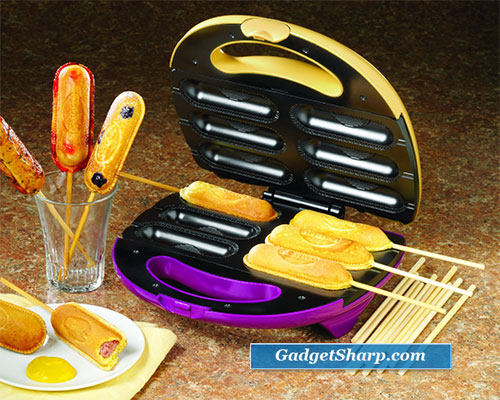 3. Cotton Candy Maker [amazon]

The best part of the big top comes to your kitchen. Your favorite sweet treat takes center stage with the in-home convenience of this cotton candy maker, which uses only easy-to-find ingredients for a quick family fun.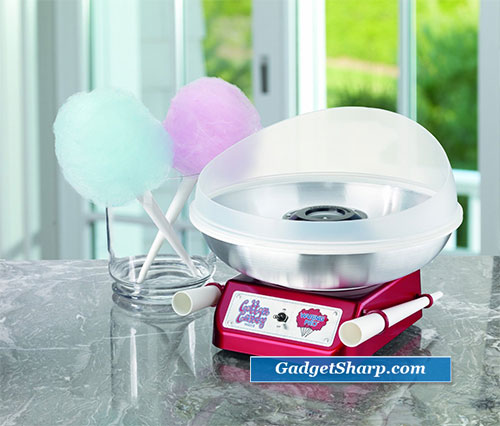 4. Soft Pretzel Maker [amazon]

The Nostalgia Electrics SPF200 Soft Pretzel Maker produces tasty, soft pretzels like the ones found from concession stands right in the comfort of your own home! Make two large pretzels or six smaller ones in just minutes. Make pretzels from the included recipes or purchase store bought dough. Best of all, no oven necessary! Make them sweet or savory and try them with favorite dips. Soft pretzels are great for snack time, party time or anytime!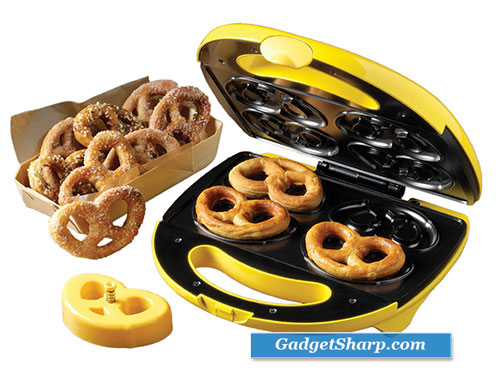 5. Babycakes Nonstick Waffle Maker Makes 4 Heart Waffles on Sticks [amazon]

Bake 4 individual heart shaped waffles in minutes. The waffles are extra fun and cute on sticks. Try a favorite topping or dip the waffle in chocolate for a sweet treat. The nonstick coating makes baking and clean up fun and easy. The Babycakes waffle maker comes complete with all the accessories you need to bake these fun heart shaped waffles. The manual includes a variety of tips and recipes that will help you enjoy the baking experience. The waffle maker features power and ready lights, convenient cord wrap, latching handle and it comes with 50 wooden waffle sticks, a metal shaker and a batter measuring cup.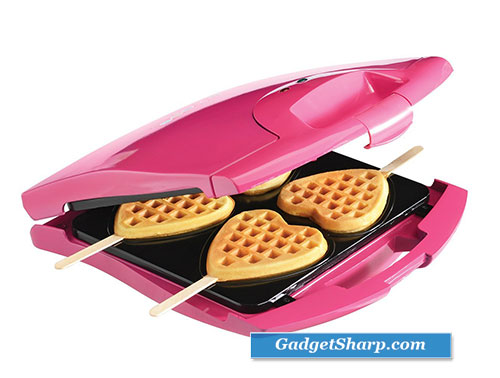 6. Cake Pop & Donut Hole Bakery [amazon]

Now you can cook delicious donut holes and other pastries at home without even turning on an oven. Make jelly donuts, puff pancakes, mini cinnamon buns and more. It?s great for snack time, party time or anytime! A handy injector is included to give your donuts a variety of fillings such as jelly, cream or caramel. Delectable appetizers and h?ordeuvres are ready in minutes. Use your imagination and have fun!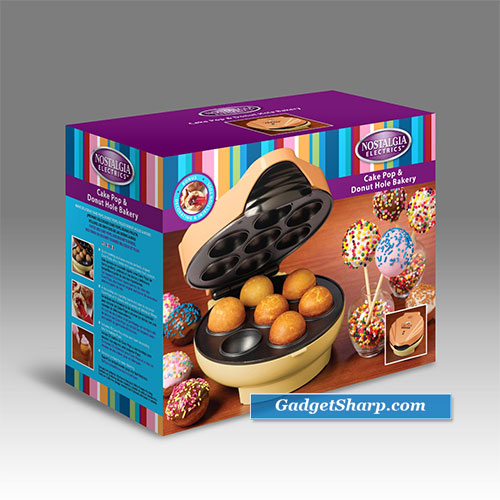 7. Fortune Cookie Maker [amazon]

Uniquely designed fortune cookie shapes Creates 2 delicious fortune cookies in minutes Power & ready to bake lights indicate that the fortune cookie maker is on and heating Includes Fortune Molder and Fork for easy removal Non-stick plates make clean up easy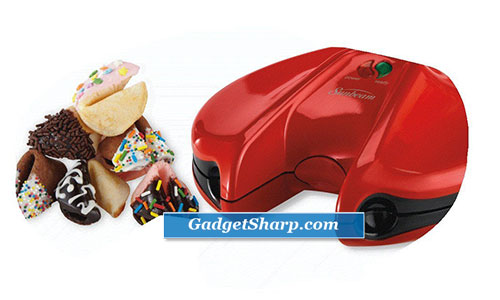 8. Smart Planet CDM-1 Corn Dog Maker [amazon]

Bake carnival-style corn dogs, cheese on a stick, pizza on a stick, snickers on a stick and more. No messy frying. Just plug in and go. Enjoy healthier, tastier corn dogs and more. Simply prepare your favorite batter, dip, bake, and enjoy!
9. 3-Tier Chocolate Fondue Fountain [amazon]

This fountain features a 3-tier plastic tower with a stainless steel base. It works as good as it looks, carrying melted white or brown chocolate from the base to the top of its tower with a powered auger. Give any event the feeling of a "catered affair" by providing your guests with fresh strawberries, marshmallows, pretzels, and other goodies to dip into the flowing chocolate.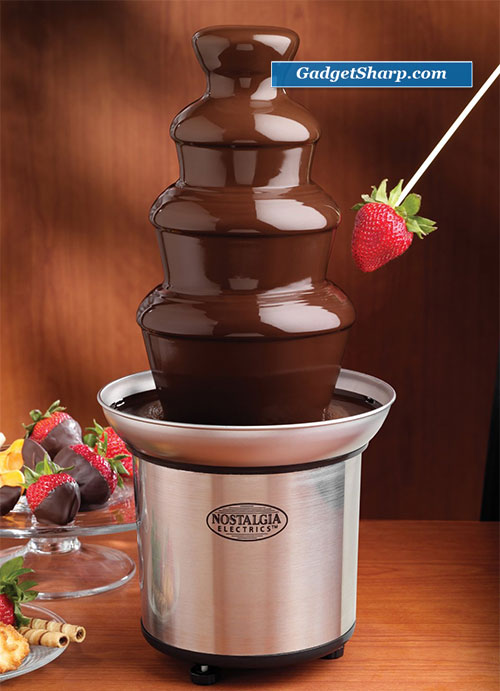 10.Sunbeam Cupcake Maker [amazon]

Cupcake maker bakes up to 6 cupcakes in just 10 minutes Cupcake-shaped housing; domed lid with easy-lift handle Power/ready indicator lights offer added convenience Nonstick cooking plates for effortless cake removal and quick cleanup Measures 10-4/5 by 10 by 6-4/5 inches