People who prepare foods in their home kitchen usually need a scale to aid them in following recipes, but no one wants another large appliance that clutters the work area, or costs them too much. In this post, we will present you with 17 well designed Kitchen Scales, which can help you weight your food in different measures. Some of them also come with bonus functions like nutritional calculator, food storage, clock and timer. Just thought that would also be a great gift for food-loving friend of you.
1. Salter Digital Nutritional Scale [amazon]
Salter Dietary scales are specifically designed for better portion control.The 1450 analyzes the nutritional content of your food by portion size. The scale has 1440 foods and liquids programmed into it plus room for 100 additional foods or recipes of your own choice. The 1450 calculates calories ,protein,carbs,total sugars,total fat, fiber,sodium,chloresdterol,net carbs,and GI value for the 1400 programmed foods and liquids.You can record daily food intake and set dietary goals,then review your progress.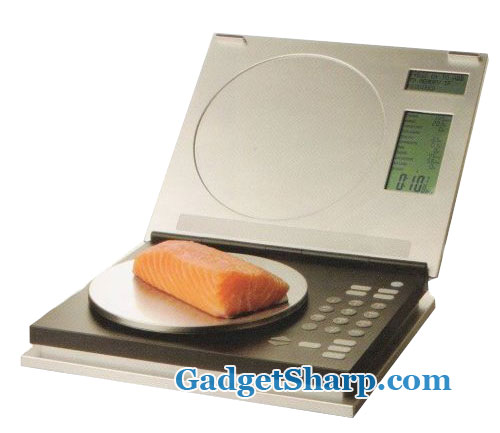 2. Polder Gourmet Add'N'Weigh Scale, 5-Pound [amazon]
Enter the Polder Add 'n' Weigh Scale, which offers function at minimal cost. The scale weighs in 1-ounce increments and measures up to 5 pounds, and ingredients can be weighed consecutively without removing them from the bowl–ideal for basic cooking and kitchen needs. The clear, detachable, and dishwasher-safe bowl makes cleanup easy, plus the scale has a chrome finish and needs no batteries.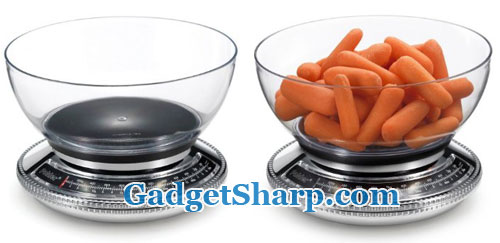 3. Salter Aquatronic Glass Electronic Kitchen Scale [amazon]
A sleek stainless-steel base and glass platform make this electronic scale slim enough to slip in a drawer and elegant enough to leave out on the kitchen counter. Food can be weighed directly on the glass weighing platform, or you can use any bowl you want. The Aquatronic features a special design that weighs liquids as well as solids, in the same bowl if desired, up to 11 pounds/175 fluid ounces (5 kg/5000 ml) in precise 1/8-ounce/fluid-ounce (2-g/2-ml) increments.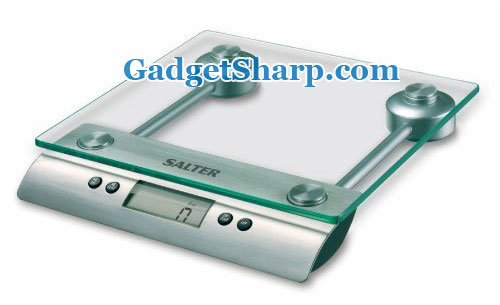 4. Oxo Good Grips Food Scale with Pull-Out Display [amazon]
User-friendly food scale with convenient pull-out display; 11-pound capacity
Measures in 1/8-ounce (imperial) and 1-gram (metric) increments for greater accuracy
Zero function allows for zeroing scale; thin profile for easy storage
Indicator displays how much capacity is left on scale; optional backlight
4 AAA batteries included; 11-1/4 inches by 8-1/2 inches by 2 inches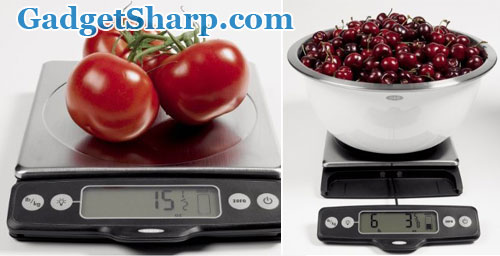 5. Salter 16-Ounce Food Scale with Storage Container and Lid [amazon]
This 16-ounce diet scale is ideal for anyone who needs to weigh small quantities of food for dietary or medical reasons. It is also ideal for weighing baby foods and for travel. It has a dual purpose storage container with snap-on lid with the scale fitting inside for compact storage. Extra precise 1/4 ounce and 5 gram increments, it measures in ounces and grams. It has a clearly marked easy to read dial and the bowl is dishwasher safe. 10 Year warranty.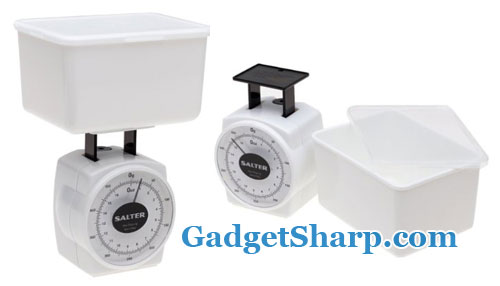 6. Ozeri Touch II Professional Digital Kitchen Scale [amazon]
Features advanced touch sensitive buttons for easy operation, and large LCD screen that displays weights in pounds, kilograms, grams, and ounces (lb/oz, kg/g, fl.oz., ml)
Boasts a tempered glass surface in reflective black that is 4 times stronger than normal glass, and an award-winning thin design.
Equipped with 4 new high precision GFX sensors, the Ozeri Touch Digital Kitchen Scale provides accurate measurements from 0.1 oz to 11 lbs (1 gram to 5250 grams).
Precision Tare features calculates the net weight of the ingredients (automatically subtracts the container weight to calculate the weight of the ingredients being weighed).
Includes 2 Lithium Batteries and an Easy Access Battery Compartment (no screwdriver needed).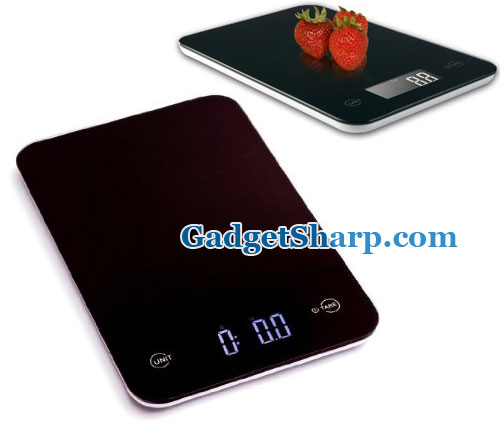 7. Escali 115P Pennon Multifunctional Scale [amazon]
Capacity: 11 lb or 5000 gram
Measures in ounces, pounds+ounces or grams
Accurately measures in 0.1 ounce or 1 gram increments
Tare feature subtracts the container's weight to obtain the weight of its contents
Removable top makes clean-up fast and easy
8. Perfect Portions Digital Scale + Nutrition Facts Display [amazon]
Calculates weight plus % Daily Value for calories, fat, carbohydrates, cholesterol, sodium, fiber and protein.
Unique design creates a Nutrition Facts label adjusted to your actual portion size
Perfect for monitoring calories, carbs, sodium, sugar or cholesterol; saves totals for daily or weekly tracking
Built-in database of 1999 foods plus 99 customizable food entries
Easy-to-clean, stylish glass design with hygienic touchpad keys.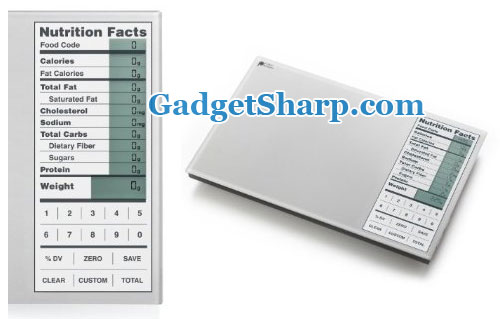 9. Soehnle Digital Kitchen Scale [amazon]
Extravagant design. This designer object in brushed matte silver finish and glass will certainly make a statement in our kitchen. The gram to ounce conversion is conveniently located on top of the scale. This scale offers small graduation (.05oz) and high load capacity up to 9 lbs. 15 oz.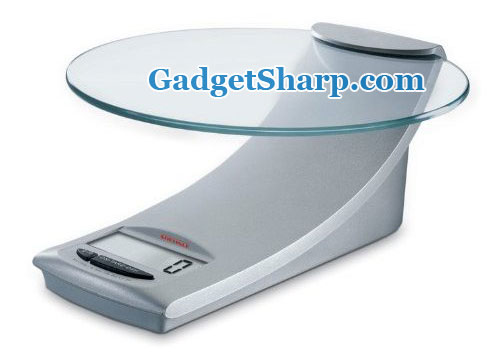 10. Multifunction Digital Kitchen Scale w/ Extra Large LCD and 11 Lb. Capacity [amazon]
Easy to use multifunction home scale - Perfect for cooks, dieters and families
Max weight 11lbs; Displays ounces/lbs/grams/kgs; Graduation .05 oz / 1 gram
Includes FREE EatSmart Calorie Factors guide - Portion control and calorie counting made easy!
Tare feature eliminates the weight of a plate; 3 Minute Auto-Shutoff lets you prepare ingredients while maintaining battery life
2 AAA batteries included; 100% EatSmart Guaranteed Satisfaction
11. Polder 77-90 Diet Utility Scale [amazon]
Sturdy white plastic construction
Large bowl with pour spout
18 oz capacity for your basic needs
Reads in 10 g increments
Calibrating wheel for recalibration when needed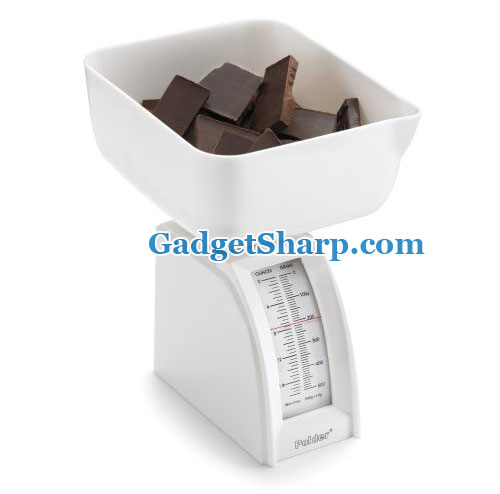 12. Kitrics 3 in 1 Scale [amazon]
Functions as a clock, timer and a food scale
Large, easy to read digital display
Weighs in grams or ounces
Auto power off, runs on 2 AA batteries, included
Maximum weight 2000 g / 72 oz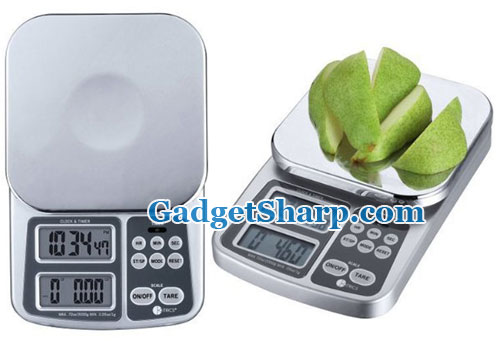 13. NewLine Space Saver Digital Glass Kitchen Scale [amazon]
Unique wall mounted or countertop design with 12/24 hour clock and thermometer display. Wall mounted display and platform for easy storage and access. Easy to read large digital display. Weigh directly onto platform or adjusts for use with a bowl or container with the tare function. Metric/imperial conversion. Capacity: 3kg x 1g increments / 7lb x 1/8oz increments. capacity (fluids): 3000ml x 1ml increments / 105fl oz x 1/8 fl oz increments Auto and manual shut off Graduation:1g/2g CE & RoHS approved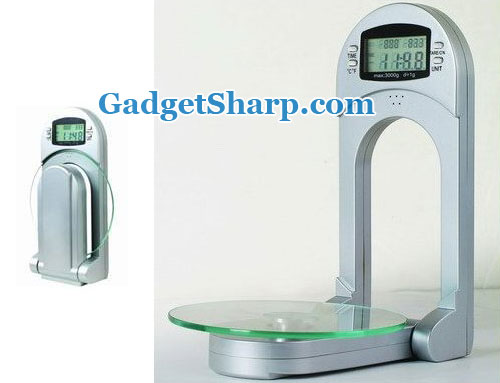 14. GSI Electronic Digital Portable Circular Fancy Kitchen Scale [amazon]
High Precision Strain Gauge Sensors System, With Large LCD Display, Measures In Grams And Ounces
Tare Function; Measures The Actual Weight Of Load Minus Empty Plate Or Carton Etc.
Weight Capacity; 5 Kg = 11 LB's - Over Load Indication - Low Battery Indicator - Automatic Shut Off
Ideal For Professional Cooks, Or For Weighing Portions, Medicines, Liquids, Powders Etc.
Compact And Beautiful Tempered Glass Platform Material, Easy To Clean And Maintain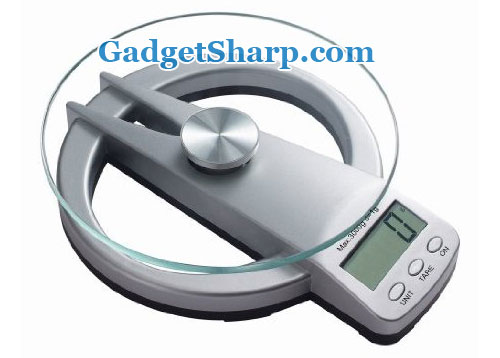 15. Kitrics Digital Nutrition Scale [amazon]
Computes: calories, calories from fat, carbohydrates, protein, fat, saturated fat, fiber, sugars, cholesterol and sodium
User can easily create and store up to 99 customizable food code entries
Includes information for 1999 foods, totals daily nutritional intake to help achieve health goals
Weighs in grams or ounces, high precision +/- 1 gram/0.05-ounce, weighs up to 72-ounce / 2000 gram
Auto power off, runs on 2AA batteries, included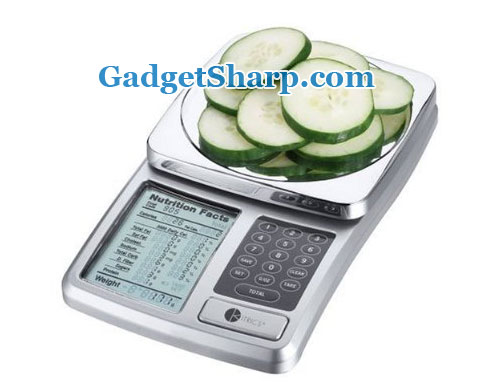 16. Taylor Digital Measuring Cup and Scale [amazon]
The first digital measuring cup and scale combination. The unit measures in weight and volume as the recipe dictates.The 3890 digitally weighs dry ingredients as well as liquid ingredients. Preprogrammed to convert weight to volume for water,milk,oil,sugar,and flour. The weight capacity is 4.4 Pounds (2kg). The volume capacity is 1 liter. The unit weighs in increments of mililiters,cups,fluid ounces,grams,and pounds. The plastic measuring cup runs on one long life Lithium battery(included) The easy to read LCD readout is in the molded handle.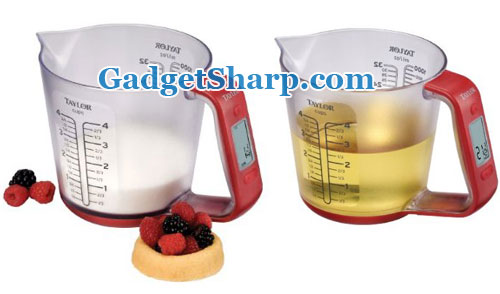 17. Admetior Digital Spoon Scale [amazon]
Digital spoon scale in red measures both weight and volumes for precise cooking results
Accurate, easy-to-read digital display works in grams and ounces
Includes two spoons: 3-tablespoon scoop and a 1-1/2-tablespoon scoop
Convienent gradation markings for volume measurements
Long lasting batteries included; removable spoons are dishwasher safe