You are looking for a suitable present for a hobby cook or a gourmet? No worries ? you?ll be well advised with our selection below. In this collection, we prepare 7 cool gift ideas - from baking to cooking, from cutting to serving. Any of them will be a prefect gourmet gift.
1. Chili Mill Pepe [amazon]
The Pepe Chili Mill by AdHoc speaks a powerful visual language: For Chillies Only!
The mill has a special cutting mechanism, which has been exclusively designed for the optimal grinding of dried chillies. Pepe is simply wonderful to handle. It is also characterized by its exceptional and elegant acrylic and stainless steel design.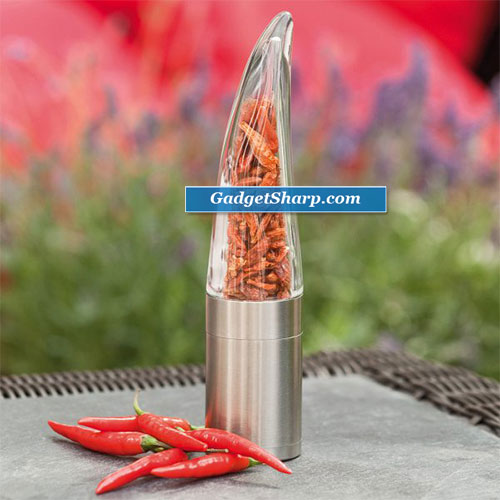 2. Home Made Cookie Stamper [amazon]
Imprints cookie with 'home made' Removable silicone rubber stamp for easy washing Wooden handle Stamp measures approximately 2.8-inches diameter Announce where your cookies came from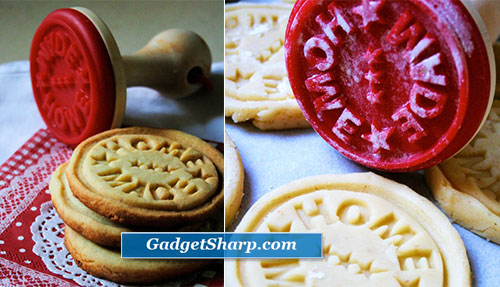 3. Chopping Board Set [amazon]
Chopping board categorization system with four large colored boards Color coding system: red for raw meat, blue for seafood, green for veggies and white for cooked foods Illustrated tabs provide at-a-glance reminder; stainless steel storage case with a non-slip base Boards are stored in staggered order for visual ease Boards are made from polypropylene; dishwasher safe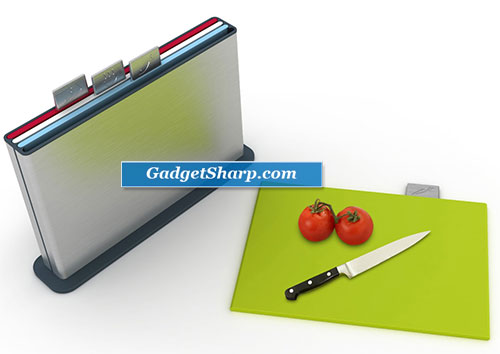 4. Eva Solo Smiley [amazon]
This hand-blown glass bowl is smiling at you. And that?s precisely why this bowl is named Smiley. What makes Smiley so special? It?s actually two bowls in one: an outer bowl and an inner bowl.
Bowl Smiley is so versatile. It is original and practical, especially as a snack bowl. Take nut shells as an example, they can be conveniently placed in the cavity above. Or, you can serve two different snacks at the same time and by using the same utensil… There are so many different ways to use Bowl Smiley!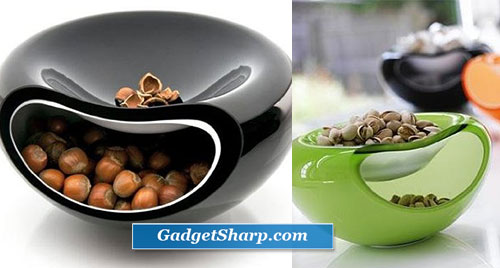 5. Pipette Glasses Set with Tray [amazon]
An attractive bowl that when combined with two of our pipette glasses makes an innovative plat-de-m?nage The exciting boat shape of the bowl and its weightiness make a decorative feature and protect the table top from drips Use our new plat-de-m?nage for oil and vinegar for salads, maple syrup and honey for breakfast or pesto and truffle oil for Italian dishes. The pipette glasses are perfect for all situations where a drop or two of extra flavor can make all the difference
6. Elevate Carousel Set [amazon]
7-Piece set includes a spaghetti server, slotted spoon, ladle, slotted turner, solid spoon, flexible turner and rotating storage stand Tools are heat-resistant up to 480-Degree F; ideal for use with nonstick cookware and bakeware Weighted handles elevate heads above surfaces to improve hygiene and eliminate messes Soft grips in assorted colors offer comfortable and stylish use; gift-boxed Dishwasher-safe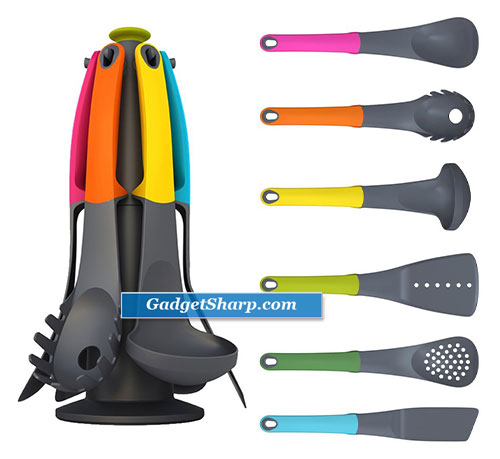 7. Carving Set Bamboo & Melamine [amazon]
Refined serving regardless of dish or occasion. Use the melamin tray with stylish curved sides, the durable banboo board and the white china dish separately or as a complete set. Used together, the tray and bamboo board are transformed into an elegant carving set that collects the meat juice in the tray without dripping onto the tablecloth. Keep cold dishes fresh by placing the smart cooling element in the freezer and then placing it between the tray and the china dish. Enjoy!