Though cookies are irresistible on their own, good use of a cookie cutter always adds a little something extra. Cookie cutters, especially seasonal ones like pumpkins, ghosts, snowflakes and autumn shapes, are so fun and versatile, it?s almost impossible not to incorporate them into your preschool holiday crafts! From Pac-Man cookies to Ninj posture, it won?t be too difficult to find an awesome cookie cutter after going through these fabulously shaped confections listed in this poster. So, forget the rule "don't play with your food", with these creative cookies cutter, you can play with your dough without any guilty.
1. Fred & Friends Ninjabread Men Cookie Cutters [amazon]
Fred & Friends Ninjabread Men is an innovatively designed cookie cutter set. The 3 different cutters are in classic ninja attack poses. Baked they are extremely funny and lend themselves to imaginative decoration possibilities.
2. Harold's Kitchen Leaf Cookie Cutter Set [amazon]
This set of 7 leaf shaped cookie cutters is perfect for Halloween, Thanksgiving, or any autumn celebration. Constructed of solid tin, the cutters vary in size and shape but are generally about 1 1/2 inches wide by 2 inches long. Each cutter resembles a different type of leaf and they fit conveniently into the handy storage container. They're also great for creating attractive steam vents in the top crust of pies.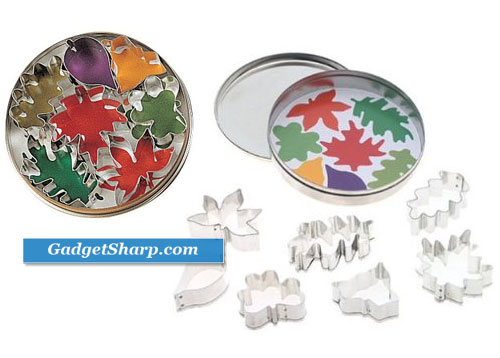 3. Fox Run Fairy Tale Cookie Cutter Set [amazon]
Add a little fun to your next princess party with this 6 piece fairy tale themed cookie cutter set from Fox Run. The shapes include a castle, frog prince, tiara, magic wand, princess shoe and princess cone hat. Perfect for cutting out cookies, sandwiches, jell-o or brownies.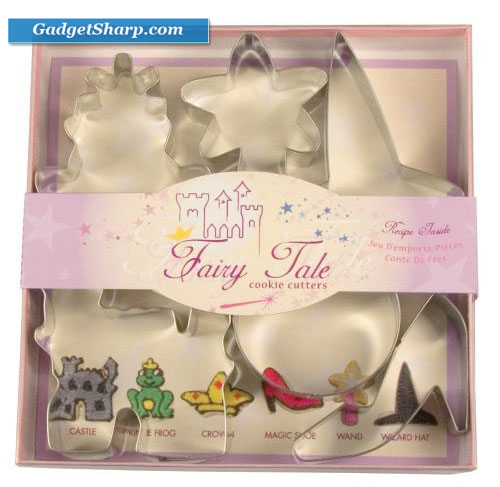 4. Fox Run 6-Piece Flower Cookie Cutter Set [amazon]
Set contains six flower cutters along with a storage tin
Cookie cutter sizes range in size from 1 5/8 Inch to 3 7/8 Inch
Made of tinplated steel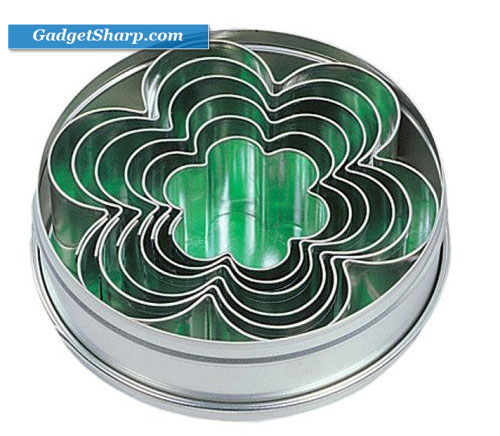 5. Harold's Kitchen Feet Cookie Cutter Set [amazon]
3 piece set
3 sizes- 3.5", 2.5" and 1.5"
Great for cookies, biscuits, and mini cakes
Comes in an oval storage tin
Fun foot shapes!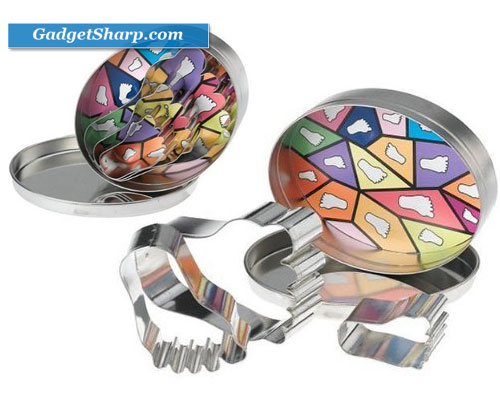 6. Christmas Holly 7 Piece Color Cookie Cutter Set [amazon]
High Quality
Unique Shapes
Shapes hold during baking
Handwashing recommended to prolong the life of the product
Fun for crafts too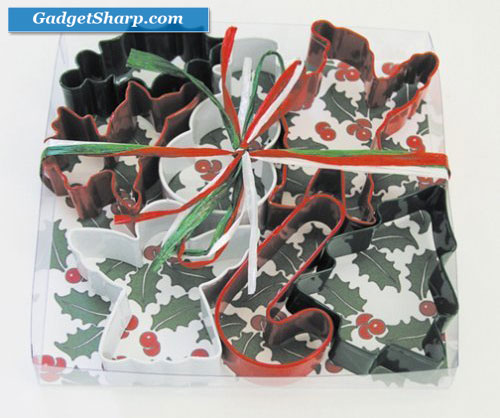 7. Wilton Fondant Alphabet Number Cookie Cutter Cut Outs [amazon]
Fast and fun
Great for any occasion
Easy to make 3D shapes
Stainless Steel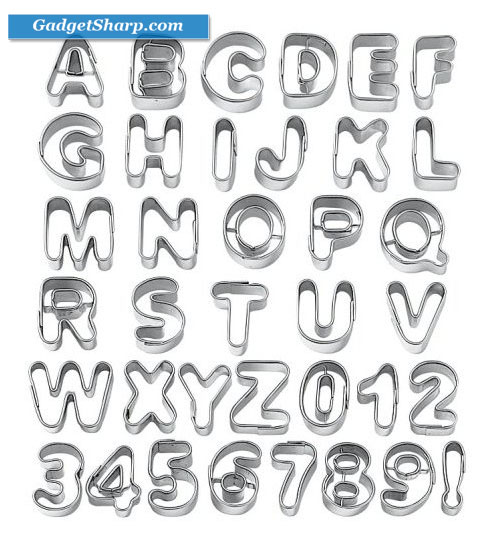 8. Fred ABC Cookie Cutter [amazon]
Set of 3 cookie cutters ABC = Already Been Chewed Each measures approx. 2.5" W x 3.5" L Made of luxurious cast aluminum with no seams or sharp edges Gingerbread recipe included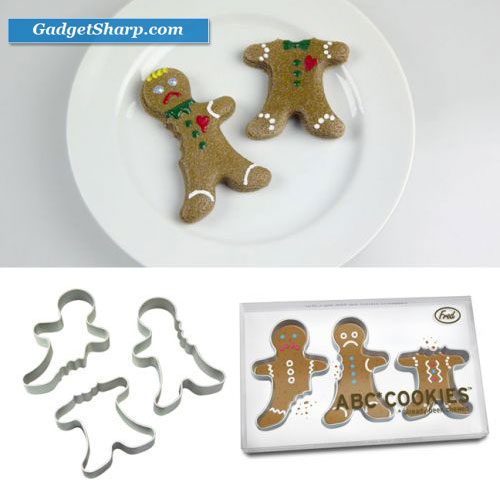 9. Snowflake Cookie Cutters [amazon]
3 tinplate snowflakes and 2 interior cutters
hand wash and dry
Make lacy cookies
Winter fun
fun for kids
great for crafts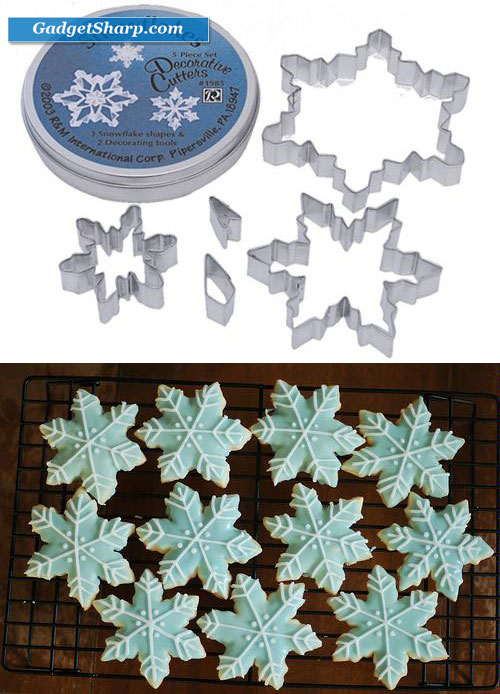 10. Jigsaw Cookie Cutter [link]
Little ones will love helping out in the kitchen with this exclusive, metal, jigsaw piece cutter. Especially as they?re allowed to play with their food! It provides endless fun for kids and is popular with adults, too. Imagine the effect of pieces running down the centre of a party table, or individual jigsaw piece biscuits being decorated with different children?s names.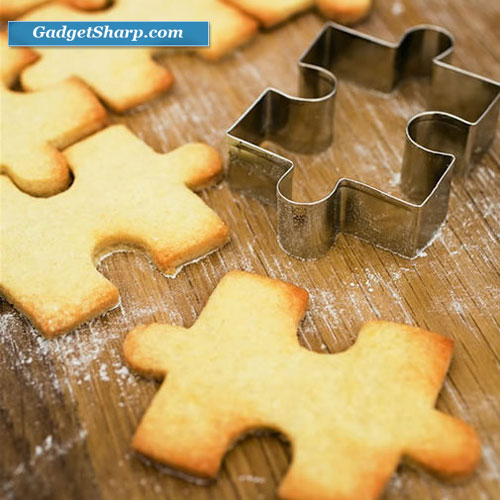 11. Kaiser Bakeware Heart Cookie Cutter [amazon]
Use to create unique cookies,candies, sandwiches and Jello
Cookie cutters conveniently nest for easy storage
Cookie Cutter ascends in size, offering you various looks
Fun for all ages
Perfect for year round

12. Labcutter Science Cookie Cutters [amazon]
Set of four metal cookie cutters
Designed to appeal to science geeks everywhere
Atom, Flask, Beaker and Test-Tube shapes!

13. R & M Heart in Hand Cookie Cutter [amazon]
Tinplate hand shaped cookie cutters with heart in center of palm.
Interior heart cutout
great for crafts
traditional motif
Traditional tinplate steel
sturdy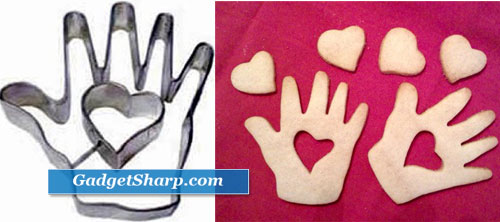 14. Pac-Man Cookie Cutters [amazon]
After so many years watching the big yellow circle eat the slightly smaller yellow circles, we've come over all hungry! Pack of 4 (one Pac Man and three ghosts) officially licensed plastic cookie cutters, shaped like the characters you've known for so long.