It is easy to buy cookies but making your own cookies are whole more fun, especially when you have some really cool cookie cutter to play with. In this post, we rounded up 7 Fun and Cool Cookie Cutters, from ninja to skeleton, from mustaches to sugar skull. And you also can create some 3D Safari animals and Dinosaurs. How fun it will be to make those cookies with family!
1. 3D Safari Cookie Cutters [amazon]
Bake your own 3D Animals; Cookie cutters in the shape of safari animal body parts Each pack includes a recipe to cook you animals to perfection Each pack includes cutters for the body parts required to bake a whole Animal There are 4 to collect (Elephant, Hippo, Lion & Giraffe); Please note they will be selected at Random Add some fun to your baking, turn your kitchen into the jungle and let your animals come to life
2. Gingerdead Men Cookie Cutter [amazon]
One gingerbread man cookie-cutter with skeleton impression Makes deliciously dead gingerbread men Durable ABS food-safe plastic Handwash only 5 inches high by 4.25 inches wide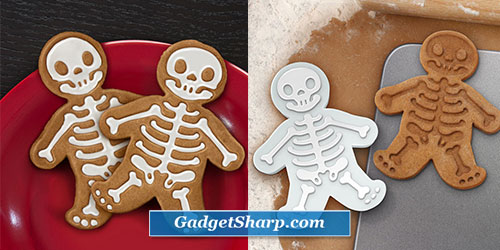 3. Ninjabread Men Cookie Cutters [amazon]

The 3 different cutters are in classic ninja attack poses. Baked they are extremely funny and lend themselves to imaginative decoration possibilities.

Oustanding ninja attack poses Each 4 by 3 inches Attractive packaging Cookie recipe included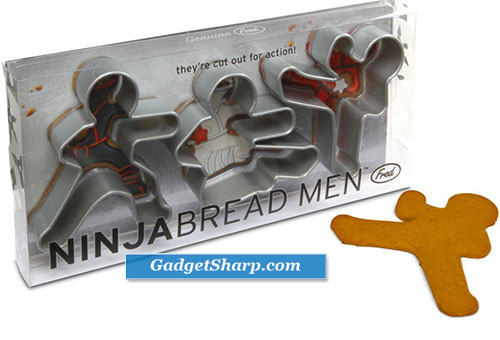 4. Munchstaches Cookie Cutter/Stamps [amazon]

Mustaches normally aren't very tasty, but that was before these cool new Munchstache - Mustache Cookie Cutters. Just roll out your favorite cookie dough, stamp it with an Imperial, Baron, Bristle Brush, Woolford, or Walrus munchtache cookie cutter, flip over to stamp in the whisker details and bake. A funny, weird and unique way to make well-groomed cookies.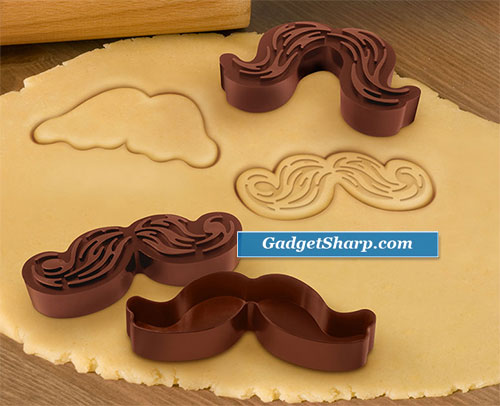 5. Sweet Spirits Cookie Cutters [amazon]

Mexican tradition encourages a healthy respect for relatives that have passed on, especially on the Day of the Dead, when the deceased are honored with sweet treats like sugar skulls!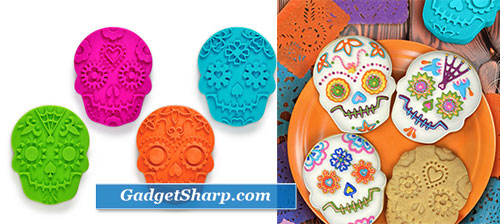 6. Heart Puzzle Cookie Cutter [amazon]

Set Cookie for Two consists of two heart puzzle cookie cutters that produce a whole heart shaped cookie from two halves.

Let your imagination run free as you design and decorate the cookie. Whether it?s for a wedding, Valentine's Day or even as a token of appreciation, this cookie puzzle will capture the hearts of all of those around you.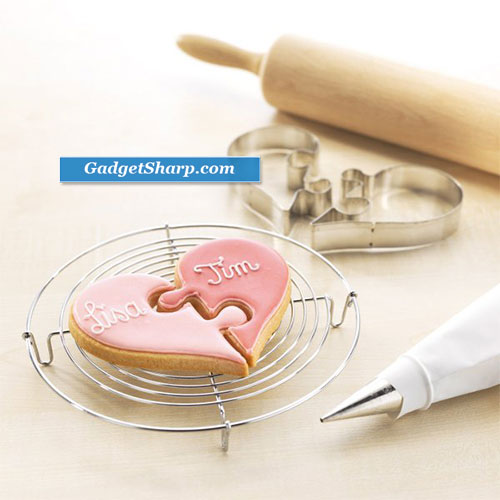 7. 3D Dinosaur Cookie Cutter [amazon]

Bake your own 3D dinosaur Cookie cutters in the shape of dinosaur body parts Slot cooked cookies together to make edible dinosaurs Each pack includes cutters for the body parts to bake a whole dinosaur Assorted Triceratops, Stegosaurus, Brachiosaurus and T-Rex, style chosen based on availability