Egg yolks and whole eggs store significant amounts of protein and choline, and are widely used in cookery. To make the egg cooking and serving more easy and fun, many utensils are invented, such as egg timers, toppers, cups and spoons, separators, piercers, slicers and wedgers, cubers, rings, and more. In this post, we will present you with 7 Egg Cooking and Serving Utensils, hope you find them useful.
1. Egg Yolk Extractor [amazon]
Sure you could just use the shell to help separate a yolk from the egg white, but if you're not skilled in this advanced technique, it could end up being a messy experience. With this Egg Yolk Extractor, simply place it over the yolk of an already cracked egg, squeeze the silicone chamber, and release to suck the egg yolk up into it. To dispose of its contents, just give Pluck another squeeze and move onto the next egg.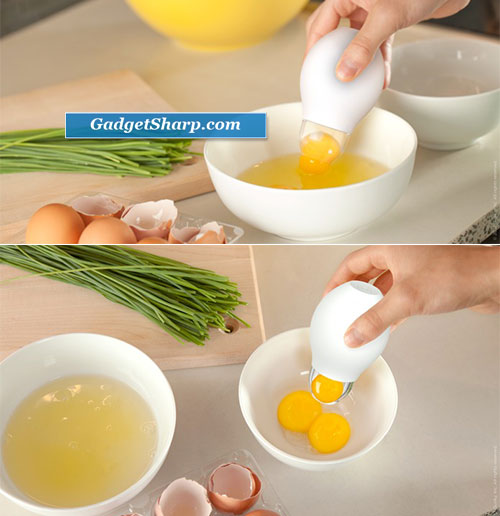 2. Egg Boiler Detlef for soft eggs [link]
PiepEgg is an egg-timer which cooks with your eggs! Breakfast eggs can't be cooked more easily and more precise! 'Cause PiepEgg is the (c)ultimative egg-timer which recognizes the temperature when the egg yolk is coagulating. Just cook PiepEgg with your eggs and a effectual melody signalizes when the wanted firmness is reached inside you eggs.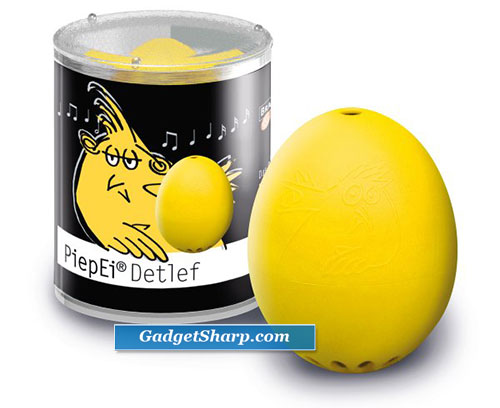 3. Rosle Egg Topper [amazon]
Cleanly cracks the top of the egg shell so that it's easily lifted off by hand or with a knife Works on both soft and hard boiled eggs Pull handle up and release, spring mechanism causes vibration and the sharp edge in dome perfectly cuts shell No more egg shells for breakfast 5.4-Inch length 1.8-inch diameter
4. Compact Egg Slicer [amazon]
Slice, wedge and half eggs and soft foods all in one tool Works with eggs, strawberries and mushrooms; place food in center of base and select one slicer plate Stores compactly in a drawer Non-skid base Dishwasher safe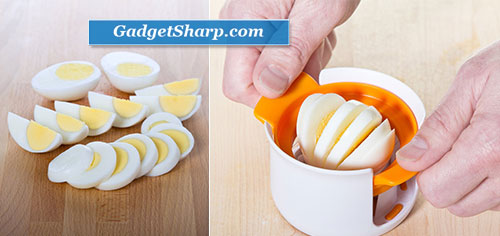 5. Shell-ebrate Egg Cup Set [link]
You?ll have time to make the rounds with a fresh carafe of coffee, check on the cake in the oven, and take your seat on the porch, before your guests are finished chuckling over these charming egg cups! Just break open a bottle of something bubbly, and let them get another giggle at the bright yellow feet that accompany each petite, rounded piece. Crafted from ceramics with a glossy glaze, this quirky quartet will lighten the mood, whether you?re hosting a birthday brunch or an early morning party for a friend?s recent promotion!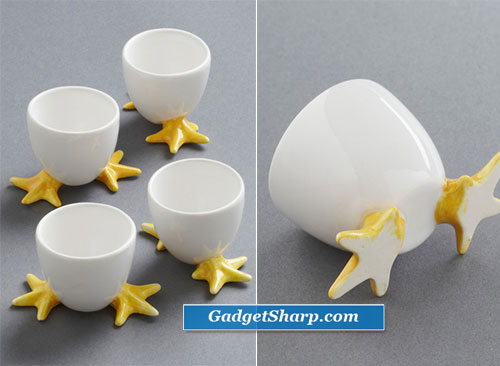 6. Egg Beater [amazon]
Smoothly rotating gears are enclosed for protection and easy clean-up Soft, comfortable, non-slip grips on turning knob and contoured handle Sturdy stainless steel Beaters can be removed for cleaning or for tasting Beaters are elevated and continue to work while device rests on bottom of bowl Base detaches from top and is dishwasher safe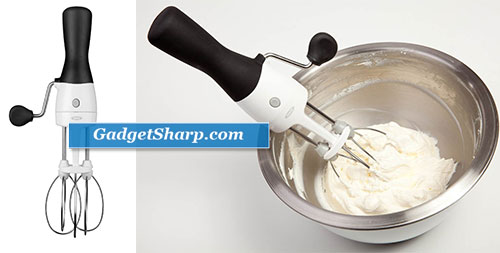 7. Fusionbrands 3-inch Silicone and Non-Stick Stainless Poach Pod Egg [amazon]
Modern non-stick egg poaching tool Made of stainless steel with non-stick coating; food safe silicone handles Egg poaching made easy; simply float poachpod and poach eggs in boiling water Set of 2; each piece measures 3-inch in diameter and 1-1/2-inch tall Dishwasher safe