With the holiday season approaching, lots of gifts need to buy and lots of party need to be prepared. Try to find something nice for your cooking lover friends or yourself? How about some nice Kitchen Linen Set including towel mitt, pot holder, towel and maybe apron. We believe those lovely and adorable set can add some more holiday flavor in the kitchen and people use them will be the shining chef. :)
1. Embroidered Snowman Kitchen Towel Mitt & Pot Holder Set [amazon]
This adorable Snowman kitchen set includes a kitchen towel, pot holder, and oven mitt, and is a perfect decoration for your kitchen this holiday season. The velvety-soft appliques embroidered onto the pieces feature a snowman selling snowflakes for 5 cents. Silver embroidered snowflakes and a tree appliqu? decorate the background. Pot holder and oven mitt are both lined with Neoprene rubber grip to prevent accidents in the kitchen. Towel measure approx. 26" long x 16" wide. Pot Holder measures approx. 10.5" x 7". Oven mitt measures approx. 13" long and 13" around at opening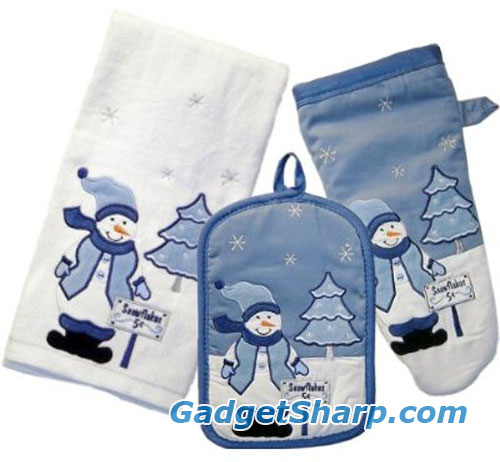 2. Chef Kitchen Set [amazon]
Coordinating kitchen accessories feature a light-hearted print of a plump chef dancing with glee in front of the village grocery, his glass of red wine at the ready. Includes: apron, floor mat, towel, oven mitt and pot holder. Brightens up your kitchen with a colorful splash of bistro-style ambiance! 100% cotton fabric (floor mat 100% polyester with latex backing). Machine wash cold; tumble dry low. Towel: 15" x 25" ; Apron: 25" x 17"; Floor Mat: 17" x 26"; Oven Mitt: 10 1/2" x 6 3/4"; Pot Holder: 6 3/4" square diameter. Set of 5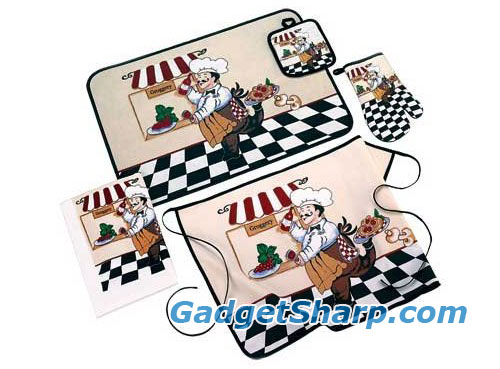 3. Psalm Kitchen Set Of 3 Oven Mitt Pot Holder Towel [amazon]
Lovely kitchen trio graces your kitchen with the Lord's blessing! Matching towel, pot holder and oven mitt feature beautiful pastoral graphics and a calligraphic verse of the 23rd Psalm. A delightfully humble demonstration of your devotion! Weight 0.59 lbs. 100% cotton fabric. Machine wash cold; hang dry. Towel: 18 7/8" x 31 3/4" long; Oven Mitt: 6 3/4" x 11" long; Pot Holder: 7 3/4" square diameter. Set of 3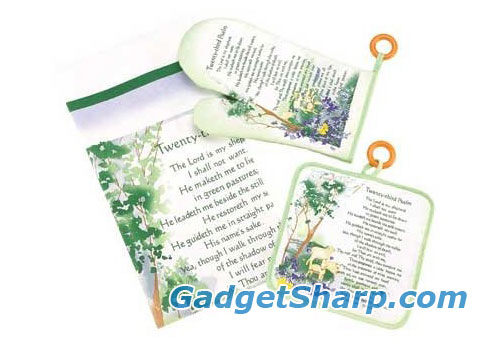 4. Wine Kitchen Linen Set includes TWO Kitchen Towels, One Pot Holder, and One Oven Mitt [amazon]
Set includes TWO Kitchen Towels and one Oven Mitt plus a Pot Holder.
100% cotton kitchen towels and Pot Holder are extra absorbent and printed beautifully!
Oven Mitt is 50% Cotton and 50% polyester with heat resistant lining.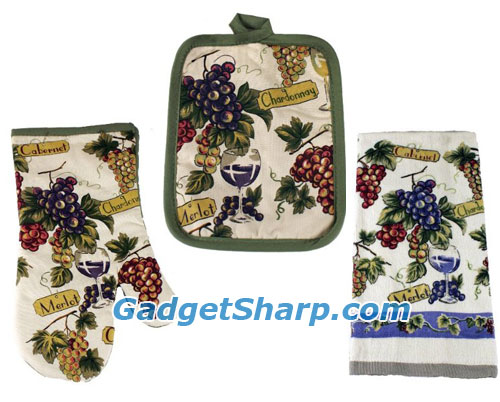 5. Waverly 2-Piece Oven Mitt and 2-Piece Pot Holder Set [amazon]
Coordinated decorating themes to reflect your unique taste and personality
Compliments your every mood and lifestyle
Utilitarian 100% cotton, ultra absorbent, durable and color safe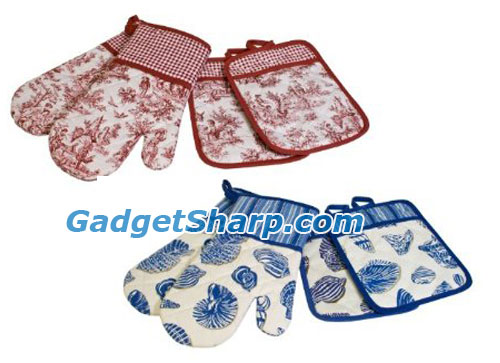 6. Kitchen Towel and Pot Holder Ming Red [amazon]
This vivid Ming Red towel and pot holder set will add a touch of drama to your kitchen. The stylish set is made of soft, absorbent 100% cotton terry cloth with canvas-like accents. The 4-pc. set includes 2 Ming Red towels with an attractive cross-cross design, 1 Ming Red glove pot holder with complementary oatmeal-colored trim, and 1 round oatmeal-colored potholder with red trim. Potholders have hanging hooks. Machine washable. Imported. Towels: 28Hx17-3/4W". Glove pot holder: 13Hx7-1/2W". Round pot holder: 10-1/4" dia.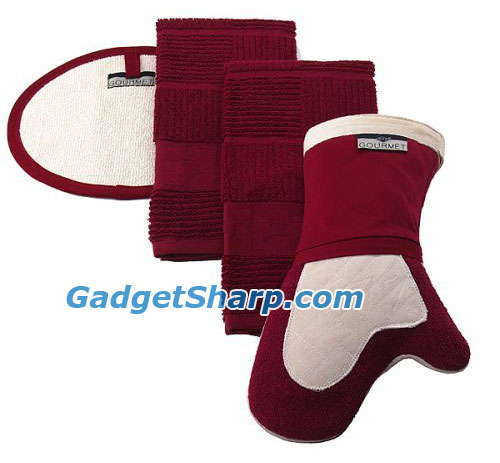 7. Sassy Cook'n Flower Pot 3-Piece Potholder and Oven Mitt [amazon]
The fresh line of coordinating kitchen wear is constructed with 100% premium cotton fabric. This 3 piece set includes 2 potholders and 1 oven mitt featuring colorful retro floral print on chocolate brown cotton fabric with brown trim. Each piece is constructed using 100% aluminum coated cloth and quilted with batting for extra heat protection. Proudly made in the USA from 100% premium cotton sheeting.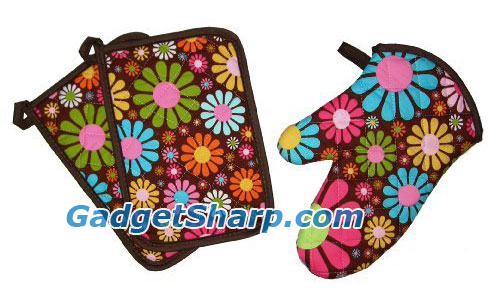 8. DII Holiday Chit Chat Printed Potholder and Oven mitt Set [amazon]
100-Percent cotton; machine washable
Show your holiday flair with dii's holiday chit chat oven mitt and potholder set
Show your holiday flair with dii's holiday chit chat potholder and oven mitt
Coordinates with Holiday Chit Chat Apron, Kitchen Towel Sets, Rich Red, Winter Green, and Evergreen Rib placemats, and solid napkins, Snow Day Recipe Kitchen Towels, and Winter Wonderland Wishes Embroidered Kitchen Towels.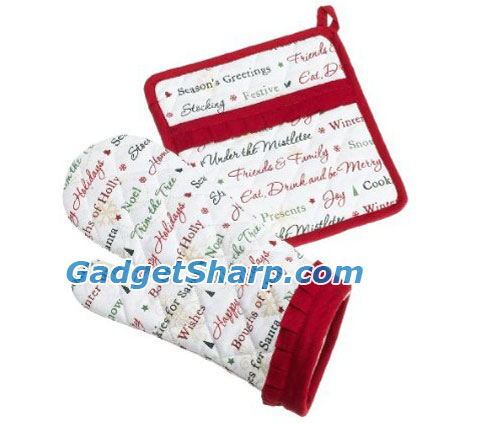 9. Kitchen Set Valentines Day Oven Mitt Pot Holder Towel [amazon]
Adorable heart-print kitchen helpers add a delicious dash of love to every home-cooked recipe! Matched coordinates include pot holder, oven mitt, and two towels. A thoughtful gift that's sure to warm the heart of your favorite gourmet chef. 100% cotton fabric. Machine wash cold; tumble dry low. Towels: 15" x 25" Long; Oven mitt: 6 3/4" x 10 1/2"; Pot holder: 7" x 7" square. Set of 4
10. Zebra Print Kitchen Linen Gift Set, Apron and Oven Mitt / Potholder [amazon]
Switch the oven to preheat and slip into this domestic dream: a feminine, flirty apron cut especially to flatter the ladies (or those special boys). Dazzle your dinner party in this darling apron, or be dessert when cooking for two.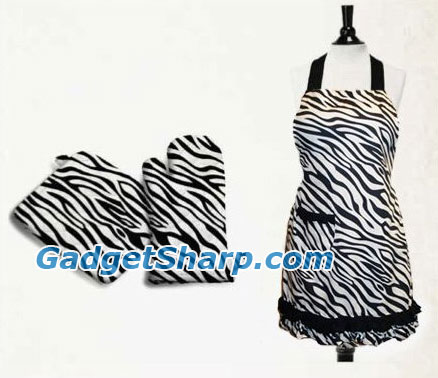 11. Personalized Apron, Pot Holder, Oven Mitt Set [amazon]
This green apron, pot holder, and oven mitt set (matching apron not shown) is the perfect gift for that special someone with an inner chef. Have the whole set embroidered at no extra charge! Dark Brown embroidery shown.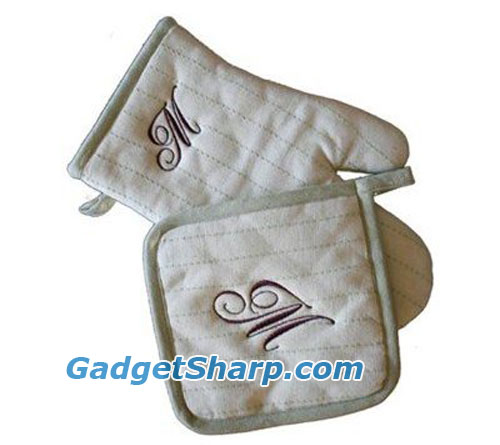 12. Chinese Take Out Kitchen Towel, Oven Mitt, Pot Holder [amazon]
This four piece Chinese takeout themed kitchen 100% cotton accessory set includes two kitchen towels, one oven mitt, and one pot holder which all match perfectly. The designs features embroidery of a take out box, parasol, and chopsticks. Two Towels: 16"