Don't like kids lunch boxes mostly focus on color, pattern and shape; adult lunch boxes pay more attention to functionality. Usually, they are somewhat nerdy, just a normal box made of stainless steel or glass. You might wonder, is there any cool looking lunch boxes for adult. The answer is yes, take a look at the 7 Cool Lunch Boxes we presented in the post, they are functional and coming with styles.
1. Lunch Pot [amazon]
This cleverly designed set makes it easy to transport soups, pasta, or other food. Two pots with watertight seals stack inside a convenient carrying strap, which secures the included spoon/fork. The design of the Lunch Pot reflects the contemporary evolution of food storage containers, early examples of which are featured in MoMA?s collection. Pots nest for compact storage when empty. Dishwasher- and microwave-safe.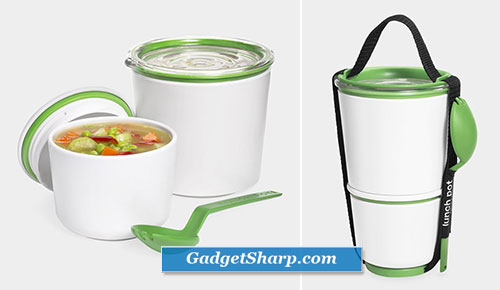 2. Box Appetit Lunch Box [amazon]
Unlike flimsy paper bags and cheap plastic food containers, this unique lunch box is more functional, versatile and durable. The ceramic-like bowl is made from polypropylene and copolyester (BPA free) and has a glass-like lid locks to the body for a water tight seal. It includes an inner sealable dish, sealable sauce pot and a hybrid fork/knife combo utensil. It's perfect for keeping the salad dressing separate from the salad or splitting up different foods so you can microwave a hot dish, but keep other foods cold.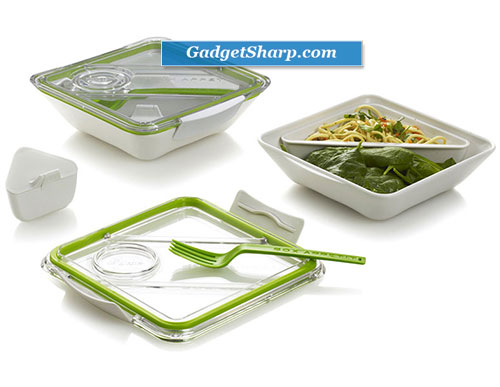 3. Mr. Bento Stainless Lunch Jar w/ Carry Bag [amazon]

Mr. Bento lunch jar comes with four different containers that allow you to pack a multi-course lunch of both hot and cold items easily and securely. The jar itself is made of stainless steel, is vacuum-insulated and houses four plastic containers with lids. The large soup bowl comes with gasket-sealed lid to prevent messy spills and is specially insulated to keep soup hot.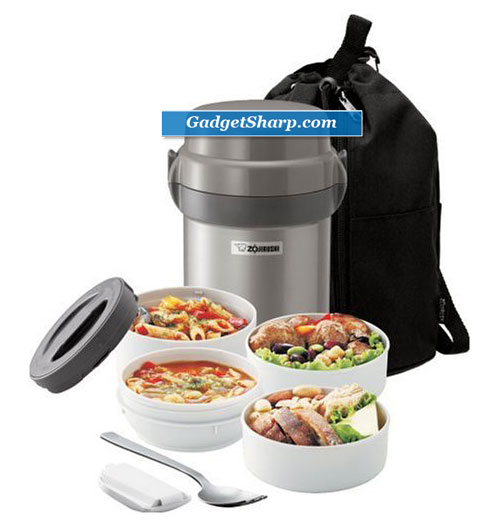 4. Koziol Lunchbox Ping Pong [link]

The Ping Pong Lunch Box comes with its own removable cooler pack: just a few hours in the freezer, and it's ready to go! The box provides plenty of room for sandwiches, snacks and fresh fruit. Thanks to the cooler, it will all stay chilled and appetizing for hours. The intelligent design with rounded contours also puts an end to snagging in backpacks and cars.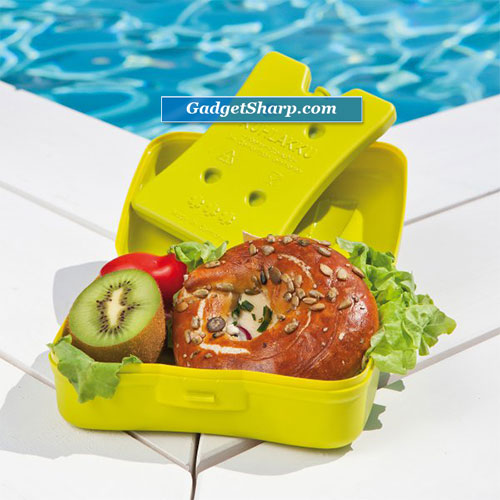 5. Black+Blum Thermo Pot [amazon]

The cool new Black + Blum Thermo-Pot is a sleek stainless steel vacuum food flask designed to keep hot drinks, soups, and other foods hot for up to 6 hours. This modern thermos holds 17 oz and features an airtight natural cork cap and a convenient magnetically attached stainless steel spoon.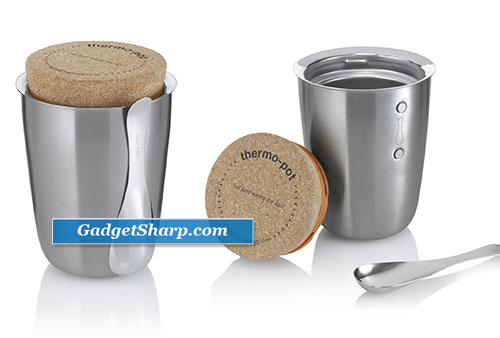 6. Monbento Original Bento Box [amazon]

Sleek and Stylish with a Matte finish and "soft touch" exterior.

Features:
Includes 2 containers and a removable separator to divide your bento box depending on your taste
1 top lid, 2 containers, 2 intermediary container lids, 1 separator
Airtight for easy transport - elastic band included
Dishwasher Safe
Microwave safe - open the silicone cap of the intermediary lid for venting
Dimensions: 7.5"(h) x 3.5"(w) x 3.5"(h)
Volume: 2 x 17 fl. oz = approx. 4 cups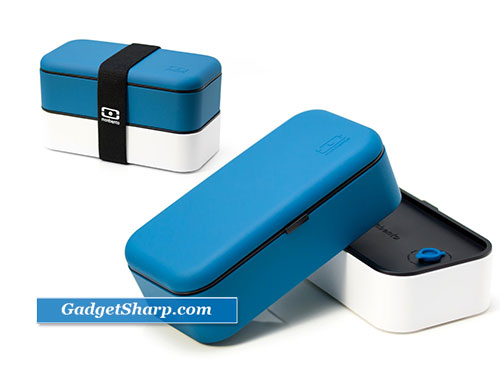 7. Eva Solo 15 by 15cm Lunch Box with Matte Lid [amazon]

All-in-one compact lunchbox with fork-spoon "spork" held in place on the lid Includes a tight fitting silicone band to hold portion controlled single serve meals all in one box; similar to a bento box Dishwasher safe; made of abs plastic and stainless steel 15 cm by 15 cm (5.9 inches by 5.9 inches) Danish designed around aesthetics, functionality, and quality; made in denmark