Oh, wake up, it's espresso time! Serving espresso can be fun and elegant. Take a look and 7 Cool and Modern Espresso Sets we presented here. Imagine yourself living the Parisian life with these incredibly designed espresso set that will leave your party guests breathless. They are gorgeous as decorative accents and better for serving as well. Among those beautiful designs, Alessi Hazel Espresso Cups is our favorite. What is yours?
1. Espresso Set [link]
This espresso set includes a bamboo tray with six inset bamboo saucers, six porcelain cups, and six stainless-steel spoons that rest across the cups. In addition to serving espresso, the set can also be used to serve appetizers and desserts. Espresso cups are dishwasher- and microwave-safe; espresso spoons are dishwasher-safe.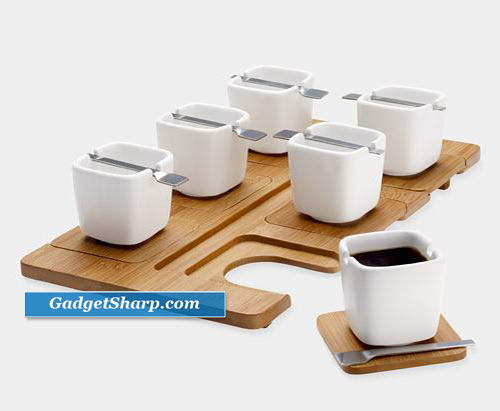 2. Rocket Espresso Cup [link]
An espresso cup specially designed with fins, to ensure the successful deployment of your rocket fuel. All systems are go! Paraboloid bowl holds approximately 1.5 fl oz. or 45 mL.
3. Les Artistes Espresso Set [link]
Enjoy espresso with these authentic cups with saucers and spoons. The glazed interiors feature level indicators for ristretto (short) and lungo (long). Dishwasher-safe. Set of three.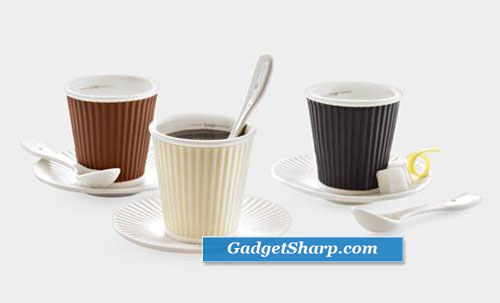 4. Accoutrements Top Hat Espresso Cup and Saucer [amazon]
You fill the 2" (5.1 cm) tall crown with lovely espresso and the brim acts as a saucer. This is the espresso cup that will let you look down your nose at everyone! Holds 2 oz (60 mL) of liquid.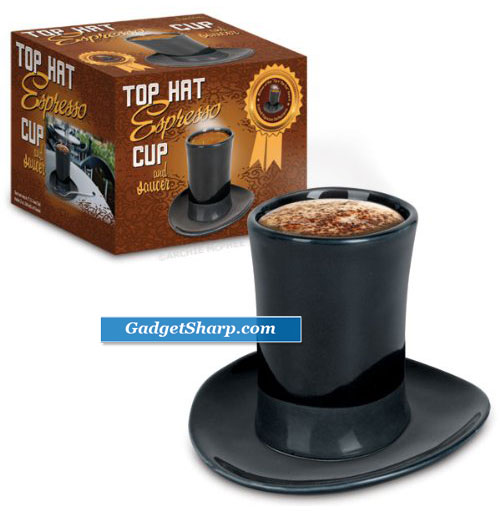 5. Anish Kapoor Espresso Cups Set [amazon]
Limited Edition (numbered & Signed) Set
Designed exclusively for illy by Anish Kapoor
2 Espresso Cups and Saucers
Elegantly presented in a beautiful gift-box with an art collection brochure
Made in Italy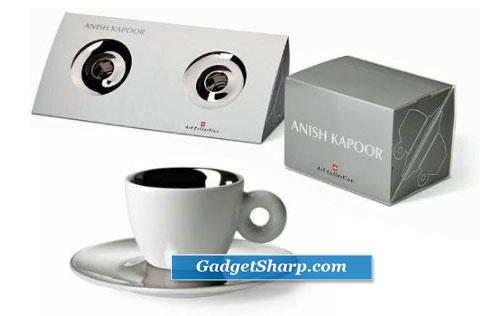 6. Sinuous Sculptural Saucers [link]
Julien Gueuning?s design is modern and elegant, comprising a smooth white demitasse that broadens to the rim and features a flat hole-less handle. It?s accented with a pair of small circles that is also incised into one model of the wave-shaped saucer.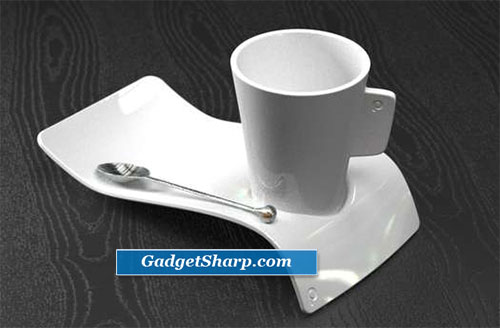 7. Alessi Hazel Espresso Cups with Saucers [amazon]
Il Cafe Alessi by William Alsop and Federico Grazzinii collection
Cup is cylindrical in shape and remarkably slender
Handle is made by twisting a flat plate joined vertically to the cup through 90?
Extends horizontally out to meet the fingers
Ovoid shape of the saucer traces a sort of raised prow that gives a visual orientation
Base of the cup is hollow and conceals a small glass for cream, a shot of liqueur or spirits to add to the coffee
Cup and the saucer are made of bone china, a porcelain praised for its brilliance and transparency
Volume 1.5 oz.
Overall dimensions: 3.25" H x 1.75" D