What good would it be to have a fantastically bottle of wine if you didn?t have the proper decanter to prepare it for your guests. In this post, we will present you with a collection of 18 Modern and Unusual Decanters. Each of them is an artful masterpiece, as well as an extremely functional wine vessel. We are pretty sure, the person serving from any of those decanters will definitely create a dramatic presentation and delight your guests. In some special occasion like the coming Valentine's Day, an elegant decanter will for sure spice up your dinner.
1. Oenophilia Porto Decanter Set [amazon]
* An especially enjoyable way to savor port dessert wines or liqueurs.
* Set includes a decanter & 4 sippers.
* Attractive design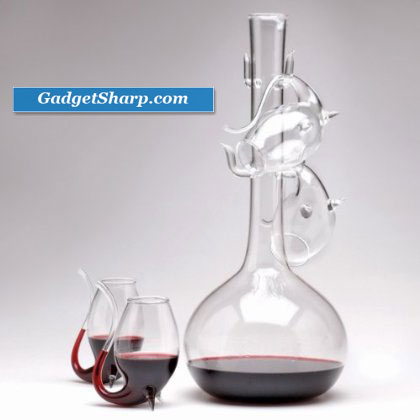 2. Riedel Amadeo Decanter [amazon]
* Mouth-blown and hand-made by skilled artisans
* Lead crystal adds clarity and brilliance
* Unique and elegant shape; easy to pour
* Perfect for decanting a standard-size bottle of wine
* 59-ounce full capacity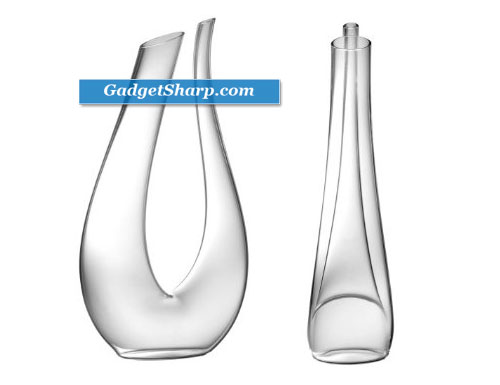 3. Tom Douglas by Pinzon Wine Decanter [amazon]
* 25-1/4-ounce wine decanter for one standard bottle
* Designed and produced by renowned crystal manufacturer Riedel Glassworks
* Clear, non-lead crystal with platinum finishing process for durability and shine
* Classic, elegant European design
* Mix and match with Tom Douglas by Pinzon stemware; dishwasher-safe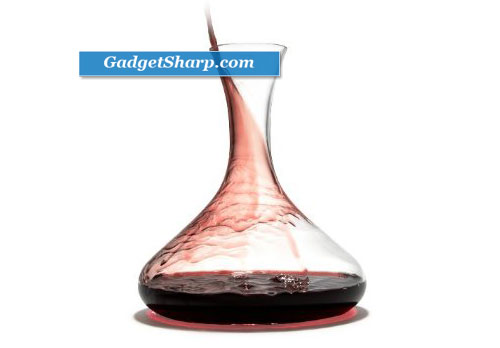 4. Lenox Tuscany Classics Crystal Decanter [amazon]
* 32-ounce decanter adds elegance to serving wine and liquor
* Crafted of Lenox fine crystal
* Teardrop shape with open circle is easy to handle
* Doubles as home d?cor accent
* Measures 14-1/2 by 6-1/2 by 3-1/2 inches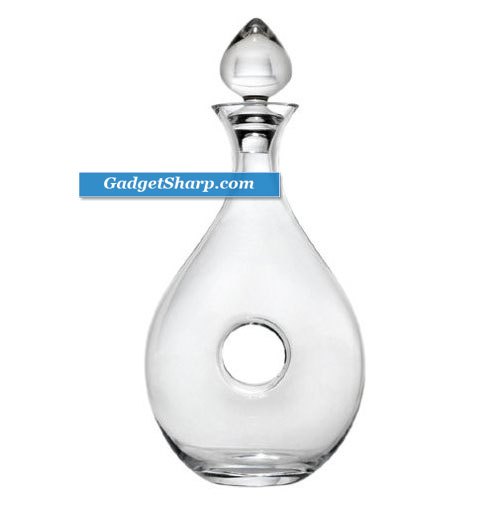 5. Studio Silversmiths Cordial Set Decanter Set With 6 Glasses [amazon]
* Cups and decanter crafted of glass material
* Mirror tray
* Silverplated side handles
* Measures:Tray 9x12. Handle 5x2. Glass 4"H.1.5"opening.Decanter 10"H,4.5"W,opening 2".Cover 3"Hx1.5"W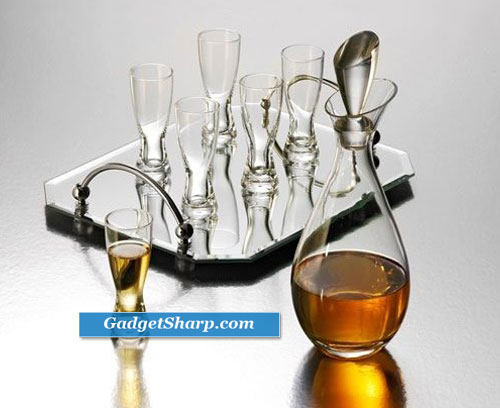 6. Ravenscroft Crystal Duck Decanter [amazon]
* Horizontal Wine Decanter with crystal handle
* Lead Free Crystal
* Decanter is shown filled with one full 750ml bottle
* Hand Wash
* 30-Ounce capacity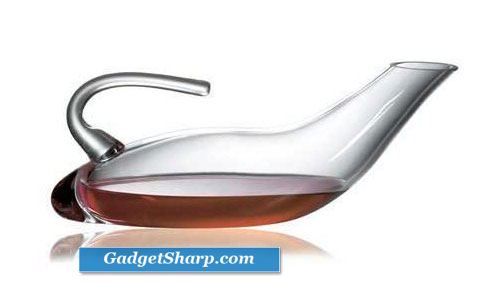 7. Luigi Bormioli Magnifico 46-ounce Decanter with Punt [amazon]
* Luigi Bormioli Magnifico 46-ounce Decanter with Punt
* Practical yet elegant
* Designed In Italy
* Lead Free
* Safe in the dishwasher for easy cleanup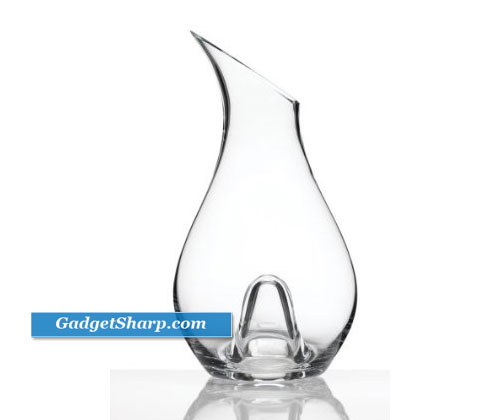 8. Crystal Vintner's Choice Decanter [amazon]
The design of the Ravenscroft Vintner's Choice Decanter is both elegant and intelligent in every aspect. The neck widens for easy wine decanting and pouring, the wide bottomed shape prevents spillage while allowing maximum aeration of tight red wines. The most popular Ravenscroft Decanter, the Ravenscroft Crystal Vintner's Choice Decanter is hand-made in Europe of the finest lead-free crystal. Ball Stopper Included.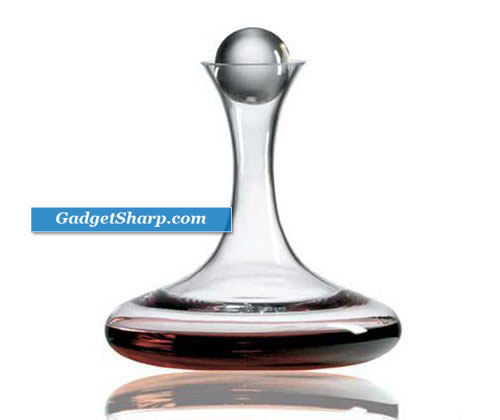 9. Riedel Eve Wine Decanter [amazon]
* Dramatic mouth-blown wine decanter in the shape of an upright cobra
* Made in Austria of clear 24% lead crystal
* Included DVD reveals how to pour wine from the tail pour-spout
* Rinse in hot water
* Holds 48-1/4 ounces and stands 19-7/8 inches high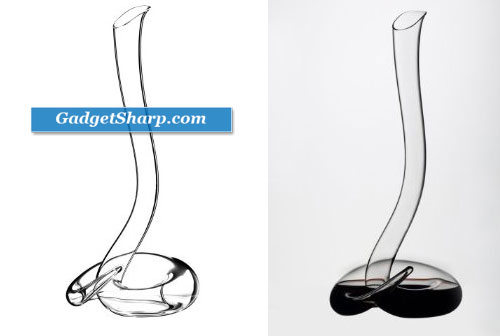 10. Riedel Tyrol Decanter [amazon]
* Produced by world-renowned glassmakers
* Lead crystal adds clarity and brilliance
* Unique and elegant shape; easy to pour
* Highly sophisticated visual appeal
* 26-1/2-ounce full capacity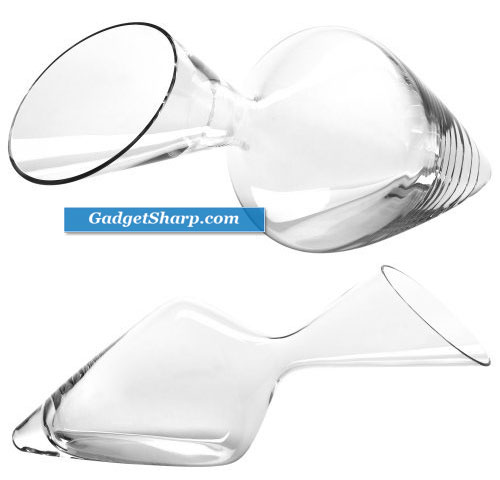 11. Namb? Tilt Wine Decanter [amazon]
* Namb? Tilt wine decanter; holds 1 bottle of wine with room to breathe
* Crafted of full-lead crystal by skilled European artisans
* Leans playfully yet elegantly to the side; heavy, thick base adds stability
* A Karim Rashid design; matching Tilt stemware and barware also available
* Wash by hand to preserve the brilliance;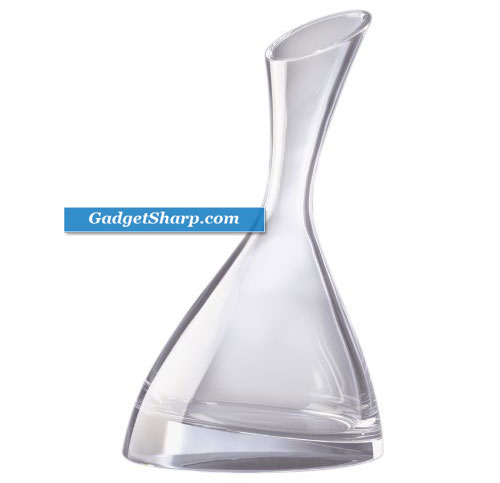 12. Visual Wine Decanter [amazon]
See the difference the dome makes. This European-made crystal wine decanter is our most requested because of its elegance, functionality, and affordability. The inner dome increases oxygenation and allows you to better evaluate the hue and color of your wine. The finger-hold punt in its base ensures perfect and controlled pouring every time. Designed to fit large glass wine decanter stopper. Size: 10-3/4"H, 48 oz.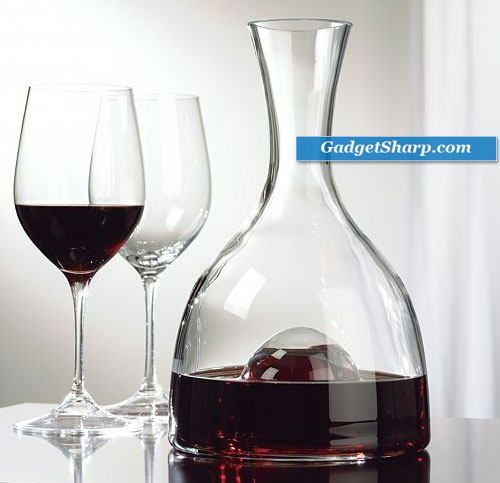 13. Ravenscroft Crystal Handled Captain's Decanter [amazon]
Like all "ship decanters," the Handled Captains Decanter has a broad base, originally used to prevent tipping on the rolling waves. Now, that broad base is used to enhance the notes of your favorite wine. A handle swoops around the neck of the decanter to make pouring smooth and simple. Hand crafted in Europe from the most brilliant 100-Percent lead-free crystal. Height: 10-inch Width: 10-inch Capacity: 57-Ounce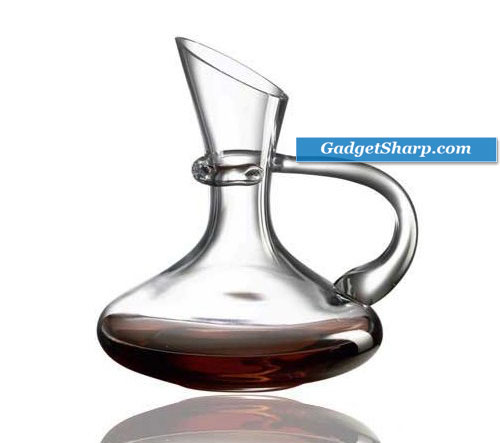 14. Orbital Wine Decanter [amazon]
A reasonably prices alternative to the Orbital Decanter with Silver-Plated Base, this decanter comes with a brushed stainless steel base and features a "V"-shaped bottom that allows it to roll gently from side to side on your table. The rolling action maximizes air exposure to the wine within, enhancing the wine's flavors and aroma.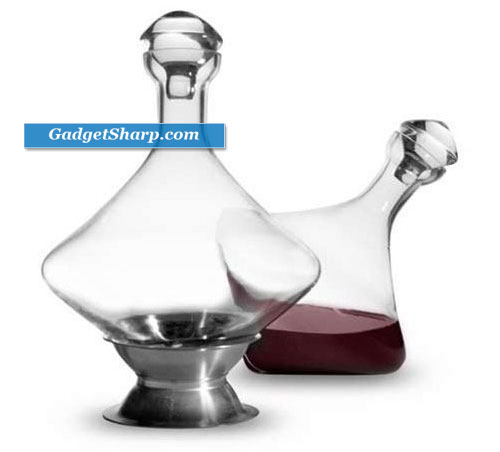 15. Ravenscroft Crystal Flight Decanter [amazon]
* Contemporary crystal wine decanter with beveled spout and hole handle
* Lead Free Crystal
* Decanter is shown filled with one full 750ml bottle
* Hand Wash
* 34-Ounce capacity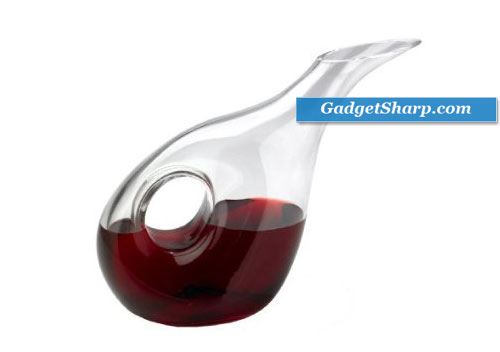 16. WMF Glass Duck Decanter with Stand [amazon]
* Glass decanter fits securely into polished stainless-steel stand
* Attractive decanter and stand resemble classic duck shape
* Decanter holds 750-milliliter bottle of red wine
* Decanter removes from stand and sits upright on its own
* Dishwasher-safe for easy clean-up

17. Riedel Sommeliers Black Tie Wine Decanter [amazon]
* Mouth-blown wine decanter recalls the sleekly elegant curves of a brass instrument
* Made in Austria of clear 24% lead crystal
* Single slender black accent line traces outside edge
* Rinse in hot water
* Holds 69 ounces and stands 16-1/2 inches high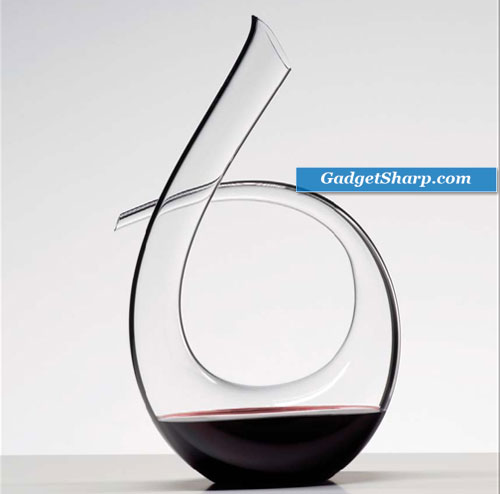 18. Riedel Black Tie Bliss Decanter [amazon]
* Hand blown Black Tie Bliss decanter
* Lead crystal
* Holds 42-5/8-ounce, 14-3/8-inches tall
* Hand wash
* Mouth blown and formed by hand without the use of molds, making each a unique work of art