No matter what kind of drink you have, you always need a proper glass for your favorite beverage. Of course, it isn't necessary to use a glass, the cheapest white plastic cup can do the job. But you probably won't deny, an elegant glass will provide more enjoyable drinking experience. Here, we handpicked 6 Most Cool and Elegant Drinking Glasses we have seen and want to share them with you. Now scroll down the list, and tell us which one of these glasses you?d like to use during the next party!
1. Trevi Aerating Wine Glass [link]
Rather than pouring wine into space-wasting decanters or fussing with on-bottle wine aerators, just pour your wine into the inner cup of this cool new Trevi Aerating Wine Glass and watch as it passes out through nine aeration spouts, effectively infusing it with flavor and aroma releasing oxygen. Its fountain-like aeration platform not only makes this glass uniquely interesting, it simply makes each sip of wine more of a pleasure to the senses. Makes a great gift and solution for wine connoisseurs or anyone who wants to truly enjoy their favorite red wines.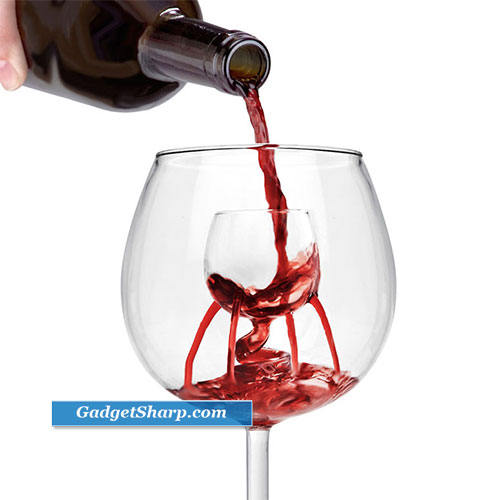 2. BOULES tumblers [link]
BOULES Tumblers: Striking aesthetics and elegant timelessness with a touch of playfulness. Each BOULES tactile glass is skilfully mouth blown and hand finished with delicate lenses, which add a surprising visual element. BOULES? curved and heavy bottoms allow the tumblers to rock, while the lens guarantees a stable position at a playful angle. BOULES Tumblers are the ideal talking point at any table.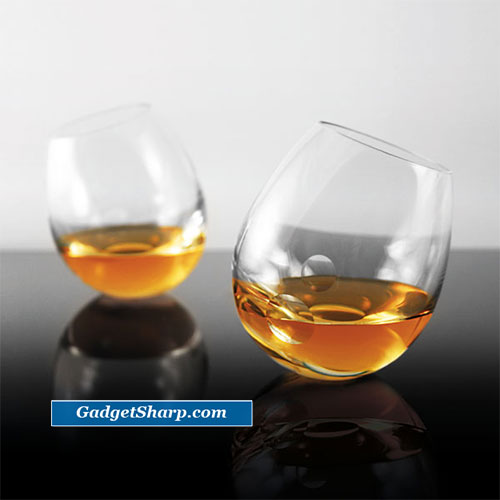 3. Matterhorn Mountain Glass [link]
Tale Design in Seoul, South Korea created this cool new Matterhorn Mountain Glass because, "Liquor filled in this glass feels more clear and pure". I agree. This uniquely designed crystal rocks glass doesn't have much room for the rocks, but it does have a little mountain at the bottom that was inspired by the mighty Matterhorn, a 14,690 foot mountain in the Pennine Alps on the border between Switzerland and Italy. Just pour your best Scotch or Bourbon, fill up to just below the mountain's peak and enjoy the scenery.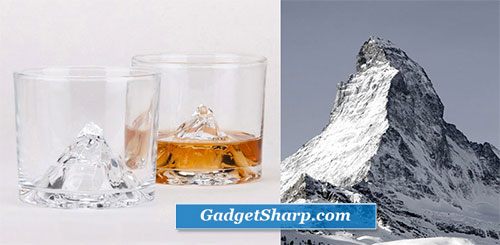 4. RedNek 'Rita Glass - Margarita Glass [amazon]
Lime-Down RedNek Style with the Original RedNek Margarita Glass. Enjoy summer's favorite cocktail or other refreshments in this unique glass.
Assembled in Western Pennsylvania
Includes screw on lid
2-Pack, Size: 16 ounces
Original RedNek Margarita Glass: 9" high; 3.5" diameter
Dishwasher Safe
Includes: Redneck Drank Recipes & GoDpsWine Wine Cloth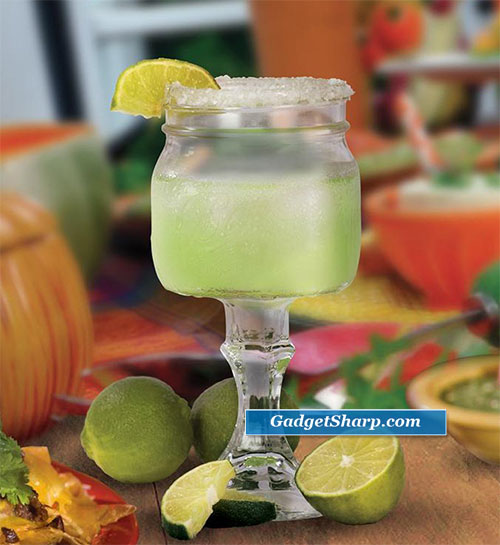 5. Mason Jar Glass [amazon]
Not your grandma's Mason jars. Perfect for old-fashioned iced tea lemonade or any refreshing drink. Attractive and sturdy with vintage charm galore. Go back to the days of listening to the wireless and drinking moonshine. Set of four glasses each shaped like a Mason jar but with an easy-to-hold handle. Lead-free. Dishwasher safe.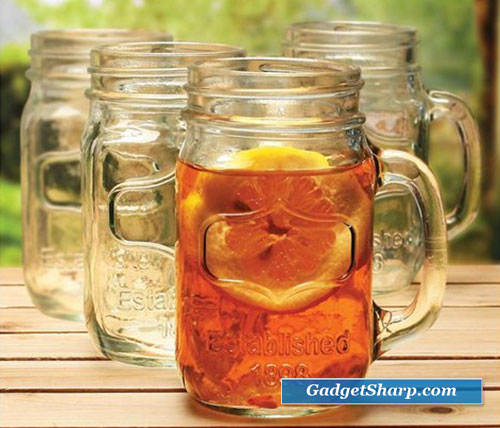 6. InsideOut Collection Martini Glass Set [amazon]
The Martini glass is particularly amazing because it is a lot shorter than the usual Martini glass, but it creates a wonderful presentation and is a lot better to hold than balancing an overly wide glass filled to the rim on a thin stem… Besides the visual beauty, there is another extremely convincing argument: your drink simply doesn't warm as fast as it would in a normal martini glass as you are not touching it at all and if you really want it cold, chill the glasses in the freezer and create an amazing visual presentationate!