Month ago, we showcased 15 Modern and Stylish Wall-mounted Wine Racks on the site and had heated response. Today, we will continue the topic and present you with 12 Elegant Standing Wine Rack Designs, which are prefect to be placed on table during coming holiday season. These beautiful wine racks are not only helpful to store and organize but also to show off your collection and stylize your home.
1. Nambe Morphik Staineless Steel Wine Rack [amazon]
Storing and serving wine takes on a riveting new look with Karim Rashid?s dramatic addition to the Namb? Morphik series. Fashioned in the Morphik?s famed style that follows nature?s curves, this jaw-dropping conversation piece holds five 750 ml bottles. Fashioned from signature Namb? 18/10 stainless steel, the tarnish-resistant metal polishes to a gleaming, lustrous shine.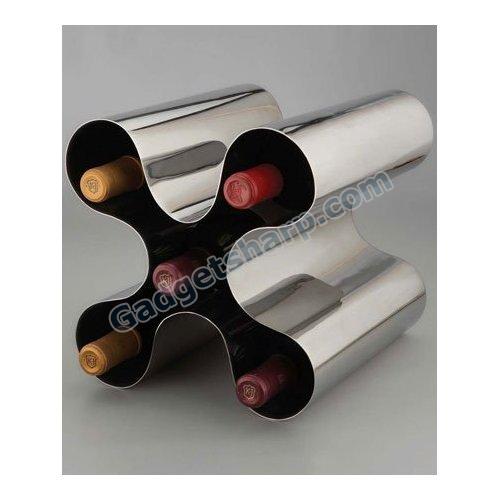 2. J-ME Wine Rack - Cactus [amazon]
The wine rack is cleverly integrated into the function of this free standing wine rack offering the user a stylish home for their wine bottles. The slim, powder coated steel wine rack frame uses its subtle spikes to secure up to 8 bottles. It has a mirror finish that is bound to please! J-Me specialises in the design and manufacture of contemporary cool gifts and accessories for the home. Their products balance fun with function in their witty form and user friendliness. The J-Me philosophy is to create everyday products and unusual gifts that will put a smile on your face!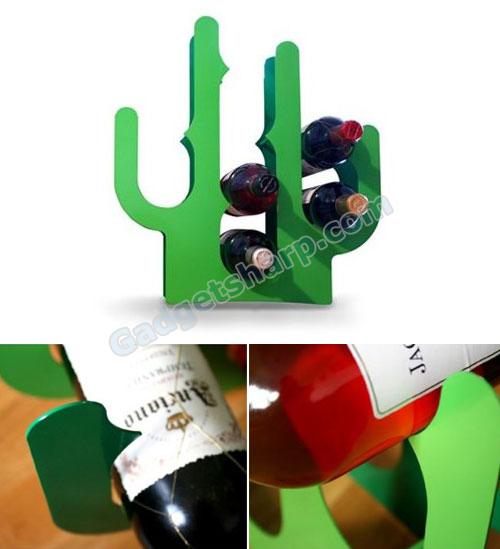 3. Modern Art Mustang Horse Spirit Metal Wine Bottle Rack [amazon]
Modern-art metal sculpture adds artistic storage to your entertaining space! Five wine bottles (not included) nestle in sturdy cutouts, handsomely offset by a freeform mustang silhouette. Weight 3.9 lbs. Metal. 25" x 5" x 17" high.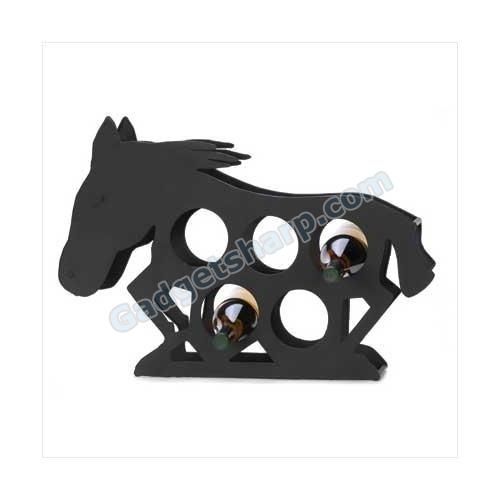 4. Floating Bottle Stand [amazon]
Uniquely showcase your favorite bottle of vino with this NCAA? floating stand from Fan Creations?. Its design shifts the center of gravity to make the bottle look like it's suspended in mid-air. The carved team logo decorates the top.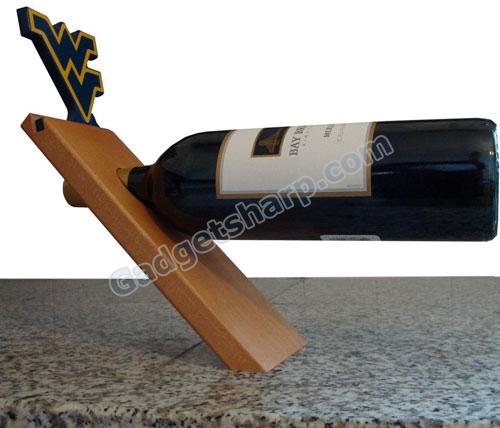 5. Sculptural Wine Rack - Espresso [amazon]
A decidedly Asian influence defines this stunning wine rack, which makes an unforgettable housewarming or registry gift
Durable wood with an espresso brown finish gives this spare design a modern grace
16.14Hx14.25Wx7.25D"
Accommodates 12 bottles of wine (not included)
Looks handsome at home on a buffet, countertop or bar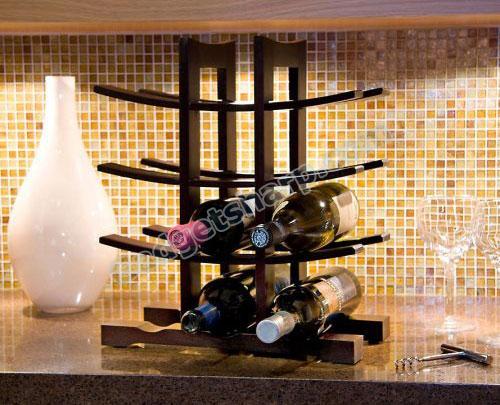 6. Oenophilia 6-Bottle Bouquet Wine Rack [amazon]
Beautiful harmony of form and function, this Oenophilia Bottle Bouquet Wine Rack holds 6 bottles and makes a wonderful display on the table, countertop, or bar. Made of metal with a handsome black finish, this rack is designed to hold the bottles either neck up or neck down, creating a visually dramatic bouquet.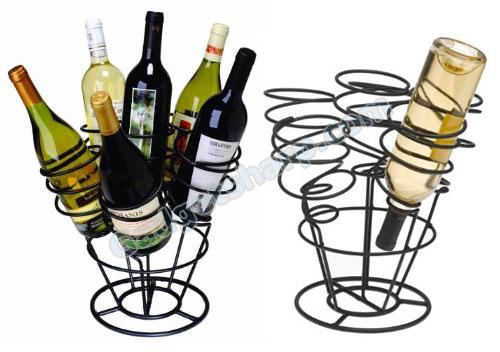 7. Oenophilia Bali 12-Bottle Wine Rack [amazon]
Inspired by contemporary Indonesian design, this Oenophilia Bali Wine Rack features graceful wooden waves that create compartments for 12 bottles of wine. Beautiful on the countertop, this rack is a handsome ebony black and will accent your home with drama and beauty.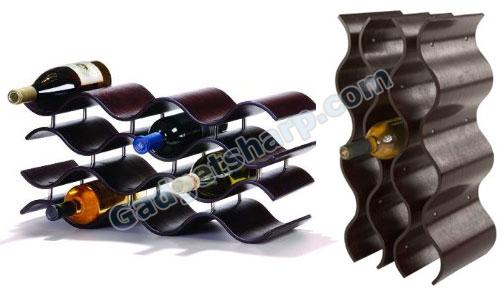 8. Nambe Rocks Wine Rack [amazon]
Designer Neil Cohen rocks the world of wine storage with this first-time pairing of sleek black granite and signature Namb? alloy, which is part of the initial series of the Namb? Rocks Collection. Evoking the majestic Southwest, the ruggedly elegant design is a practical execution of Neil?s ingenious idea that bottles can be stored horizontally by their necks only. In the case of this dramatic conversation piece, that means five standard 750 ml bottles. The dramatic granite base supports a tarnish-resistant metal rack, edged in granite that polishes to an enduring, silvery luster.

9. Hampton Forge HMB51C004B 6-Bottle Wine Rack [amazon]
The Hampton Forge 6 Bottle Wine Rack offers a beautifully designed compact wine rack that keeps up to six bottles of your finest vintages at the ready. This Chic wine rack is not only functional and compact but it looks very stylish on top of any bar. With it's contemporary mirror finish the rack looks good enough to use as a decorative piece; add in the wine bottle storage and presto you have an enviable swanky bar.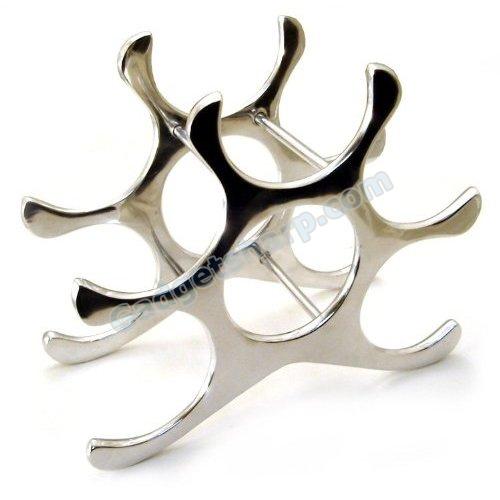 10. River's Edge Deer Antler Wine Rack [amazon]
Faux Antler Wine Rack from Rivers Edge Products. Your wine will be well preserved, well presented and able to age gracefully in this hand made resin wine rack that has the look and feel of real deer antlers.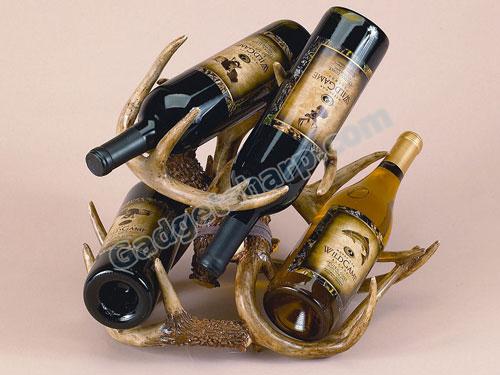 11. Cello 4 Bottle Wine Rack is Perfect for the Musician [amazon]
This whimsical wrought-iron instrument holds four wine bottles with an elegant shelf system. Black Finish with rubberized feet to protect delicate surfaces.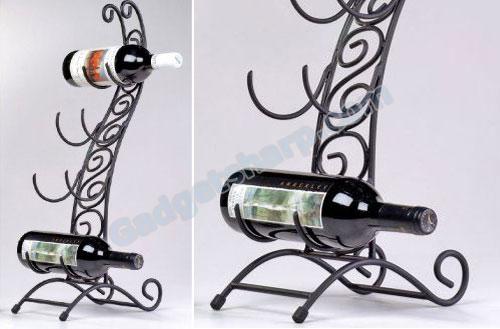 12. Nambe Eclipse Wine Rack [amazon]
Designer Neil Cohen turned the hum-drum concept of a wine rack into an objet d'art by joining two curves and conceiving the ingenious idea that bottles can be stored horizontally by their necks only. The result is a conversation piece of startling originality. Measuring 9-inch wide by 10-1/2-inch high by 11-inch deep, the rack has a base formed of Nambe Alloy, our signature metal that polishes to a silver-like luster. Curving in the opposite direction and holding three standard 750-liter bottles is a narrower piece of warm-toned acacia wood, a dense, durable hardwood with finely patterned grain.