Wine is something can't be missed from most parties. But we also know Wine ages quickly when exposed to open air, and the resulting oxidation may affect the wine s flavor and color. To save our favorite wine and don't let it go waste, we need to use wine stopper or wine preserver, which will keep the wine fresh and ready. We rounded up 17 Useful Wine Stopper and Preserver Designs in this post, they are not only functional but also stylish and decorative.
1. 4-Piece Geometric Stopper Set with Wooden Stand [amazon]
The Happy Hour 4-piece geometric wine stopper set is a must for all bars. The chrome plated stoppers each have a different shaped decorative top. They store neatly into a wooden stand that can set on the bar top. Use these stoppers to preserve open wine bottles. The rubber seal makes the stoppers fit tightly in the opening of the bottle. This helps keep the wine fresh and ready for another day.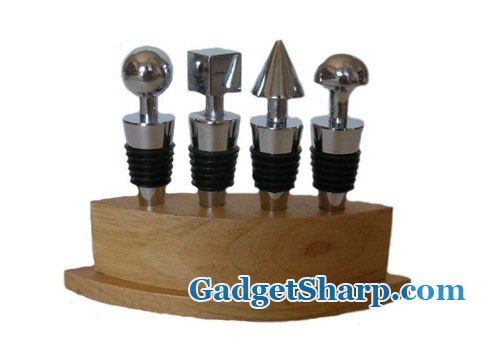 2. Automatic Wine Preserver [amazon]
Keep wine fresher, longer, with the Automatic Wine Preserver. It pumps air out and seals flavor in, so you can enjoy a bottle over several days. Just place on bottle automatic operation instantly seals your bottle of wine and removes up to 40% of air. Simply leave the wine preserver in place. The preserver keeps working it automatically senses if any air is seeping back into the bottle and activates as needed. Auto shutoff. Uses 2 AAA batteries (not included). With the Automatic Wine Preserver, you can enjoy a glass of wine today and savor the rest of the bottle at your own pace without sacrificing flavor or freshness.
3. Vacu Vin Concerto 5-Piece Wine Saver Set with 4 Stoppers [amazon]
Preserve your wine longer with this new improved Vacu-Vin Wine Saver. Save the favor of your wine by recorking and removing oxygen that distorts flavor! Keep your opened wine fresh for up to a week! Operation is incredibly simple - just place the Vacu-Pump over the reusable stopper and pump to remove oxygen from the bottle. The Vacu-Vin system removes virtually all the air from the bottle, preventing spillage from oxidation. An efficient and cost effective way to preserve your favorite wines. Includes one pump and stopper.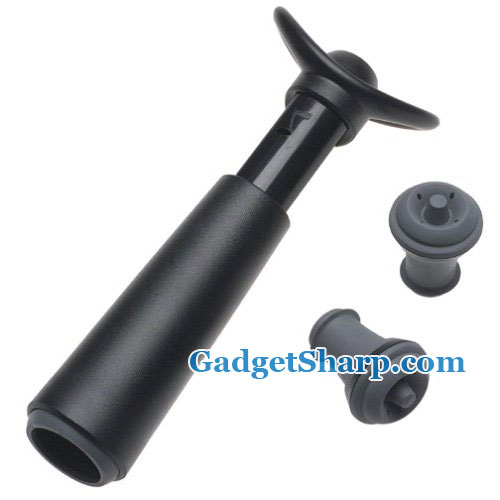 4. Prodyne WP-2 Wine Pourer and Stopper [amazon]
Easily pour and re-cork your favorite wine in style. Just remove the inner stopper and you have a convenient pourer to prevent dripping. Air-tight, leak proof seals preserve the flavor and taste of your vintage.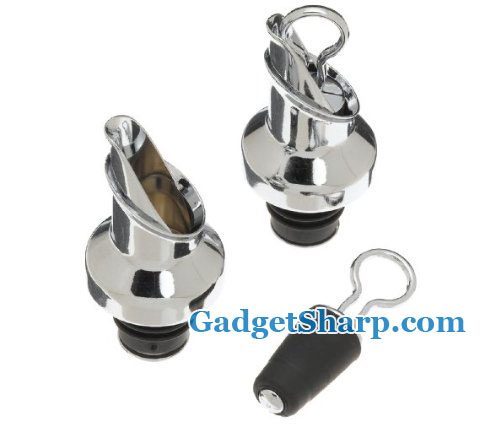 5. Art Glass Open Heart Wine Stopper [amazon]
Wine and romance- what a classic combination! Add a little unexpected artistry to any bottle of wine with this gorgeous blown-glass wine stopper. Fitted with rubber rings to fit securely into the neck and keep red, white and rose wine fresh and ready for that next delightful sip.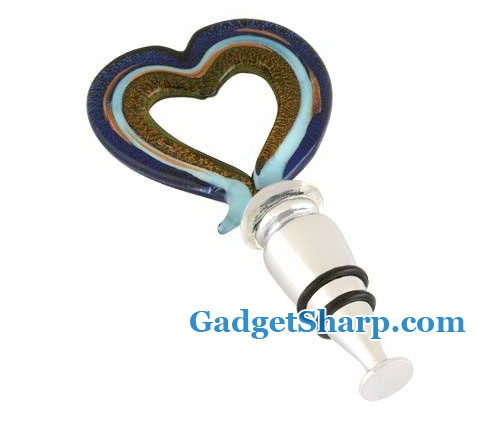 6. Metrokane Wine Pourer with Stopper [amazon]
Rubber Seal means unit fits securely in bottle and does not leak
Fits All standard bottles and can be used on wine and licquor bottles, oil bottles, vinegar bottles, and condiment bottles
Rubber stopper insures left-over ingredients will stay fresh
Prevents spills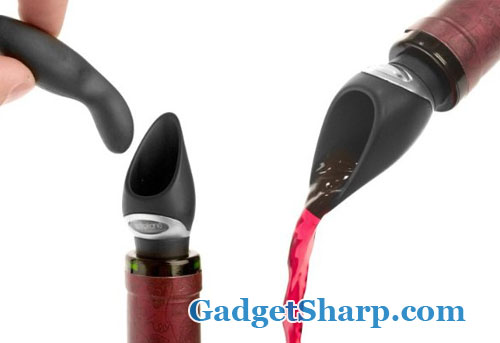 7. Wine Bottle Stopper Gemstone Globes Set of 3 [amazon]
Marine Blue, Caribbean Blue and Opal with Gift Box
Silver Finish
Set of 3 Wine Bottle Stoppers
Box Size 2"H x 5"W x 5.5"D Stopper 4"L x 1.25"W
8. Vacu Vin Stainless Steel Wine Saver Gift Set [amazon]
Stainless steel vacuum pump, 2 reusable rubber stoppers, and 2 crystal-like pourers
Extracts air from opened bottles to slow down the oxidation process and keep wine fresh for 7 to 10 days
Ingenious ?click? sound tells you when optimum vacuum level is reached
Dishwasher safe
Vacuum pump measures 5 by 3 inches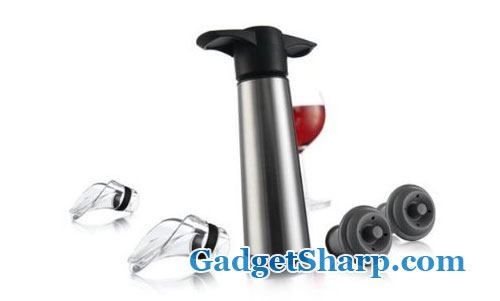 9. Champagne Bottle Saver Stopper [amazon]
This chrome-plated steel champagne stopper provides an incredibly secure seal to help keep your Champagne carbonated and fresh. Rubber disk fits snuggly into the bottle opening, and its two hinged-arms fold down and lock into place to complete the sealing process.

10. Orka Wine Pourer/Stopper [amazon]
Perfect for the wine lover. This stylish device not only pours without drips but keep beverages fresh with a simple flip. Also great for oils and vinegars. Package includes one stopper/pourer.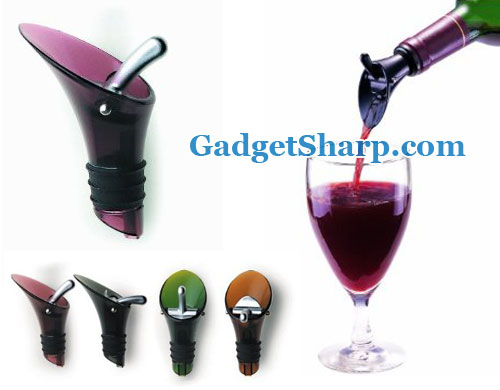 11. Metrokane V-Gauge [amazon]
A wine preserver and vacuum pump that shows you the vacuum. Simply pump until the needle reaches the red zone on the gauge and there's no more guessing if you've pumped enough to preserve the wine.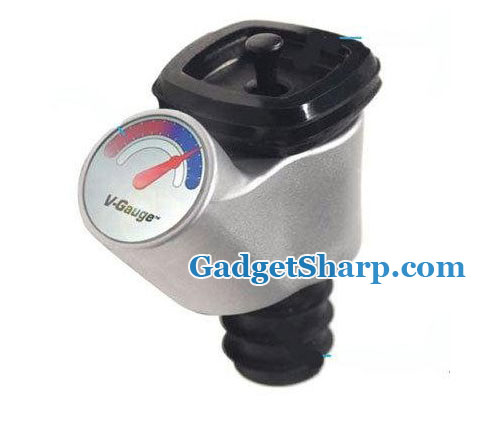 12. Wine Innovations, Additional Bottle Adaptor for ReServe Wine Preservation System [amazon]
Add to ReServe System to protect additional bottles of wine simutaneously
Designed to fit wine industry standard bottles
Easily creates an airtight seal at the top of the wine bottle with just a few twists
Contains automatic valves to regulate the inflow of argon gas and the outflow of air
Made in USA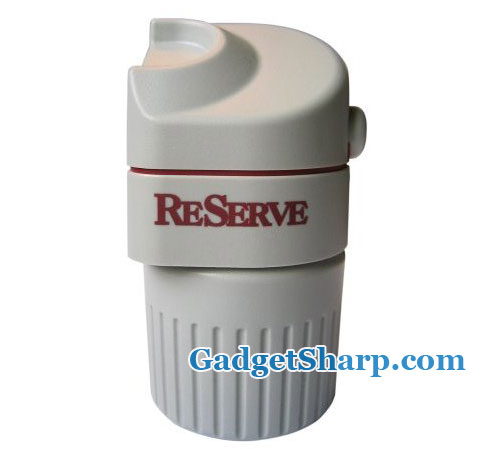 13. Trudeau Wine Stoppers, Set of 2 [amazon]
This set of two wine stoppers will not only keep your open wine bottles looking neat and stylish, they'll also keep the air out and keep your wine fresher, longer. Made of zinc alloy, these stoppers will not break and will keep their attractive finish. Five year warranty. By Trudeau a company that develops visionary products.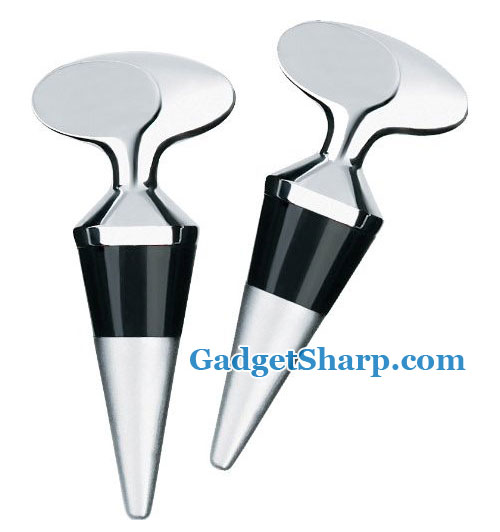 14. Oster Wine Vacuum Cork with LCD Display [amazon]
Handheld electronic wine vacuum cork. Battery powered device (uses 2 x aaa batteries - included). Automatically removes air from opened bottles of wine once it is placed on the neck of the bottle. Countdown feature lets you know how much time is left until air is evacuated. Pressure release button allows you to easily remove vacuum cork when ready to serve. Built-in thermometer with blue lcd displays the wine?s temperature (degrees can be displayed in either celsius or fahrenheit).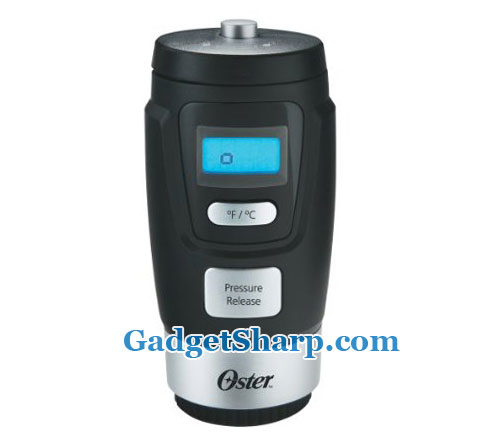 15. True Fabrications Hummingbird Ultra Wine Saver Kit [amazon]
This wine preservation kit pumps argon gas in regulated amounts inside the bottle and on top of your wine, keeping oxygen out. Preserves for weeks! Includes a patented hand held regulator, removable straw, three cartridges and three stoppers.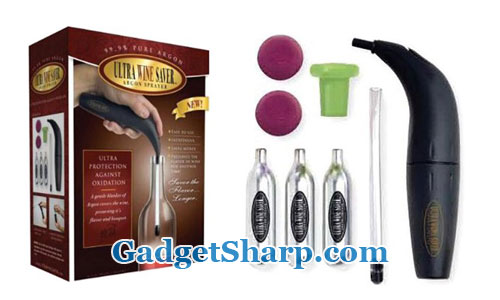 16. Blitzen on His Back Bottle Stopper [amazon]
Holiday bottle stopper fits any wine bottle Our deer o' friend will do his best to keep air out of your wine bottle, while filling the air with laughter! Stuff Blitzen in stockings, wrap him up as a gift, or treat yourself.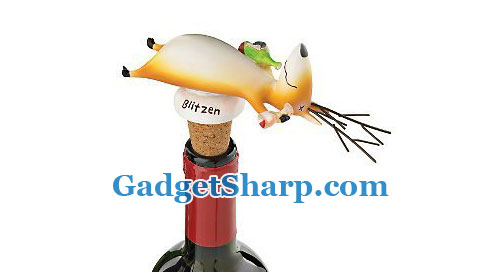 17. Mikasa Fruit Collection Grape Wine Bottle Stopper [amazon]
This wine stopper is visually intriguing and just the ticket for sealing those bottles of chardonnay, rioja, or pinot noir left half-empty (or is it half-full?). Crafted of high quality lead crystal made in Austria, the stopper features a silicon washer where it meets the bottle top to create an air-tight seal and preserve the flavor of your favorite grape pressings. The wine grape pattern atop is decorative yet also functions as an easy-to-grasp handle, promising bacchic delight for you, you and a friend for a romantic evening, or an entire dinner party for easy social gathering.