No matter you like or don't like wine, you have to admit wine is a kind of drink can't be missed from major occasion. Hence, you always need a wine opener at home for yourself or your guests. In this post, we will present you with 14 Modern and Sleek Wine Opener Designs which must round out any household wine bar aside from the wine itself. With the coming holiday season, hope this post will give you some ideas to make a great gift for a housewarming or holiday party.
1. Screwpull Revolutionary New Lever Pull, Satin with Crystal Foil Cutter [amazon]
Revolutionary new Satin Leverpull from Screwpull with patented rotation technology. Set includes Crystal Foilcutter and comes in a Leather Gift Box. Often imitated, but never duplicated, the Screwpull Leverpull offers unrivalled performance.
Satin-finish Lever Pull designed specifically for synthetic corks
Patented rotation technology effortlessly removes cork in 2 motions
2 more motions push cork off nonstick corkscrew
Set includes crystal foil cutter, stores in leather gift-box
Covered by 10-year warranty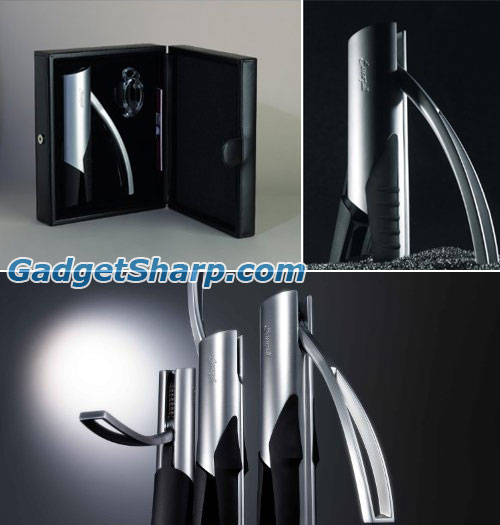 2. Metrokane Rabbit Wine Opener Tool Kit [amazon]
Reproduce flawless openings with multiple tools. The ultimate all-in-one wine corkscrew set for all your wine service needs. You get everything you need for wine bottle opening and service in this convenient and affordable Rabbit Corkscrew set from Metrokane. The 6-piece corkscrew kit includes the world-famous Rabbit Corkscrew, foil cutter, drip-stop drip ring, worm, wine/champagne sealer, and wax remover. The Rabbit Corkscrew was redesigned with an all new precision metal gear mechanism for even smoother and more reliable wine bottle opening. Of all the corkscrews on the market, you won't find one better or more efficient This corkscrew is synthetic cork friendly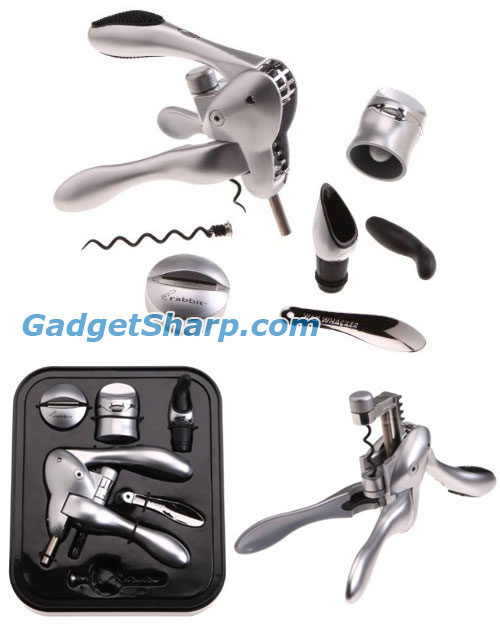 3. Oster Inspire Electric Wine Opener with Wine Chiller [amazon]
At the touch of a button, the Oster Wine Opener easily opens up to 30 bottles on a single charge. The stylish and ergonomically designed soft-grip handle will fit into the palm of your hand for a firm grip. Also includes a foil cutter to remove wine seals and a recharging base for convenience.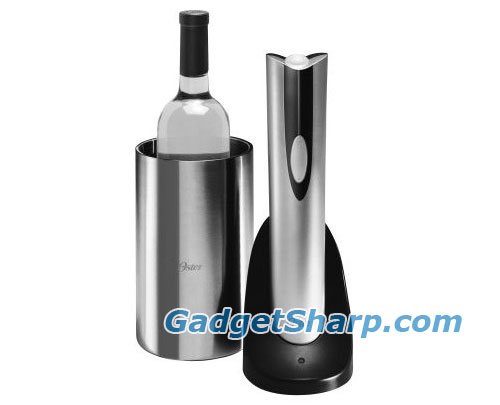 4. Ozeri Maestro Electric Wine Opener with Infrared Wine Thermometer and Digital LCD Display [amazon]
The Ozeri Maestro Electric Wine Opener opens up to 80 bottles of wine on a single charge, and its built-in thermometer displays both wine bottle and room temperature readings on its digital LCD screen. As oenophiles know, temperature is one of the major determinants of wine flavor and balance. Unfavorable temperatures can cause an increase in tannins, excess acidity, aroma decay, premature aging, reduced potency and other undesirable characteristics. With the Ozeri Maestro Electric Wine Opener, your wine will always be served at the right temperature. The Maestro also features a digital battery meter on it LCD screen so that you are never out of charge.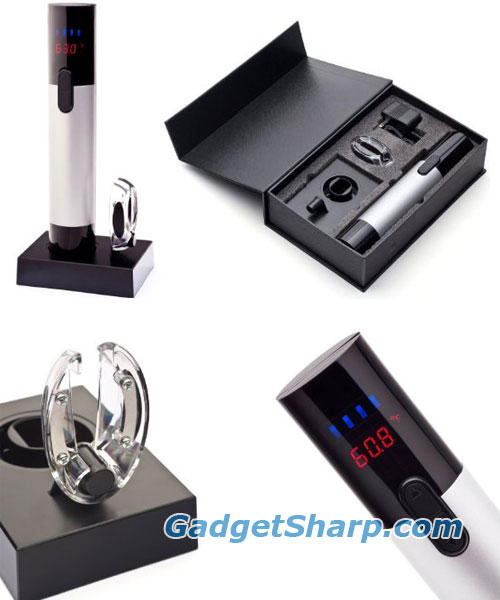 5. Kikkerland 5-Piece Wine Bottle Accessory Set [amazon]
Wine bottle shaped wine tool kit with combo corkscrew/bottle opener, drip stop ring, stopper, foil cutter and combo pourer/stopper. Chrome metal tools in ABS plastic wine bottle shaped case.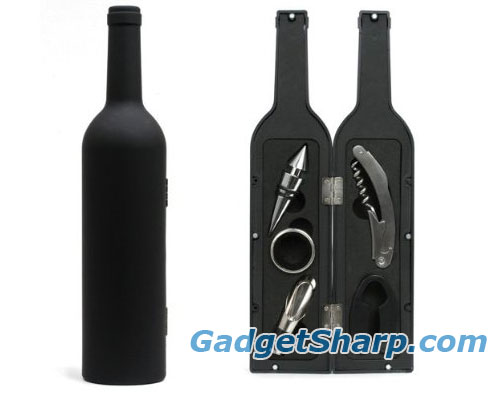 6. Vacu Vin WineMaster Corkscrew [amazon]
The Winemaster is equipped with a patented ?Pull Down Bottle Grip? that locks the corkscrew onto the bottle to leave both hands free for easy use. Moving the handles down with a smooth and easy action, the Winemaster both inserts the specially coated spiral and extracts the cork. The Winemaster will effortlessly uncork bottles in seconds without any twisting or pulling.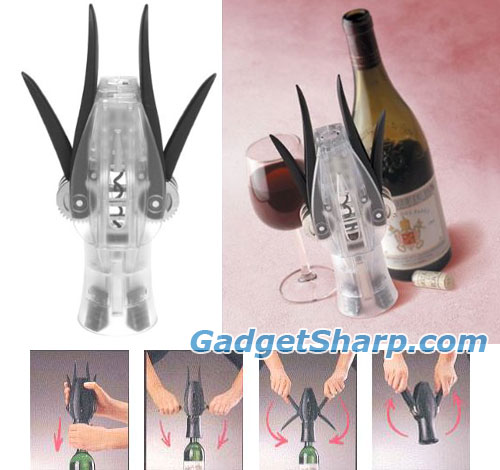 7. Screwpull Waiter Style Corkscrew [amazon]
Screwpull Professional quality Waiter's Corkscrew - Patented 2-step system improves leverage and makes removal smoother and easier. Made of professional quality, stainless steel corkscrew features a non-stick coasted screw, serrated foilcutter and bottle opener. Because it's designed for waiters, it conveniently slips into a pocket, apron ro drawer. It travel wells too.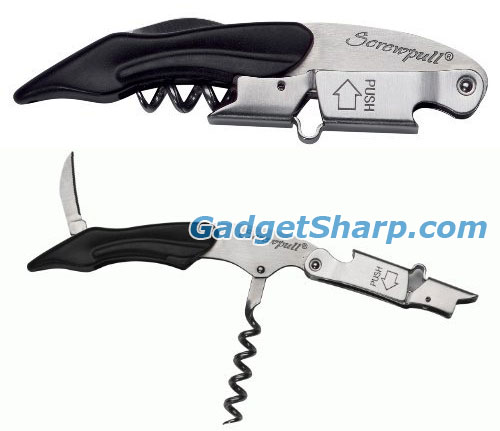 8. Barware Connoisseur Wine Set [amazon]
Ergonomically designed corkscrew to effortlessly remove corks like a professional. Additional accessories include foil cutter, two bottle stoppers, wine pourer, replacement worm, wine thermometer and drip ring.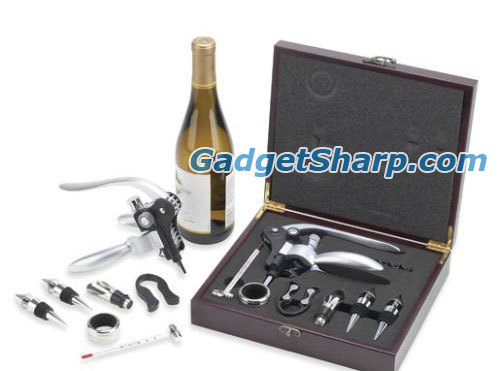 9. Ozeri Nouveaux Electric Wine Opener with Removable Free Foil Cutter [amazon]
The Ozeri Nouveaux Electric Wine Opener in elegant black combines an European inspired cordless design with a new ultra fast rechargeable motor that opens up to 40 bottles, all on a single charge. With the Ozeri Nouveaux Electric Wine Opener, opening a bottle of wine is effortless, quick and entertaining. The Nouveaux introduces a celebrated design incorporating elegant curves that allow it to stand vertically without the use of a separate base or stand. Designed for home and restaurant use, the Ozeri Nouveaux Electric removes a wine bottle cork with the gentle push of a button.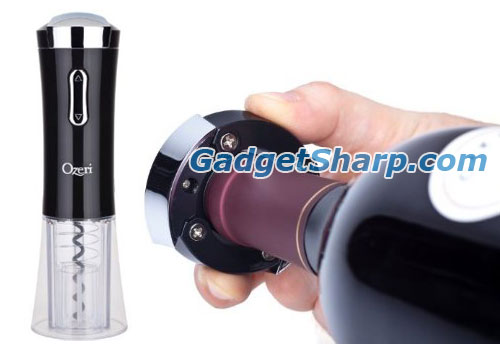 10. Picnic Time Cabernet 8-Piece Wine Accessory Set [amazon]
This Picnic Time Cabernet 8-piece wine accessory set features attractive and functional wine tools in a handsome gift box. Included in this set: A lever-style cork-pull, two bottle stoppers, a drip ring, foil cutter, pourer/stopper, wine thermometer and an extra cork-pull worm. All of the tools nest into a handsome presentation box with a lid and pull-out drawer that is made of black premium leatherette with white accent stitching. The Caberent makes an amazing gift for your wine-loving friends.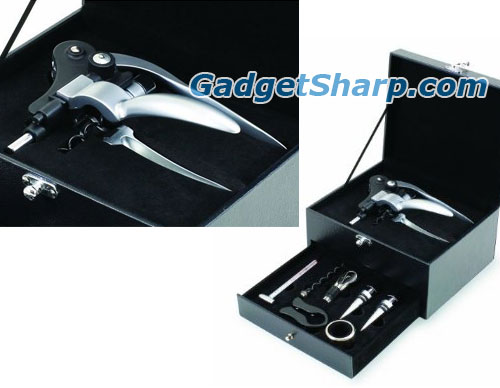 11. Screwpull by Le Creuset Anniversary Wine opener Set [amazon]
The discerning wine connoisseur knows that the finest wines deserve only the best treatment. This sophisticated corkscrew is not only stunning in design, but features Screwpull's legendary technology to perform reliably evening after evening. A simple pull of the lever is all it takes, significantly reducing cork friction and opening the bottle with barely any effort required. 10-year guarantee.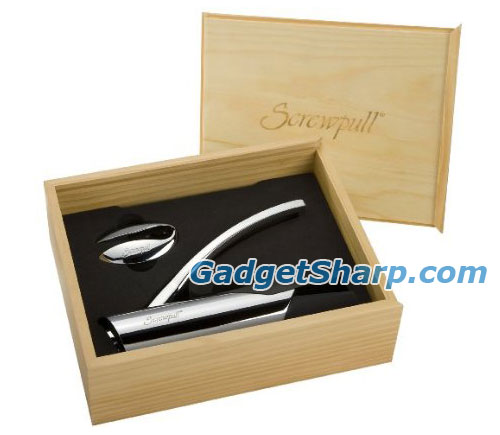 12. WMF Vino Variable Wine and Processo Corkscrew [amazon]
With its patented flexible external buttons, this WMF Vino Variable Corkscrew adapts automatically to all bottle necks. The screw is hardened and double Teflon-coated and stands out by its precise tip. With its handsome European design, and 18/10 stainless steel construction with a sleek mirror finish, this corkscrew underscores WMF's high quality standards.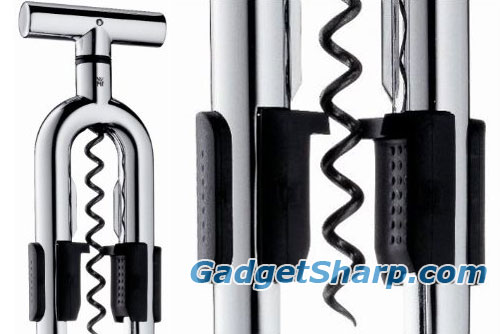 13. Connoisseur's Countertop Wine Opener [amazon]
The Connoisseur counter mounted wine opener utilizes revolutionary lever-pull design technology for fast and easy wine bottle opening with just the simple pull of the ergonomic handle.
Suction system quickly secures wine opener to your countertop.
Easy-grip lever is simple enough for anyone to use.
Adjusts to accommodate a wine bottle of any size.
Includes a foil cutter and an extra worm.
Cleans and stores in minutes.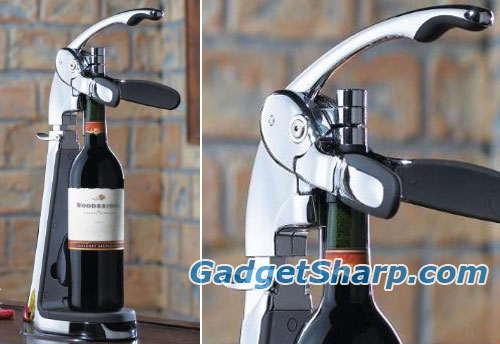 14. Vacu Vin Wine Gift Set [amazon]
Wine gift set featuring corkscrew, wine saver, wine server, and 2 vacuum stoppers
Crafted in plastic and rubber with a Teflon-coated screw
Sleek, functional design from acclaimed Dutch manufacturer Vacu Vin
Concerto wine saver preserves wine quality for up to 2 weeks
Saver measures 6 inches in length; set accommodates all bottle sizes