Collecting corks helps you hang onto the memories of great occasions and cherished wines, marking your consumption in decorative style! Just drop your treasured wine corks in below gorgeous cork holder to show off your collection; or transform them into useful but personalized Cork Trivet; or make some unique wall art out of them. Take a look at those Beautiful Cork Holders and hope you find it as a fun and innovative way to keep and cherish all of your wonderful wine corks.
1. Wine Barrel Cork Cage [amazon]
Dimensions: 6 1/2" x 10"
It has metal grape leaves design
It is unique corg cage
This is greate way of gift wine bottle.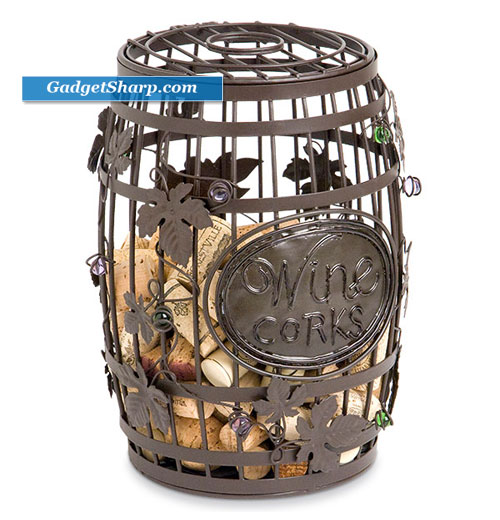 2. Pineapple Cork Cage [amazon]
Save you favorite Wine Bottle Corks in this Cool Cork Cage. The Pineapple is a traditional symbol of Friendship, and you and your friends can enjoy filling the Cage with Corks!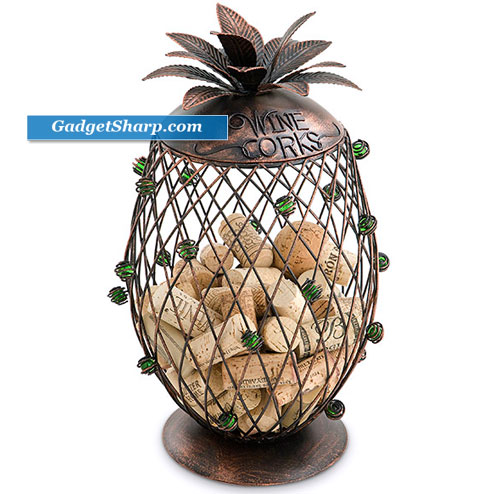 3. Wine Cork Cage Handbag [amazon]
A fun and innovative way to keep and cherish all of your wonderful wine memories, and a great gift to give to your girlfriends or wife. They'll never forget this clever present. Just drop your treasured corks in the opening. This handbag, artfully sculpted from metal with entwined colored glass spheres is sure to please the most discerning clutch owner.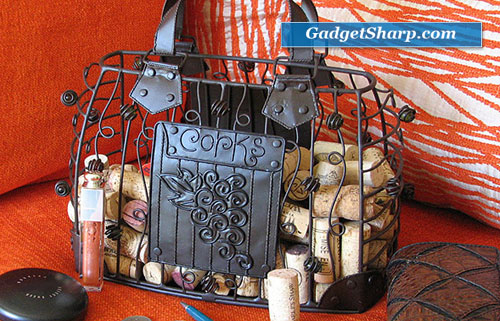 4. Corks of the World Cork Cage [amazon]
The Corks of the World Cork Cage is constructed from sturdy metal with a solid base. It features a soft patina finish, spinning globe center with an arrow pointing straight through it.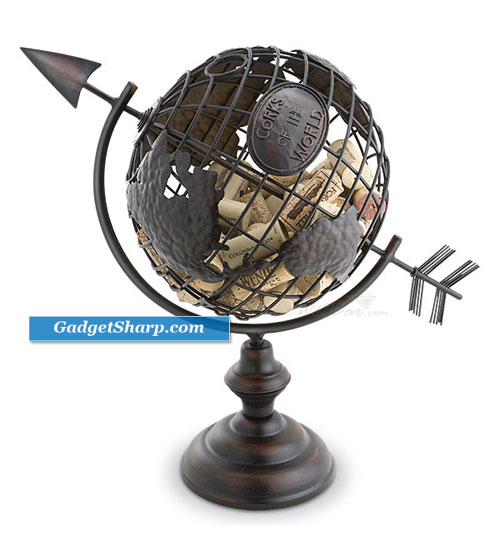 Wreath Metal Work Cork Cage [amazon]
The Wreath Cork Cage is sculpted metal with a wine corks label, detailed grape leaves and vines and colorful glass spheres. Just drop each wine cork into the top of the wreath cork cage. Although the Grape Wreath Cork Cage is perfect for the Christmas holidays, it is appropriate year round. The bottom of the Wreath Cork Cage hinges open to release corks. Dimensions: 6? x 10 1/2? x 10?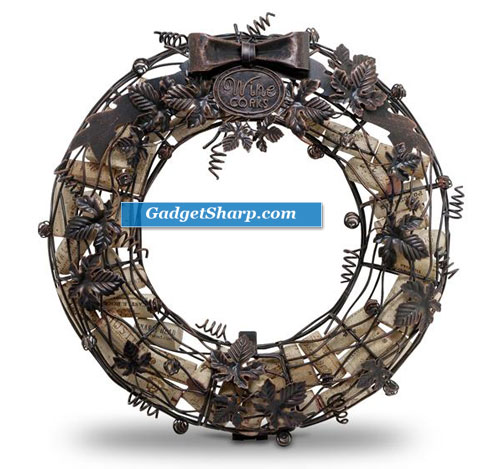 6. Wine Glass Cork Cage [amazon]
The Wine Glass Cork Cage, made of sculpted metal, is decorated with colorful glass beads. Shaped like a wine glass, the Wine Glass Cork Cage is artful metal work with a "Corks" label andcolored glass spheres. Dimensions: 6? x 12?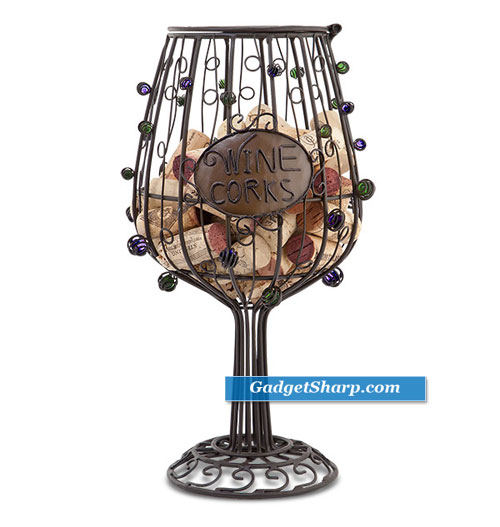 7. Wine Barrel Cork Cage Wine Bottle Stopper [amazon]
Wine Barrel What a way to hold your wine memories storing the cork as a keepsake! Convenient too, just remove the cork from your bottle of wine, and place the cork right into the stopper. The top opens on each stopper to allow easy access to insert or remove a cork. Each cage can hold one cork. This cage measures 2.25 x 5.25H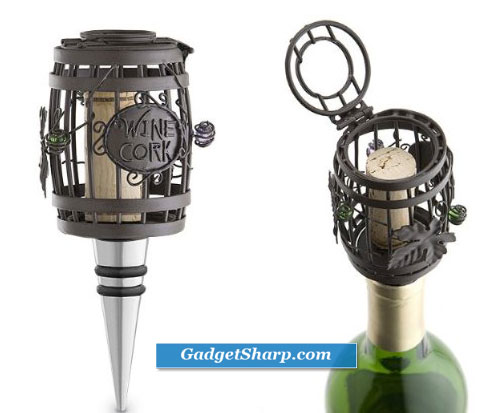 8. True Fabrications The Owl Cork Holder [amazon]
This decorative owl is a great gift for any wine drinker. In addition to brightening up any room, it can store approximately 115 standard corks.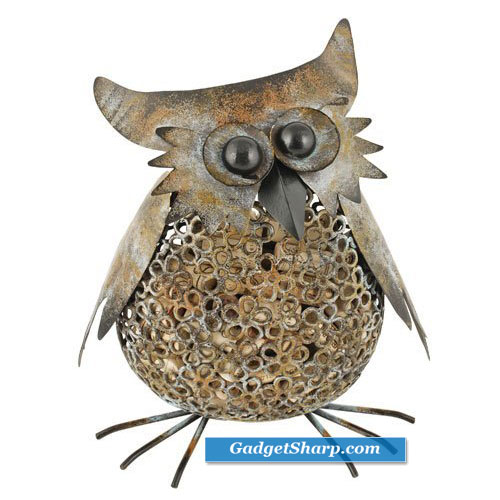 9. Sommelier True Fabrications Wine Cork Holder [amazon]
This metal cork is holder great decoration for any kitchen or bar. It is made with brushed metal construction and hold approximately 150 of your corks, making it a unique gift for wine drinkers.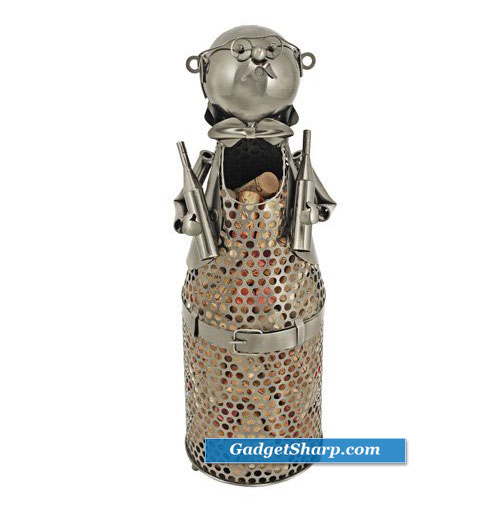 10. Wine Enthusiast Cork Trivet Kit [amazon]
Pop those wine corks…and create a wine cork trivet kit. Our wine cork kits are one of our most popular products since half the fun is in the making! The wine cork trivet made in mahogany wood protects surfaces from hot pots while displaying corks from your favorite wines. We supply the hardwood frame and instructions. You supply the wine corks. Click here for sample cork patterns. Size: 9'L x 11'W Approximately 40 wine corks are required to complete trivet kit.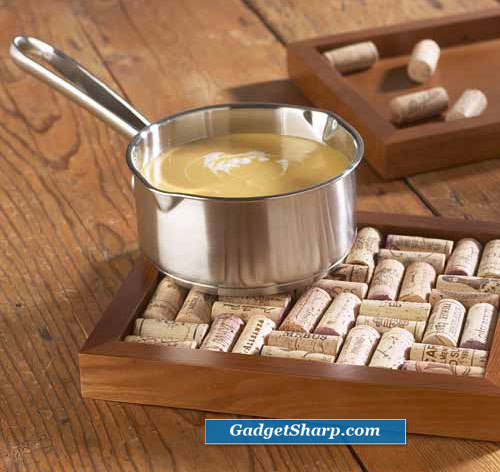 11. Sicilian Wine Cork Art Kit [amazon]
Features an exquisite handcrafted bottle relief with slots for up to 38 of your most meaningful or unique wine corks
Handcrafted resin, wall mountable
Measures a convenient 10.5"W x 14.75"H x 1.25"D size
May not fit corks of non-cork material (ie plastic)
Fits corks measuring approx. 1.75" to 2.0" L (fits most standard corks)