Dog leash is a commonly used pet accessory. Having the dog wear a leash is a way of protecting the dog and other persons on the street. Dog leashes come in variety of designs and colors and they can be made of different materials. In this post, we will present 6 Cool and Unusual Dog Leashes. They are not common leashes you see on the street, each of them has a little special part. Some of them might look ridiculous to you and probably won't be loved by dog as well. But they are interesting to look and worth a laugh by themselves.
1. Dog Umbrella Leash [amazon]
If it's raining, sleeting or snowing hard enough for you to grab an umbrella while taking your dog for a walk, shouldn't your little friend get some weather protection as well?
Features & Specifications: Keeps your dog dry and comfortable in rain, sleet, or snow ? 24" x 16" clear oblong arc trimmed with classic navy and green plaid waterproof fabric ? Adjustable 6 to 11" leash with hook attaches easily and quickly to dog's collar or harness ? Ergonomic angled handle with padded comfort grip ? Automatic pop-up button.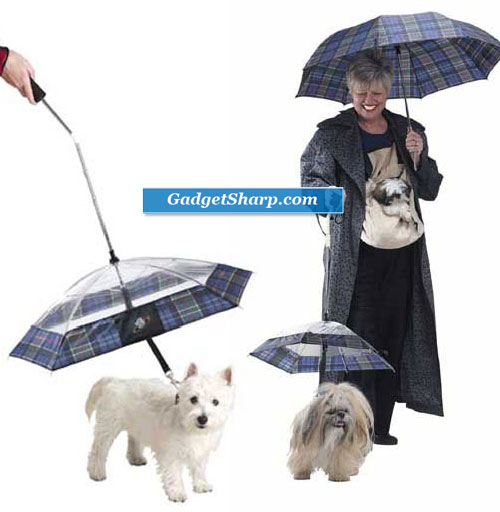 2. Cool Down Doggie Misting Leash [amazon]
Cool Down Doggie emits a refreshing mist of water to cool down your dog during walks.
Refillable 10-ounce water bottle
Ultra-fine misting spray gently cools your pet
Easy to clean misting head
Trigger control with continuous spray feature
5-foot leash with universal collar hook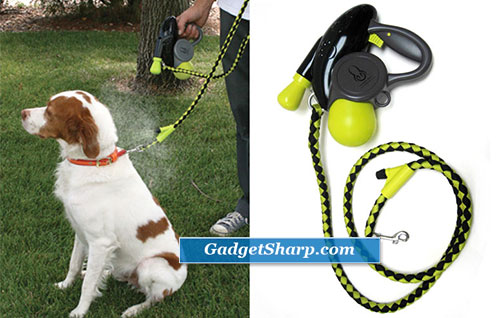 3. Hot Dog Leash [amazon]
This hilarious Hot Dog Leash is sure to be a conversation starter when you're out at the park with Fido. It's just like a traditional leash but more fun ! It has a comfortable foam rubber handle to grip and a standard leash clasp at the bottom. Leash has 8 plastic hot dogs strung from end to end.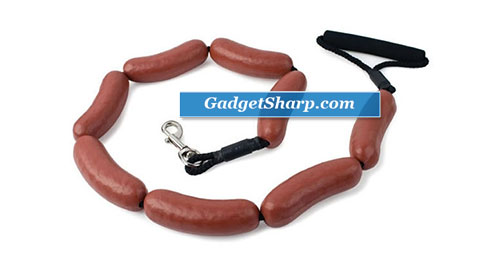 4. LED Light Up Dog Leash [amazon]
Steady glow and flash mode
150 hour replaceable battery life
100,000 hour LED life
Fully weather-resistant, visible up to 1000ft in the dark
Batteries included and replaceable batteries also included (Four 2032 3V lithium coin cell batteries)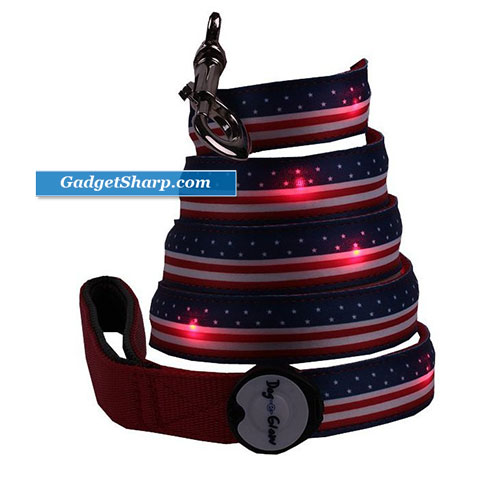 5. Sporn Double Dog Leash [amazon]
This original leash product allows owners both safer, closer control on crowded streets and a freer, wider range during park walks. The Double-Dog Leash is made of quality braided cord and nylon webbing. Hardware is durable custom nickel-plated steel for reliable strength and reduced weathering. The no tangle design has a slideable locking clamp that insures full ?leash-coupler? adjustability to allow different sized dogs to be walked at the same time. Before using, open metal buckle and slide to desired position, close buckle, and then slide web-keeper up toward the leash handle. 4? 4? end to end.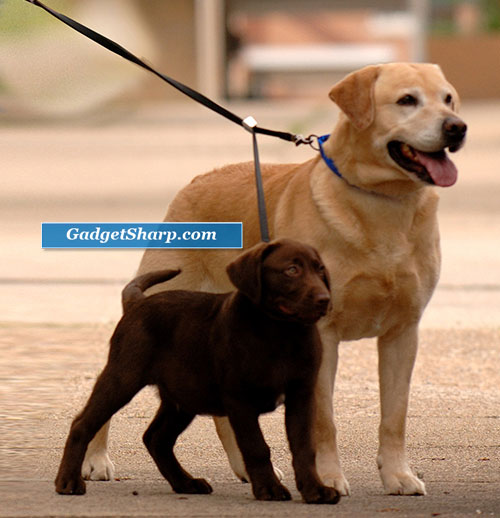 6. The Buddy System Belt and Leash [amazon]
Designed by active pet owners, The Buddy System is a unique hands-free leash system designed to make it easy to take your best friend along. This is the most well-thought-out leash on the market today!