We love our pets, we want them sleep as comfortable as we are, and maybe sleep as close as possible with us. To allow that, you either share your bed with them, or give them their own beds. The problem is, ordinary bulky pet beds aren't always attractive for your home and maybe you also have some space issue which means you can just put a pet bed anywhere. Take a look at 10 Cool and Cozy Pet Beds we rounded up here. Some of them are really cozy and some of them are pretty functional - double as a pet bad and an end table.
1. LazyBonezz Metropolitan Pet Bunk-Bed [amazon]
Solid wood with a high-gloss finish, Stainless Steel accents
2 microfiber fabrics included, Fabrics machine washable
Cushion very comfortable, Minimal assembly required (2 screws. Parts included)
Sturdy design - can hold up to 30 lbs on each level, Coated bottoms to prevent scuffing
Non-toxic finish, Signature Lazybonezz plaque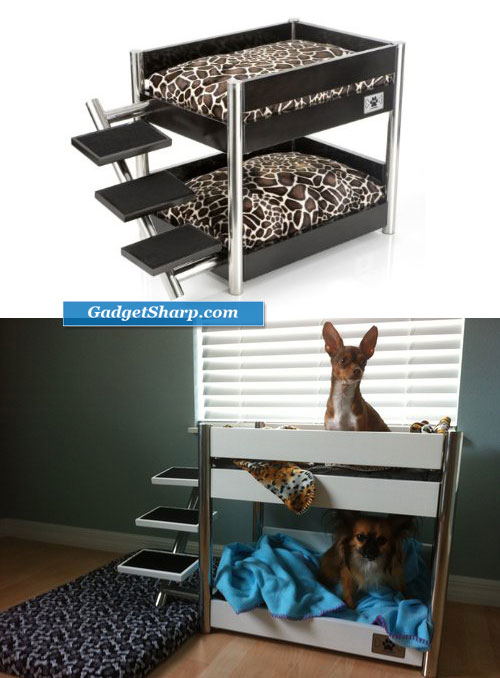 2. Petmate Nap of Luxury Pet Bed [amazon]
Champagne Frame and Camel Bedding
Bolstered construction provides comfort and security.
Sturdy metal frame is ease to assemble without tools.
Cover can be removed for washing.
Assembled bed measures 20" long, 20" wide and 16" tall.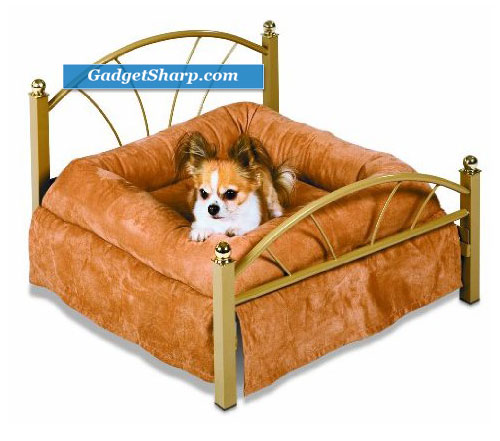 3. Espresso Multifunctional Kitty Litter Box Stand [amazon]
This Espresso Multifunctional Kitty Litter Box Stand is sure to become your favorite home accent. With a rich espresso finish and wainscoting panels, this stand is designed to match existing home d?cor while housing a litter box or becoming a home for your small dog. Great for use in the bathroom or as a night/side table to maximize space, this easy to clean stand can be used to confine a large litter pan up to 10.5'W x 16'D (not included) or hide away messy dog beds. Useful shelf space on top and an interchangeable side towel bar offer multiple organizational options. Minimal assembly required. Made of MDF and solid wood veneer. External dimensions: 20' x 18' x 25'; Door opening: 7' x 8'.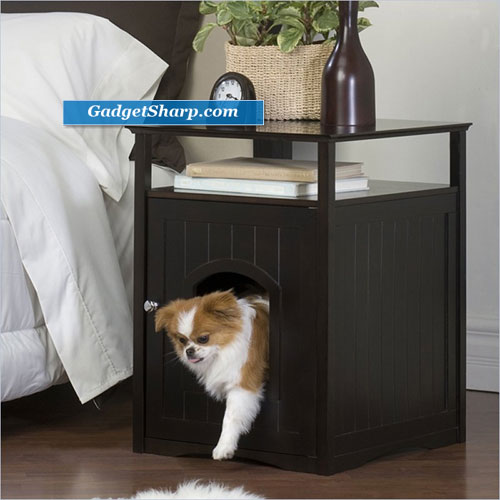 4. Wood Pet Crate - End Table Night Stand [amazon]
Now crate your dog in your den or bedroom with our attactive Handcrafted Wood Pet Crate. This furniture grade addition looks right at home in any room. Designed for small to medium sized dogs the crate features wood slats on all sides. Assembles easily in minutes using tools included. 24"L x 18"W x 26"H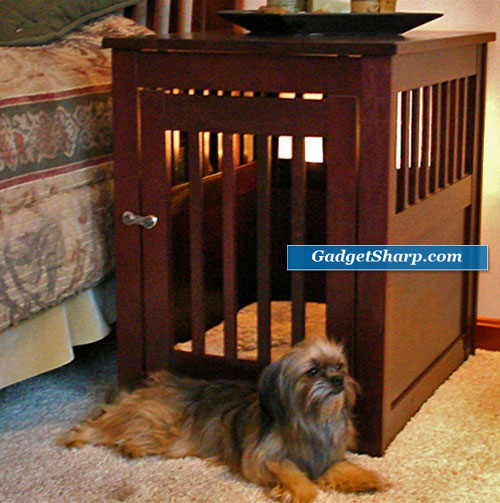 5. GoPetClub Cat Tree Condo Scratcher Post Pet Bed Furniture [amazon]
GoPetClub produces pet products and simply offer the widest variety of cat furniture on the market. With our own manufacturer we carry exclusive design cat trees and pet related products that make us a one stop pet supply marketplace. Description: Overall Size : 50"W x 26"L x 72"L , Base Board Size : 28"W x 24"L , Size of Condo 1 : 20"W x 15"L x 11.5"H , Size of Condo 2 : 15"W x 12"L x 10"H , Top 3 Perches : 13.5"W x 13.5"L x 2.5"H , Number of Posts : 10 , Number of Levels : 15 , Covering Material : Faux Fur , Board Material : Pressed Wood , Easy to assemble with step by step instruction and tools included
6. PetFusion Cat Scratcher Lounge [amazon]
Both a scratcher and a lounge!
Sleek and neutral design made of eco-friendly, recyclable corrugated cardboard
Curves make it easier for your cat to scratch and provide a more comfortable place to rest
Reversible for twice the use. Sturdy and long lasting
Sprinkle catnip (included) to train your cats. Reclaim your favorite chair or couch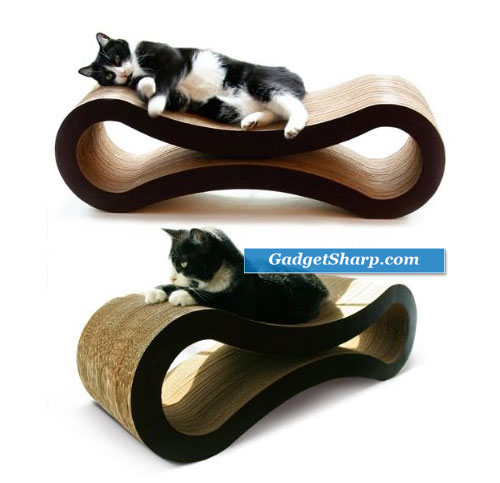 7. K&H Thermo-Kitty Hut [amazon]
Warm and cozy cave style hut for year-round feline comfort and warmth indoors 2 thermostats control 4-watt heater to keep hut warm when not in use In-use thermostat warms cabin to 102 degrees with cat onboard Washable removable cover for easy cleaning; available in two colors to match any d?cor Measures 18 by 18 by 8 inches;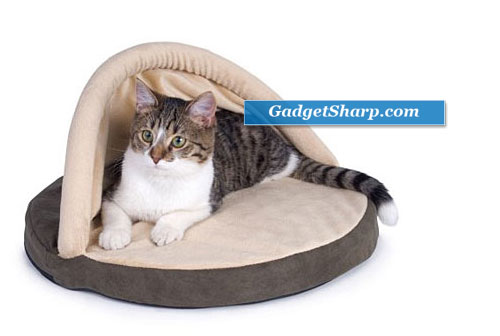 8. Trixie Baza Cat Tree [amazon]
The Trixie Baza Cat Tree will provide endless opportunities for cats to play and scratch or just relax
This healthy outlet for scratching instincts allows them to sharpen claws on two sisal covered scratching posts instead of on furniture or carpet
If a nap or place to perch while surveying their kingdom is in order cats can curl up in the soft plush hammock for the perfect cozy retreat
When feeling a little spunky cats can bat around and wrestle with the dangling pom pom
Beige color is a subtle earth tone that is easy to match to almost any home decor Size 16 x 16 x 20 inches Weight 10 lbs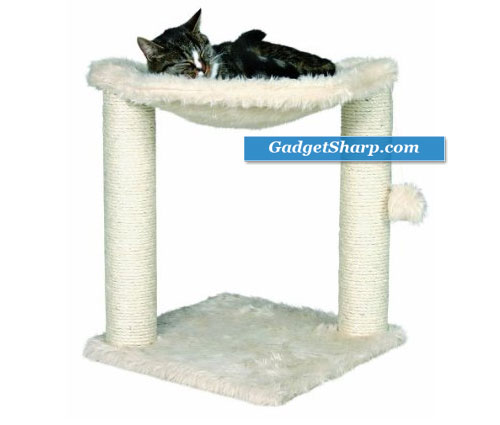 9. K&H Kitty Kup Cat Bed [amazon]
This cozy bed is for the pets that love to curl up in a ball and feel secure with walls around their body. The entire bed is made from soft, luxurious microfleece. The pillow is removable and reversible to a contrasting and complimentary color. Completely machine washable for easy care. Available in 2 colors and 2 sizes.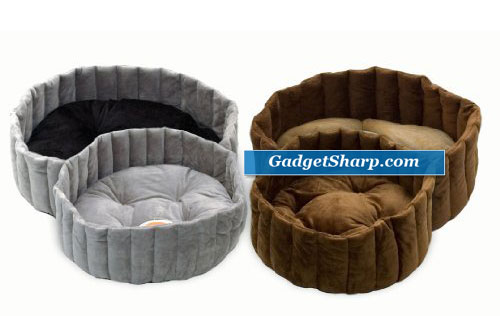 10. The Refined Canine's Igloo Deluxe Pet Bed [amazon]
End table for you. Bed for your pet. The Igloo Pet Bed gives your dog a hide-a-way that you are happy to display within your home.The Igloo is made of natural rattan and stained espresso. It is 25" in diameter, 19" high and contains a soft machine washable cushion perfect for a comfortable nap.