When comes to pet feeder, it is usually a bland-looking plastic or metal apparatus. But do you know pet feeders can be pretty cool and modern looking? Here we collected 7 Cool Pet Feeders that may just make your pets enjoy their meal a little bit more. The "Interactive Dog Feeder" is designed to slow your dog down when eating and "Talking Dog Bowl" can record your voice and play it back when your pet approaches. There are many cool features, and will definitely be a thoughtful gift to any one who has pets.
1. Bambu Pet Diner [amazon]
The cool new Bambu Pet Diner is an elevated pet feeding station that has been ergonomically designed to aid in proper digestion and eliminate back and neck tension. It features two dishwasher-safe stainless steel bowls and a stylish base crafted from exotic strand bamboo with a water-resistant finish. Available in three sizes.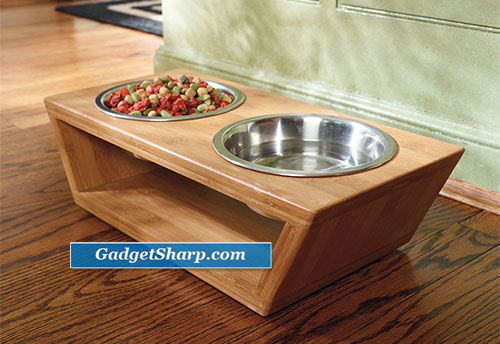 2. Doggie Fountain [amazon]
Fresh water whenever your dog wants it
Encourages drinking
Activated when your dog steps on the paw print
Attaches to hose or faucet
Heavy gauge steel for durability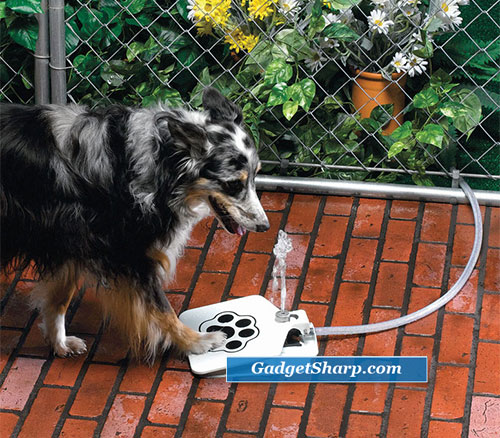 3. Northmate Green Modern Interactive Dog Feeder [amazon]
This is one seriously cool dog feeder. Designed to slow your dog down when eating, this feeder also doubles as an interactive, reward-based game. Many dogs "inhale" their food, which can lead to all sorts of digestive problems. Green slows down their eating time considerably while adding a fun, modern look to their eating space. Designed for dogs of all sizes and ages. This is a trainer recommended product and is made from phthalate-free plastic, so it is safe for indoor and outdoor use. Dishwasher safe.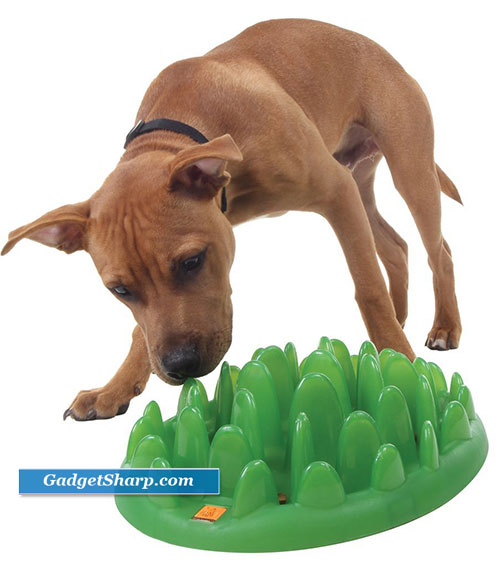 4. FroBo - Freezable Pet Dish with Base [amazon]
A happy and healthy pet drinks plenty of fresh, clean water.
The Fro Bo cooling pet bowl provides your pet with a constant reservoir of cool, clean water.
The FroBo keeps your pets water cold and fresh for 8 hours or longer.
It's non-toxic gel core freezes in 2 hours and lasts longer than ice.
Simply freeze it, insert into base and fill.

5. Perfect Position Pet Bowls [link]
Unlike floor-bound bowls that force pets to crouch uncomfortably, this elevated feeder adjusts to different heights to allow virtually any size pet to eat and drink from a more comfortable position. Elevated feeders help older pets, who typically have weak neck muscles, eat without creating undue stress on the spine and help prevent choking or aspirating. The feeding tray simply hooks onto the frame at the different heights. Two stainless steel bowls are dishwasher safe and the frame is made from sturdy plywood and engineered wood, finished with a rich walnut lacquer. Large. For pets 10 2/3" to 23 1/2" tall. Adjusts to 10 1/4", 13 1/3", 15 1/3", 17", or 18 1/3" high. 25" W x 16 1/2" D. (24 lbs.)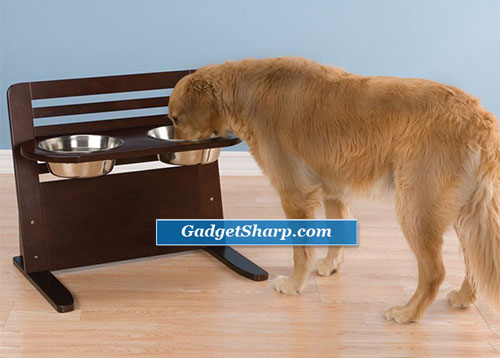 6. Contech ChatterBowl Talking Dog Bowl [amazon]
Does your dog miss you when you're away? Now it can hear your voice any time it wants with the ChatterBowl talking pet bowl from Contech. The ChatterBowl is a high-quality food bowl that records your voice, and plays it back when your pet approaches.

7. Hugx Pet Bowl [amazon]
HugxTM is a high quality pet feeder designed especially for the contemporary home By turning the bowl 180 degrees in its stand you can actually control the amount of food it holds. The angle of the hugxTM also ensures that pets wearing veterinary collars can eat or drink unimpeded. Mini hugxTM: 13.5" x 8" x 4" / Bowl Capacity approx 10oz