If you are a fish lover and want to have some fish as pets, the first thing you need to have is a place for your fish. It can be a simple fish bowl or some super customized aquarium, which totally depends on your budgets. In this post, we rounded up 9 Cool Aquariums which can be placed on your table, your floor , your wall or be part of your furniture like coffee table and headboard. Sounds interesting? Just take a look.
1. Seawater Aquarium Headboard [link]
A king sized headboard aquarium holding about 650 gallons of seawater and some absolutely gorgeous fish! The headboard is currently on display at the entrance of the Sleepland Gallery at Furnitureland South in Jamestown, North Carolina. It gives a whole new meaning to ?sleeping with the fishes?.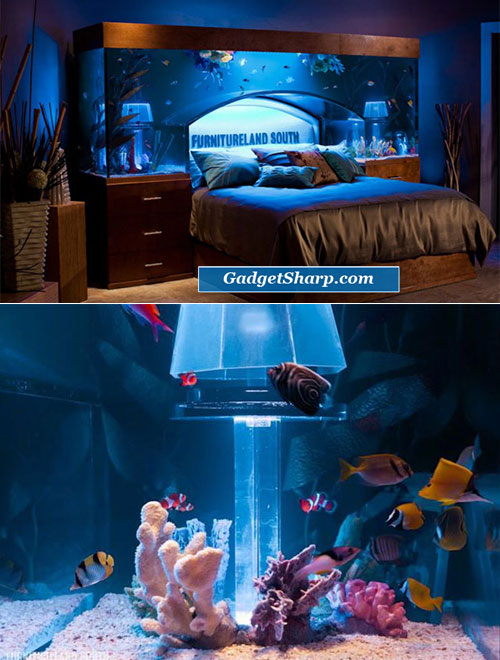 2. Fluval Edge, 12 gallon Aquarium with 42-LED Light [amazon]
EDGE is an eye-catching showpiece that stands out anywhere you put it. It includes LED lighting, so it makes a spectacular substitute for tabletop lamps.
6 sided, 12 gallon sealed glass aquarium
Powerful, easy to use Edge filter with Cycleguard
Includes Nutrafin Cycle and Nutrafin Aquaplus water treatments
LED Lighting, Filtration & Wiring is easily hidden away in the d?corative column
Powerful bright white 7600K high liuminosity LED's with 3 deep blue night-time light LED's and 3 position switch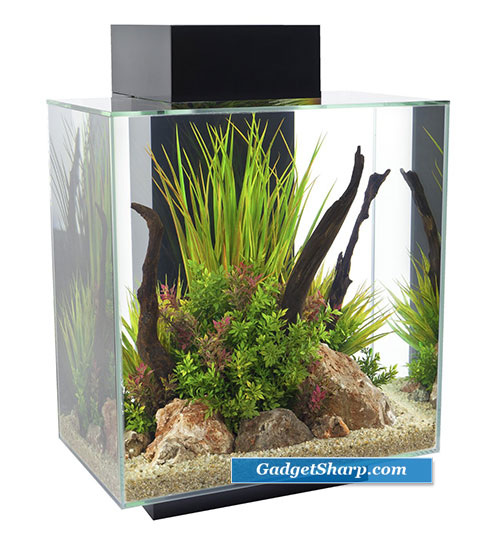 3. Large Crystal Fish Bowl [amazon]
Design your home with the serenity our magnificent 24% lead crystal fish bowl portrays. You can fill this crystal bowl with just about anything you wish. Should it be some delightful cookies, or some tasteful chips, its your choice, to give your table the centerpiece which best completes its setting.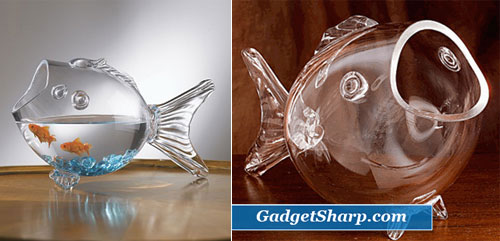 4. Magic Globe Aquarium [amazon]
Waterfalls run from side openings and go through a worry-free self-contained filtration system that aerates and cycles clean water back to the globe. Beautiful LED system illuminates the globe with colorful light spectrum and makes Magic Globe Aquarium glow in the dark like a living ?Crystal Ball? nightlight.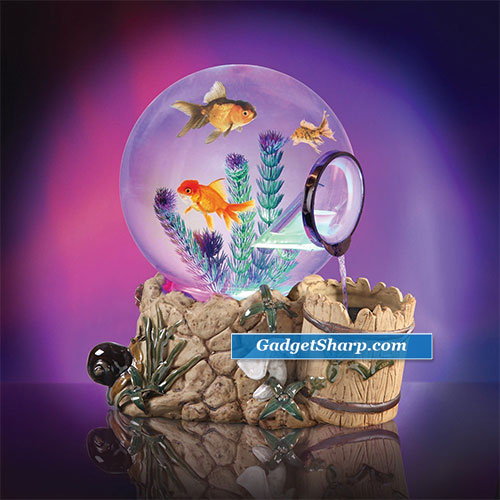 5. biOrb Aquarium Kit with Light Fixture [amazon]
The Baby biOrb is a sophisticated aquarium that bestows the soothing sensation of swimming fish at home or at the office. It requires very little maintenance, and all supplies, including a halogen light and a comprehensive instruction guide, are provided. The unique, built-in 5-stage filtration system combines biological, chemical, and mechanical filtration to keep the water healthy and crystal-clear for months between simple filter changes. The filter cartridge conveniently lasts up to 8 weeks, so cleaning the BiOrb is quite easy. Since the filter is barely visible at the bottom of the globe, it causes no obstruction of the underwater view when the biOrb is filled.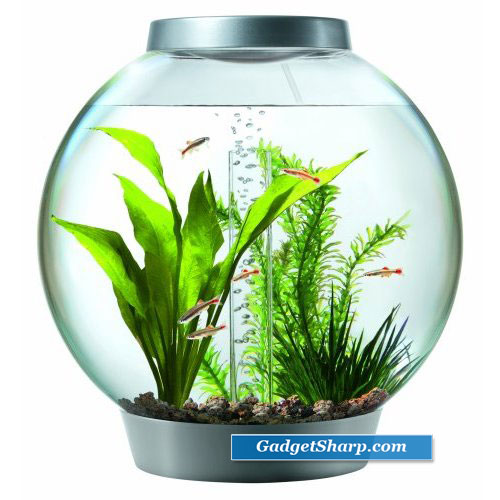 6. KollerCraft AQUARIUS 360 Aquarium [amazon]
This attractive tank will brighten any room
The aquarium kit features LED lighting (which includes 6 switchable color selections)
Kit includes a full hood, under-gravel filter, tubing and air pump
The unique hood turns the same color as the LED light
This clear seamless aquarium offers 360-degree panoramic viewing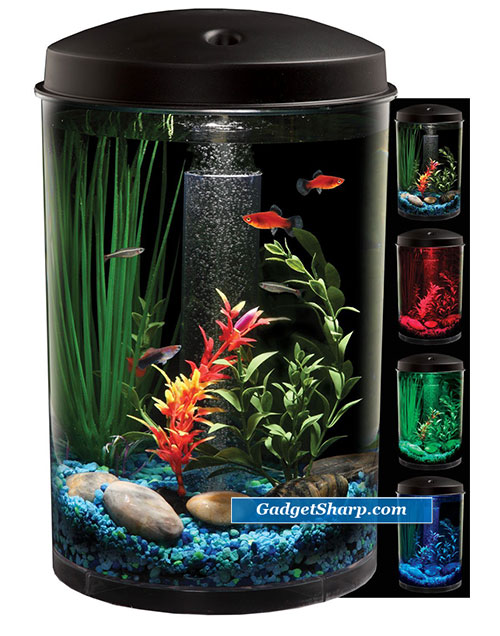 7. Aqua Coffee Table [amazon]
Ever-changing aquatic habitat readily creates a relaxing atmosphere while offering everyday utility. Resting on a black acrylic pedestal, each table aquarium is illuminated from below a bed of blue glass gravel. The 25 gallon style 675 Aqua Coffee Table Aquarium is shaped to fit your interior placement. A solid 3/8? tempered 36 square glass top completes the system designed to provide years of enjoyment. Complete with lighting, extension cord, decorative plants, gravel, two-stage submersible filter pump and easy-to-follow instructions.
8. Aussie Aquariums Wall Mounted Aquarium [amazon]
At only 4.5" deep and with up to 21 gallons of water, Aussie Aquariums create a spectacular world for a variety of marine life.
Brushed Aluminum Frame Includes all mounting brackets Includes starter kit Light, lid and filtration included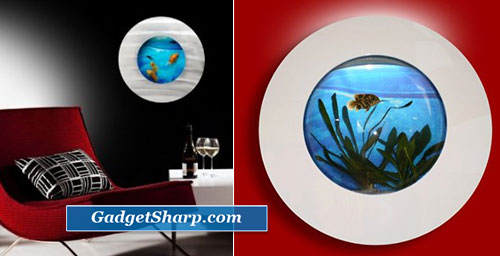 9. Aquarium Sink [link]
This highly entertaining accessory allows you to enjoy an aquarium or zen garden within your restroom. Stand available in chrome and wenge. The top glass rises in case you need to rearrange the decor and both sides offer a large, circular entry for fish feeding. A large sink light is included (located in back) and a power head is also provided for filtration, oxygenation and water circulation.