We love cats but clean cat's litter is not something pleasant. Now you don't have to compromise! There 10 Useful and Functional Litter Boxes presented in this post, which is designed to keep your floors clean of litter and provide your cat with a clean, private place to potty. Some of them are combined with furniture which will be perfect for the home with limited space. And some of them are pretty high-tech and functional, like Automatic Self-Cleaning Litter Box. Hope you find this post useful for you cat lovers.
1. Good Pet Stuff Hidden Litter Litter Box [amazon]
Large-capacity cat litter box looks like a real clay pot
Made of durable polypropylene
Filtered vented system works to control dust and odor
Designed for large cats and multi-cat households
Measures 42 inches high with included plant; 1-year limited warranty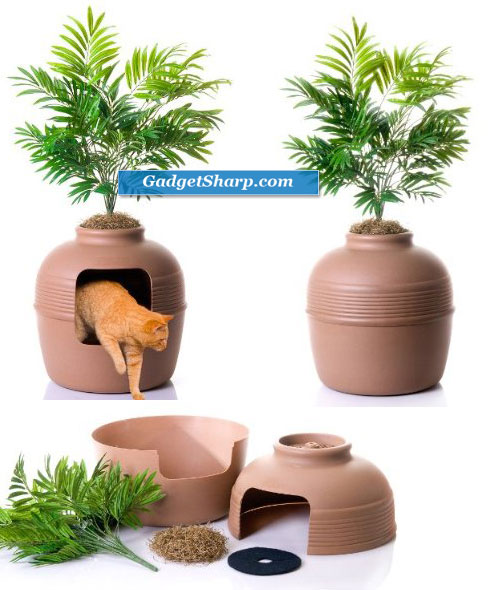 2. Pet Studio Litter Box Cabinet Mahogany [amazon]
Litter Box Cabinet is the perfect way to conceal a cat?s litter box. The dark mahogany color and stylish details, including antique-brass colored pull knobs, go with any d?cor. Fits standard-size litter box while offering cats ample room and privacy and containing mess and odors. Two paneled doors, with magnetized closures, make box removal and maintenance easy. Side opening allows cats discrete entry and exit. Includes storage drawer (for extra litter and a scoop–not included). Boxed with instructions for assembly.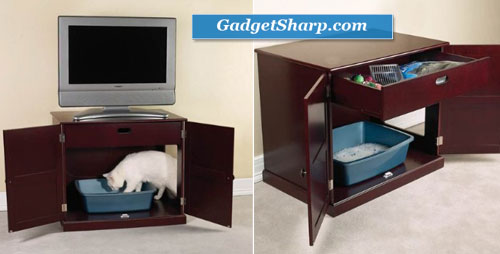 3. Omega Paw Self-Cleaning Litter Box [amazon]
The Roll Away Self Cleaning Litter Box cleans in just secounds without scooping. Inside the litter box there is a unique patented grill that seperates out the clumped waste, depositing it into the pullout tray. The Large Litter Box is great for big cats or for multiple cat households. No electricity or expensive filters needed!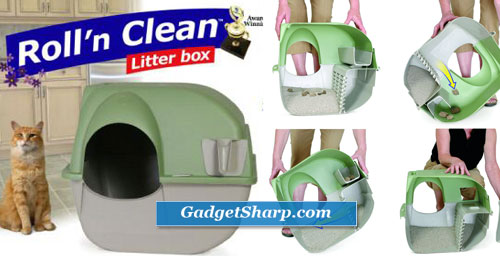 4. PetSafe Simply Clean Continuous-Clean Litter Box [amazon]
Self-cleaning litter box for cats up to 12 pounds
Continuously cleans without disturbing cat; reduces odor and odor causing bacteria
Unit moves at one rotation per hour; quiet operation- no initiation or running sound
Economical and environmentally safe; uses recycled plastic shopping bags
No tools required for assembly; no moving parts for optimal safety


5. Night Stand Pet House [amazon]
Attractive multi-functional pet house also hides unsightly litter box
Classic, clean white fiberboard cabinet features wainscoting paneling and stainless steel hardware
Provides a safe, discrete resting/sleeping area for dogs and cats
Minimum assembly required; instructions and hardware included
Measures 18.5 x 16.5 x 18.5 inches; 1-year warranty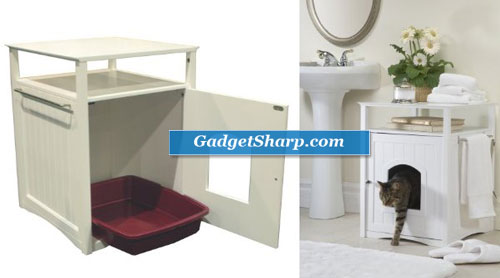 6. Litter Robot LRII Automatic Self-Cleaning Litter Box [amazon]
Automatic self-cleaning cat-litter box saves time and money
Patented sifting process cleans litter automatically after each use
Deposits waste in large-capacity drawer lined with kitchen garbage bag
Reliable and safe; works without rakes or wires that could jam, clog, or break
Measures 24 by 22 by 29 inches; 18-month full warranty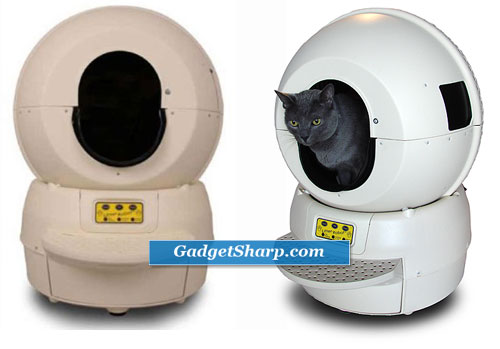 7. ModKat Litter Box Red [amazon]
Litter box with modern design. Includes: 1 Reusable Litter Liner + 1 ModKat Scoop This product will be back in stock on May 10. The ModKat Litter Box is 15" tall, 16" deep, 16" wide and has a standard size opening for the cats to enter.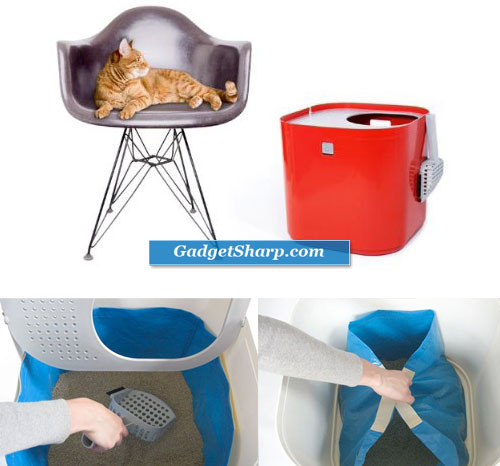 8. Booda Dome Cleanstep Cat Box [amazon]
Efficiently designed for cleanliness and privacy
99-percent odor-free box blends nicely with your home d?cor
Large enough to easily accommodate 2 cats
No assembly required
Includes built-in elevated ramp and large-capacity air filter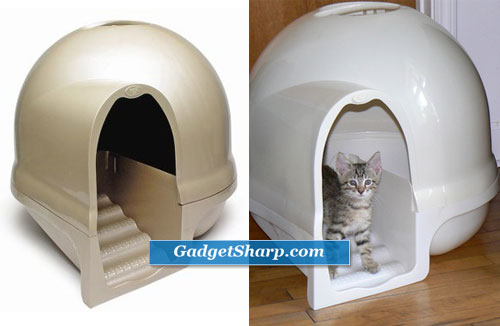 9. Designer Catbox Litter Box Enclosure in Black [amazon]
An interior panel and staggered entrace prevents litter from being kicked onto the floor.
Outer hole can be set up on right or left, so that you can keep it hidden from guests.
Durable, glossy, non-toxic, lead-free paint - made to last.
Hydraulic safety hinge holds lid up for easy cleaning.
Keeps curious children and dogs looking for "treats" away from the litter pan.


10. CatGenie 120 Self-Washing Self-Flushing Cat Box [amazon]
Automatic cat box flushes waste away and washes itself clean
Uses litter-like Washable Granules to satisfy cat?s need to dig and cover
Ideal for cats of average size and 6 months or older
Requires hookup to cold water and electrical outlet
Includes biodegradable, recyclable SaniSolution cartridge