A bowl is a common open-top container used in many cultures to serve food, which has been existed for thousands of years. You might see bowls in different color and pattern, but multifunctional bowls? Really? Take a look at our today's post, you can find some interesting function bowls now have, like iPhone holder so you can enjoy your favorite smartphone activities while eating or crispy bowl allows every bite of your cereal or crackers to be as crispy as the first bite.
1. A Ramen Bowl that Banishes Loneliness [link]
Say goodbye to lonely solo ramen meals with the ?Anti-loneliness ramen bowl?! This prototype from designers Daisuke Nagatomo and Jan Minnie allows you to enjoy your favorite smartphone activities while eating. The best part? when the bowl is empty, it actually serves as an amplifier for your music (or dramas)!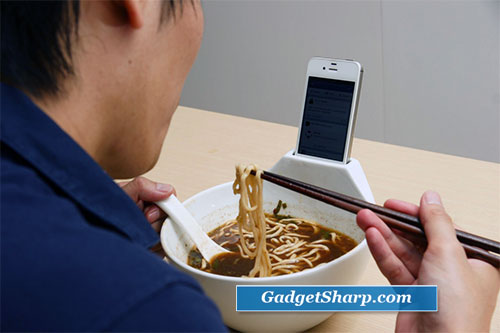 2. Eva Solo Smiley Bowl [amazon]
This hand-blown glass bowl is smiling at you. And that?s precisely why this bowl is named Smiley. What makes Smiley so special? It?s actually two bowls in one: an outer bowl and an inner bowl.
Bowl Smiley is so versatile. It is original and practical, especially as a snack bowl. Take nut shells as an example, they can be conveniently placed in the cavity above. Or, you can serve two different snacks at the same time and by using the same utensil? There are so many different ways to use Bowl Smiley!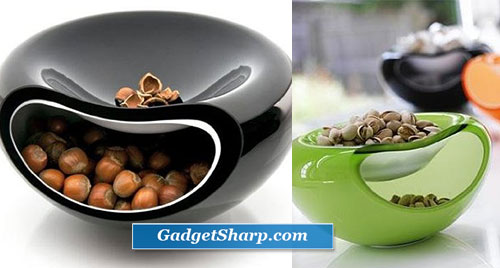 3. Obol Original Crispy Bowl [link]
keeps the crisp in your cereal and the crunch in your crackers. The patented design of the Obol allows every bite to be as crispy as the first bite. To use, just grab hold of the textured non-slip grip and rim, slide and guide the cereal down into the milk, scoop up and enjoy. It's also perfect for milk and cookies, soup and crackers, chips and dip and other food combos that need to stay safely apart until the last second. This just may be the ultimate cereal bowl and beyond!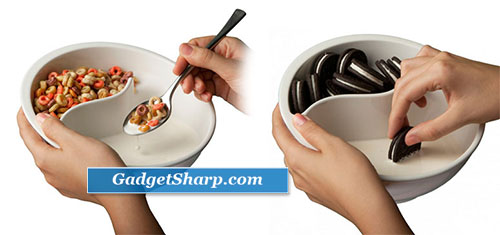 4. Alessi MooM Bowl With Built-In Wine Glass Holder [amazon]
The Alessi MooM Salad Bowl is the perfect tool for enjoying a fresh salad and a glass of wine! This unique red designer salad bowl comes complete with glass holder so you can make a wonderful presentation out of your place settings. This brilliant bowl is made from a thermoplastic resin and is designed to be easily carried around in answer to the new 'nomadic' lifestyles. The MooM alludes to a soft and comfortable archetypal form and never fails to impress when guests visit!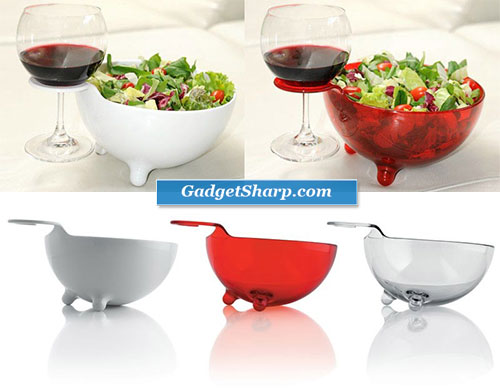 5. Bowls With Built-In Spoon Holders [link]
The spoon fits in the handle of the bowl, so the two can be held with just one hand. Very practical when you're not eating at the dinner table. Excellent for eating cereals, soups or noodles.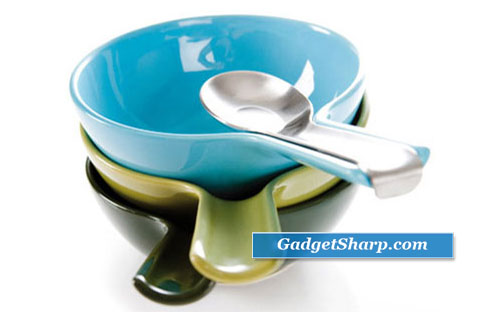 6. Ooma Bowl [link]
Eating without a table has a bad reputation, but only among those ill-equipped for this fun and, potentially, fine dining experience. The Ooma Bowl rises to the occasion where most other dinnerware falls flat. Its double-chambers are specially designed to keep food separate; so you can enjoy your chips and salsa or rice and curry without there being any unintentional mixing. Plus, the ergonomically designed bowl balances when held, and keeps your wrist in a comfortable, neutral position! Here's to eating on the floor…and the couch…and the recliner…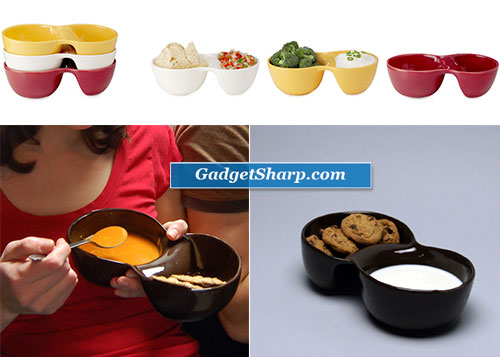 7. Udon Noodle Bowls [amazon]
hese bowls are fun, elegant, and ergonomic.Whether you are hosting a dinner party or lounging in front of the tv, these Japanese-inspired bowls are designed to fit perfectly in the palm of your hand. Comes complete with chopsticks. Microwave & dishwasher safe. Glaze is completely lead-free.Holds 22 ounces.Available colors: Buttercream, Pacific, Aubergine, Black Bean and Snowpea. Dimensions: 6dia.x6H. Handmade in the USA and Canada.Bowls sold individually. Create your own set, or mix and match!
8. Zen Dipping Bowl [amazon]
Bring a little zen to a crazy party or dinner table when you dip bread into this cool new Zen Dipping Bowl. This unique ceramic dipping bowl separates, yet balances the olive oil and vinegar into the harmonious Yin Yang symbol of shadow and light. It could also be used for chips and dips or anything else that pairs nicely in the universe.