Daybeds are used as beds as well for lounging, reclining and seating in common rooms. They are a cross between chaise lounge, couch and a bed. If your home is short on space, a daybed is the perfect solution. Daybed bedding can help turn your daybed into a fully functional piece of furniture that serves as both a couch and an extra bed. With fashion design in mind, daybeds can be not only a comfortable furniture but also a stylish touch to your home decoration.
1. ?StarLit? Daybed [link]
The daybed appears massive in size but the olive wood cylinders on the ends have a pattern carved into them that breaks up the heaviness and lets light pass through. The pattern in the wood is in the shape of olive leaves. The cylinders are also meant to act as storage for pillows and blankets and whatever else you need to get your relaxation on. Whether in a spa or in a residence, this piece does look cozy and I would definitely be interested in taking a nap on it.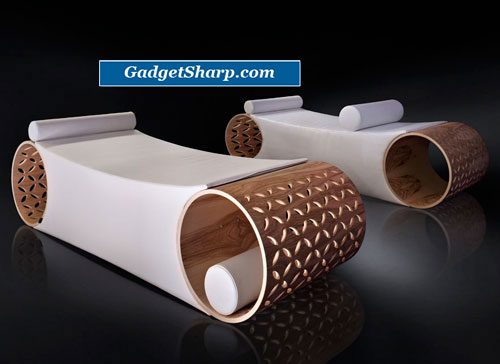 2. Fashion Bed Group Fraser Wood Daybed [amazon]
The Fraser Daybed by Fashion Bed Group features poplar wood construction in a distressed black finish. This daybed has sleigh arms and a camel-back style rear panel with three inch vertical slats set one inch apart in a keyhole pattern. The Fraser Daybed is simple in design, suitable for both sleeping and seating. Extend its versatility as a sofa in your home office or combining it with the pop-up trundle unit in the guest room for even more sleeping space. From the intricate keyhole pattern to the elegant distressed black finish, the Fraser Daybed offers a lasting appeal you will enjoy for many years. Features: Daybed made of solid poplar wood and MDF Distressed black finish Includes Daybed and Link Spring Twin size Sleigh arms Camel back panel Keyhole slat pattern 10 year manufacturer limited warranty on brass, plated brass, painted metal or finished wood components Some assembly requiredTrundle, mattress and linens shown are sold separately Specifications: Overall Dimensions: 49.5" H x 89.37" W x 41.12" D Shipping Carton Dimensions 1: 9" H x 90.5" W x 33.5" D Shipping Carton Dimensions 2: 2" H x 78" W x 38" D Weight: 99 lbs
3. Day Bed with Trundle Mission Style [amazon]
Dimension: 80 3/8"L x 42 3/8"W x 36 1/4"H Finish: White Material: Solid Wood Day Bed with Trundle Mission Style in White Finish Features twin bed, twin trundle and storage drawers. Three storage drawers of storage composed under the trundle allows for extra storage space. Item is created a relaxed space which suited for resting and entertaining. For daybed and trundle only, mattress and bedding are available separately. Also available in black and cherry. Assembly required.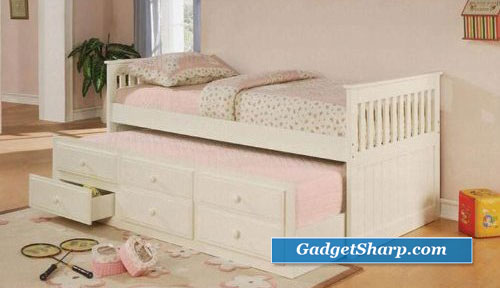 4. Tonecoon Daybed [link]
The Tonecoon Daybed is so rare you won?t find it in the wild. The Tonecoon Daybed is handcrafted out of water hyacinth and a limited run of only 10 are being produced at $4,000 a pop.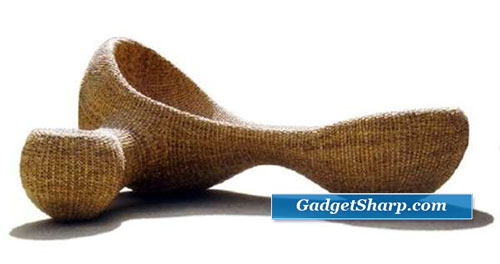 5. Miami Coffee Daybed [amazon]
The Miami Daybed boasts clean lines and ultra modern styling. It is designed with square tubing which adds to the contemporary construction and feel of the bed. Elongated vertical rectangles comprise the grills. Contrasting the square tubing and the angular design, the warm Coffee finish has a slight texture. The virtually maintenance free finish blends with almost any color scheme you may choose.Length 38.625Width 78.5Bed Size TwinStyle ContemporaryHeight 38Elongated vertical rectangles comprise the grillsMaterial MetalFinish Coffee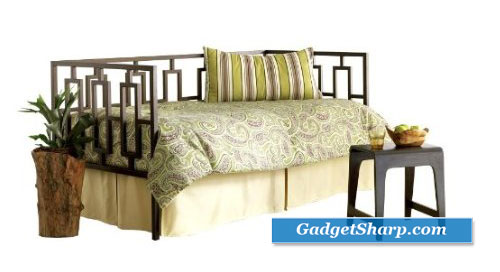 6. Tia Convertible Leatherette Daybed/Chair [amazon]
Features: -Modern style.-Convertible chair can be position flat or lounge style.-Unique spiral level that can converts to a lounge chair or daybed style.-Cushioned spiral lever also can be used as a pillow support.-Stylish over-tufted cushioning.-ISTA 3A certified. Options: -Upholstered in black colored leatherette. Construction: -Frame construction: Hardwood. Assembly Instructions: -Assembly required. Dimensions: -Lounge chair dimensions: 23.6'' H x 34.7'' W x 29.5'' D.-Daybed dimensions: 10'' H x 70.5'' W x 34.7'' D.