How cool sheets and blankets can be? No idea? You need to check this post, where we rounded up 11 Unusual Sheets and Blankets Designs from world. Some of them are really uncomfortable looking like the cordboard comfort, while some of them are pretty eye catching like the 3d sheet set, some of them also has interesting function, like the readable blanket and wearable blanket… Anyway, take your time and hope you enjoy.
1. Cardboard Comfort [link]
This ingenious design called ?Le Clochard? by SNURK is a great way to be reminded of the daily plight of the world?s homeless. Proceeds from the sale of these duvet sets will aid homeless shelters around the globe and bring new awareness to one of the oldest issues that plagues humanity. This high quality duvet cover features a photographic print of a cardboard box and is made of pure soft cotton. If you really want that authentic feel, invite in some diseased rats over, starve yourself for a few days, crank the AC and sleep with one eye open for random homeless bashers.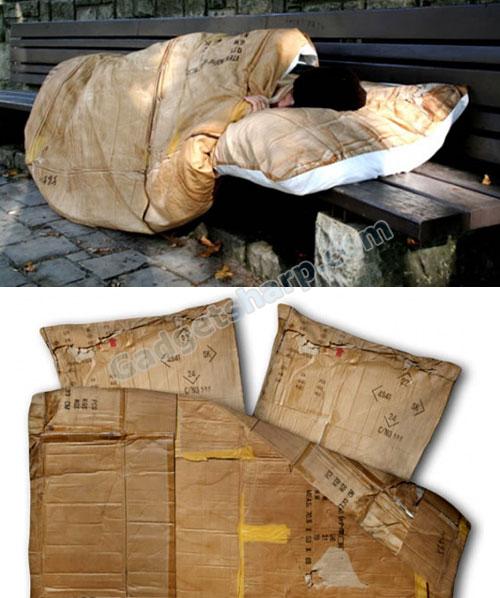 2. Sheets and Pages: Readable Book of Hotel Bedcovers [link]
The Great Eastern Hotel and fourteen students from the Royal College of Art?s acclaimed Design Products department led by Professor Ron Arad designed reactive installations and objects that invite guests and visitors to take part in an experience and step into a hidden dimension where a hotel is more than just a place for the night. Part of the project is Bedtime Stories. This blanket, designed by Tiago da Fonseca, has several sheets containing a traditional bedtime story. Each ?page? adds a layer of linen making you warmer and comfier hopefully guiding you and your partner into a pleasant night?s sleep.Once upon a time there was a blanket. This blanket had several sheets containing a traditional bedtime story. Each ?page? adds a layer of linen making you warmer and comfier hopefully guiding you into a pleasant night?s sleep.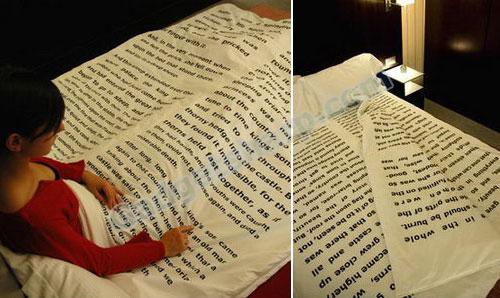 3. Diesel Turntable Bedding [link]
Italian apparel manufacturer Diesel has designed Turntable Bedding collection, featuring prints of turntables or phonographs on the pillows and bed sheets. The new black and white bedspreads are available in Diesel retail stores. The pillows and bed sheets feature images of turntables with decks, equalizers, cords and knobs. Diesel Turntable Bedding is part of their Diesel Lifestyle Home Textile Collection.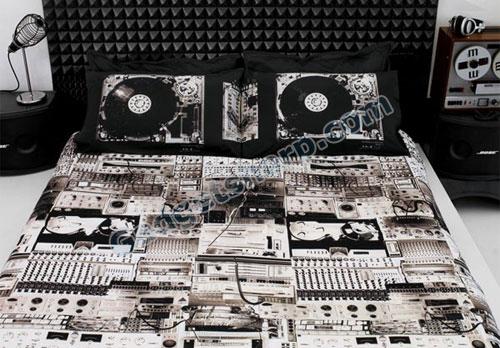 4. Quilt Cover [link]
The quilt cover in the picture is called the Hypochondriac, by Taiyo Onorato & Nico Krebs.It just so cool that can easily scare people…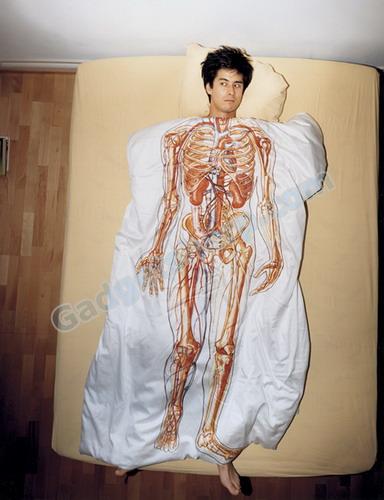 5. CSI Blanket [link]
Police Line Do not cross. Never Wake me up (lol)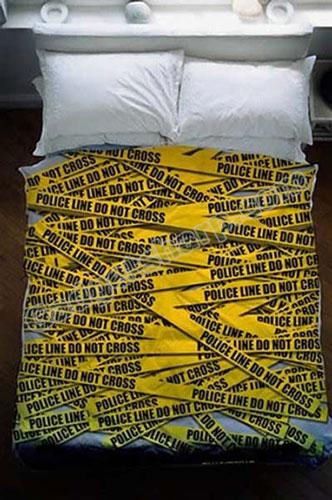 6. 3D Bed Sheets [link]
If you are a natural lover, you will definitely love these sets of 3D bed Sheets.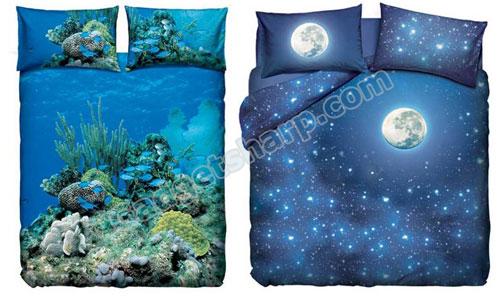 7. Satin Sheets [link]
Imagine integrating a radio alarm clock within the Sheet! That?s the Melted Clock for you: a haptic, touch sensitive alarm with speakers and controls all embedded within your sheet. The three control icons are embroidered on the sheet and relevant to the operating elements on the outside edge of the bed sheet. Use the two in combo to set your radio frequency, alarm time etc. Essentially, you just feel your way through this system; IN YOUR FACE! The clock segments are thin and hidden underneath the fabric. They consist of silicone and give the emboss feel via a slat of EPS (electroactive polymer, used for artificial muscles). When activated by electricity, the slat expands and lifts up the silicon segment; giving us the embossed numbers of the clock. Apparently you can even wash the sheet; the silicon segment and the EPS slat are fixed in a small case. The small cases are arranged on a platen. When you want to wash the sheet, you just remove the platen with the clock components.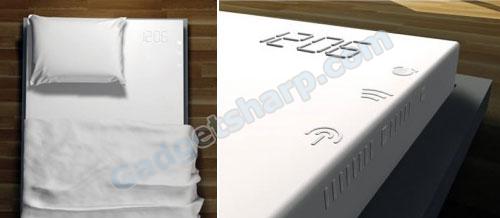 8. Bed Hog His & Hers Sheet Set [link]
His and Her shirts are so pass? as these days one can also now get bedsheets. This particular set contains 1 Flat Sheet, 1 Fitted Sheet and 2 Standard Pillowcases, The Flat & Fitted sheets are reversible, so partners have a choice of which side to sleep on. The sheets are made from 100% Cotton Sateen and has luxurious 300 Thread Count.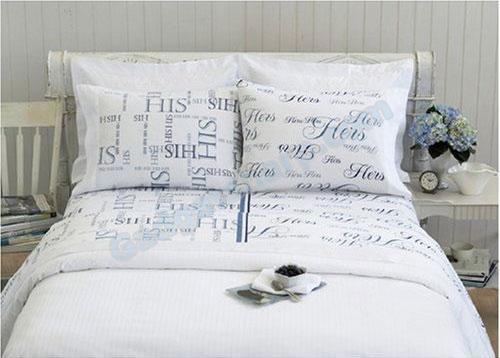 9. Happniess in Bed [link]
Keep your arms warm while reading thing.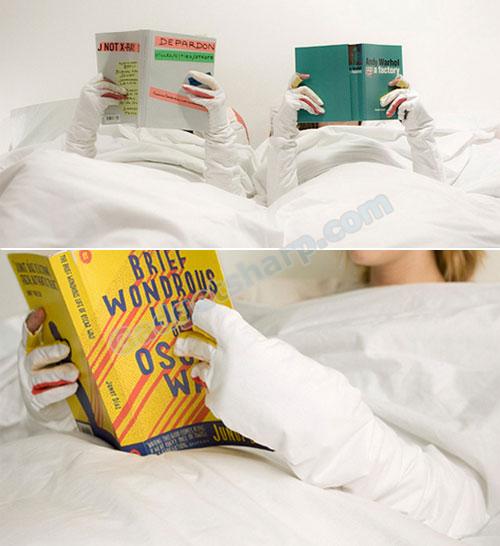 10. Dirty Sheets: Bold Custom ?His and Hers? Bedding Designs [link]
It is hard to say whether these would sell well were they actually bedding items you could buy for your home. Either way, though, these comforters may be cool but look anything but comforting ? unless perhaps you are sleeping safe at home with someone who has the same strange sense of humor.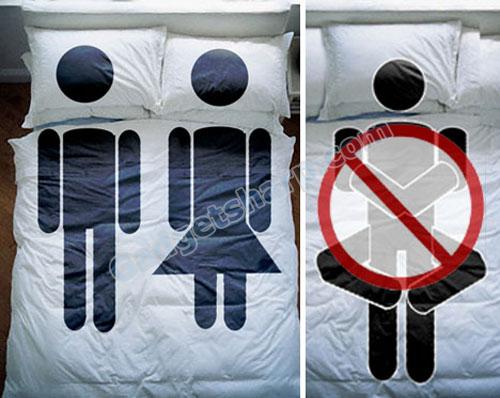 11. Strange bed fellow [link]
This looks so crazy and funny!