Do you ever pay attention to your pillowcases? Or you just buy them with other bedding stuff and never think about pillowcases need to be special. Sure your bed will look unified and neat when everything comes from one set. But does it a bit boring as well? If you have the same thoughts and want some personalized or unique pillowcases, take a look at today's collection which has some cute and funny pillowcases you might like.
1. Set Of Two 'My Side Your Side' Pillowcases [amazon]
For the bed-hogger in your life. One half is 75% of the bed, and the other a measly 25%.
Made from: Silk Screen printed in London onto strong, smooth 100% Egyptian cotton pillowcases.
Dimensions: Pillowcases measure 75cm x 50cm. Washes lovely at 30*.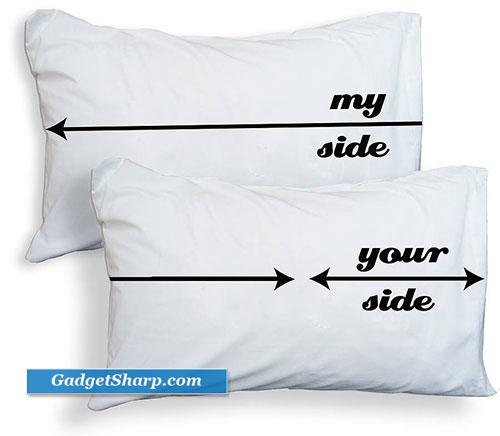 2. Beauty & Beast Pillowcases [amazon]
Dirty Linen is inspired by our love of words, with a big fat dose of naughtiness. These 100% cotton hand screen printed pillowcase help get you in the mood, or not as the case may be. Is it all fairytale romance or just plain dirty and hairy in your bedroom?
Each pillowcase is hand screen printed so slight variations help to make each one unique. Some fading may occur after washing.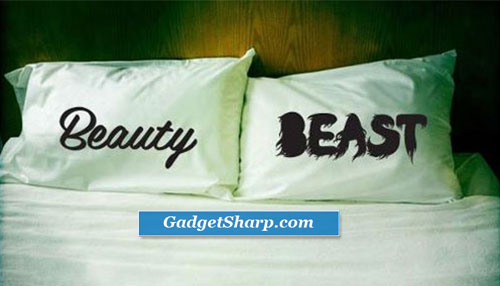 3. From My Heart to Yours Pillowcases [amazon]
Show your loved one your sweet and endearing side! "From my heart to yours , I want you to know that my love follows you wherever you go." Keep these pillowcases side by side, keeping your love together.
Pillowcases (set of 2). No pillows included Color: White Fits most standard and queen size pillows Size: 30 x 20 inches (75 x 50 cm) Machine wash cold, inside out, with like colors, no bleach Tumble dry low Do not iron decoration Cotton / polyester mix fabric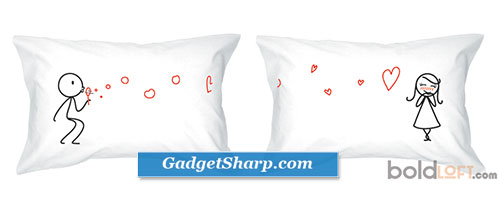 4. Doodle Pillowcase [amazon]
Transform your bedroom into a masterpiece; Sketch, draw, scribble, write a message, draft a letter, make a storyboard, or write a poem Machine wash/dry the pillowcase and design all over again; Printed on both sides gives twice the area to draw Pillowcase measures 20 by 30-inch and will fit standard and jumbo-sized pillows; A secret message pad is printed on the inside flap Constructed from top quality 200 thread count 100-percent cotton ensures a pillowcase that has high durability and is smooth to the touch Includes 8-pack of washable fabric markers - Black, Blue, Green, Yellow, Orange, Pink, Red and Purple;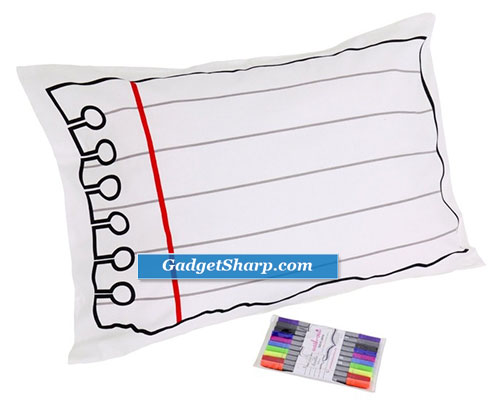 5. Mr. and Mrs. Right Pillowcases [amazon]
The words Mr. right and Mrs. always right are embroidered in black on these white pillowcases, making a humorous gift for newlyweds or as an anniversary gift.
Set of 2 Pillowcases White pillowcase with black embroidery and a small red heart One pillowcase says Mr. right and the other says Mrs. always right Fits a standard size pillow; 20 by 30-inch 60-percent Cotton/40-percent polyester; machine washable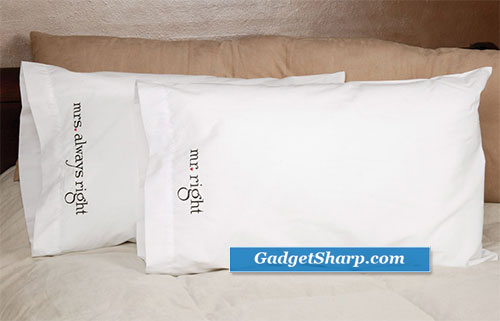 6. 'Love' Pillowcase Set [link]
Looking equally good on a bed or sofa, the pillowcases are designed and handprinted in the UK by Lush Designs, with vintage style decorative lettering to spell out LOVE.
Made from: Pillowcases are fine creamy white cotton poplin, washable at 40 degrees.
Dimensions: Each pillowcase measures 50 x 70cm.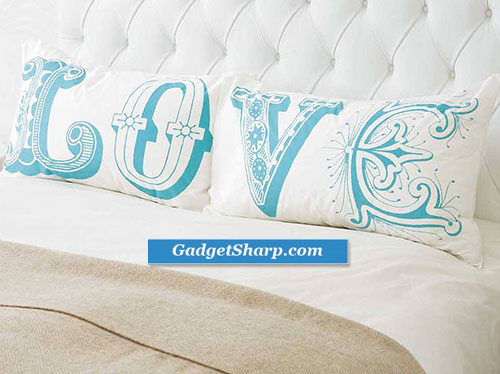 7. "Oops…My Bad!" Pillowcase Set [amazon]
"Oops..my bad! I forgot you're always right! I'm sorry." This tongue-in-cheek sentiment is a humorous way to say you're sorry. It will get you out of the dog house and back into bed.
Pillowcases (set of 2). Do not include pillows. Color: White Size: 30 x 20 inches (75 x 50 cm). Fits most standard and queen size pillows. Machine wash cold, inside out, with like colors, no bleach Tumble dry low. Do not iron decoration. Cotton / polyester mix fabric