Temperatures have cooled down enough where many of us are now putting away the fans/air conditioning units and bringing in the heaters. If you're lucky enough to have a fireplace in your home or apartment, the traditional open flame is probably the most inviting way to stay warm. But for most people who live in apartment or condo, tabletop fireplace is a good choice if you want some flame within limited space. Here we round up 8 Cool Tabletop Fireplaces and they can bring you a cozy and warm winter.
1. Ponton Fireplace [link]
Fireplace is the urban interpretation of a campfire. Fireplace is completely safe for indoor & outdoor use. Bio-alcohol burns up to 2,5 - 3 hours with small co2 emission. Material: fire resistant glass, stainless steel. Design Wolf Udo Wagner.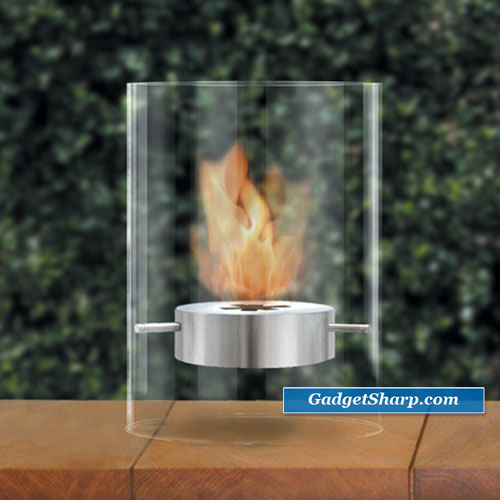 2. FireWood [amazon]
Realistic sound and light!
Interior lamp which looks just like a real wood fire
It has 3 different modes and can be used as a speaker
It will show the realistic pop and crackle sound and the flickering light of a wood fire!
Strapya World ships all items directly from Japan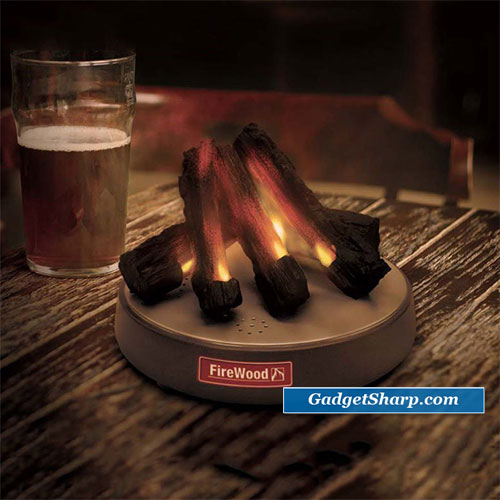 3. METROPOLITAN Table Top Ethanol Fireplace [amazon]
This new super chic, METROPOLITAN Table Top Ethanol Fireplace model brings the ambiance of fire to small spaces. Its sleek tempered glass front and back and stainless steel fuel burner can be put on any steady surfacea table top, a stand, the floor or even inside a non-functioning fireplace. Dimensions: 14" L x 5" W x 11" H; weighs 8.5 lbs.
Tempered Glass and Stainless Steel
Ventless Fireplace
Uses Liquid Bio Ethanol Fuel
Real Fire, Real Heat
Wonderful Ambiance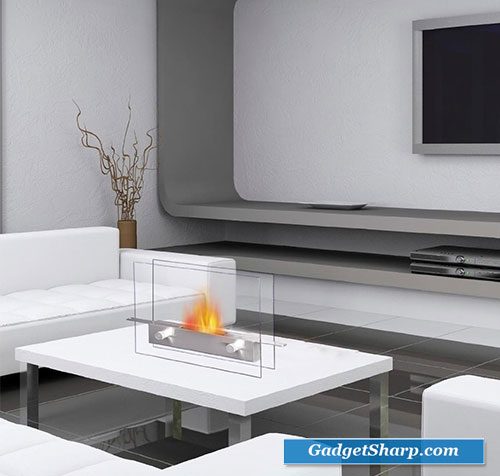 4. Pipe Biofuel Table Top Fireplace [amazon]
The Pureflame Pipe mobile fire piece is cleanly and perfectly finished in brushed stainless steel with the flame visible from all sides. Put it on a coffee table or outdoor table by the hot tub or pool or as the perfect centerpiece for the dining room table. Creating a stunning atmosphere in your own private space can be a lot easier than you think. 304 Stainless Steel Burner 58 U.S. Fluid ounces. Burn time: 4-5 hours per 32 ounces Powered by Purefuels, a premium wholly renewable biofuel, the energy supplied goes straight into the room instead of being lost through the chimney therefore maximizing efficiency indoors.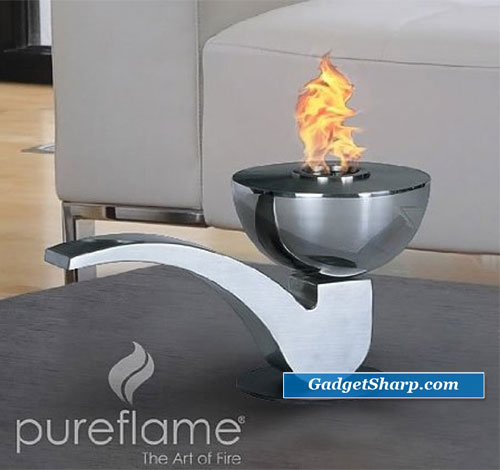 5. Gido Wahrmann 2 Satin Oil Lamp Tabletop Fireplace Base [amazon]
This Tabletop Fireplace makes a sophisticated alternative to candles, utilizing oil to produce an inviting flame for the tabletop. The Tabletop Fireplace features stainless steel logs and a natural slate base or a walnut base. Base dimensions are 10 by 14 inches.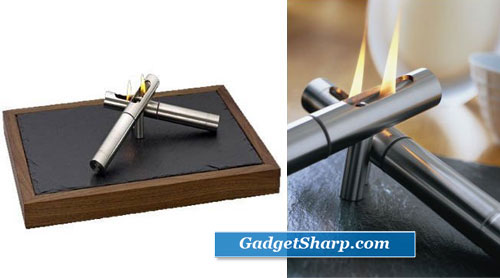 6. HoMedics Illumine Harmony Luminous Tabletop Fireplace [amazon]
Single wick design
7 inches double sided wick included
Decorative, protective glass sides
Heat resistant reservoir and black river rocks included
500 ml safe botanical oil included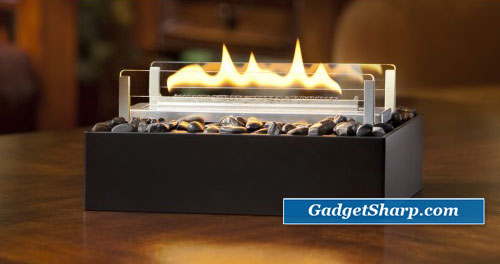 7. Joy Table Top Fireplace [amazon]
-Matte black square base tabletop and four tempered glass. -Burns without odor.-Burns without residue. -Burns up to five hours without refilling. Assembly Instructions: -Assembly required. Dimensions: -Dimensions: 15.75'' H x 8.7'' W x 8.7'' D.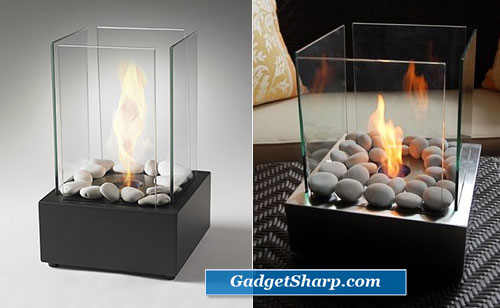 8. ecoFlame Antique White Firebowl [amazon]
Features: high temperature artifical stone, polished black river rocks, commercial grade stainless steel burner and extinguisher. This ventless, eco friendly fireplace creates instant ambiance where ever you choose to place it. Inside on a coffee table as a focal point to the room or outdoors on your patio table. Care Instructions: As with any type of articifal stone product it is succeptable to cracking when left outside in freezing and inclement weather. Take care to bring the product inside when not in use.