The time has come to move beyond the plain white wall. There are so many options out there for people seeking modern wall decor, whether they want to invest in designer pieces or wish to engage in a do-it-yourself project. Here, we present you with 16 Modern and Beautiful Wall Decor Designs, bringing you some ideas to give your space an artistic and stylish looking
1. Umbra Wallflutter Wall D?cor [amazon]
Brighten up a dark-colored wall with this lovely dragonfly wall art set from Umbra. The set includes twenty individual dragonflies, affording the flexibility to arrange them to personal preference, whether in one hovering mass or fluttering in small groups or alone along a hallway?s wall. Designed by Marian Lanktree and Alan Wisniewski, the dragonflies feature lightweight plastic construction with a sleek brushed nickel finish. The set provides twenty magnetic tacks to hammer into walls. The dragonflies attach to these tacks using the magnets embedded in their bodies.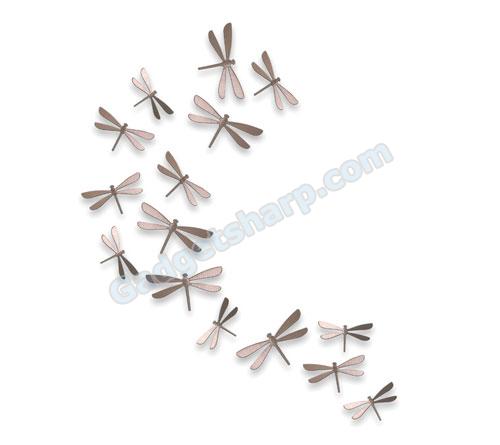 2. Dragonflies Steel Wall Sculpture [amazon]
This dynamic 2-dimensional wall sculpture creates the illusion of layered images with 2 whimsical dragonflies dancing delightfully among the garden reeds. Sturdy, yet lightweight, it is intricately cut from natural unfinished mild steel. Makes a unique accent for any wall! Crafted in the USA. Note: The sculpture is lightweight and hangs flat against the wall (no integrated hook) - it easily hangs upon a panel nails, u-nails or hooks.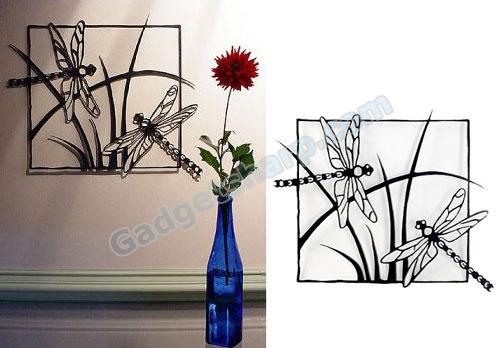 3. Tree Branch Wall Art Metal Iron Colored Tips [amazon]
Wonderful Tree of Life Artwork. Different Leaf Branches.
Beautiful Tree Art Work
Different Color Tips on Leaves
Measures 38" Wide x 36" Tall
Made of Metal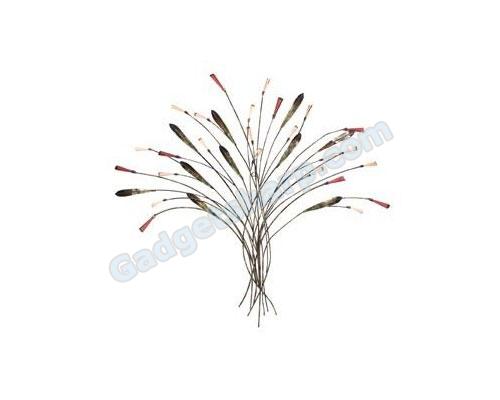 4. Stained Glass Vase and Bowl Wall Art [amazon]
Material: Metal Stained Glass
Hand Painted Stained Glass Vase & Bowl Wall Art
This decorative wall piece is fun and artistic.
Bring out your creative side with this inspired stained glass decor.
Circular in design, this wall sculpture features geometric shapes, vase and bowl designs, as well as an elegant color palette.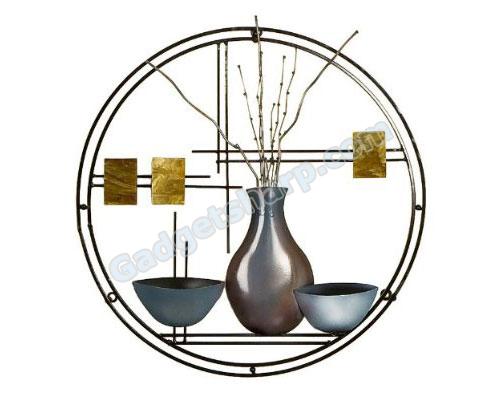 5. Half Moon Metal Wall Sculpture [amazon]
Classic metal piece for any home decor.Catch the new trend in home furnishing. Wall decor is 19 inches tall x 39 inches wide.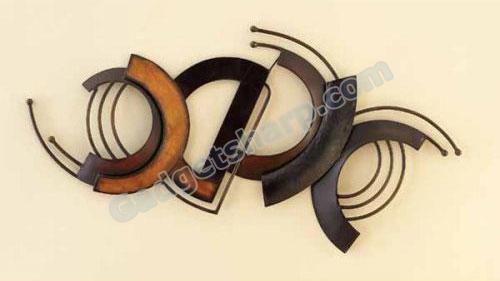 6. Umbra Daisy Wall D?cor Photo Frames [amazon]
Umbra's Daisy wall-decor frames are a lively, versatile way to display your favorite snapshots. Made from lightweight molded polypropylene in opaque white, they mount to the wall with a simple tack-and-magnet hardware configuration that goes from fridge to wall and back again! Daisies measure from 3.5" to 5.5" in diameter and display 1.5" to 2" photos in their centers. Design: Tom Vincent exclusively for Umbra - a worldwide leader in casual, contemporary and affordable design for the home.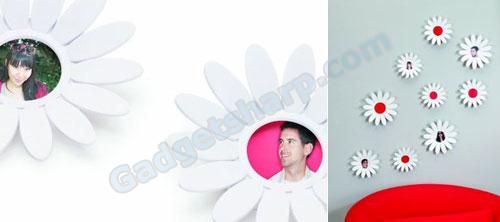 7. Handcrafted, illusion and mystique Wrought Iron Metal sculpture Wall Decor Art [amazon]
It is a good size (about 2 and a half feet wide and tall). Very cool piece with a abstract look and a good use of 3d.
8. Tree of Life Wall Art Decoration Branch Shells Home [amazon]
Wonderful and unique this is like no other tree of life. It has shells on the branches and matches with any decor in any room or office. Absolutely Gorgeous.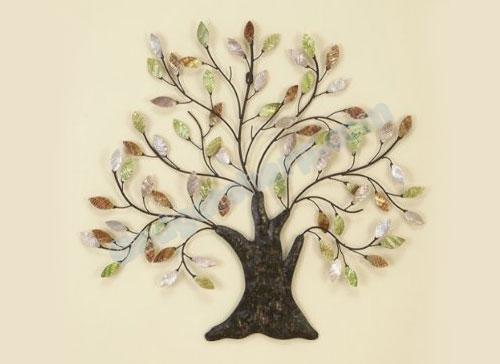 9. Flock of Geese Wall Art [amazon]
Dimensions: 36.25 W x 3.5 D x 27.25 H
Finish: Brushed Copper
Material: Metal
The perfect wall accent for any bird lover, these geese will add a sense of movement and style to your home.
Constructed of metal with an oxidized copper finish, this decorative piece of art is great for your living room, bedroom, or game room.
Item is Crafted from metal for durability.
NO Assembly Required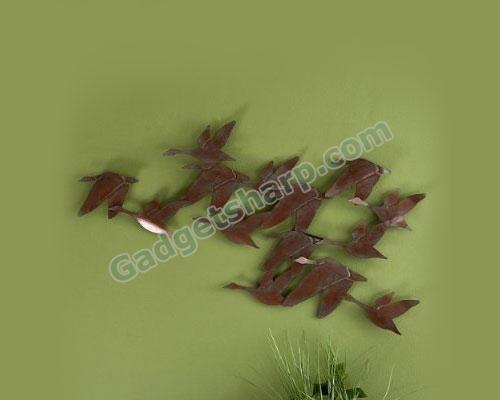 10. Fishing Rules Sign [amazon]
This wooden sign features the following fishing rules: Bait your own hook, clean your own fish, and tell your own lies. Metal curly wire for hanging, 8"w x 14"h.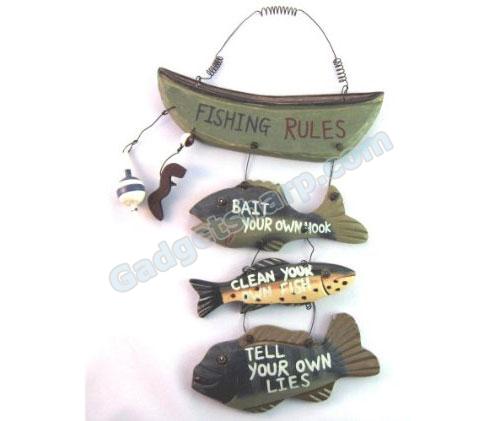 11. Wall Art Handcrafted Decor Monstera Leaf [amazon]
This Wall Art Handcrafted Decor Monstera Leaf (31Wx23) - Regal Art #A498 has silver leaf applied by hand under the leaf colors for an absolutely stunning look. The 3D details of the leaf accentuate the beauty of this 3D metal wall sculpture.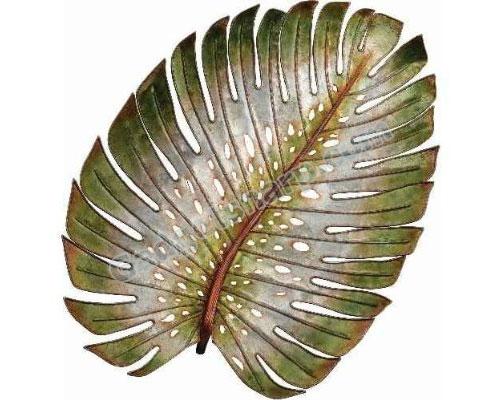 12. Large Abstract Metal Wall Art by Artist Ash Carl [amazon]
This 7 panel metal wall sculpture by artist Ash Carl will mesmerizeyou and your guests! The handsanded finish on the metal creates a unique 3 dimensional effect. As you pass by, the artwork seemingly moves by reflecting any light in the room. Lighting brings out amazing movement and texture in each panel! paint is applies to protect the metal and it features an amazing array of colors and detail. These pieces cannot be justified by pictures. The reflections that are hand carved into each piece can only show there best qualities in person.If you are looking for other color combinations, check out the other 80 designs of painted metal wall art by Ash Carl.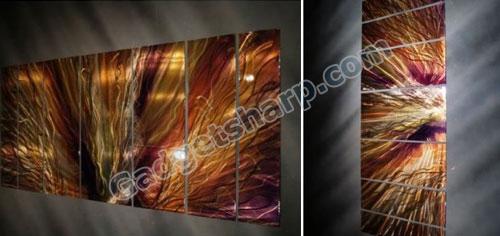 13. Sea Turtle Wall Decor [amazon]
You'd be surprised at the kind of wonderful art can be found under the sea, like this turtle wall d?cor. Taking its theme from those large, ocean-going reptiles, this piece has been crafted with a dimensional effect to make it a standout in every way. Adults and children alike will love the light, airy accent it gives to any room. Display it on a wall over your saltwater aquarium, or even in a sea-themed bathroom! Painted metal. 31 x 14 x 1.25 inches.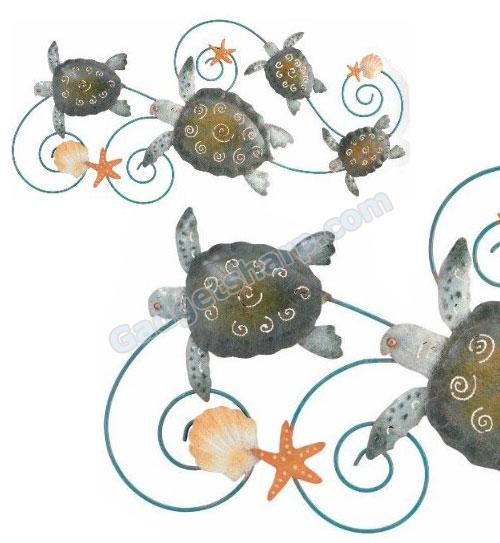 14. Modern Abstract Metal Wall Art Sculpture [amazon]
4 independent square wall sculptures measuring 11" x 11" each
Sculpted entirely of Rust Proof, high grade aluminum, Handmade with precision and detail in the USA!
The textures are hand ground into the metal creating a highly reflective design that creates depth and movement
Very easy to hang with multiple pre-installed brackets, allowing you to choose the perfect configuration that best suits your space
Signed and Dated by the artist: Jon Allen (includes, certificate of authenticity)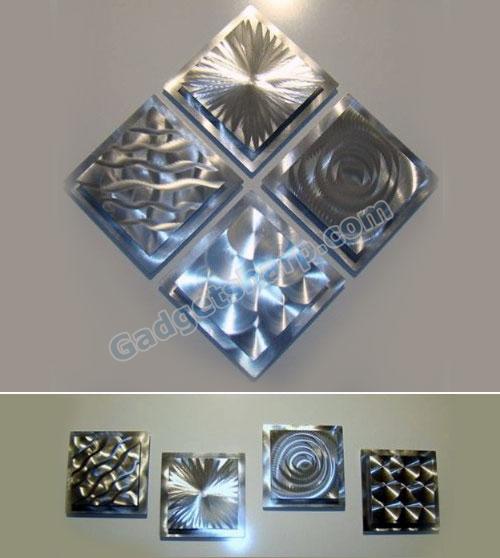 15. Large Wrought Iron Mother Pearl Tree of Life Wall Art [amazon]
This wrought iron depiction of the tree of life with its mother of pearl blossoms is absolutely stunning. Since ancient times the tree of life has represented bountiful life and has been the center of the earthly heaven. Use this stunning wall art to bring positive energy to your home and make this piece the center of your home. Beautiful bronzed metal with rustic patina. Each of the blossoms is made from high-polished real mother-of-pearl.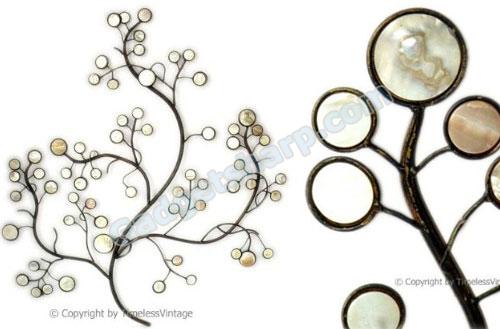 16. Wall Art Handcrafted Decor Sun Spiral [amazon]
This Wall Art Handcrafted Decor Sun Spiral (21x21) - Regal Art #S832 is hand-painted metal with stunning three dimensional details and rich colors. Special painting techniques create a 'patina' effect, and the use of richly colored automobile paint sets the finish apart from the competition. The photos do not depict the detail and richness of the work. Decorate the walls of your home, office or garden with this wonderful piece of hanging art. It is easy to hang with hidden metal loops.