Chandeliers are simply one of the most glamorous features or centerpieces you can have in your house or place of work - and in more than just one room. When you discover the great variety of simply beautiful yet practical products, you may consider that to have an appropriate chandelier will complement not just your main reception room or entrance hall, but many other rooms of your home and create a perfect light setting and ambiance throughout. There are so many options around the market, like crystal chandeliers, antique-style chandeliers, contemporary or rustic chandelier… Here, we rounded up a collection of 14 Beautiful and Stylish Chandeliers. Hope you enjoy it and can help add some eye-catching style to your home furnishings.
1. Eurofase Savvy 6-Light Chandelier [amazon]
Faux suede chocolate brown drum shades are accented with concentric clear discs supported by brightly brushed metal, for a formal contemporary effect.
* Metal finish: Satin Nickel
* Brown Shade
* Actual fixture dimension: 28"Dx17.75"H
* Uses 6x60Watt B10 bulb. Bulb Sold Separately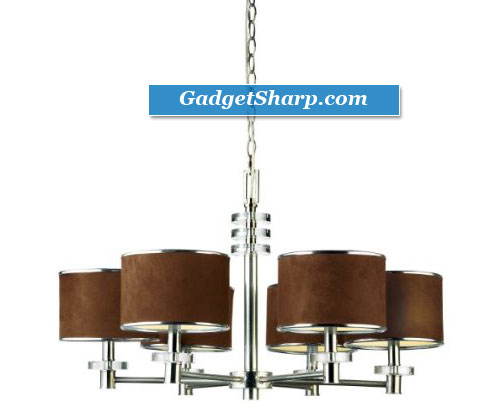 2. Kenroy Home Wright 6 Light Chandelier [amazon]
This chandelier is finished in a glowing bronze tone. Amber scavo glass perfectly complements the light and is tastefully decorated by three bronze rings that each wrap around the shade.
* 6-light chandelier with glass globes
* For formal living room, dining room, grand room
* Asian-inspired theme with oil-rubbed bronze finish and ringed, amber globes
* 6-inch painted globes; 10-foot wire; 6-foot chain; requires 6 60-watt medium base bulbs
* 1-year warranty; 24 by 28 inches (height by diameter)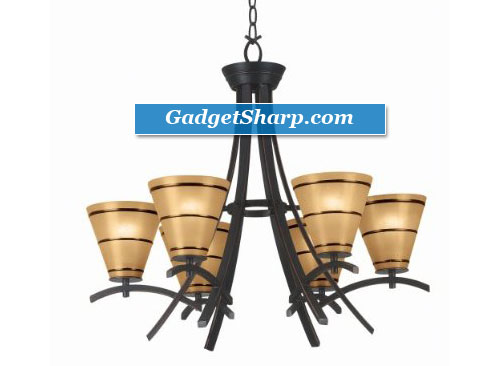 3. Modern Chandelier "Rain Drop" Chandeliers [amazon]
100% CRYSTAL CHANDELIER. A excellent crystal fixture for your foyer, dining room, living room and more! This fixture features beautiful 100% Crystals Balls that capture and reflect the light. Truly a stunning chandelier, this chandelier is sure to lend a special atmosphere anywhere it is placed.
Size:H.31" W.39" L.10" - 9 LIGHTS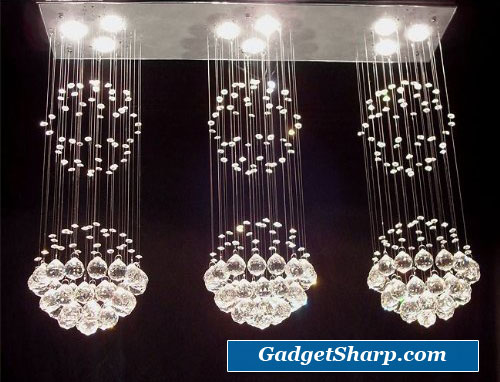 4. Hilden 6-light Chandelier, Aged Bronze [amazon]
For more than 40 years World Imports has brought a higher standard of style and sophistication to interior designers around the world. Each piece whether traditional classic contemporary or strikingly eclectic is an individual work of art.
* Clean geometric squares with tea stained glass and Aged Bronze
* Lighting Chandelier 6-Light
* Dimensions (H x W x D): 38 x 26 x 14.5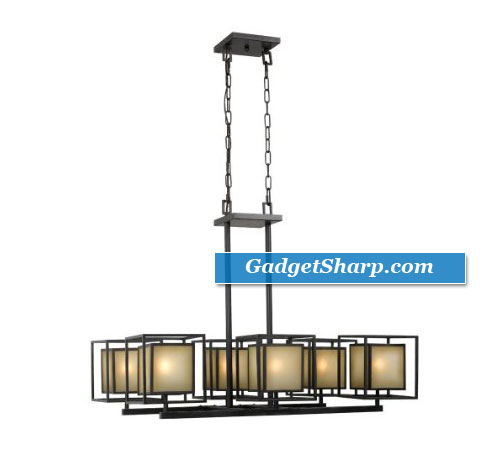 5. Crystal Chandelier Chandeliers [amazon]
This beautiful crystal chandelier is decorated with 100% crystal that capture and reflect the light of the candle bulbs, each resting in a scalloped bobache.The timeless elegance of this chandelier is sure to lend a special atmosphere in every home!
SIZE: H.25" X W.24" LIGHTS 5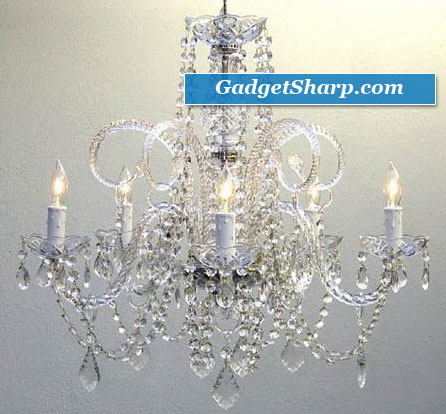 6. Globe Senneville Five-Light Chandelier [amazon]
Made of amber-colored seeded glass, the shades are complemented by a decadent dark coffee finish. Five graceful arms join curved extensions to focus the chandelier up past the delicate flower-shaped glass.
* Complements other Senneville fixtures or provides standalone sophistication, style
* Rich dark coffee finish
* Features amber globes
* Requires 5 A15 medium base light bulbs, 60 watts maximum each (sold separately)
* 26-by-20-1/4 inches (width by height)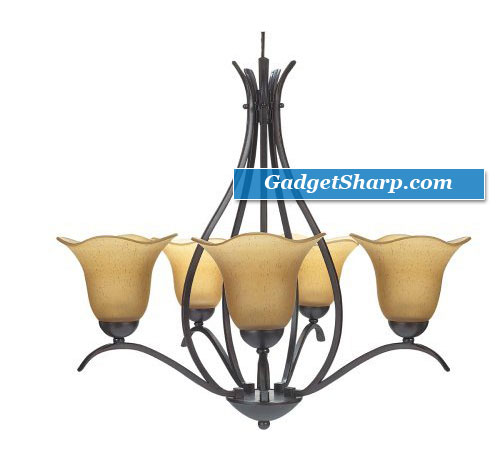 7. Tadpoles Three Bulb Chandelier in Lavender Topaz [amazon]
* Faux crystal chandelier brings elegance to a little girl's room
* Three 25-watt candelabra bulbs included
* Hang as a swag lamp and plug in, or professionally install as a ceiling fixture
* Includes a chain and cover plate for hanging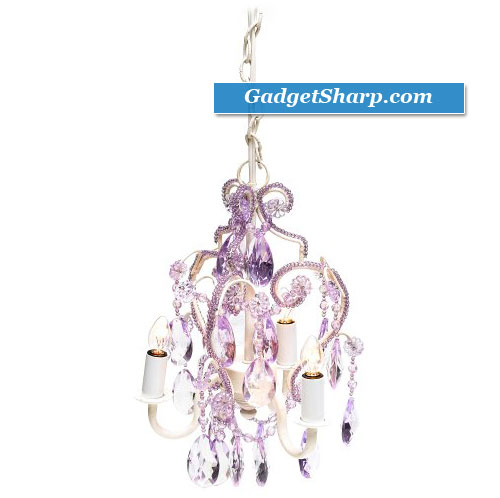 8. Royalty's Chandelier [amazon]
Elegant candle holder chandelier is delicately designed in wrought iron to bring home the romantic charms of the Old World.
size: 16 1/2" x 15" x 17 3/8" high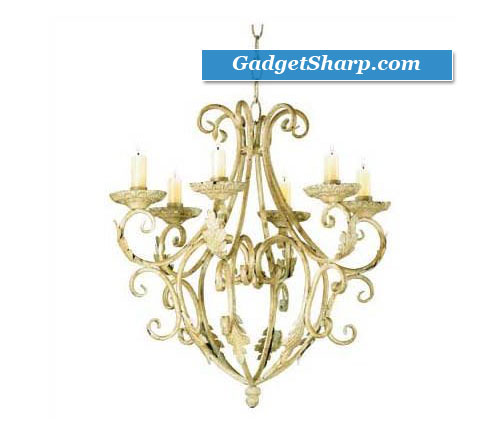 9. 12-Inch wide Black Crystal Like Chandelier [amazon]
Chandelier comes with a light kit. Light kit includes electrical cord with light bulb socket, which fits inside the chandelier.
* Black chandelier string chandelier with clear raindrop acrylic drops.
* Chandelier measures 12" in diameter and 13" long.
* String shade is 8" long.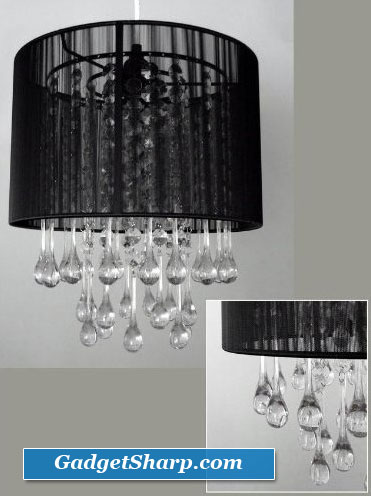 10. 21-Inch Crystal Sphere Chandelier [amazon]
Chrome finished Crystal Sphere Chandelier
* 40 Watt Candelabra Base (E12) Type A Bulbs
* Octagonal Crystal Elements
* Easy Re-lamping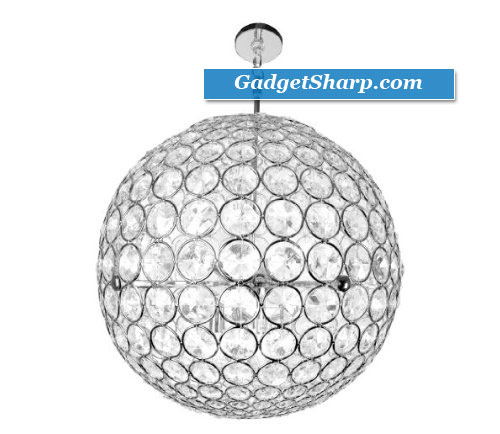 11. 24-Inch by 15-Inch Chandelier Brushed Nickel [amazon]
Enhance your decor with this beautiful 24-inch by 15-inch brushed nickel, five light chandelier. The alabaster glass in this chandelier brings a cozy warmth to any room. Five 60-watt bulbs are required (not included with the chandelier.)
* Chandelier 24-inch by 15-inch Bristol
* 5 light fixture
* Brushed nickel finish
* With alabaster glass
* Uses 5 60-watt A19 medium bulbs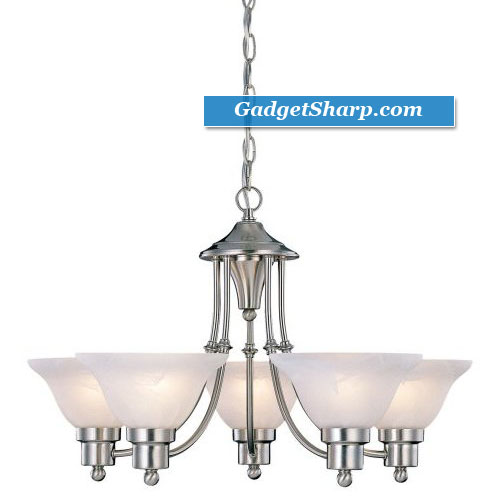 12. Hilden 4-Light Chandelier, Aged Bronze [amazon]
The Hilden Collection features clean, geometric squares with hand finished, tea stained glass in Aged Bronze.
* Installation dimensions are 9-Inch Width, 14-Inch Height 5-1/4-Inch Width, 5-3/4-Inch Height (Inside Square) 9-Inch Width, 9-Inch Height (Outside Square)
* Requires one 100-Watt regular bulb, bulb not included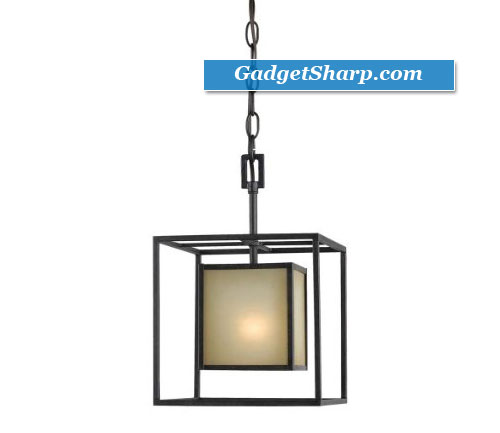 13. MODERN CHANDELIER "RAIN DROP" CHANDELIERS [amazon]
100% CRYSTAL CHANDELIER. This Crystal chandelier is characteristic of the grand chandeliers which decorated the finest Chateaux and Palaces across Europe and reflects a time of class and elegance which is sure to lend a special atmosphere in every home.
SIZE - H.47.24" W.23.62, SHIPPING 26.00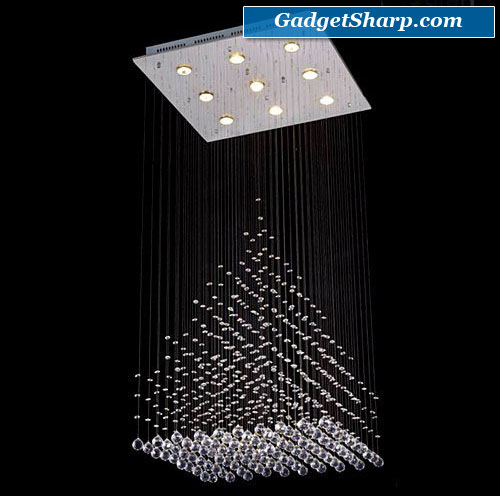 14. 7-Light Crystal Chandelier, Polished Chrome [amazon]
* Polished chrome finish
* Includes 26 strands of crystals
* No shade included
* Contemporary style
* Dimensions: H 12" x L 46" x W 3"