A fireplace is the historical absolute center of any home ? the place the supplies light, heat and a focus for family or community even in the darkest and coldest of winter days. These days, the heating and lighting function for a fireplace is not as important as old times. However, it is still a nice home decoration and an effective atmosphere creator. From Indoor to outdoor, from table-top to floor-top to wall-mount, from gel fuel to wood to electric, here are 13 contemporary and functional fireplaces fit for the heart of any modern home.
1. Portable Indoor/Outdoor Fireplace [amazon]
Enliven any space with this portable metal gel fuel fireplace. This unique design sits conveniently on a patio, floor, or table for instant relaxation. Finished with a painted black finish with copper edges, this fireplace will hold up to 2 cans of gel fuel providing a rich fiery glow perfect for relaxation. Each can lasts up to 3-hours on a single burn and puts off up to 3,000 BTU's. Gel fuel must be purchased separately. This portable fireplace also makes a convenient and unique space for burning and displaying candles simply by placing the included snuffer cover on top of the gel fuel can openings.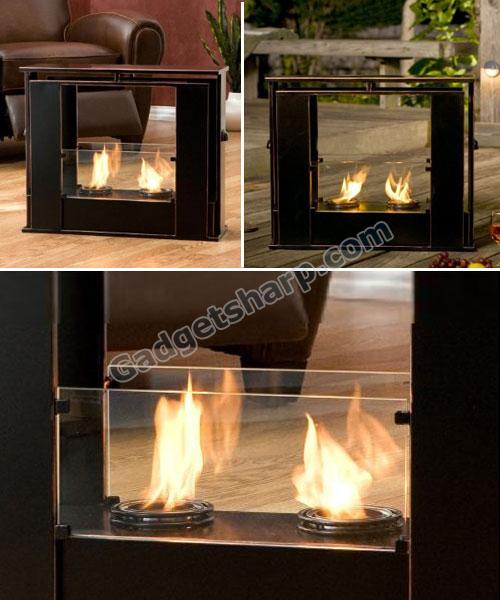 2. Chelsea Stainless Steel Wall Mount Fireplace [amazon]
The high style and distinctive contemporary design of the ANYWHERE FIREPLACE allows the ambiance of a fire to be enjoyed in any room. It is ventless, requiring no chimney or gas line because it uses clean burning bio fuel that is smokeless, odorless, and leaves no soot or ash. You can place the ANYWHERE FIREPLACE virtually on any wall in your house, condo, apartment, office or restaurant. It is sure to match most any d?cor and adds a rich warm atmosphere to your bedroom, living room, den, dining room… This unique, impressive, eco-friendly modern answer to the fireplace creates bright yellow, orange and red flame, spreading cheerful glow across the room. It s is non toxic, non-polluting, has no messy clean up and is virtually free of maintenance. One liter of fuel burns up to 5 hours.

3. Black Arch Top Wall Mount Gel Fuel Fireplace [amazon]
The bold black finish of this fireplace stands out against any wall making it a definite eye catcher. This wall mounted fireplace will hold up to 3 cans of gel fuel to provide a rich fiery glow indoor or out There is a slight texture to the finish with copper painted trim to outline the elegant arch design. Gel fuel is the ideal replacement for wood in your fireplace. Our gel fuel snaps and crackles just like a real fire should, but leaves no smoke or odor.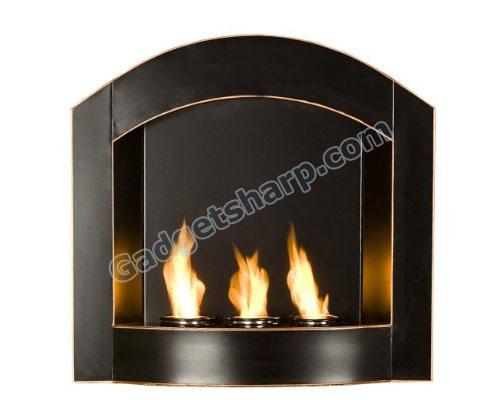 4. Metropolitan Tabletop Fireplace [amazon]
This new super chic, Anywhere FireplaceTM Metropolitan model brings the ambiance of fire to small spaces. Its sleek tempered glass front and back and stainless steel fuel burner can be put on any steady surface - a table top, a stand, the floor or inside non-functioning fireplace to finally allow you to see the beautiful dancing flames of a fire where you previously could not. Its clear glass design allows you to view the dancing flames from any angle so you can put it virtually anywhere in a room be able to enjoy the ambiance created by the real fire. It uses liquid bio-ethanol fuel and gives of no smoke, soot, ash or ash. No installation, electric or gas connection needed. Its relatively small size makes it suitable for placement in a large number of places and it is very easy to move from one place to another.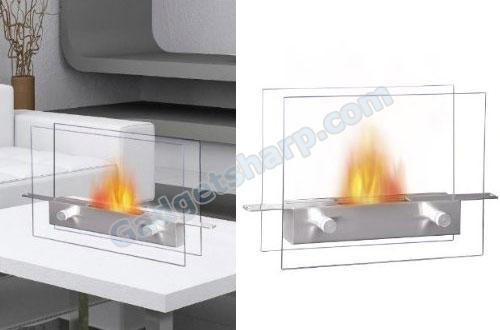 5. Char-Broil Trentino Deluxe Outdoor Fireplace [amazon]
The Char-Broil Trentino Deluxe Fireplace is the step up version of the very popular Trentino fireplace (also available through Amazon.com). The Trentino Deluxe features traditional styling that compliments your outdoor decor. The removable fire access screens make it easy to tend the fire while the fine mesh screen provides a great view from all sides. Premium log racks cradle firewood for improved burning.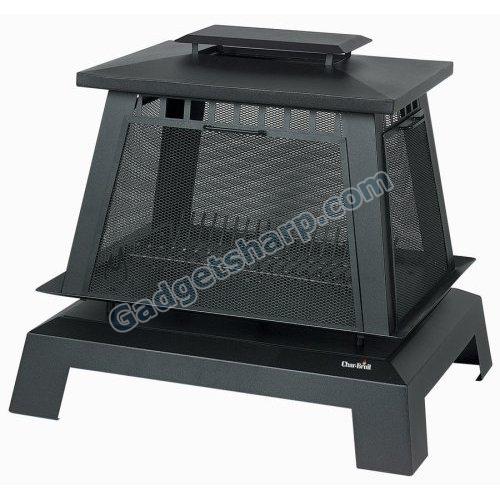 6. Espresso Vine Wall Mount Gel Fireplace [amazon]
Wall Mount Gel Fuel Fireplace with Metal Vine Sculpture in Espresso Finish
A stunning combination of antique bronze metal sculpture and eye grabbing gel fuel burners.
This vine wall mount fireplace is sure to be a mesmerizing focal point in your home.
The sheer beauty of the metal art against a rich espresso finish is brought to life by dancing flames creating playful shadows and reflections to the piece.
A decorative glass front helps create depth while protecting the flames from air currents.
Cover the gel fuel holders with the included snuffer cover and use pillar candles as a subtle alternative.
This fireplace burns up to 3 cans of Fireglo gel fuel.
Item hangs on wall as easily as a picture.
No assembly required.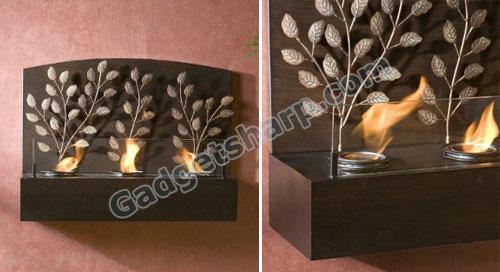 7. Round Stainless Steel Wall Mount Gel Fuel Sconce [amazon]
Bring dazzling ambience to any room in the home with this mesmerizing wall sconce. Constructed of durable stainless steel with a mirror-polish finish, the inimitable unit's round shape and thick, substantial appearance brings a unique brand of style and flair to living rooms, hallways, dining rooms, bedrooms, and other living spaces. The sconce accommodates one can of FireGlo (sold separately)–an alcohol-based gel fuel that provides genuine flames and a realistic crackling sound without generating soot or odors. Alternately, replace the FireGlo can's cap and insert a short pillar candle (sold separately) to create a cozy atmosphere marked by gently flickering candlelight.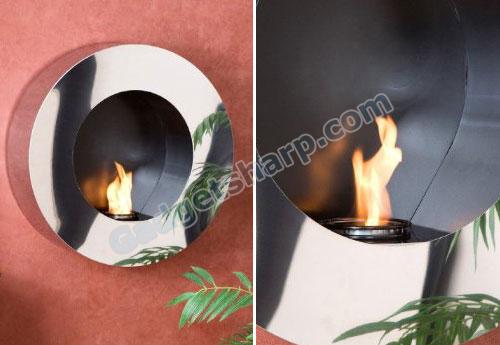 8. Electric Fireplace Heater with Remote Control [amazon]
For instant warmth plus ambiance, this electric fan heater features realistic glowing logs and embers for the beauty of a fireplace without the hassle of cut wood, an open fire, propane, or fumes. The unit requires no installation and can be placed in any room with its sturdy floor stand or wall-mounted with the included hardware. Simply plug it in and turn it on. Heat emanates from vents below the glass, quickly heating up the room, and the realistic flame effect can function with or without the heat. Push-button controls and an easy-to-read programmable digital display makes it effortless to operate.
9. Compact Electric Stove [amazon]
For instant warmth plus ambiance, this portable electric stove features patented flame technology for the 3D effect of a realistic-looking fire, complete with dancing flames, but without the hassle of cut wood, an open flame, propane, or fumes. The freestanding unit does not require venting or a chimney, and no combustion means no greenhouse gasses–just plug it in to any standard household outlet and turn it on for economically heating a living room, bedroom, or other cozy place in the home. The unit's fan-forced heater quickly and quietly distributes up to 5,115 BTUs of soothing warmth, while its adjustable thermostat allows for maintaining personal comfort levels. The stove can also provide a glowing fire without heat for visual enjoyment year-round.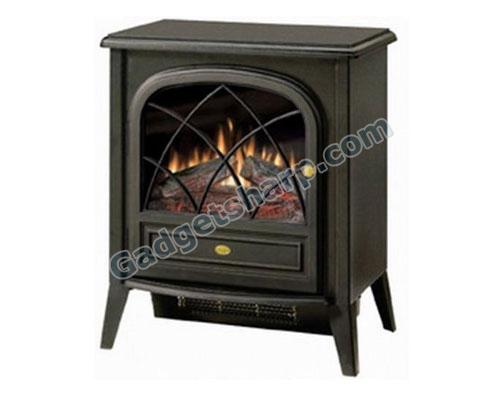 10. Real Flame Personal Fireplace [amazon]
Real Flame Personal Gel Fireplaces offer the warmth and crackle of a fireplace without the hassle. Enjoy your own personal fireplace anywhere - indoors or out! Adds ambiance to any setting and great for entertaining. Includes snuffer to conveniently extinguish flame.
11. Weber Wood Burning Fireplace [amazon]
Create atmosphere anywhere…. Now it is easy to have the warmth and atmosphere of an outdoor wood burning fireplace or campfire. Use the Weber Fireplace camping, on a patio or in the garden - anywhere you want to enjoy the fun of a fire without leaving a trace of it. Bring warmth to cool nights and an inviting glow to any occasion. Made of heavy-gauge steel construction, the lid and bowl are porcelain enameled, that won't rust, fade or burn. The heat shield is made of rust-resistant aluminum, and the support ring is galvanized steel.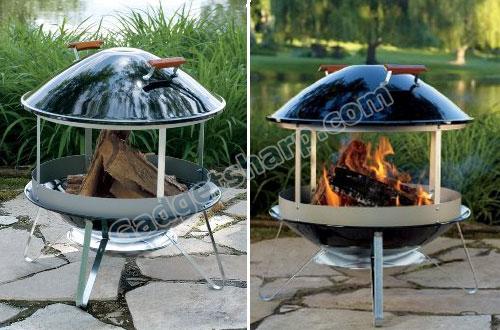 12. Real Flame Diamond Personal Fireplace [amazon]
Add class to any room of your home with this elegant, contemporary personal fireplace. The sleek design and beveled glass creates an eye catching piece - the perfect addition to any tabletop.
Made from powder-coated steel and heat tempered glass.
Comes complete with fireplace,decorative tumbled glass, burn cup and snuffer.
Burns Real Flame Pour Gel fuel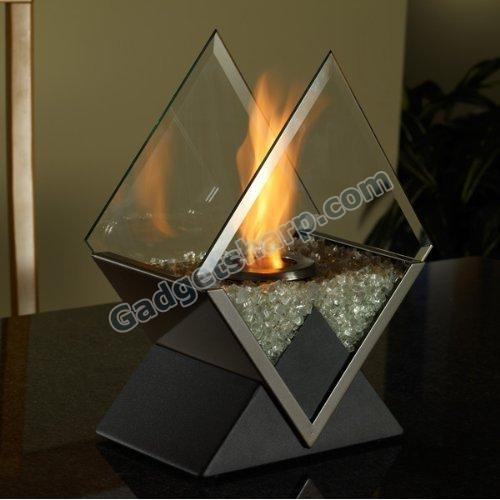 13. Oakham Wall Mounted Electric Fireplace [amazon]
Oakham Wall Mounted Electric Fireplace Simply plug into any standard 3 prong household outlet and you're ready to enjoy the romance of a fire without any of the inconvenience! Four season, interactive furniture that adds a contemporary flair to any room! Use with or without the 4500 btu adjustable heater. Add the instant ambience of a fireplace that is simple to install, inexpensive to operate and has no venting needs.