Side tables and end tables are not they used to be. They are no more that dull little place where you keep an alarm clock or glasses. They have evolved into creative decorative pieces, capable of standing on their own. We?ve scoured the web to bring you 15 Beautiful and Stylish Side & End Table designs that exist. Glass, wood, steel or plastic we got them all. Antique, modern, nature, illusion, all the styles you can imagine. So check out these fabulous designs, and later tell us ? which one would you like to have at your home?
1. End Side Table with Magazine Rack [amazon]
* Dimension: 13" (Top) 16" (Bottom) W x 11.5"D x 16.75"H
* Finish: Black
* Material: Acrylic
* End Side Table with Magazine Rack - Acrylic Black Finish
* End table features a beautiful integrated footrest that doubles as storage space for magazines and other print materials.
* Piece of furniture also makes a great side table.
* Made of 100% acrylic.
* Suitable for outdoor use.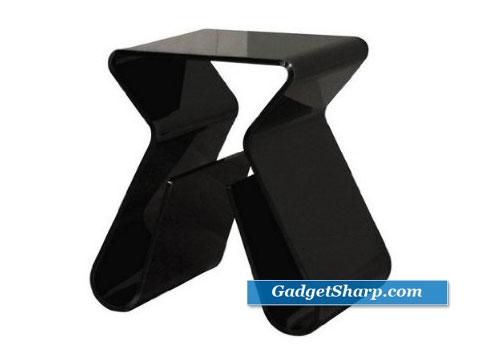 2. Espresso End Table with Serving Tray [amazon]
The Brooklyn End Table has a fresh European design that is not only practical, but functional. The center top of the End Table can also be used as a serving tray; easily lifts out when needed. Features: End Table has engineered wood construction Espresso finish Square shape Wood top Modern style Storage compartments With removable serving tray Tray has a dark glossy lacquer Wenge finish Ships ready to assemble; easy European cam lock assembly 5 year limited warranty Made in Canada Specifications: Overall Dimensions: 19.75" H x 19.75" W x 19.75" D Weight: 32 lbs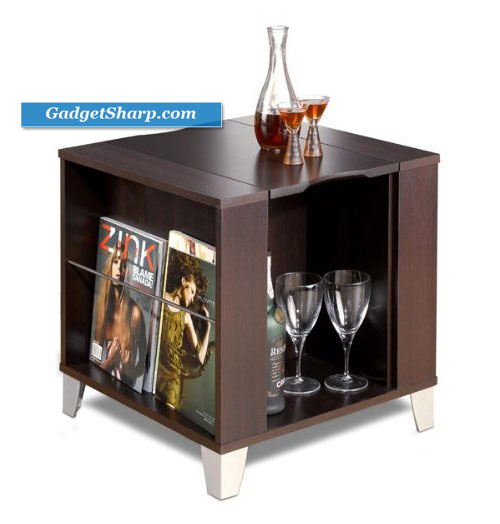 3. Japanese Style: Single Drawer Bedside Nightstand End Table [amazon]
* 28" Tall x 16.5" Wide x 12.5" Deep - Fujian Style Wood Nightstand / End Table
* Imported from Fuzhou, China - Distinctive Fujian Province Style Folk Art Decoration
* Add Exotic East Asian Influence - Compliments Contemporary, Modern, & Traditional Decor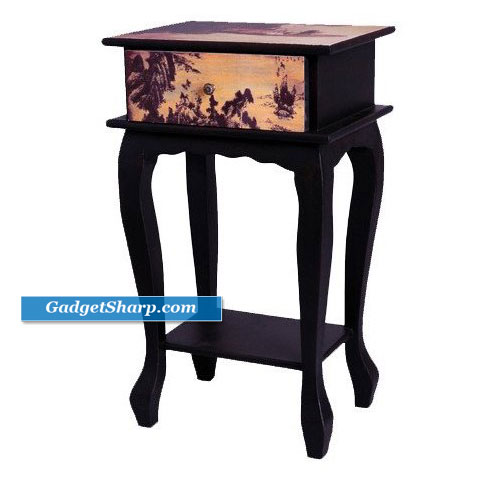 4. Essey Illusion Ice/White Side Table [amazon]
All Illusion tables are handmade, individual and unique. The design gives the impression of a table cloth on a round table. However, the object uses the structural strength of the folded material to create a magical and surprising experience - an illusion.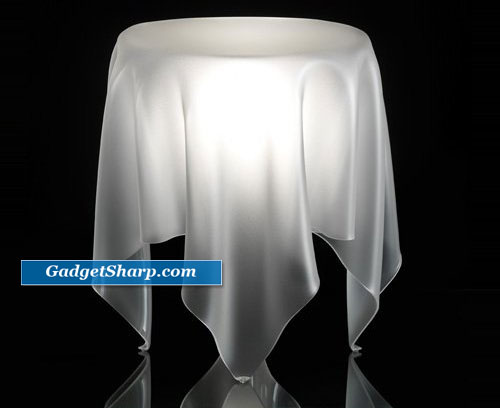 5. Divo Side Table [link]
The coffee table has sophisticating production process with laser cut, and black-nickel finished discs assembled and welded.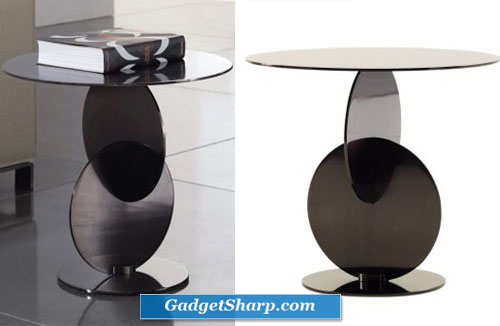 6. Black / Chrome Glass & Metal End Table With Magazine Rack [amazon]
* Black / Chrome Glass & Metal End Table With Magazine Rack.
* 19mm round tube with chrome plated.5mm black print temper glass.
* Dimensions: 19.7" x 15.7" x 20.8" H.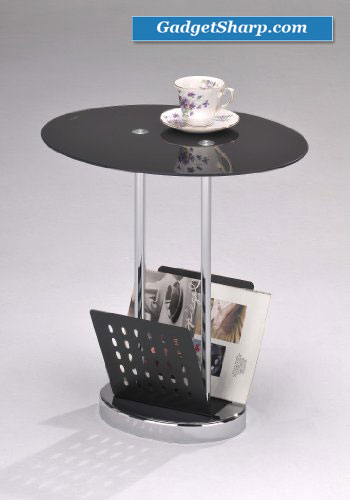 7. The Lord Byron Wooden Side Table [amazon]
Faux books with authentic metal pulls slide out to reveal a single drawer, while others open as double doors for convenient storage near a favorite chair or in an entryway. This clever addition to any room is truly part fun and part function that's perfect for the most avid bibliophile! Simple assembly required. 22""Wx14""Dx28""H. 48 lbs."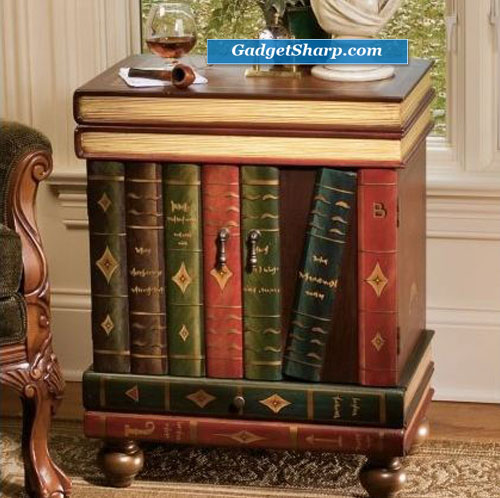 8. End Table With Frosted Glass [amazon]
* Solid wood endtable with frosted glass top
* 22.6 in.square x 24 in. high
* Contemporary Espresso finish
* Built in shelf for book, magazine or decorative item display
* Ready to assemble with hardware and tools included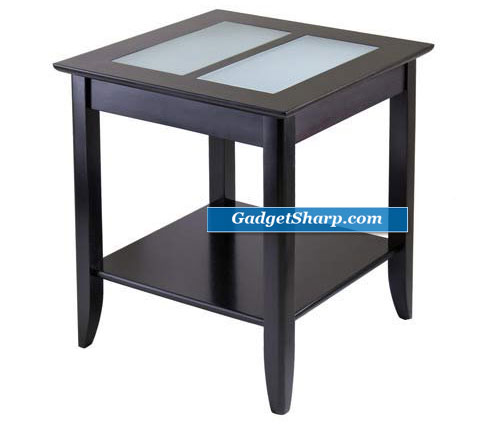 9. Baxton Studio Eileen Gray-style Stainless Steel Accent Table [amazon]
* sturdy stainless steel frame
* comes with clear glass top
* modern and contemporary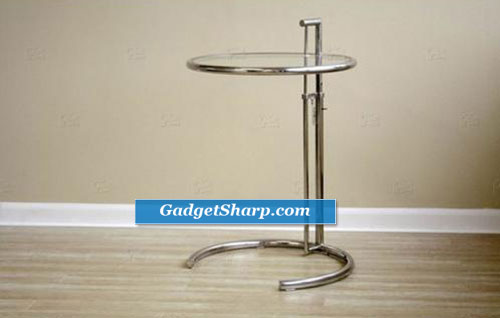 10. The Sultans Elephant Sculptural Side Table [amazon]
"Add an exotic accent to home or gallery with this work of decorative art cast in 13 lbs. of quality designer resin, richly textured and hand-painted one piece at a time. Ready to serve as a free-standing sculpture, table, footstool or display stand, this stylized elephant will willingly bear daily burdens anywhere in the home. 20andfrac12;""Wx9andfrac12;""Dx15andfrac12;""H."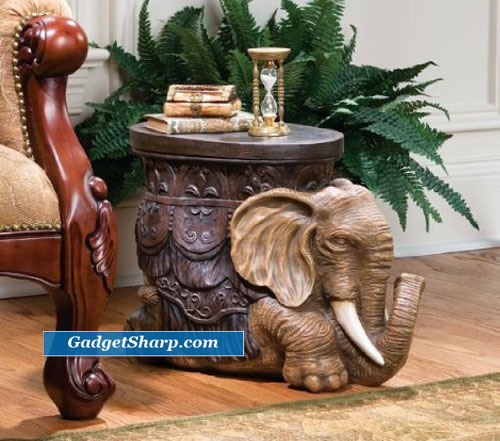 11. Trek Side Table in Smoke [amazon]
* Color: Smoke Glass
* Size: 28"H x 15"W x 13.5"D
* This item ships common carrier.
* Multisurface end table.
* Crafted from semi-tempered glass.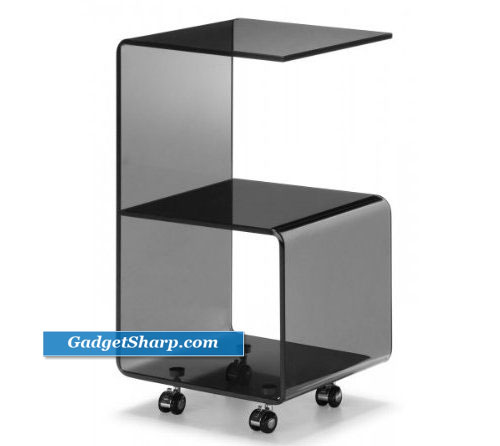 12. The Contortionist Skeleton Side Table [amazon]
Toscano exclusive sculpt adds an imaginative presence to home or garden! Bowing to become a serviceable and most imaginative table, the Contortionist folds his quality designer resin Gothic bones to steady a 3/8""-thick, pencil-edged glass top. 14""Wx11""Dx17""H. 17 lbs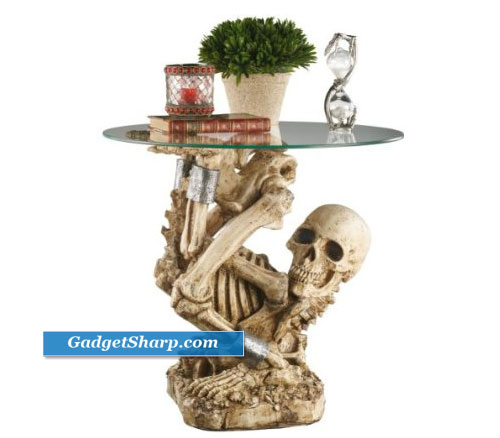 13. Adesso Zig-Zag Accent Table [amazon]
* Accent table is great for storing CDs, wine, and knick-knacks
* Made from black wood grain veneer; MDF wood construction
* Each storage/display area is 8 inches deep
* Complements den, home office, kitchen, or bedroom decor
* Table overall measures 19 inches wide by 12 inches deep by 21-1/2 inches high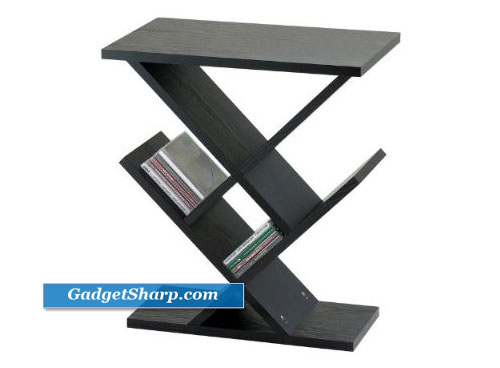 14. Jupiter Side Table in Black [amazon]
This side table is finished in black Side Table Features: -Clear tempered glass top. -Black resin formed base. -18'' Diameter glass top. -A well balanced design. -As original as functional. -Some assembly required. -Overall Dimensions: 22'' H x 18'' W x 18'' D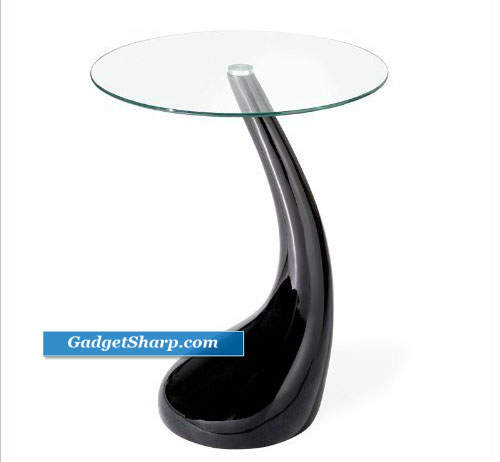 15. Jackson Street Furniture BIG (O)Val Table [link]
The two glass shelves provide ample space for your things. Or get crazy and throw some stuff down on the bottom of the curve. The BIG O's make great bedside tables, end tables or occasional tables. The wood body is custom pressed, curved plywood available with Maple or Walnut veneer. Shelves are 1/4" thick glass, and the legs are sensuous 1/4" stainless steel with a brushed finish.