Wouldn't you like to have a cup of a tea or a glass of a wine in a comfortable way on your favorite sofa? If yes, then slide under sofa table is exactly what you are lacking in your home furniture. A slide under sofa table can easily slide under your sofa and it has enough space to place a TV remote control and a plate of a potato chips, a bowl of a pop corns or your laptop. Here we listed 9 Convenient Slide under Sofa Tables, which can not only be a convenient spot to hold your items around your favorite spot, but also add some stylish but functional touch to your home decor.
1. Dark Cherry Wood Side Table [amazon]
The serious reader s favorite side table keeps your books, magazines and catalogs close at hand. It features a compact design to fit tightly against a chair or sofa. Crafted of wood with a handsome, dark cherry finish, it has a table plus a rack at the base for magazines. Assembly required. 11 3/4"L x 16"W x 27"H.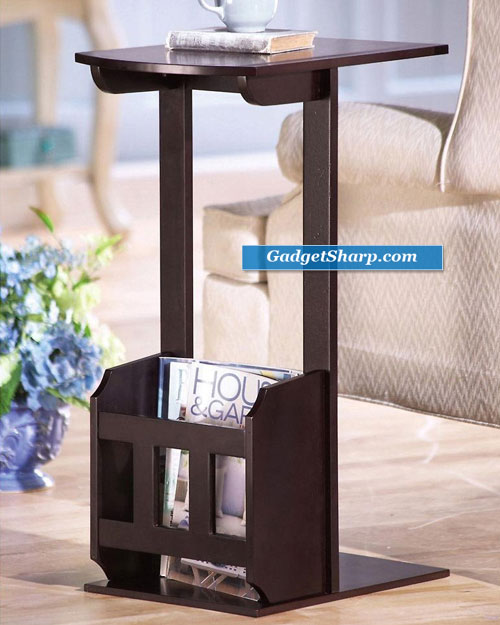 2. Geometric Side Table [amazon]
'Slide in sofa table The harmony of balanced rectangles and squares suspended in the air by gracious arcs gives life to the frame base, offset by a wood tabletop for drinks, snacks and magazines tall enough to slide up to a chair or sofa. 12''L x 8 1/4''W x 21''H.'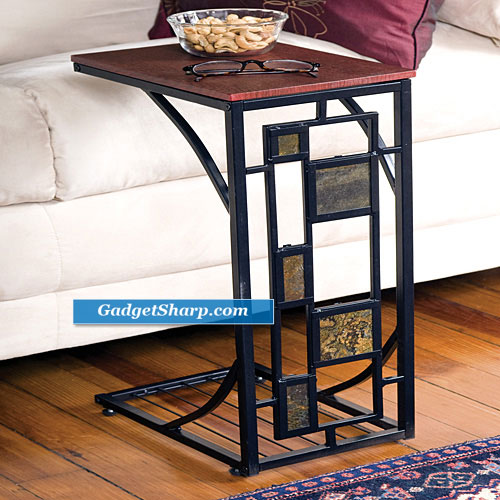 3. Smart Table Mate [amazon]
This listing is for 1 table. Totally New Sealed
Dimensions of top: 15"x20" Distance between legs: 18" - 21 "
Adjusts to 6 heights (The highest 28.5" to the lowest 20")
Angle Adjustment horizontal, 2 angles down, 1 angle up Folds to semi and completely folded
Slides up with just one finger until it touches your body

4. Wabash CTable End Table [amazon]
Color: Grey and Java
Size: 24.00"H x 20.00"W x 11.75"D
Slim design offers a balance between style and strength
Functional and stylish, great for any setting
Frames are 1/2" steel rod powdercoated silver sparkle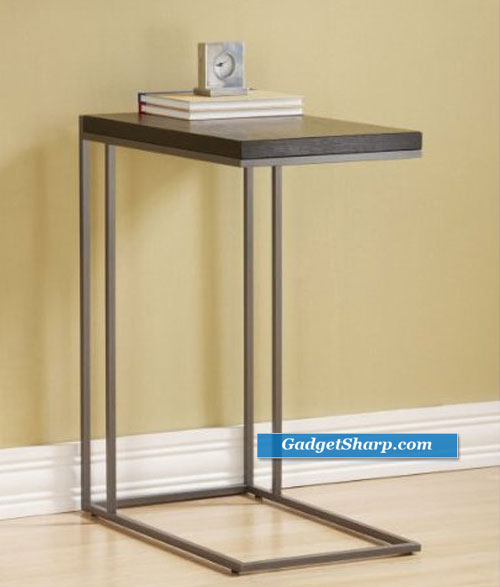 5. Snack Table with Burnished Copper Base [amazon]
Snack table with a brown finish top and burnish copper finished base.
Traditional style
Beautiful scroll design
16L x 9W x 22.5H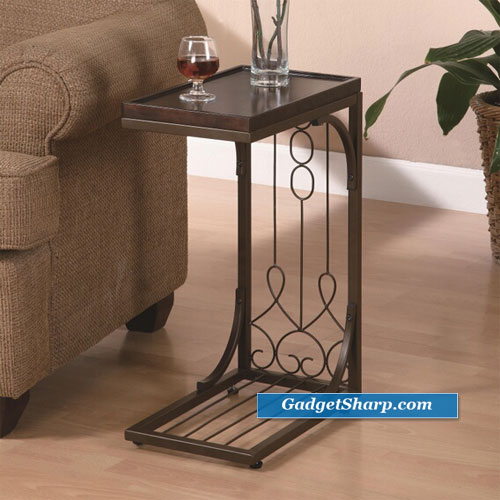 6. Sprint Table [link]
The Sprint table makes a great slide up table. The design allows the foot of the table to slide under most sofas and the surface height at 25" is perfect for an evening on the sofa. A TV dinner should be so fortunate.
Dimensions: 25"H x 20"W x 20"D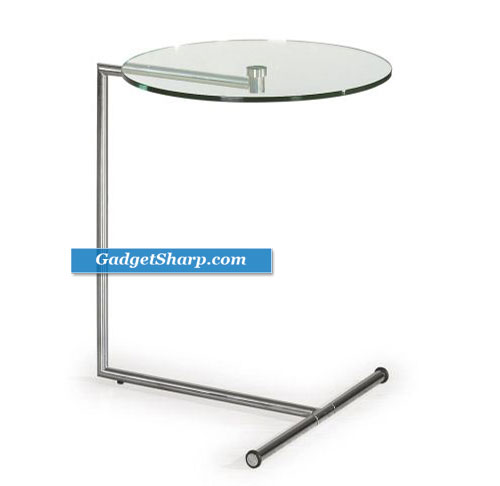 7. Expanding Tray Table [amazon]
This Expanding Tray Table has an attractive wood-grain surface
The bottom of this tray table slides under the couch to keep things handy
The Expanding Tray Table can also be used as a serving table for parties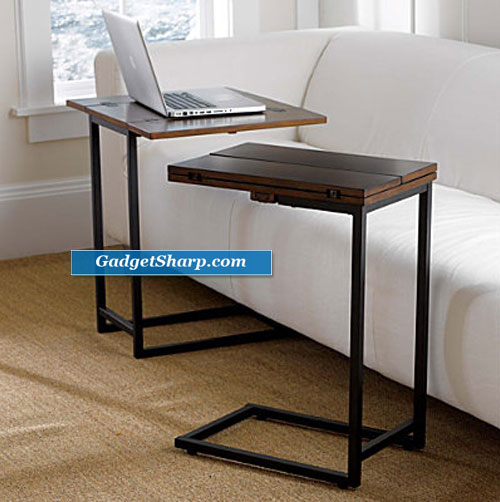 8. Tango C-Shape Table in Red Cocoa Brown [amazon]
-Unique c-shape table with wheels. -Unique table can be use as an end or sofa table. -Space-saving furniture is designed to fit right up to the most standard sofas and beds.-Built in wheels for easy mobility. Construction: -Constructed of MDF and strength enhancing veneers.
Color/Finish: -Warm red cocoa brown finish.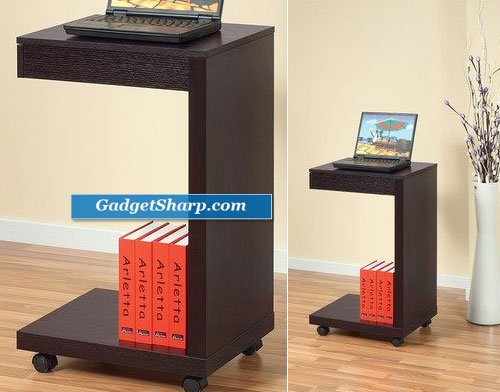 9. Round Accent Table with Glass Top and Cappuccino Base [amazon]
Accent table with sturdy glass table top and cappuccino finished base.
17.75"L x 17.75"W x 23.75"H
Contemporary style
Wood base