Sofa, is a common furniture at our home?.we sit on it every day? While today, we will present you with 11 Most Bizarre Sofa Designs and some of them you probably don?t want to sit on them. They either have too weird shape/materials or just look so uncomfortable. But some of them are actually pretty too design like Anima Cause Feel Seating system. Just check the post and make you own call? do you like those ideas?
1. Scrubbing Brush Sofa [link]
If you cast a quick glance upon it, you get the impression of a giant scrubbing brush with thick bristles which is turned upside down.But in reality, its a sofa concept which is the brainchild of a student of BCUC.
The designer has given a whole new angle to this seating furniture by merely turning it upside down. Instead of legs, the sofa features a flat platform-like support. The seating area (in this case it would be appropriate to call it as lying area) is fully covered with soft mini-pillars. All you have to do is just jump on it and adjust yourself to fit amongst these pleasure pillars.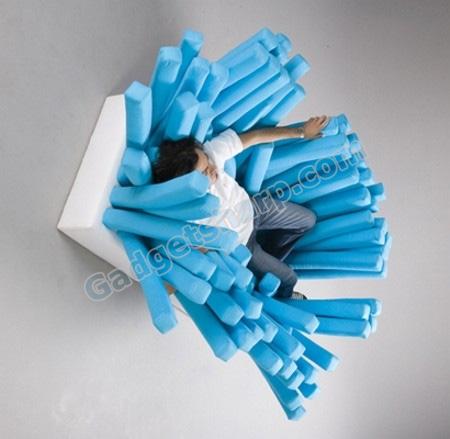 2. Stuffed Animals Sofa [link]
Creative sofa made from stuffed animals.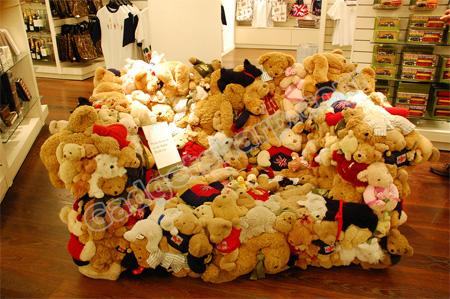 3. SKiN Sofa [link]
Jean Nouvel, the eclectic French architect always searching for new expressions, is responsible for SKiN, a sofa which is remarkable for its simplicity.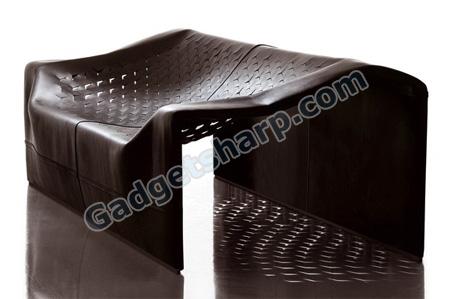 4. Steel Sofa [link]
special steel sofa by the English steel artist Ron Arad. A horizontally divided and then deformed truncated cone serves as the base of seat and back. This sofa, 218 cm long, made of a chrome -nickel-steel sheet that is only 1 mm in thickness is made stable by closing all over the open edges of cut.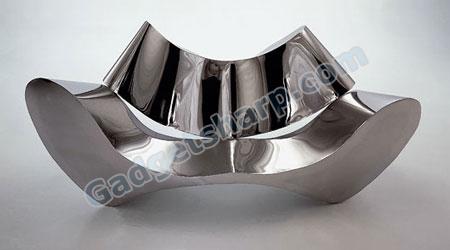 5. Cactus Couch [link]
Very unique one… not sure some one first saw it will like to set on it..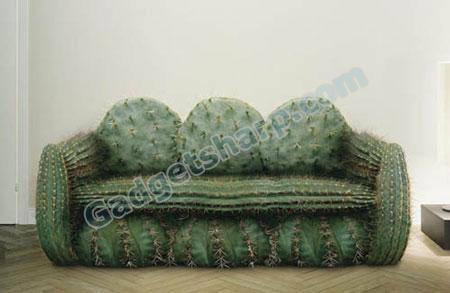 6. Sitting On Eggshells [link]
This sofa seems come from an advertisement… I doubt who can relax on this kind sofa…..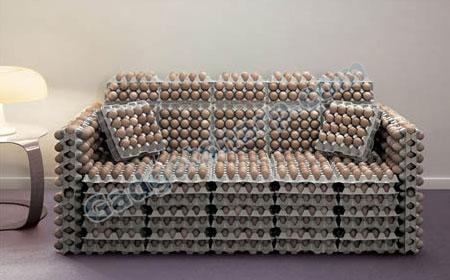 7. Sitscape [link]
The ?Sitscape? is a seating zone with a length of six meters. The form transforms the usual use of a couch. The design is based on specific seating positions and smooth transformations between them. Based on the preferred relaxing positions of the client we generated six basic positions and formed a perfect fit for them in the ?Sitscape?. Consequently, the ?Sitscape? provides familiar possibilities for relaxing. The transitional areas between these positions are undetermined in their use.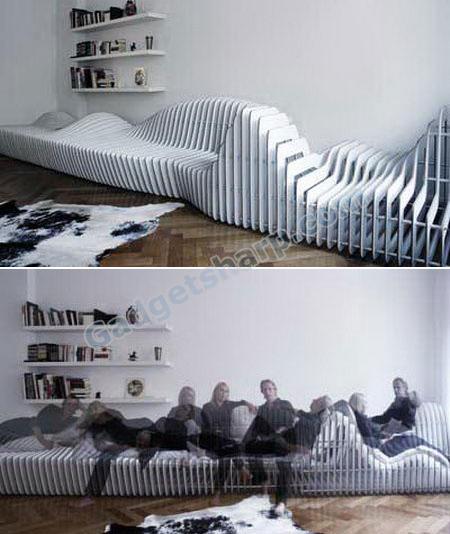 8. WALLFA [link]
It?s a Sofa, It?s a Wall?NO It?s a WALLFA. Barcelonan designer, Jordi Canudas presented his new design WALLFA at the D3 Contest at the Imm Cologne 2008. WALLFA is a 2-sided piece of furniture that is both a wall and a sofa combined. WALLFA is made from a stretchy membrane type of material that allows the users the ability to sit on either side for simple relaxation or communicating with friends or co-workers.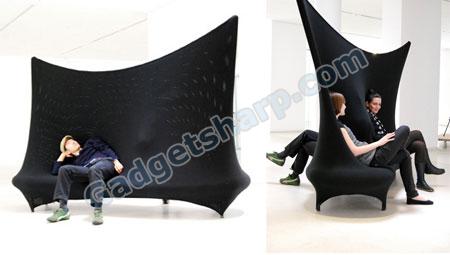 9. Anima Cause Feel Seating system [link]
The Anima Causa Feel Seating System is made of 120 elastic fabric-covered balls that move around with you, changing their form with what the designer calls the emotional state of the body. Inspired by molecular structures, it can be arranged in a nearly unlimited number of positions. Fold it up into a seat, lay it flat as a bed, or wrap it around you. Looks like fun.
10. Modern Lounge Sofas ? Waves Sofa For Two [link]
This lounge sofa for two has its ups and downs, you could say. The undulating bench features a black fiberglass base with an ultra-modern upholstered seat, pictured in rich dark brown, classic black and a modern black-and-white cowhide motif. Ideal for the contemporary home, this sculptural sofa was designed by Anne-Mette Jensen and Morten Ernst and won them the first-ever Erik Jorgensen Mobel-fabrik design competition in 1994.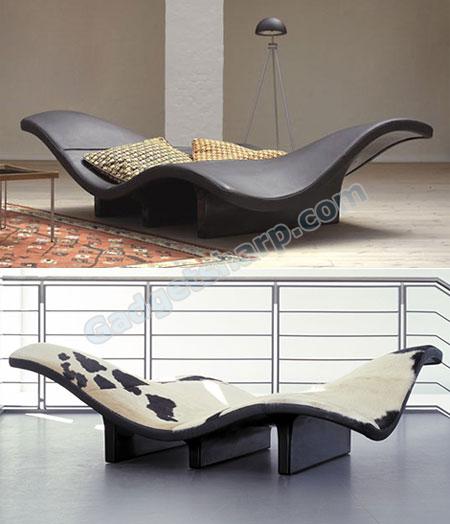 11. Ron Arad?s Couch May Fetch $160,000 [link]
Ben Williams, a design expert at Phillips de Pury engaged in selling the Arad couch, titled ?Early Big Easy Volume 2 for 2 Sofa?1989 said: If you are carrying jeans, then it is suggestive to be actually cautious. Usually they serve as a sculptural element but can be used for sitting on occasionally.