No modern dream home is complete without a dazzling, eye-catching coat rack ? and there is plenty of options to choose from. You need it, your guest need it and your kids need it. Here are 11 Modern and Stylish Coat Racks designs which have different style and shapes for all your purpose. Some of them even take care of your umbrella.
1. Brahms Coat Rack [amazon]
Unique curved hanging point prevent fabric stretch & distortion
Six hanging points at varying heights for versatile draping options
Umbrella holder included
Wood detail accent cap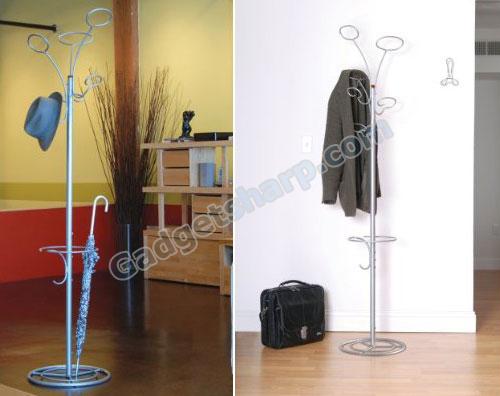 2. Midwest Monkey Coat Tree [amazon]
Smile. Laugh. Play. Kids can?t miss this brightly colored Genuine Monkeez? sock monkey coat tree, so they?re more likely to hang up their stuff. Made of wood, it will keep sweaters, PJs and scarves off the floor and within easy reach. Measures 11.75 x 11.75 x 54 inches.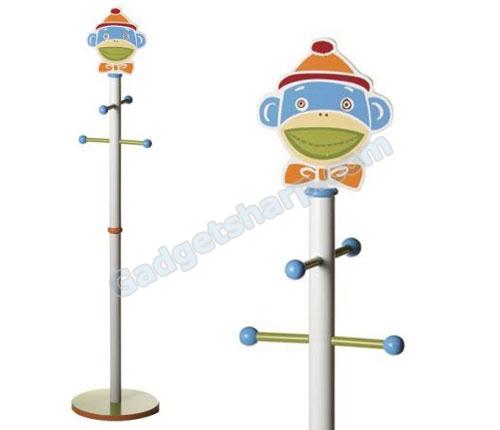 3. Moderna Coat Tree/umbrella Stand [amazon]
Moderna Coat Tree/Umbrella Stand is designed with convenience and modern style in mind. Sleek, smooth lines add appeal to this entryway furniture that comes complete with 4 slots that hold umbrellas and a peg on each side to hang your jackets and hats. Organize your hallway in style; order now.Durably crafted of solid wood and wood veneer.Mirrored panel adds a modern touch.Features a rich, stylish finish.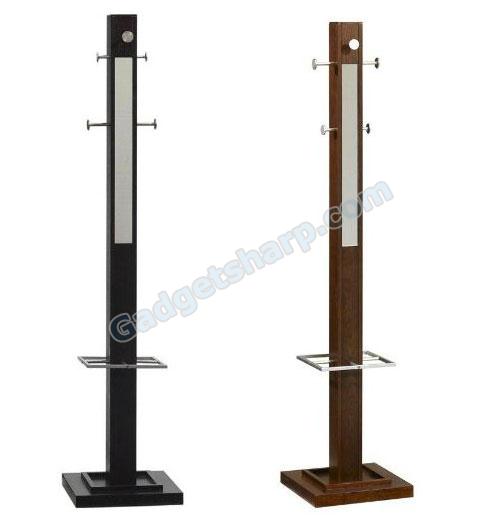 4. Adesso Contour Coat Rack [amazon]
Three bent wood coat hooks accented by three satin steel pegs can be used as coat hooks as well. Attractive and functional, these coat racks make the perfect addition to your home or office. Available in natural, walnut, black or white. Overall dimensions: 72" Height, 24" Width, 24" Depth.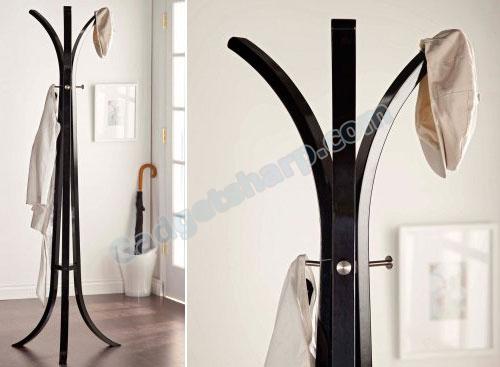 5. P'Kolino Clothes Tree [amazon]
P'kolino Clothes TreeThis playfully sculpture-esque alternative to the standard clothes tree is so fabulously cool you may not want to cover it up. With several branches and fruit-o-plenty, there is tons of hanging capacity. Made from premium birch ply, the tree stands 4 feet tall. With its wide base and solid, single-form construction, this clothes tree is stable and extremely durable. The fun color and no nuts-and-bolts assembly make the tree a convenient addition to any home.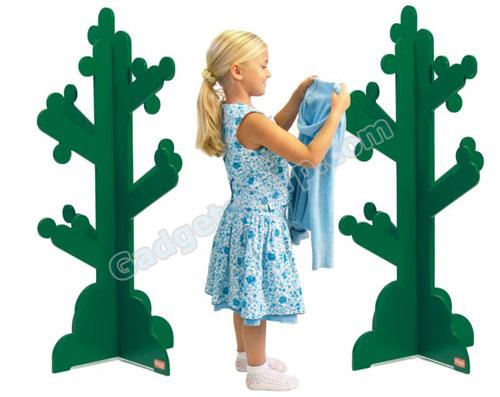 6. Coat Rack In Sandy Black Finish With Umbrella Stand [amazon]
Organize, Accent Your Entryway with Our Coat Tree Our Kingston Coat Tree with Umbrella Stand is the perfect addition to your foyer or entryway, offering both striking elegance and practicality. In addition to plenty of hooks for hanging coats, wraps, hats and caps all year round, the base of our hall tree serves as an graceful but generous storage space for keeping umbrellas organized and close at hand. It's an accent piece that's sure to gain as much attention for its splendor as for its utility.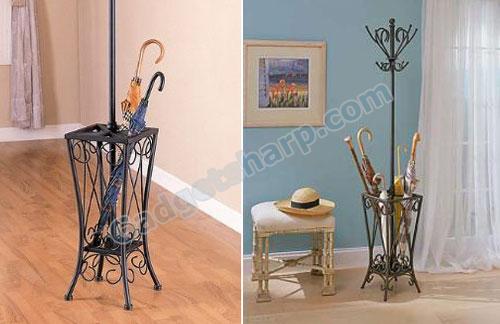 7. Walnut Finish Wood & Metal Suit Valet Rack Stand Organizer [amazon]
Walnut Finish Wood & Metal Suit Valet Rack Stand Organizer
Dimensions: 21.2' x 11.4' x 42.1'H.
Simple assembly required.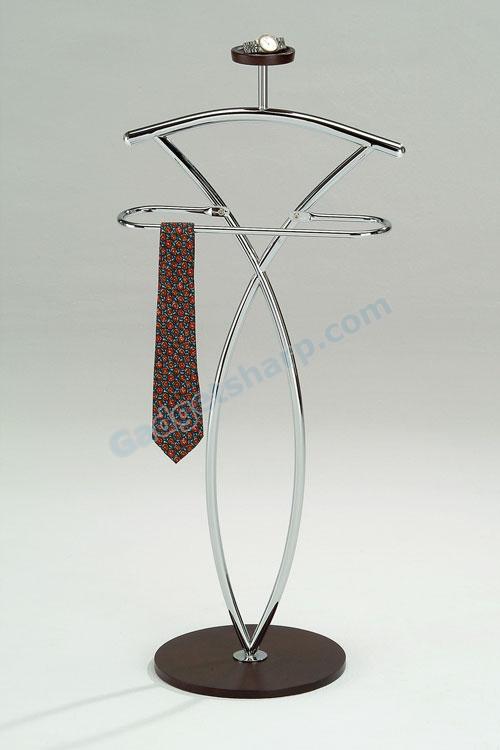 8. Chrome / Walnut Finish Metal & Wood Coat Hat Rack [amazon]
Chrome / Walnut Finish Metal & Wood Coat Hat Rack.
Dimensions: 11" x 11" x 70.8"H.
Simple assembly required.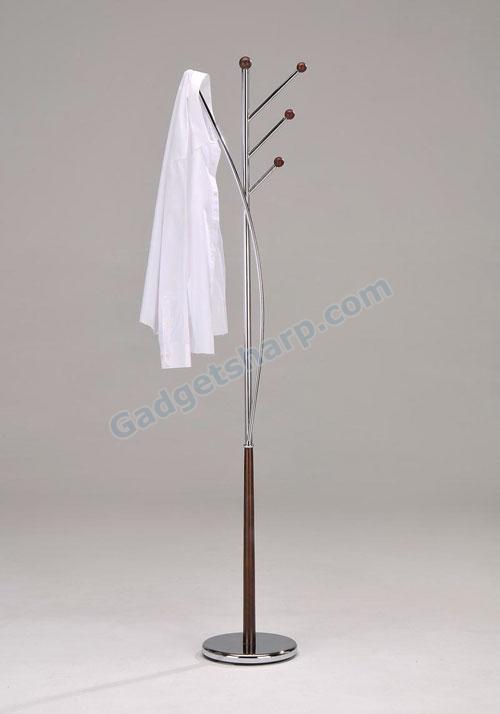 9. Kobe Coat Tree [amazon]
The Kobe Coat Tree features four movable bars that serve as hooks. The two top bars are longer than the bottom two, offering the most space efficient storage available! Hang jackets, purses, hats and more on each of the four hooks and stash keys away in the discreet key box in the middle of the stand. This coat rack is unique and classy, made of solid wood and mdf with a dark walnut finish. Use it for style and storage in the hall or entryway of your home!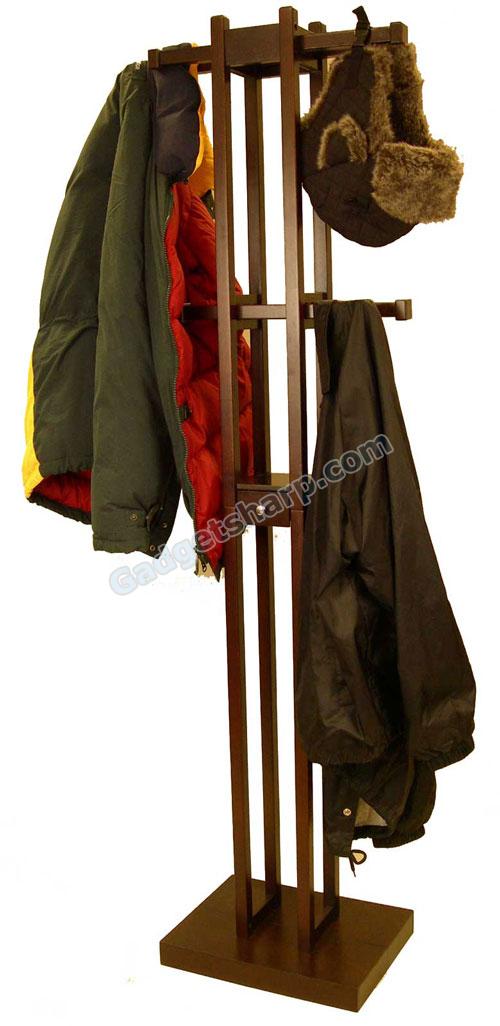 10. Alba PMFEST Festival Coat Tree with Umbrella Holder [amazon]
Stylish and functional.
Includes five coat knobs, designed to be easy on clothing
Contemporary design
Easy to assemble
Heavy base for stability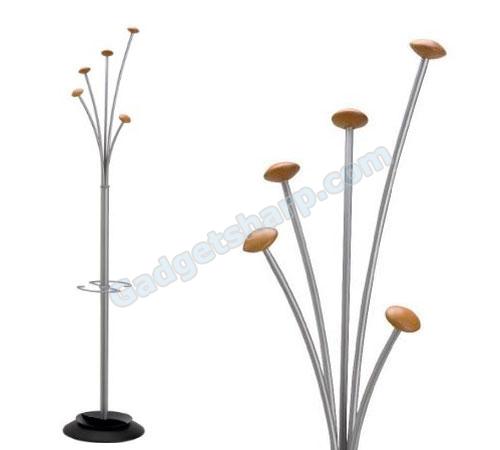 11. Swedese Tree Coat Rack [link]
This playful coat stand is a stylized tree, but then maybe this tree really wants to be a reindeer. It's antler-like branches were created by Iclander Katrin Petursdottir and Brit Michael Young for Swedish furniture brand Swedese. The tree comes as a "junior" or as an "adult" tree, in a freestanding or wall mounted version. The tree can be chosen in either laminated Oak veneer, white or black MDF. The floor standing version has a steel plate in the base for stability.
Junior floor standing: H: 52.3",W: 30", D: 15.6" Junior wall mount: H: 52.3", W: 30" D: 5"
Adult floor standing: H: 75.7", W: 34.7", D: 19.5" Adult wall mount: H: 75.7". W: 34.7", D: 5"