You have a collections of magazines and you want them be organized, easy accessed or displayed in style. Hence, we rounded up 17 Stylish and Useful Magazine Rack and Holder Designs, from wood to chrome, from living room to bathroom, from wall to floor. Hope you enjoy the post!
1. Illuzine Floating Magazine Rack [amazon]
Store and display current magazines newspapers and other periodicals in style with a Floating Magazine Rack. This contemporary magazine organizer offers a dozen horizontal arms for hanging magazines and offers an artistic contemporary element ideal for modern waiting rooms and office spaces. Umbra Illuzine Wall Mount Magazine Rack Features Heavy grade metal construction with a powder coated silver finish. Cascading design keeps spines of magazine and catalogs on display. A series of horizontal arms hold magazines for stylish hanging display and storage of reading materials. Wall mount rack can accommodate to 12 magazines. Perfect for providing convenient storage and display of magazines and other periodicals in a waiting room home office showroom or workspace. Includes hardware for quick and simple wall mounting.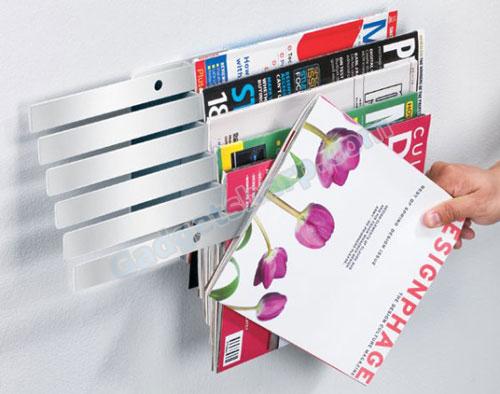 2. Safco Model 5-Pocket Magazine Rack [amazon]
Onyx it! Mesh leaves the room free of magazine mayhem and full of modern materials. The Onyx 5 pocket magazine rack offers a contemporary look in magazine racks that will fit into any setting. It's perfect for use in a front office, reception area or a work area for keeping industry news close at hand. Fully Assembled. Wall mounting hardware included.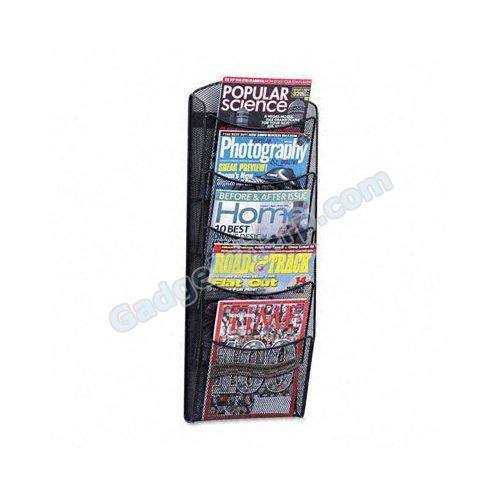 3. Spectrum 3-Tier Wall-Mount File Holder and Magazine Rack [amazon]
Conveniently organize and store magazines file folders catalogs or the mail in a Three-Tier Wall Mount Chrome Wire File Pocket. This handy mail organizer is great for use at the home or office and ideal for passing on important files to coworkers collecting the daily mail organizing periodicals and so much more. Chrome Wall Mount Three-Tier File Holder Features Constructed with sturdy high grade steel wire. Sleek polished chrome finish. Convenient wall mount design (includes matching mounting hardware) . Measures over eleven inches wide to accommodate magazines file folders and much more. Angled storage pockets provide quick and simple use. Makes a simple and stylish magazine rack for the home or office. Practical office organizer is great for holding bills and mail file folders catalogs magazines and more.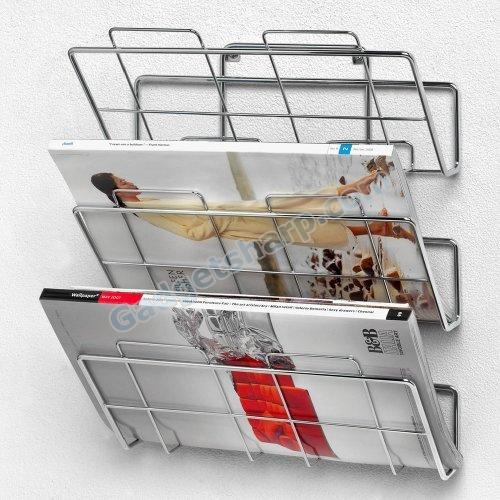 4. Umbra Bathmag Magazine and Double Toilet Paper Holder [amazon]
Umbra Bathmat Magazine and Double Toilet Paper Holder in Nickel mounts easily to your bathroom wall and allows you to have two toilet paper rolls hand as well as your magazine. Made of brushed nickel. This Bathmat is innovative in design and versatile in use. Hardware included. Designed for everyday living.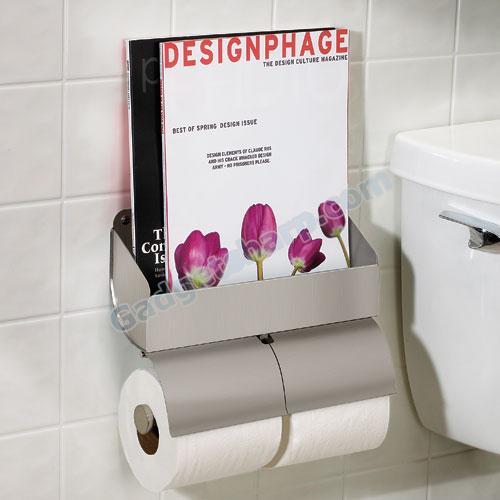 5. Mesh Magazine Rack - Wall Works - Large [amazon]
Organize all your magazines, catalogs, newspapers with great panache with this Mesh Magazine Rack from Organize.com. Featuring a contemporary style, this large wall magazine rack has a mesh construction that ensures durability for years. The beautifully curved slots make effective storage space for the display of magazines, mails or letters, as well as papers. Arranged in a cascading fashion, the mesh magazine holder allows for easy visibility and accessibility of the stored items.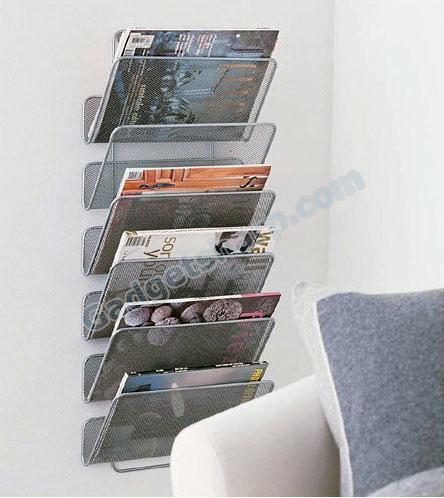 6. Adesso Zurich Magazine Rack [amazon]
The Zurich Magazine Rack by Adesso, is the stylish way to store your magazines in the family room, bedroom or bathroom. The half inch thick walnut finished bentwood has cut-out carry handles. It will eliminate clutter and help keep the room clean.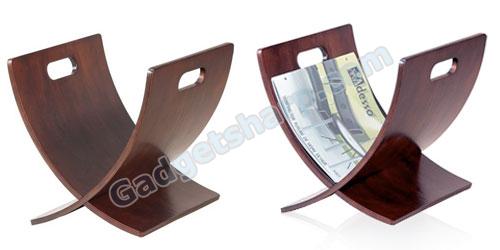 7. Seville Classics Classic Lines Magazine Rack [amazon]
Organize your magazines with this durable classic lines magazine rack. Stack your magazines in style in your living room. Just unfold and set.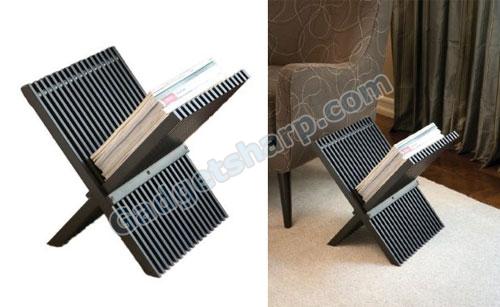 8. Human Magazine Rack [amazon]
Add an artistic touch and keep your magazines and newspapers organized with our Human Magazine Rack. These magazine racks feature human figurines that decorate the edge of the racks. Unique and contemporary.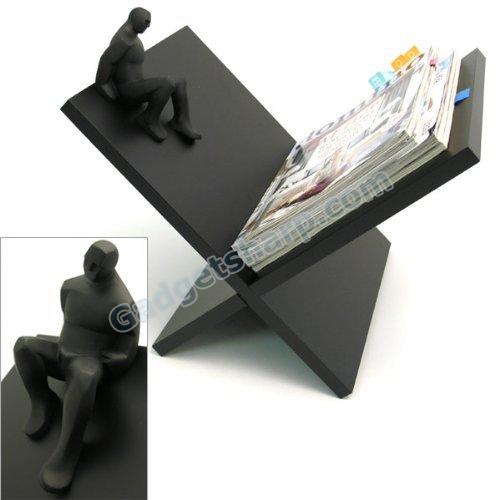 9. Nickel Plated Steel Free Standing Magazine Rack [amazon]
A minimal yet sculptural freestanding magazine rack made up from four nickel plated steel rings. It can hold plenty of magazines and is also easy to lift. We want to show that designed products can be made affordable without compromising their quality. The aim is to create innovative products that will charm and entertain. Hopefully you will get as much enjoyment from a Black+Blum product, as we got from designing them.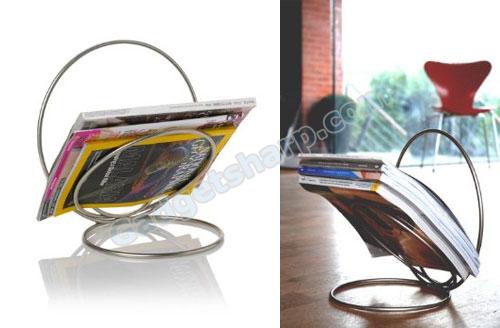 10. Floor Magazine Rack [amazon]
This modern magazine rack features three pockets in a tiered form, for holding your favorite reference materials such as magazines, newspapers, maps, and books. With a folding wood frame and carrying handle, the magazine display rack can be easily stored or taken on the go! The folding magazine rack is made of wood with 100% cotton canvas material, for a simplistic look that efficiently does the job!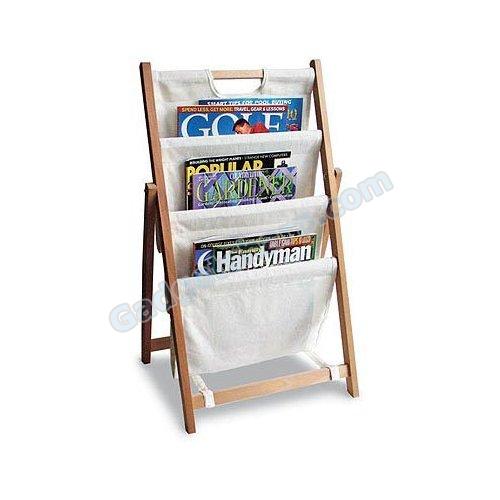 11. Boom U Magazine Rack [amazon]
A minimally designed, U shaped rack made of thickly cut yet delicately bent Lucite. A sturdy and brilliant, effortless design to hold your magazines.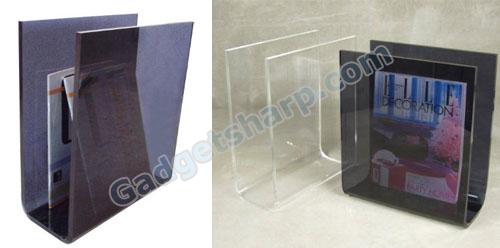 12. Wood Magazine Rack Console Table [amazon]
Dimension: 34"W x 15"D x 38"H
Finish: Cherry Brown
Material: Wood
Wood Magazine Rack Console Table - Cherry Brown Finish
Item features storage shelves.
The lower storage can be showed off your collectables beautifully.
This item is designed to be practical in use and elegant to beautify your home decor.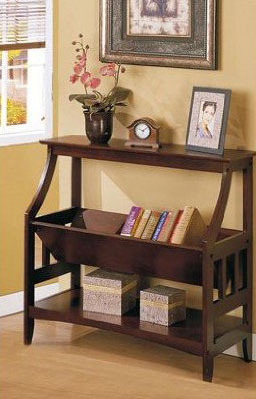 13. Magazine Rack in chrome [amazon]
Stylish way to display and organise your collection of magazines.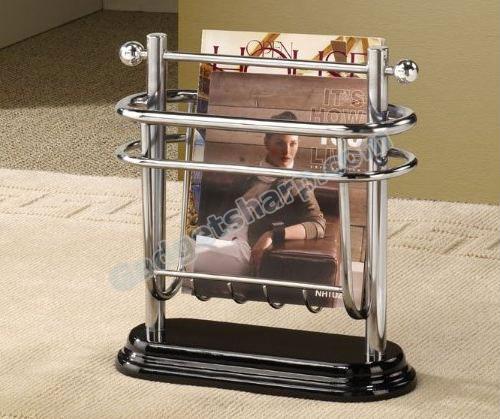 14. Wood Side Table With Magazine Rack And Built In Lamp [amazon]
Oak finish wood side table with magazine rack and built in lamp, Measures 23 3/4" x 15 3/4" x 53 1/2" H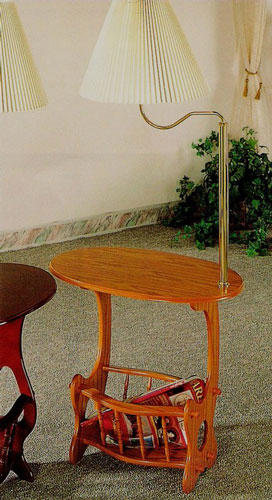 15. Magazine Hanger [link]
This design allows you to display the magazines you?re currently into on the wall like a coat rack, with the string and the ball at the end holding them up for easy access.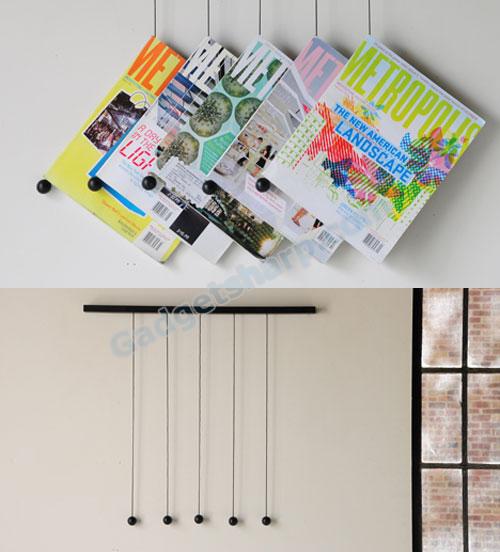 16. Offi Molded Ply W Magazine Stand [amazon]
Molded and folded to keep your favorite magazines close at hand. This sensuous form provides two deep spaces to hold plenty of magazines. It matches all our office products and would be a welcome addition to any bathroom. Available in birch, oak or walnut.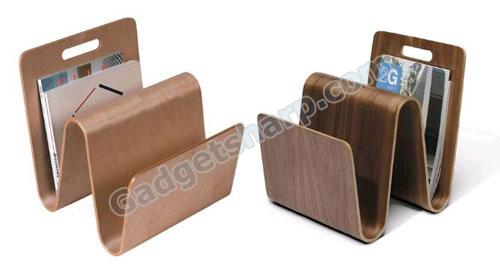 17. Alba DDP8 Alba Literature Floor Display Rack [amazon]
Enhance literature display with an attractive and practical design in a modern pairing of chrome and black. Curved lines on the eight plastic pockets enhance visibility and accessibility.