Just think about how much money we spend on just one pair of shoes, it adds up. Before you know it there are thousands of dollars worth of shoes cluttering up the floor of the closet. However, find a good, safe place to store them can be a hassle. we rounded up 15 nice and useful shoe storage (shoe cabinet, shoe rack, shoe bench and shoe shelf) which might be helpful to keep your home clean and nice as well as eases the selection process each and every morning.
1. Nest Shoe Rack - Freestanding [amazon]
The Nest Shoe rack gently holds the tip of each shoe, the vertical shoe rack provides space-saving storage by elegantly stacking footwear within a free flowing stainless-steel form. This design gives you a much more compact solution to shoe storage! It holds most types of shoes.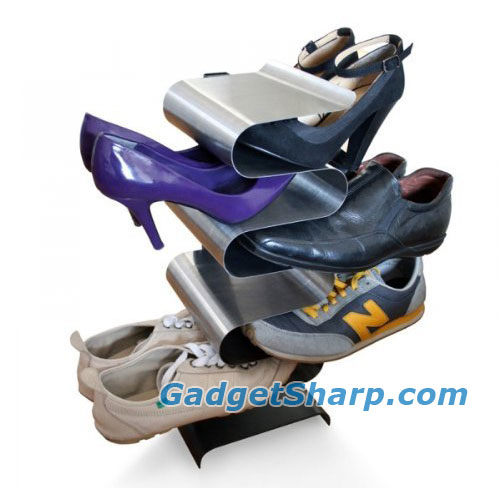 2. Rubbermaid 2-Tier Stackable Shoe Shelf [amazon]
Stylish, sturdy, and stackable, Rubbermaid's two-tier shoe organizer can go anywhere from the garage to the foyer to the bedroom closet. The unit holds up to eight pairs of shoes and features tight-weave, silver-toned wire shelves that are angled for easy visibility and molded in front to keep shoes securely in place. The dark wood sides provide a clean, contemporary complement while allowing maximum airflow. Easy assembly required; the unit wipes clean.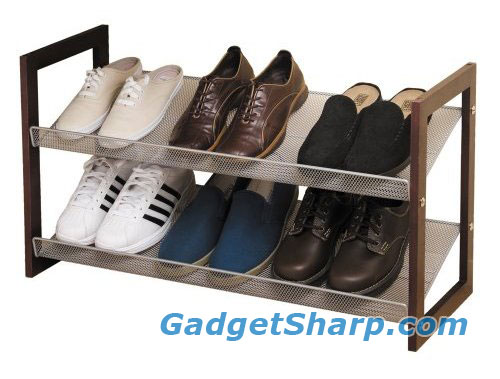 3. Neu Home Espresso 9 Pair Wood and Metal Shoe Rack [amazon]
The Espresso 9 pair shoe rack is a simple, small sized shoe rack that serves its basic shoe storage need. Offered in an espresso finish with silver colored wire shoe holders this shoe rack can help organize a messy pile of shoes into a nicely organized pile. This rack fits nicely into any room of the house or closet. It can hold up to nine pairs of shoes. 23.25 x 16.375 x 12"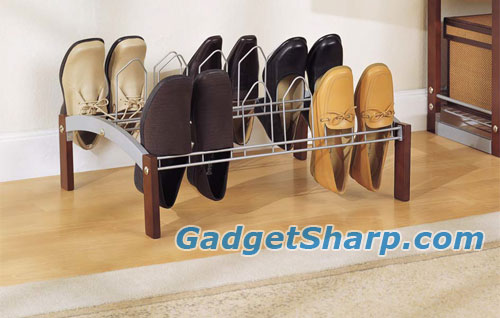 4. Rubbermaid 9-Pair Wood-Finish Shoe Bench [amazon]
Bring harmony to highly trafficked areas of the home with this smart, tidy space saver. The shoe bench features sturdy construction and two slotted nickel-steel racks, which allow for proper air circulation so damp shoes dry quickly, minimizing odors. Store up to nine pairs of shoes on the unit, or use the top shelf for backpacks, handbags, keys, and other on-the-go essentials. Its attractive honey-colored wood-grain finish makes the shoe bench a beautiful and dependable piece of furniture for any space. Perfect in an entryway, closet, or utility room, the shoe bench measures 11-7/8 by 23-3/4 by 18-7/8 inches and carries a one-year limited warranty.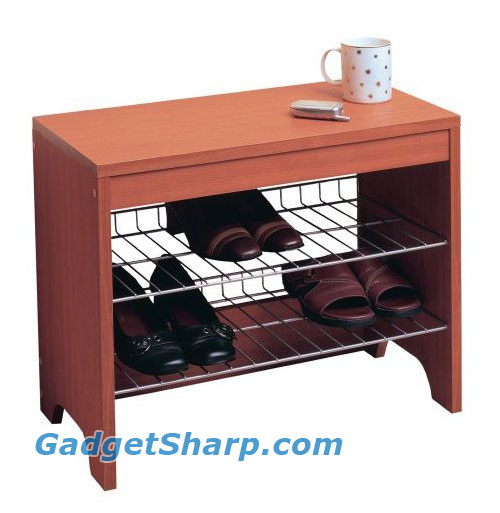 5. Craftsman 42"w Storage Bench With Open Shoe Storage [amazon]
Designed with the popular Arts and Crafts style, our Craftsman Storage Bench with Open Shoe Storage is a versatile seating option we know you'll love. Made to hold up to 10 pairs of your favorite shoes, it features 3 spacious drawers for storing your odds and ends. The brown bicast leather upholstery provides the perfect place to unwind.Carefully handcrafted of oak veneer, it provides long-lasting beauty. Use it in your family room, bedroom or even powder room. Order today! Actual size is BROWN LEATHER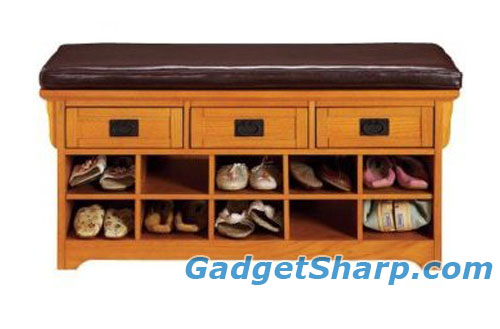 6. Single Cherry Finish Shoe Cabinet [amazon]
Holds up to 12 pairs. These units have back panels for added structural stability. The back panels are not for decorative purpose as they are not visible behind the shoe racks. The open area is left to provide ventilation. Designed for women's shoes and men's shoes up to size 12. Available in 4 colors. Assembly required. Made in the USA. Also available in the following sizes: 2 Tiers 3 Tiers Assembly level/degree of difficulty: Moderate. Made in America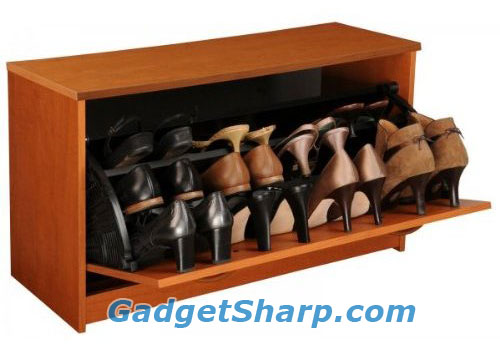 7. ClosetMaid 15-Cube Laminate Shoe Organizer [amazon]
Keep your shoe collection clean, organized, and protected with ClosetMaid's 15-Cube Shoe Organizer. Made of wood laminate in a choice of White, Cherry, Espresso, and Alder finishes, the simple, sturdy design features three rows with five cubbies each nestled inside a solid frame. Each cubby holds one pair of shoes, and the organizer's top surface may be used for additional storage. Like shoes a lot? Simply stack another unit on top to double the capacity for larger collections. The organizer is also great for storing accessories, craft supplies, or office supplies. It measures 24 inches wide by 12 inches deep by 31 inches high and weighs approximately 20 pounds. Easy assembly is required.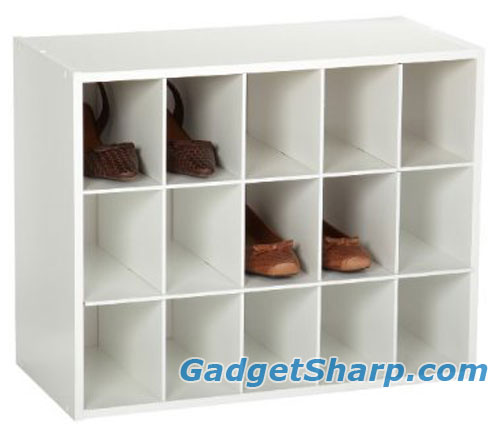 8. Honey-Can-Do Bamboo Shoe Shelf [amazon]
This attractively simple tiered shelf from Honey-Can-Do organizes the entryway and get green points at the same time for its environmentally savvy materials. Built with three tiers, the piece is constructed from bamboo, a fast-growing and durable alternative to timber. It features rounded corners, slatted shelves, and an adjustable design that allows shoes to rest on a flat or angled surface. Also great for the closet or mudroom, the piece is moisture resistant and fits in almost anywhere in the house, thanks to its natural finish. It holds 9 to 12 pairs of adult shoes, wipes clean for easy maintenance, and also comes in a two-tier version.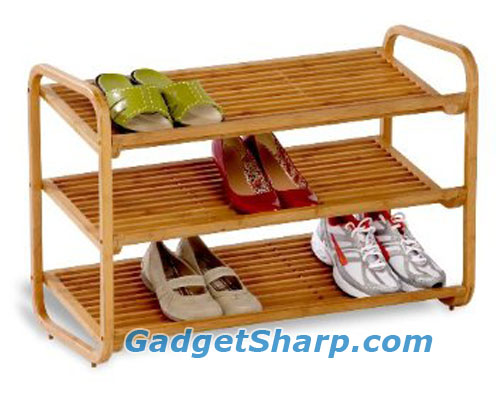 9. Seville Classics SHE15905 3-Tier Iron Shoe Utility Rack [amazon]
Keep your shoes organized with this stackable 3-Tier Mesh Utility Shoe Rack. Folds flat for easy storage. No tools required for easy set-up.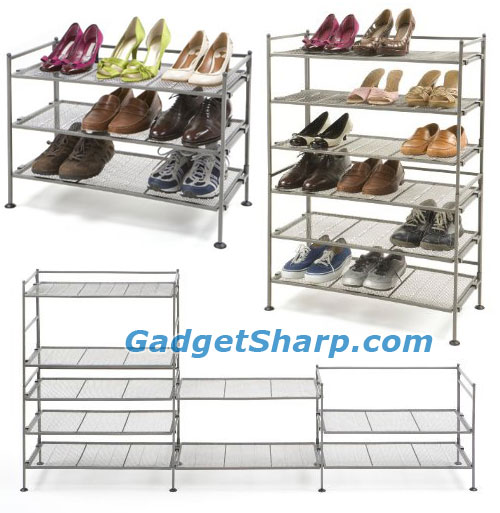 10. Household Essentials Revolving 4-Tier Shoe Tree [amazon]
Tidy up the closet or tame those piles of shoes in the mudroom with Household Essentials' four-tier revolving shoe tree. Constructed of heavy-duty chrome-plated steel with a weighted base for stability, the sturdy tree holds 24 pairs of shoes on a tight circumference that saves on valuable floor space. The four levels adjust to accommodate different sizes of shoes, and a built-in handle on top makes it easy to move the tree from spot to spot. The tree measures 12 inches in diameter by 54 inches high.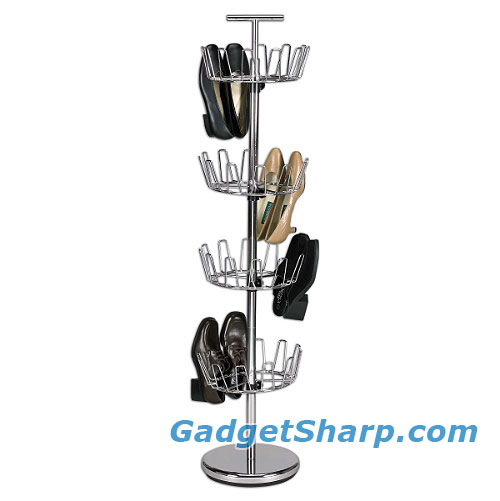 11. Over The Door Clear Shoe Organizer/Storage Rack [amazon]
Over the door clear shoe bag
Contains 24 pockets for shoes
Fits all sizes
No assembly required
Very sturdy
Great for space saving and organizing rooms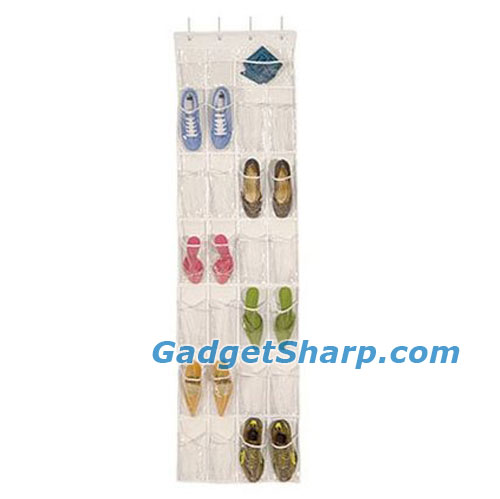 12. Small spaces Shoe Shelf [link]
The Shoe Shelf is a neat and simple solution for organizing and stacking up all your shoes in one place ? what a great product for compact spaces and small houses. This space saving shelf can be used to display all types of objects, so you could use it anywhere around your house.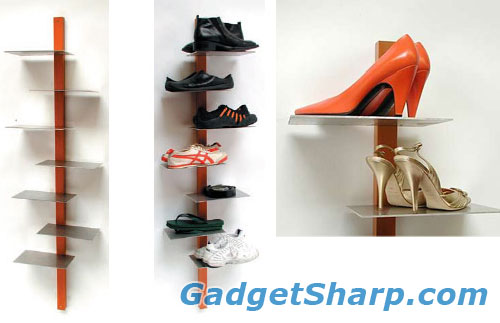 13. Skorder - shoe rack [link]
Skorder is a decorative shoe rack with inspiration from display cases, stacked shoeboxes and the mess in my own wardrobe. By giving each pair of shoes separate boxes with insides covered in gold leaf, and doors as frames, even the most worn out but beloved shoe will increase its value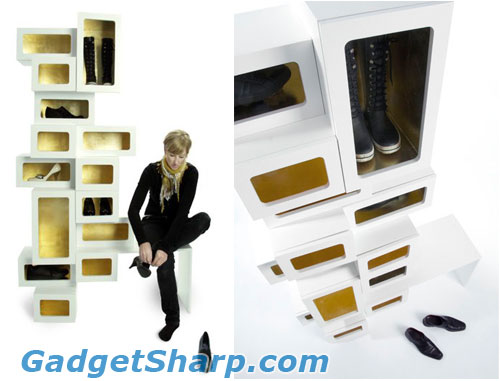 14. Shoe Cabinet - Triple Black [amazon]
Up to 36 pairs of shoes are cleverly concealed behind three drop-down doors, yet easily accessible - each drop door opens in one smooth motion, so you can quickly view and select the pair you want. Helps you accessorize your outfits while keeping your closet floor free of shoe clutter. This stylish shoe storage system is also attractive enough to be used as a bedroom or entryway furnishing. Constructed of durable, easy-to-clean melamine in your choice of White, Black, Oak or Cherry.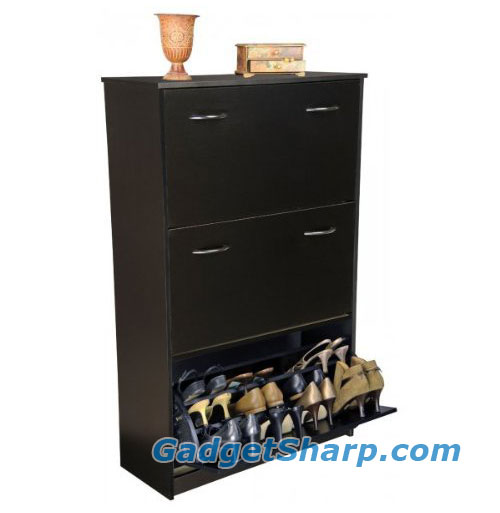 15. Mission - style 24 - pair Shoe Storage Bench [amazon]
It's perfect for the end of your bed, providing a place to sit and remove your shoes as well as store them. The sturdy frame of this bedroom furniture provides optimum structural integrity and years of dependable performance. Order this shoe storage bench today.Beautifully crafted of solid hardwood and lovely hardwood veneer.Hand-sanded surfaces are smoothly finished to enhance the wood's natural grain.Off-white cotton upholstery adds comfort.Holds up to 24 pairs of shoes.