Koi happen to be one of the most beautiful ornamental fish species out there today. These fish are beautiful creatures and now they have mystery and symbolism associated with them as well. In China, they are associated with having good fortune and in Japan, they are the symbol of loyalty, friendship, and even love. Hence, you will find a lot of Asian decoration and design in the shape of Koi. In this post, we rounded up 10 Koi Fish Inspired Products and hope you like them.
1. Kathy Ireland Gallery Qing Koi Table Lamp [amazon]
Dimensions: (in inches) 30H
Designed by: Matthew Williams
Weight: (in pounds) 19
Made by one of the most Prestigious High End Home Furnishings Manufacturers in the United States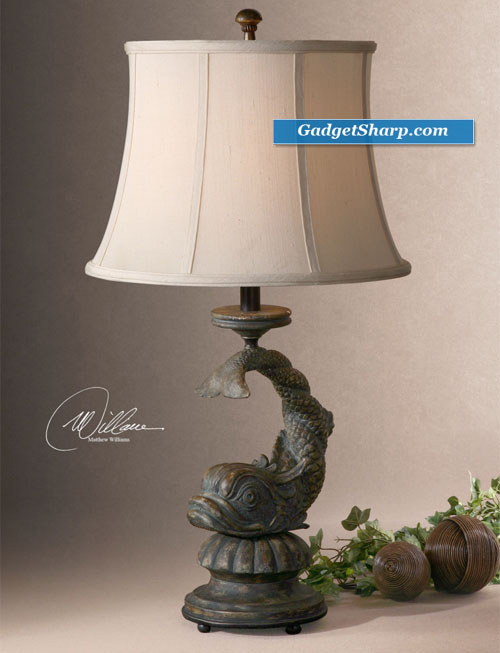 2. Koi Fish Vinyl Wall Decal [amazon]
Koi- Wall Tattoo Size: 24in x 13in Choose from 30 different colors and 5 sizes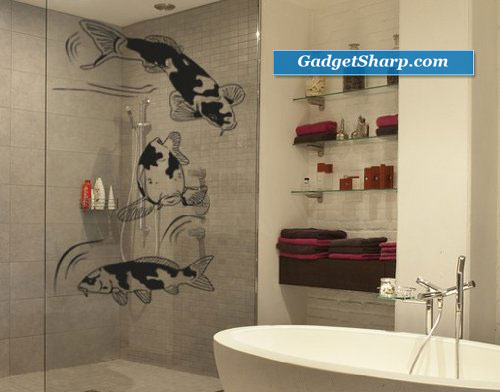 3. Bathroom Koi Fish Glass Vessel Sink & Chrome Single Lever Faucet Combo [amazon]
Glass Sink:
12mm thick tempered high grade glass from the rim to the center for style and higher impact resistance.
Tempered glass parts sustain over 350 F degree temperatures.
Faucet:
Modern designed bathroom faucet with Chrome finish. This luxury faucet will enhance all bathroom.
360 degree ceramic disc valve for a lifetime drip free use.
Titanium strengthened high quality solid brass body for style and durability.
Included: Free: All mounting hardware (chrome finish base ring, soft stainless steel water pipes) and Chrome Pop-Up Drain and Mounting Ring are included for easy assembly.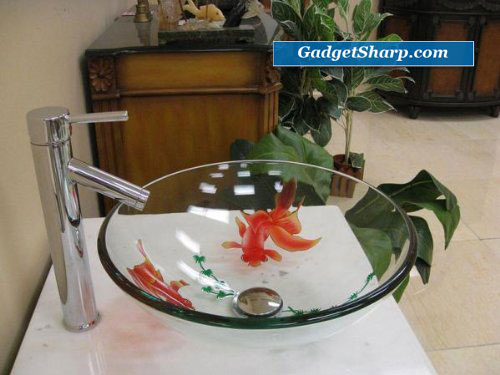 4. Ornamental Green Koi Fish Vase [amazon]
Koi Fish meaning in Japan is good luck
Great gift for someone who loves Koi Fish
Wonderful conversation starter
Intricate detail and design with a beautiful high gloss green finish
Made of ceramic and hand painted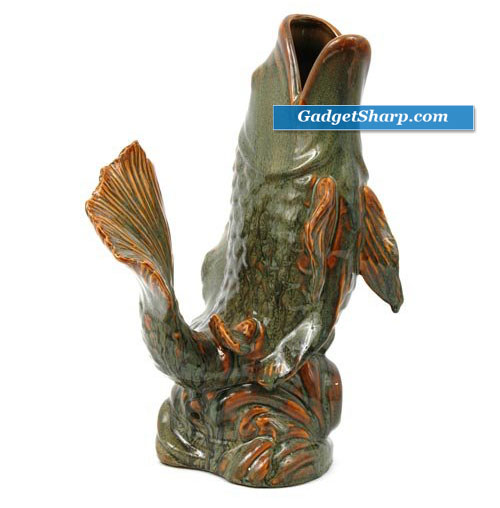 5. Teavana Prosperity Koi Cast Iron Teapot [amazon]
Hand-crafted by 17 artisans in an elaborate three-months process
Symbolizes prosperity, love and close friendship
Inside fully enameled to ensure years of use
Includes strainer basket
Exclusive Teavana design, 37 oz capacity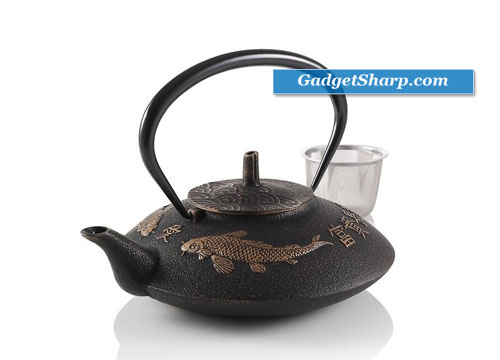 6. King Silk Art Handmade Silk Embroidery - Emperor's Red Koi [amazon]
Silk Embroidery Black Mat Framed Medium Size Handmade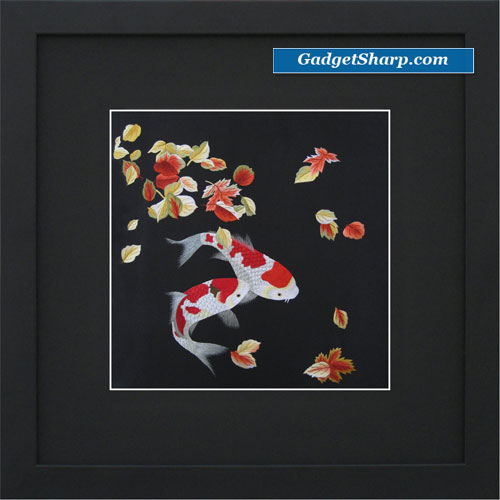 7. Magic Globe Koi Goldfish Aquarium [amazon]
The amazing Koi Magic Globe Aquarium offers state of the art Water-Vacuum" technology and illuminates with a colorful LED system. The top of the Koi Fish Tank is sealed and the globe is completely filled with water. Waterfalls are created on the side openings and the running water goes through a self-contained filtration system that cycles clean water back into the aquarium.This item will make a great addition to your home. This item is usually in stock and ships at no additional charge,brought to you by Dimensions:Magic Globe Koi Goldfish Aquarium (Coaster AG-201) 14x14x23"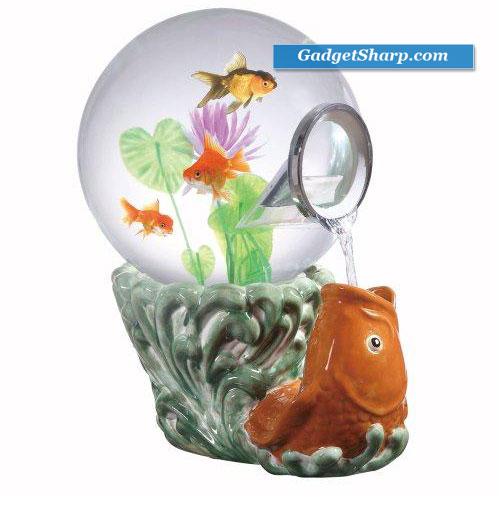 8. 5.5 inch Glazed Porcelain 3 Piece Koi Tea Set with Koi Spoon [amazon]
This gorgeous 5.5 inch Glazed Porcelain 3 Piece Koi Tea Set with Koi Spoon has the finest details and highest quality you will find anywhere! 5.5 inch Glazed Porcelain 3 Piece Koi Tea Set with Koi Spoon is truly remarkable.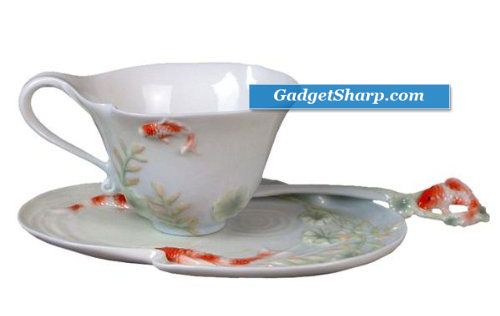 9. Ed Hardy Candle Glass Taper Candlestick Holder [amazon]
Ed Hardy Tattoo Design
Limited Edition
Fits any Candlestick
Glass and Fragile
Tattoo Designer packaging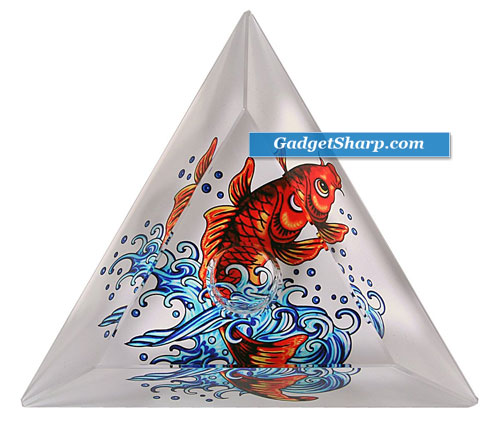 10. Carp Koi Fish Designed Swarovski Crystal Fine Sterling Silver Ring [amazon]
Carp Koi Fish Designed Swarovski Crystal Fine Sterling Silver Ring with Rhodium Plated - Adjustable size one size fits most (Our CAREFREE sterling silver is plated with quality Rhodium, the most tarnish resistant and most expensive member of the Platinum metals group. It virtually eliminates the need for frequent cleaning and polishing; increases surface hardness against incidental scratching and abrasion; and adds an expensive platinum look.)