This post is devoted to the cat lover. Here you will find 11 unique, innovative and high tech cat toys and cat products that will simplify and enhance your life as a cat owner. Now, it is kitty time….
1. Catit Cat Spa Deluxe Activity Center [amazon]
The Catit Cat Activity center is an irresistible place for cats to groom and play. Comes with catnip to make this a great place to work the grooming combs, Use the ripple massager, or play with the ball on top to massage gums. Cats overwhelmingly vote for this one as a favorite place to play!

2. FroliCat BOLT Interactive Laser Pet Toy [amazon]
The FroliCat BOLT is laser fun for felines and owners. Endlessly entertain even the laziest cat with automatically-generated red laser patterns. Simply hold BOLT in your hand or place it on a flat surface, turn it on and watch your cat pounce, chase, and bat at the exciting laser patterns. Use it in automatic mode where it generates random patters or in manual mode where you can control the action. The laser automatically shuts off after 15 minutes in either mode and also includes a manual on-off switch.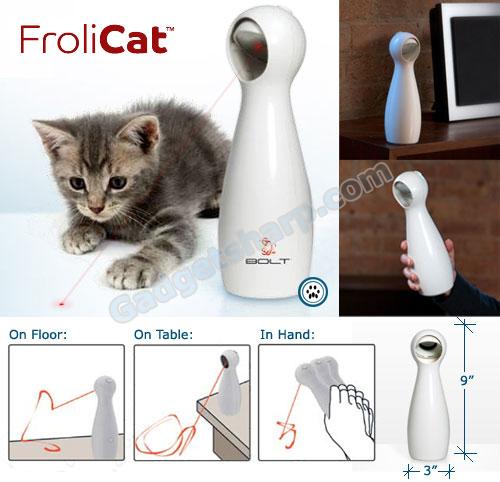 3. Bergan Turbo Scratcher Cat Toy [amazon]
Give your kitty?s paws somewhere else to scratch besides your furniture. The Bergan Turbo Scratcher is a safe toy that will provide hours of exercise and entertainment for your pet. It comes with catnip, a ball, and a replaceable scratch pad. Place the ball in the circular track, and watch your cat bat it around and around.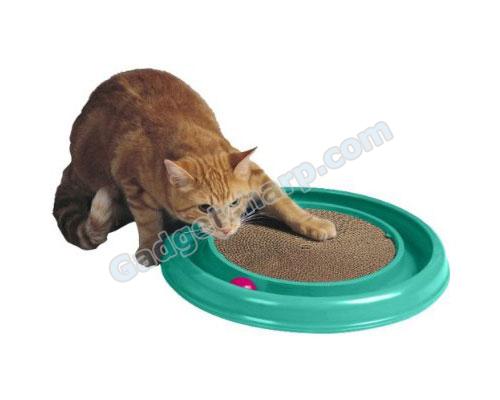 4. Omega Paw Self-Cleaning Litter Box [amazon]
The Roll Away Self Cleaning Litter Box cleans in just secounds without scooping. Inside the litter box there is a unique patented grill that seperates out the clumped waste, depositing it into the pullout tray. The Large Litter Box is great for big cats or for multiple cat households. No electricity or expensive filters needed!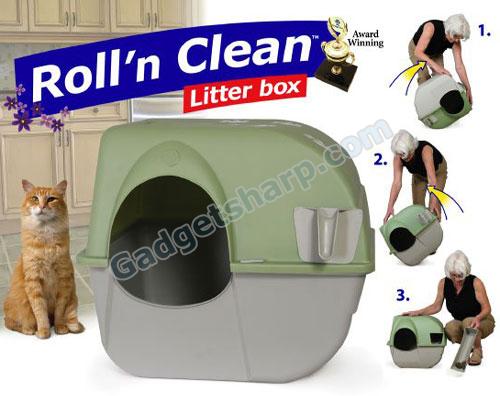 5. K&H Thermo-Kitty Bed [amazon]
The K&H Thermo-Kitty Bed has a dual thermostat 4 watt heating unit buried deep within its thick, super soft, orthopedic foam base. It warms the surface 10-15 degrees above ambient air temperature to a cat pleasing 102 degrees when in use. The washable cover comes in two colors and is attractive in any room in the house. Indoor use only.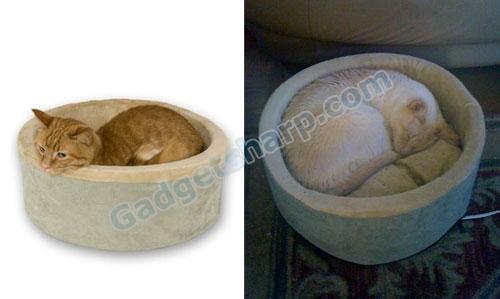 6. Drinkwell Platinum Pet Fountain [amazon]
The Drinkwell? Platinum Pet Fountain is the ultimate in style and design. The Platinum features the patented free-falling stream of water. This entices pets to drink more, keeping them happy, healthy and hydrated. The Platinum features a new snap-on lid to prevent accidental removal, a pre-filter to catch any large particles before they reach the motor, and a submersible pump for nearly silent operation.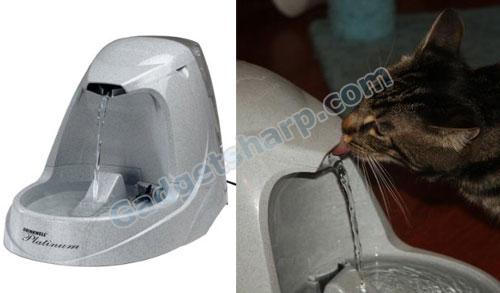 7. 60 Zanies Furry Rattling Rainbow Mice [amazon]
Your feline friends won't be able to resist these rainbow colored furry mice! Each mouse is catnip treated for that extra ZING, and they rattle when played with! They will provide hours of fun and exercise and are a healthy outlet for your cat's natural hunting instinct. This cheese wedge box contains 60 furry, catnip infused mice, each with a felt nose and eyes and measures approximately 3" long from tail tip to nose tip.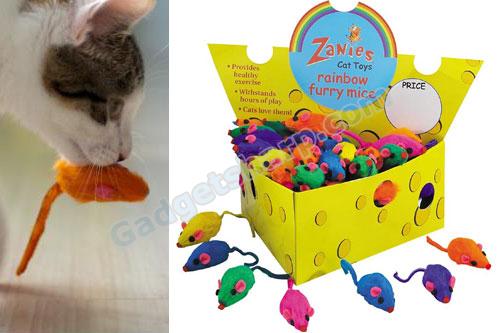 8. PetSafe Cat Flap [amazon]
Give your cat easy access through any interior door with the PetSafe Cat Flap. This means, for instance, you can keep the cat?s smelly litter box in a room shut off from the rest of the house behind a closed door. The high-impact white plastic device includes a transparent flap and fits any interior door between 1 and 2 inches thick. A sliding lock lets you bar access to the flap if you choose. For cats up to 12 pounds. Some assembly required. For interior use only. Measures 5.75 inches square.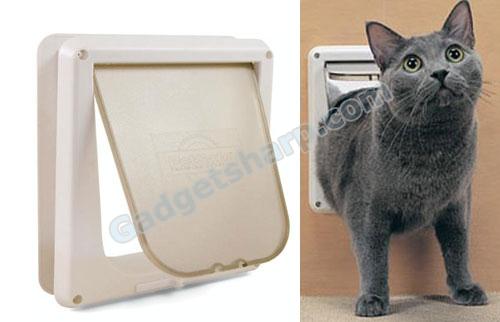 9. FURminator deShedding Tool for Cats [amazon]
Reduce your cat?s shedding by 90 percent with the FURminator deShedding Tool. Its uniquely designed blade does not cut, but grabs and removes loose hair and undercoat hair quickly and easily, leaving a shiny, healthy topcoat. By removing loose, dead hairs, the FURminator also eliminates shedding and the cleanliness and allergy problems that accompany it. Less hair on your cat means less hair on your furniture and floors. The FURminator?s tough stainless steel 1.75-inch blade is designed to grab hair and remove it without causing your pet pain or damaging its topcoat. Get fast, amazing results every time with both long- and short-haired shedding breeds. Reduces shedding better than any brush, rake, or comb, and brings out the cat?s natural oils, which promotes healthier skin. Helps eliminate hairballs too.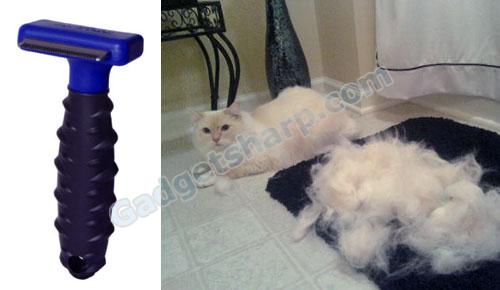 10. SmartCat Peek-A-Prize Cat Toy Box [amazon]
Cats have an instinctual desire to watch cracks and crevices, especially when they know that something is hiding just beyond their sight. The Peek-A-Play Toy Box is designed to build on your cat's instinct by partially hiding some of your cat?s favorite toys, and your cat will go crazy fishing them out. Peek-A-Play is especially great for those times when you have to leave your cat home alone, because this toy will keep your cat occupied for hours. Rotate the toys in the box so they are always digging for something different, and for extra fun, put a few food treats inside.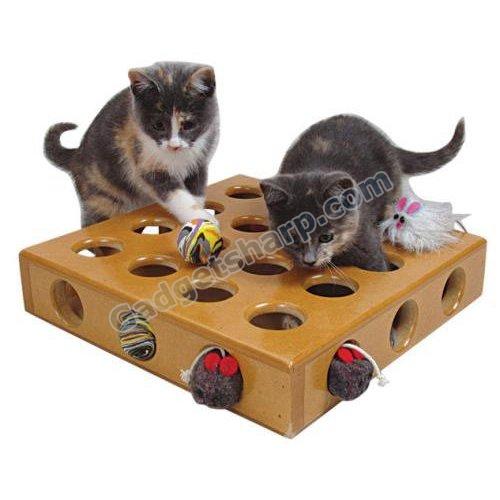 11. Cat Tree [amazon]
If you have multiple cats, then this is the one you need.
Covering Material: Faux Fur
Board Material: Plywood
Overall Dimensions: 50-inch(L)by26-inch(W)by74-inch(H)
Max Holding Weight: 60-pound