With the development of technology, more and more electronic products are coming into our life. When bring us a lot of enjoyment and convince, while also some trouble, like unorganized cord/cable will be a trap and even cause serious problems. Hence, we present you 17 Creative and Stylish Cord/Cable Organizer, which will help keeping your cable/cord tidy.
1. Cabledrop Muted Bluelounge [amazon]
FIXED BEHIND OR ON THE DESKTOP, EVEN ONTO A FACING WALL Anywhere in fact where you wish to have cables temporarily held yet easily removeable or extended. CableDrop gently grasps your power and peripheral cords so they do not fall off your desk every time you unplug your laptop.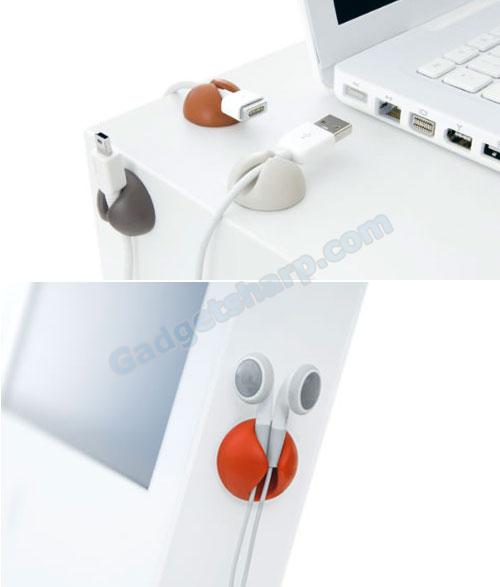 2. 3M Command 17379 Cord Organizer Pack [amazon]
3M Command, the mounting solution that holds on strongly, comes off cleanly! 3M's patented stretch release technology offers strong holding power and damage-free removal. The innovation - forget about nails, screws, tacks or messy adhesives that damage your walls. Revolutionary Command Adhesive works great on painted surfaces, wood, tile and more. Comes off cleanly leaving no holes, marks, sticky residue or stains.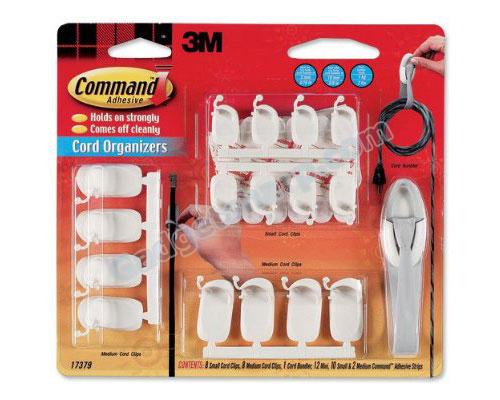 3. Cable Buddy - Cable Organizer Ties with Color Labels [amazon]
Perfect for cables that you wrap and unwrap frequently, such as on portable electronics, small appliances and tools, instrument cables, A/V equipment, gaming accessories, etc. Adjustable and reusable, it snaps on in seconds and stays on the cable, so you can quickly identify, shorten excess cable lengths during use or wrap cables up for storage or transport. Includes colorful write-on ID labels so you can find the right cables faster and know exactly where they connect! Helps minimize lost cables and is a big time-saver for setting up equipment!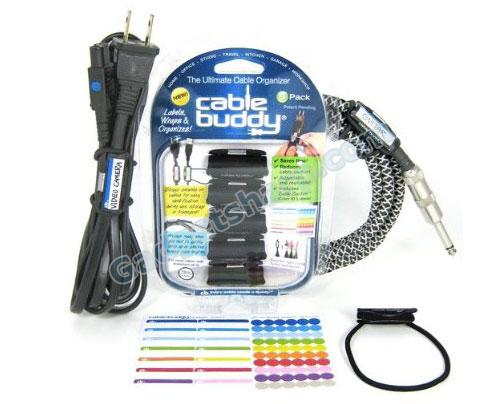 4. Bluelounge Medium Multi Purpose Cable Clips [amazon]
These multi-purpose clips keep all sizes of cables tidy and untangled. For the home, office, workshop and traveling, CableClip manages your cables in a simple and fun way by keeping cables accessible and organized. Perfect for stowing away all surplus cables. They are also great for laptops, cluttered desks and all electronic accessories & chargers.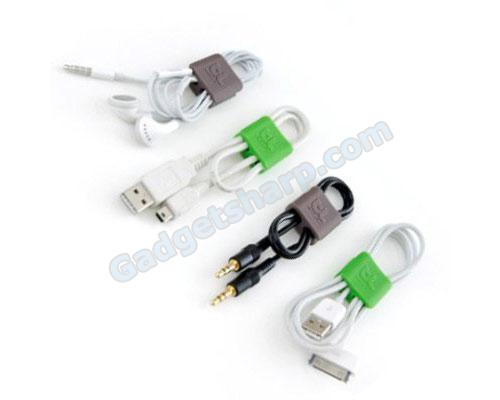 5. Headset Smart Wrap Wire Cord Organizer [amazon]
Keep your cables tangle-free and just the right length! Fits comfortably in your pocket, purse, or backpack An ingenious solution to the problems of wrapping your headphones around your music player or fastening them with velcro or a twist tie Built in ear bud slot: Convenient place to wrap your earbuds, much better then just wrapping them around the iPod / MP3 player.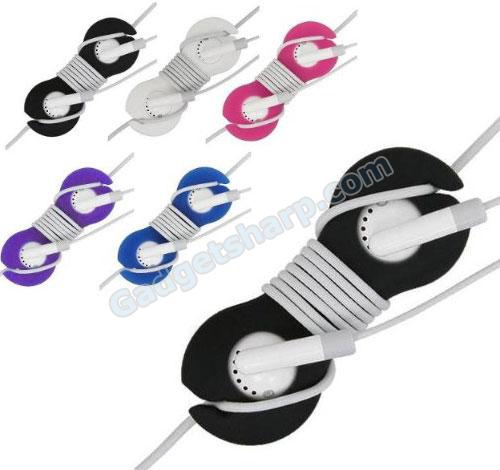 6. Dotz Cord Straps, Multi-Color [amazon]
asily bundle, organize and identify your cords and cables with Dotz Reusable Cord Straps. Includes 8 reusable red cord straps, 24 punch-out icon tabs and 12 DIY punch-out icon tabs. Simply punch out the appropriate icon, press it in, attach and lock-on the strap around your cords and cables. Straps can be easily removed. Just unlock the tab and reuse.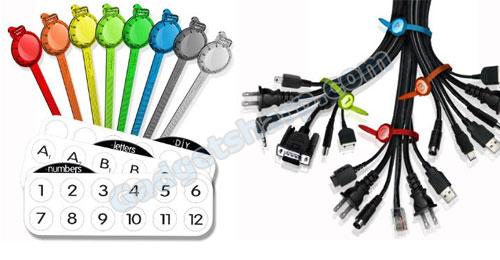 7. Dotz Cord Wrap [amazon]
Dotz Cord Wraps and accessories are a fun and simple way to instantly organize those unsightly cords and cables. Easy-to-use: just wrap it and snap it! This innovative and portable design is a colorful way to finally conquer your unruly cords forever! Includes 1 cord wrap, 1 removable clip, 1 suction cup, 1 Dotz cord identifier and 1 DIY punch-out identifier icon tab.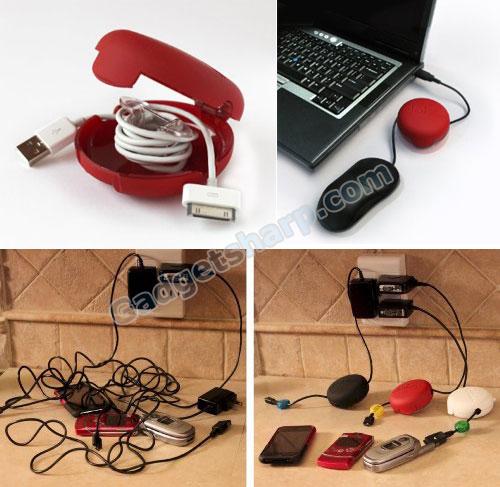 8. BelkinIpod Earbud Clip Cable Management [amazon]
The Belkin iPod Earbud Clip enhances your on-the-go experience by managing your earbud cable length. Simply wind excess earbud cable within the Cable Capsule, clip, and go.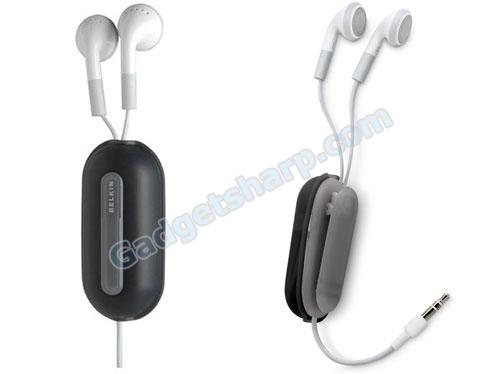 9. ACOUSTIGRIP wire 'micro-management' [amazon]
ACOUSTIGRIPTM is used to clip the earphone wires to a shirt or light weight jacket. This allows the user to perfectly set the wire slack so that the earphones do not tug on the ears with head movement or when the wire 'swings' during exercise activities. ACOUSTIGRIPTM can also act as a tether for earphones in the same way that "Croakies" can be used to tether sunglasses.
Three wire 'receivers' are provided to fit the most common wire sizes, such as those on the Apple earphones. The two wire receivers on the outside of the clip are for smaller wire pairs and the one wire receiver in the center can be used for a single larger wire.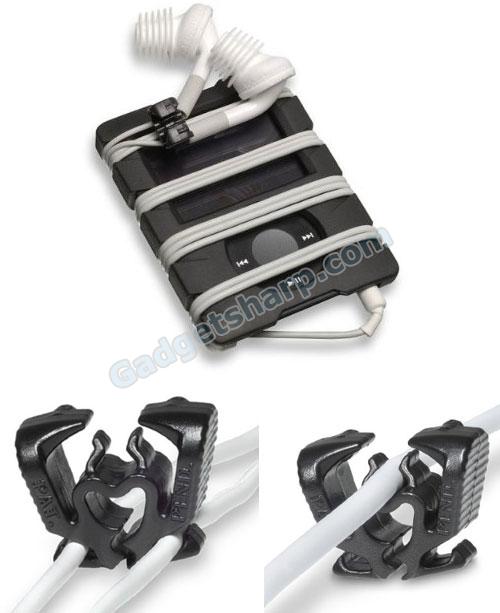 10. CordFits - Headphone Cord Management Evolved [amazon]
Headphone designers include extra cord length to ensure the cord is never too short. This approach ensures the cord is never too short, but it also forces the cord to often be too long. Don't let the extra headphone cord length get in your way. Instantly shorten the cord length to fit your style, and when you're done listening, store the cord without tangles. Finally, you can listen without the cord getting snagged and having to untangle your cord each time you want to use your headphones. CordFits quickly attach to nearly any headphone cord.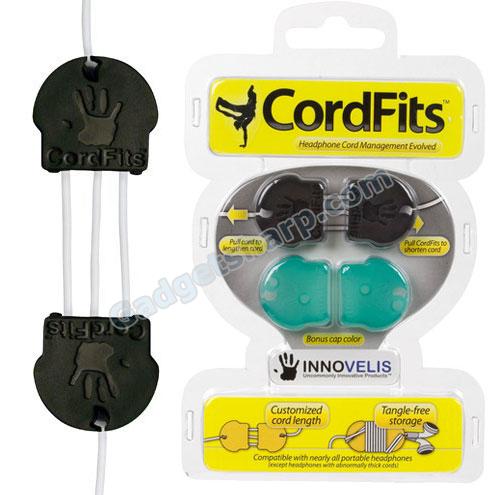 11. Leaf Tie [link]
he Leaf tie is easy to use. It is simply used in the same manner as the cable-tie. All you have to do is wrap the Leaf Tie around the loose cables. The design of the Leaf tie makes the cables look like wrapped twigs. For young children or people that live in the city that tire from the artificially modern environment, the Leaf tie can for a short while let them experience a hint of nature.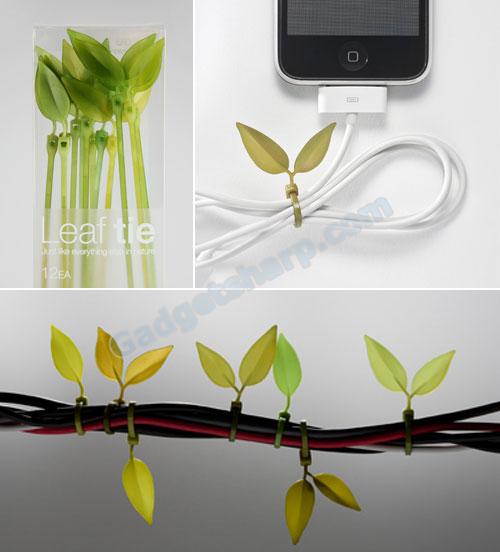 12. Fork and Cream Sauce [link]
Fork and Cream Sauce is created specially to organize computer peripherals cables such as USB cables. It was inspired by a messy plate of spaghetti, you twist the cable onto the fork as you would with spaghetti, the cable remains neatly twisted around the fork which has weight to it that keeps the cable in place.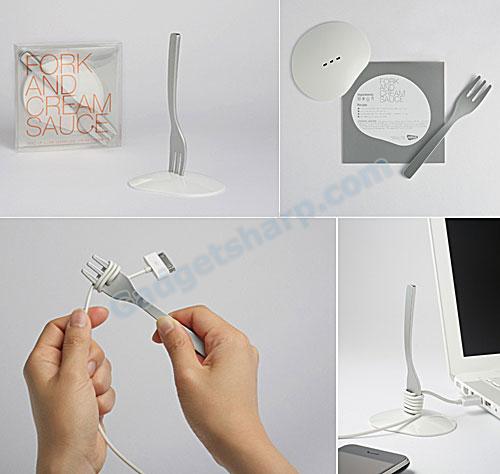 13. Belkin 8-Inch Velcro Cable Ties [amazon]
The Belkin 8-Inch Cable Ties come in a pack of six to let you tie up all sorts of cables and keep them organized by color: red, green, black, yellow, blue, or gray. They use a self-attaching design for easy use and reuse. With this six-pack, you can rest assured that your cables are secured safely, and that when you need to disconnect a cable you'll be able to find it fast.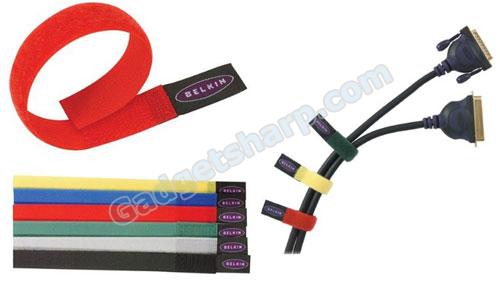 14. Velcro Reusable Self-Gripping Cable Ties [amazon]
Take control of cord clutter. Bundle computer and electronics cords with these easily adjustable, reusable ties. The simple one-piece design wraps onto itself for a secure hold.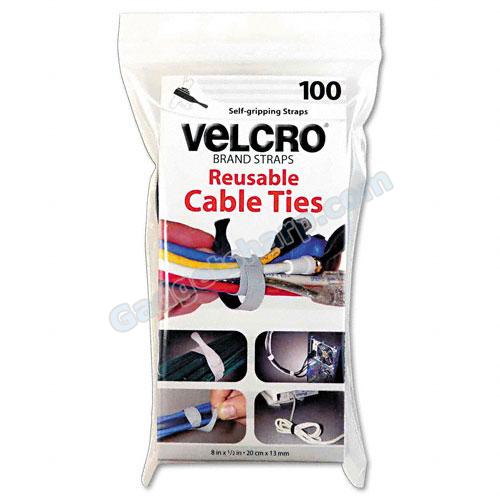 15. Monster CIT MBK-16 Medium Diameter Black Cable-It Wire Management System [amazon]
Cables have a tendency to look cluttered, and the more complicated your setup – in home theaters, home offices, project studios, and more – the messier they seem. Monster Cable It provides an amazingly simple way to tidy up any cable mess, whether your setting up a new HDTV or setting up on stage for a gig. Available in three sizes for both small jobs and big projects, with as many as 12 cables and cords, Cable It can make all your spaces cleaner and more organized.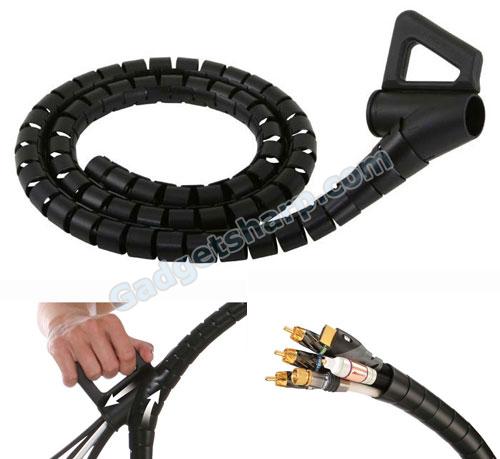 16. Cablox Cable Management System [amazon]
The patented Cablox Cable Management system provides an easy solution to eliminate the cable clutter. Peel off the sticky back, stick it under your table, run your cords through it, and finally get organized!. The flexible little doo-dad tips accomodate plenty of all your cords for a clutter-free desk/workspace.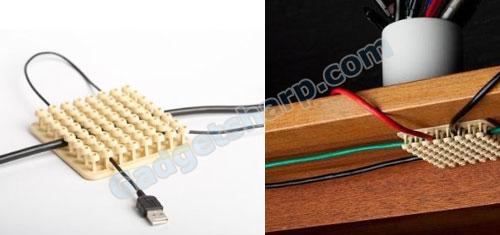 17. Toothy Cable Tidy [amazon]
Toothy is a simple cable management solution that can be attached to the edge of the desk to hold your cables using its teeth. Different sizes between the teeth allow for different sized cables to be held securely.