Still wondering what will be the gift for your Mother? How about giving your treasured mother a lovely box in which to keep her treasured jewelry! We rounded up 9 Beautiful Jewelry Boxes in different styles, materials and features, from seriously jewelry organizers to decorative jewelry holders. Hope you like it and find the perfect one for your mom.
1. Personalized Vintage Glass Trinket Box With Initial [amazon]
Box features beveled glass top with iridescent glass trim and vintage inspired glass with detailed filigree on all sides; finished with pewter trim accent. top hinged lid and attractive detailed standing feet. Completed with a lovely dangling heart charm. Measures 3"H x 3"W x 3"D.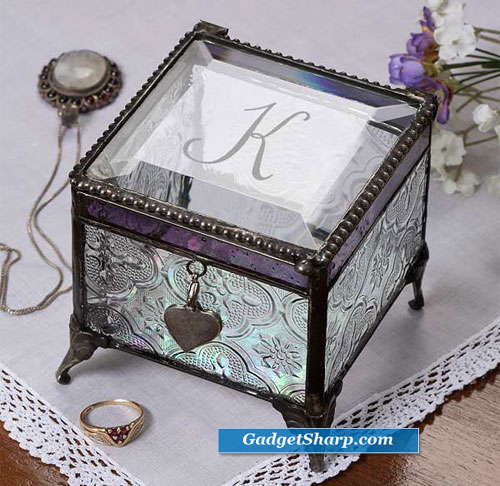 2. Hearts Beat As One Engraved Wood Jewelry Box [amazon]
The heart-shaped box is exquisitely constructed of rich, cherry stained wood, and features 2 heart halves in the center which join as one when closed. Measures approx. 6" x 6".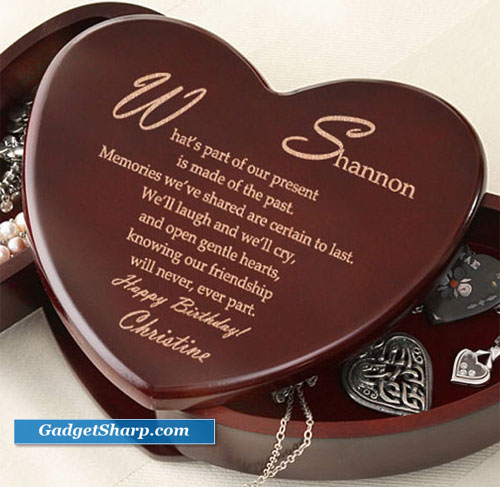 3. Mele & Co. Iris Walnut & Creme Glass Top Jewelry Box [amazon]
The gracefully curved shape of this jewelry box, its footed base, and its delightful walnut & creme finish give it a fantastic look. A clear glass lift lid lets you see inside. Its main compartment has one set of ring rolls flanked by two open sections, and there is one additional open drawer.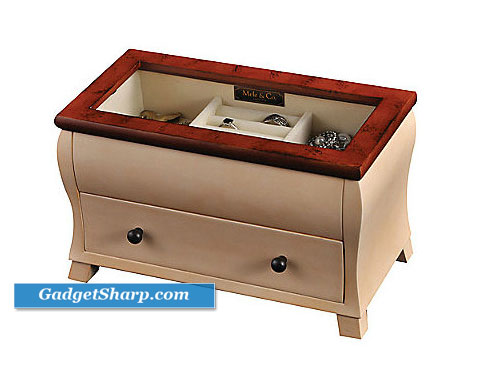 4. Mele & Co. Jordan Java Jewelry Box [amazon]
The mirrored lid on this jewelry box complements its silvertone, pearled hardware. Handsome java finish outside and lined with sand sueded fabric inside. Storage includes an automatic drawer and tray, four open compartments, and ring rolls.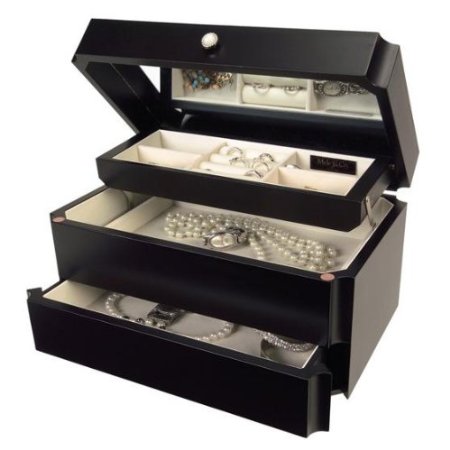 5. Classical Collection Two Dual Case Jewelry Box in Cream [amazon]
Features: -Jewelry box. -Cream finish. -Classic and unique. -Right side dual hinged door with mirror backs. -Three additional hangers and easy access to the rotating necklace hanger. -Two felt lined drawers. -Ring rolls to holds plenty of rings. -Glass etched door. -Assembly required.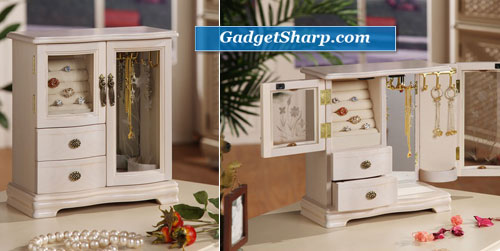 6. Dragonfly Fairy Box Jewelry Holder Decoration Accessory Collectible [amazon]
Perfect for small trinkets or jewelry. Beautiful detail. Well made to last a long time. Will make a great gift by itself. Dimensions: L: 2.25 x W: 2.25 x H: 3.5 (inches) Crafted with: Resin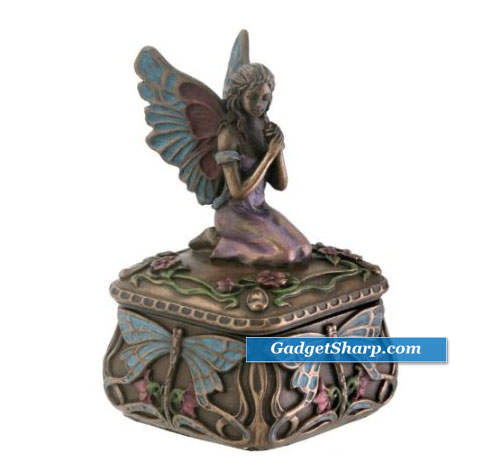 7. Modern Espresso Jewelry Box [amazon]
Color: Espresso
Size: 13.75"H x 10.25"W x 7"D
Inset, beveled glass mirror in top compartment.
2 side necklace compartments with 4 necklace hooks on each side.
Sumptuous tarnish resistant felt fabric.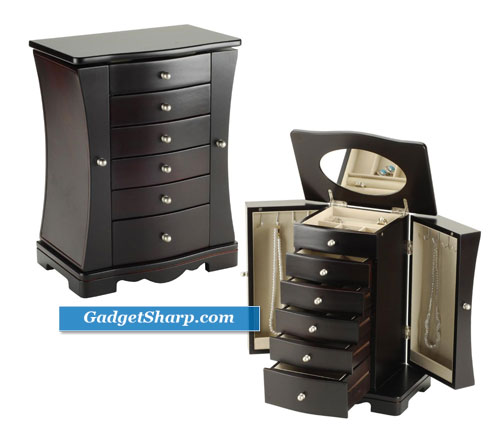 8. Personalized Wooden Jewelry Box Engraved for Mom [amazon]
Choose from our 9 Poems exquisitely written for your Mother, Grandmother, Godmother or Aunt. You can edit one of our poems, or even write your own!Our beautiful, natural alderwood box is hand-crafted, and features felt-lined compartments top & bottom along with hidden solid brass hinges.Click below photo to view poem selections. End with your own loving sentiment and name(s) to create a truly unique, personalized gift she will treasure always. Measures 7 1/2" x 4 3/4" x 1 5/8".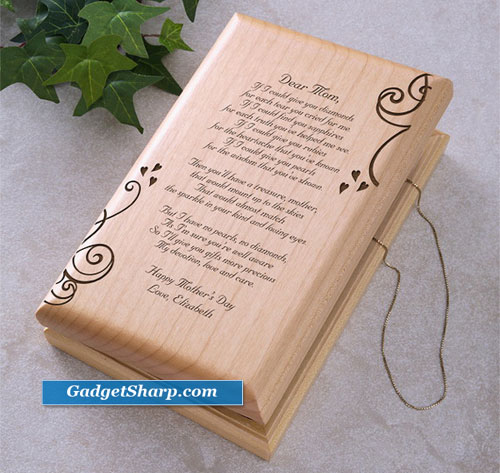 9. Treasure Silver Jewelry Box [amazon]
This silver jewelry box is skillfully engraved with the text of your choice, and a simple design to accent it. It makes a perfect and conveniently-sized gift for Mother's Day, Grandparents Day, birthdays, and more. Exclusive design by etcTradeDimensions: 3 1/8" diameter x 1" high