An eye-catching pair of earrings can transform a basic white shirt/black pants combo into a striking ensemble, while a sparkling gemstone pendant adds elegance to the simplest dress. Locating the right piece of jewelry for an outfit, occasion, or one?s mood shouldn?t be chore, yet tangled necklaces, unmatched earrings, and difficult-to-find charms, studs, and rings are common issues with conventional jewelry boxes. For organized and visual jewelry storage on a bedroom dresser or bathroom counter, we will present you with these Modern and Stylish Jewelry Stands, which will not only be a convenient assets in your life but also a great gife idea for coming holiday season.
1. Sculpted jewelry tree [amazon]
Provide a place for her jewelry collection to grow. Each branch and leaf has been sculpted to hold rings, bracelets and necklaces, creating a well-ornamented tree.
crafted of brass and finished in beautiful satin nickel.
solid mango-wood base holds earrings and other small items; fabric-covered bottom protects furniture
tree measures 12" x 14"H overall; base measures 12" x 4" x 1"H
optional shiny nickel plaque may be engraved with up to three initials. Personalized plaque arrives in an envelope with the product and may be affixed by the recipient at their discretion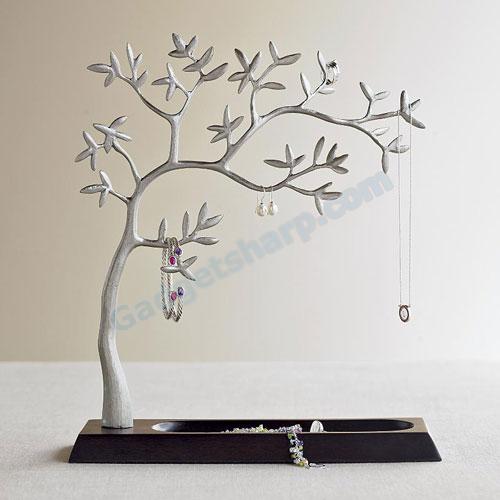 2. Umbra Daisybox Wood and Metal Jewelry Stand with Drawer [amazon]
The Daisybox from Umbra is a jewelry box and clever display stand at the same time. Three nickel-finish metal flowers with curved, perforated-mesh petals display and store necklaces, bracelets, and earrings. The black-finished wood base contains a drawer perfect for rings, watches, and larger items. 15"L x 8"W x 3"H Design: Thea Yuzyk for Umbra - leaders in functional design for your home.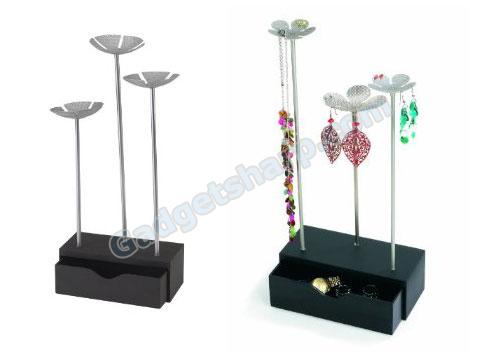 3. Venus Metal Jewelry Stand [amazon]
The Venus Jewelry Stand in Bronze from Umbra organizes and displays all your favorite bangles and baubles. 9.5" T-bar holds necklaces and bracelets while the preformatted mesh bodice securely holds earrings and pins. The base acts as a dish for rings, watches, and miscellaneous other items. 13" tall with 9.5" bar and 5" diameter base; available in Nickel and Bronze finishes.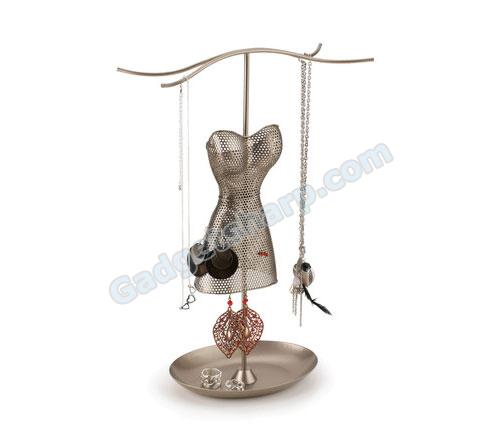 4. Jewelry Tree W/Bowl Large [amazon]
The Red Barrel Bird Barn is country style and made of wood. Our bird barn is capable of being easily cleaned when the bottom of the barrel is removed.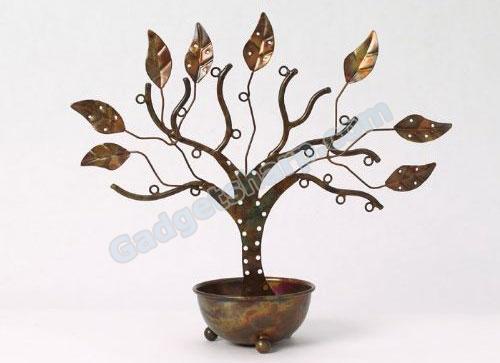 5. Desire Wood Jewelry Box with Mirror Front [amazon]
The Desire Wood Jewelry Box from Umbra features wood construction and three spinning mirrored doors. Each door spins to reveal a storage cup and five metal hooks mounted on the back. Holds necklaces, bracelets, rings, and more. Measures 10"W x 13"L x 2.5"W.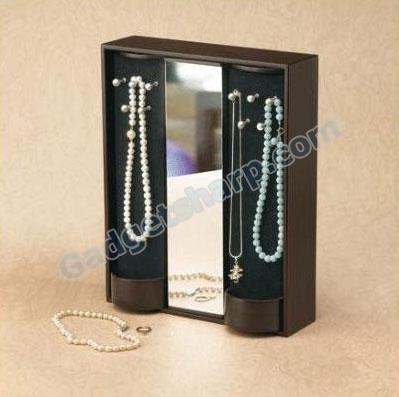 6. Jewelry Hand Display for Necklaces, Bracelets and Rings [amazon]
Utilize this attractive hand display to highlight necklaces, bracelets, rings and other jewelry items. It is a great item to use in jewelry showcases and kiosks, on countertops or in other promotional areas and store fixture layouts. It is also used in the home to organize jewelry on dressers, vanities, etc.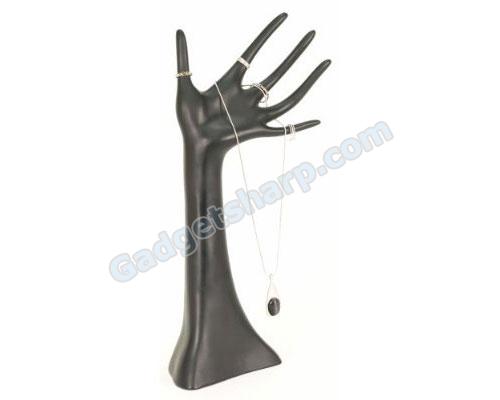 7. Bracelet 3 Tier T-Bar Jewelry Display Black Velvet [amazon]
A beautiful way to display your bracelets & anklets & necklaces, whether they are for sale, or part of your personal collection.
Top tier is 11 inches high, perfect for necklaces. Middle tier is 8 1/4 inches high, lowest tier is 4.5 inches high.
Tiers angle back so your items won't tangle.
T-bar measures approximately 6 1/4 across its widest part, and stands approximately 11 1/2 inches tall. Bar is about 1 5/8 inches in diameter. Base is approximately 6 in. x 4 3/4 in.
This item is shipped fully assembled. Oversized item, please note postage.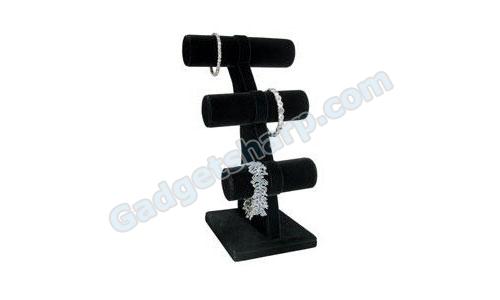 8. FLOWER ZEBRA print girl JEWELRY earring HOLDER rack [amazon]
The perfect combination of form and function, this cleverly designed metal and enamel jewelry rack makes a great addition to any girl's room and a beautiful and thoughtful gift.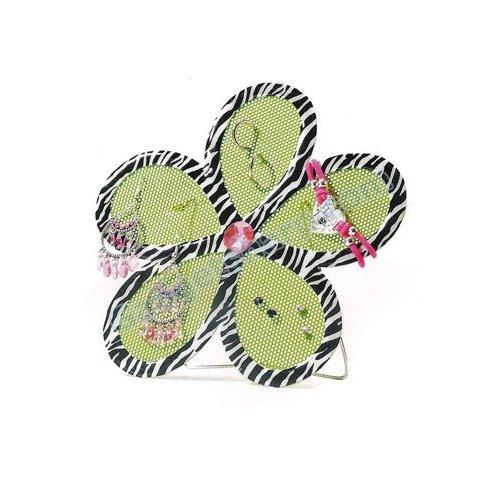 9. Bijou Metal Jewelry Tree [amazon]
The Bijou Jewelry Tree offers of twelve arms of varying heights, which curl under to dangle chains, hoops, and other baubles. Stretching to 12 inches in height, the five tallest branches on the tree accommodate chokers and necklaces that extend approximately 2 to 3 inches past the collarbone on most women. The four medium height tree arms befit bangles and watches, while the three short tree arms suit dangly earrings or rings. For stud earrings or clunky, heavy jewelry, the tree?s round base doubles as a storage tray. Umbra crafted the jewelry tree in attractive, rust-resistant chrome metal. Made in China, the jewelry tree measures 6 inches wide by 6 inches deep by 12 inches tall.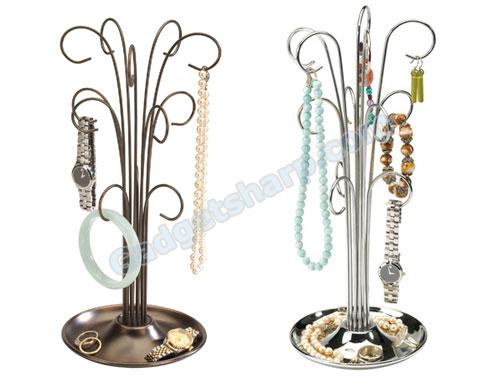 10. Cherie Victorian Lady Jewelry Stand in Tan [amazon]
Jewelry stand. -Tan finish. -Velveteen gown and beaded hat. -Eight twisted, rope-style, metal jewelry holders. -Suitable for ages of 13+ only. -Overall dimensions: 15.75'' H x 6'' W x 6'' D.
11. Baby giraffe ring holder [amazon]
Famous for both its long neck and generous heart, the giraffe is revered in Africa as a symbol of love. This makes a charming statue for the rings she adores.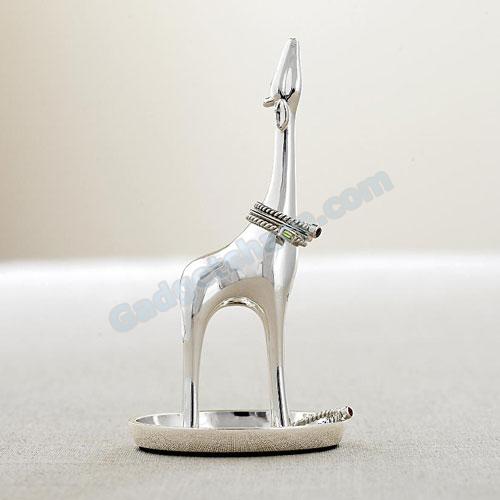 12. Necklace Holder [amazon]
An elegant way to keep your necklaces tangle-free and accessible. This transparent jewelry organizer has 12 arms for hanging necklaces up to 24" long. Constructed of clear acrylic so you can easily view your chains, beads and pearls. Necklace holder has 2 parts: the outer container and a lift-out section, with an interior stem connected to the lid. Interior stem does not rotate. The sleek space-saving design of this necklace holder looks good on your dresser, vanity or shelf!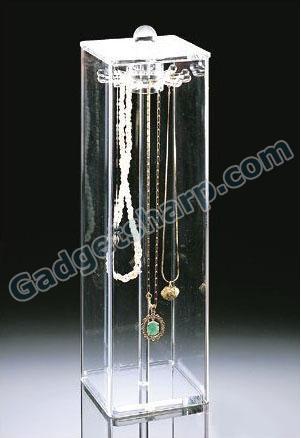 13. Felicity Wooden Jewelry Stand [amazon]
All of these elements come together with the Felicity Jewelry Stand. Design: Willie Tsang, this wooden bird-of-paradise flower silhouette jewelry stand is not only distinct but also useful. It's perfect for necklaces, bracelets, even rings. Keep your jewelry tidy, close-at-hand and looking good! Stand has a rich, espresso-colored finish.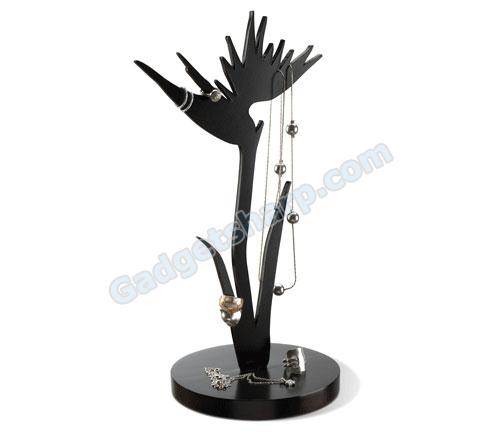 14. Earring Angel Pierced Earring Holder & Body Jewelry Organizer [amazon]
Tuscan Bronze Slim Earring Angel Earring Holder. If you have a number of pairs of earrings or jewelry that is overflowing from your jewelry box, using a quality earring holder or jewelry organizer is certainly something that can solve the problem. I have designed the very best high quality jewelry storage solutions. They were created for personal home use; however they are heavy duty enough for retail or commercial use. Our earring holders are a solution to the common problem of tangled, damaged and missing pierced earrings. I designed this earring holder to help you get and keep your earrings organized. Now you can de-clutter your jewelry armoire or jewelry chest or jewelry box. In many cases it can even replace them along with the drawers, tackle boxes, coat hooks, tie racks, coffee cups and other non-user friendly jewelry storage containers. This Hanging Wall Mount Earring Holder is so easy to install and use and is not limited to certain pierced earring types. It works for most clip earrings and body jewelry too. They are a great organizing gift idea for little girls, teens and women of all ages. If you think you need a larger earring holder because you have so many earrings, take inventory, and then purchase as many as you need.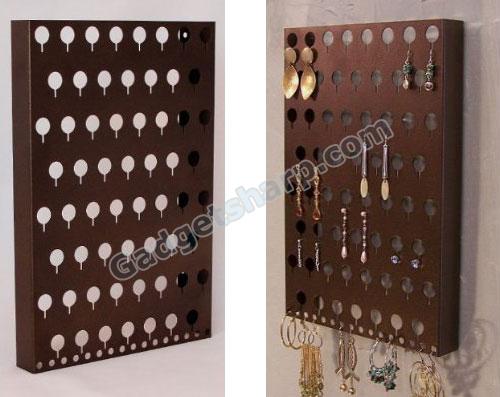 15. Pink girl Earring Stand [amazon]
Display your favorite earrings on this unique earring stand in the shape of a girl
She is outfitted in adorable Pink Hat with Pink Heart hands
Dimensions: 6 3/8"H x 3"W x 1 3/4"