Toothbrush is one of things usually can't stand by itself in our bathroom. To make the bathroom clean or organized, toothbrush Holders and Storage come in handy. Moreover, have a clean and organized place for your toothbrush also help to avoid uncomfortable bacterial infections and gum inflammation. Some toothbrush holders are cute too, which might help to encourage kids brush their tooth.
1. Cute Whale Family Bathroom Toothbrush Holder for 4 Brushes [amazon]
The friendly Whale family stick to your bathroom wall to hold up to 5 toothbrushes altogether, and they seem to be very happy to do it! They can also hold other bathroom accessories like shavers and such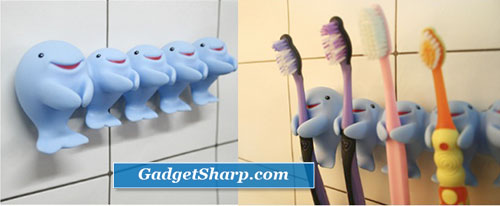 2. Wall-Mount Toothbrush Holder & Sanitizer [amazon]
Germ Free Toothbrush Holder: Avoid uncomfortable bacterial infections and gum inflammation with the help of this innovative humidity free toothbrush holder. Holding up to 6 brushes or razors in the enclosed chamber, the holder uses advanced dehumidifying technology to remove 100% of the moisture from the storage area creating a bacteria-free environment. Uses less power than a standard nightlight and also holds 2 tubes of toothpaste. 10"L x 4 1/2"W x 4"H.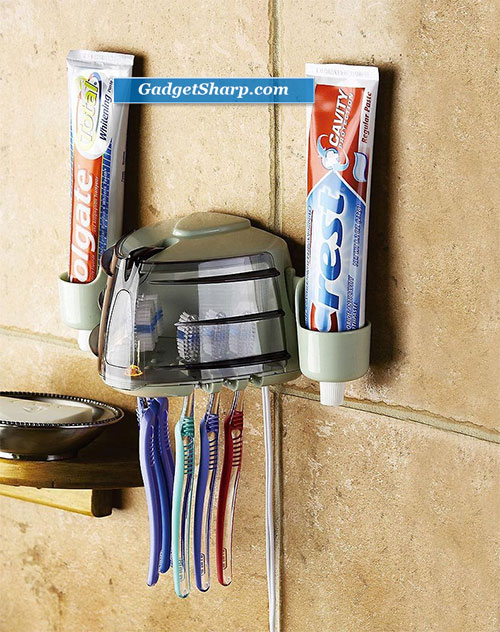 3. Funny Tree Shaped Kids Toothbrush Holder [amazon]
Holds up to 4 toothbrushes. Tree & owls made of resin, base made of plastic. Features bobbling accents. Glossy finish. Measures approx. 7-1/4 x 6-1/4 x 4?.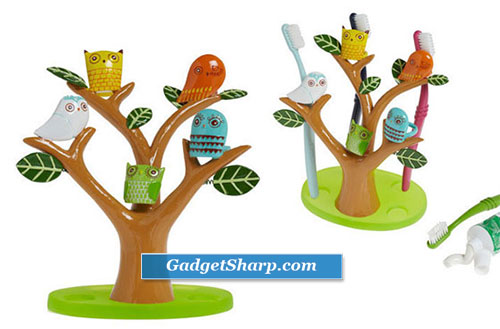 4. Umbra Rubber Grassy Organizer [amazon]
Unusual grass-like organizer from Umbra; holds toothbrushes, office supplies, or kitchen utensils upright between blades of grass
Made of soft molded rubber with rigid grass blades; design by Thea Yuzyk
Varying space between blades for thicker items; easy to clean
Measures 6 inches long by 4 inches wide by 4 inches high;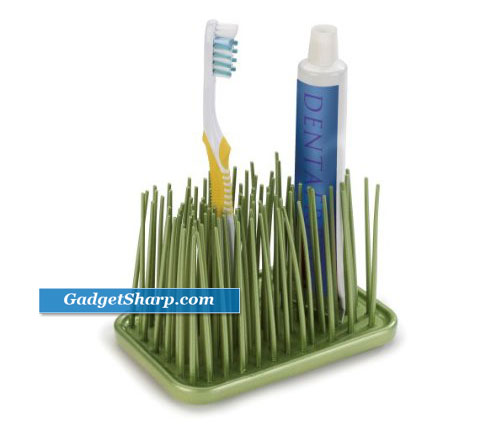 5. simplehuman chrome oval toothbrush holder with caddy [amazon]
Even little things deserve good design. That?s why our chrome bath line doesn?t just look great, each product has a functional improvement to work better, fit better, and make your life just a little bit easier.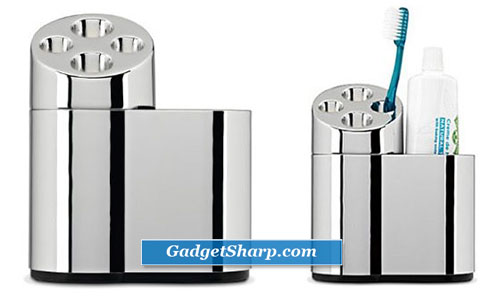 6. Drip & Dry ResidueFREE Toothbrush Organizer [amazon]
The ResidueFREE Toothbrush Holder is a hygienic toothbrush holder design that eliminates the germ and bacteria residue buildup by draining the residue directly into the sink as opposed to the inside of the toothbrush holder, which maintains a sanitary environment for your toothbrushes. The ResidueFREE Toothbrush Holder's hygienic design includes a toothbrush holder platform that drains into the sink with a built-in cup for the toothpaste. The holder is made from durable stoneware, which is virtually non-porous, does not absorb moisture or odor, is crack and stain resistant, is dishwasher safe and has a lead-free glaze.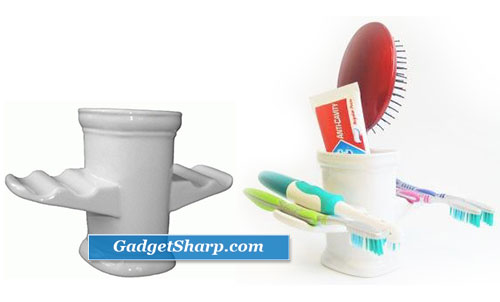 7. SOLITUDE Stainless Steel Toothbrush Holder and Tumbler Set [amazon]
With its simple minimalist design , this tumbler and toothbrush holder set will fit right into your bathroom. The stainless steel construction is hygenic and easy to clean.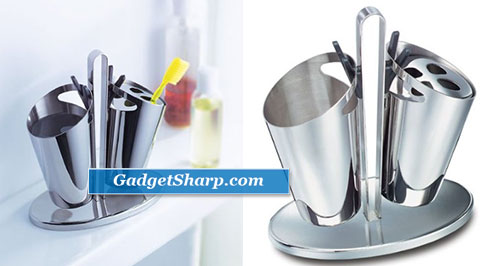 8. Bacova Guild Mountain Retreat Toothbrush Holder [amazon]
The Moose Lodge Toothbrush Holder is perfect for log cabin bath decor.
The Moose Lodge toothbrush holder is made of heavy weight, hand-painted resin.
From the Mountain Retreat collection
Measures 4.9 x 3 x 6.1 inches