When was the last time you forgot to wash your hands immediately after cutting chilies then very briefly rubbed your eyes? Ouch! Take a look at the 5 Cool and Unusual Chilli Mills we collected in the post. Now, you can use chilli in your kitchen quite painlessly ? at least as far as the external parts of your body are concerned!
1. Volcanic Chilli Mill [amazon]
The mill has a special cutting mechanism, which has been exclusively designed for the optimal grinding of dried chillies. It is simply wonderful to handle. It is also characterized by its exceptional and elegant acrylic and stainless steel design.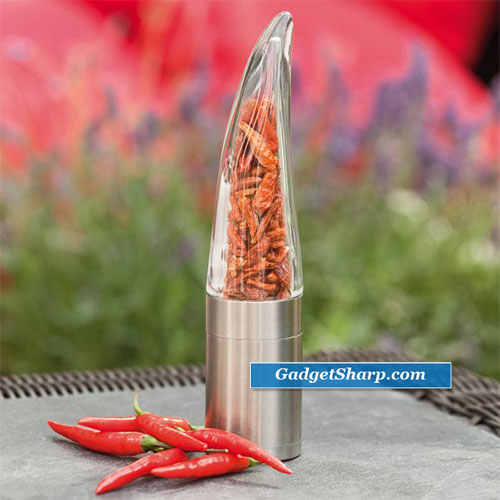 2. A Di Alessi Pinccantino Chili Cruncher [amazon]
The Chili-Cruncher Piccatino by Alessi is a really hot item. Just by its appearance it can be already identified as a perfect companion for spicy dishes ? and within, it also stores the necessary spice.
polished stainless steel lid 2 different sized opening for sprinkling silicone is slightly transparent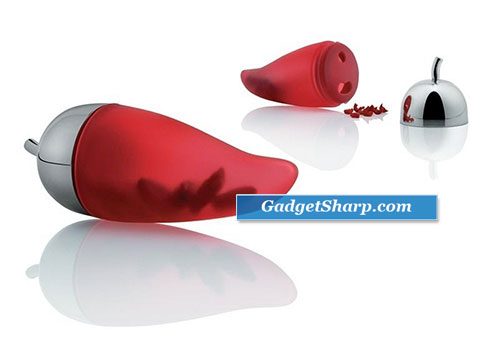 3. AdHoc Chilli Mill Flame [link]
Their elegant black-red plastic construction with flame foot design, will certainly create a great themed table decoration for your next hot meal!
equipped with a special cutting mechanism for optimal grinding robust and handy easy to clean flame shaped stand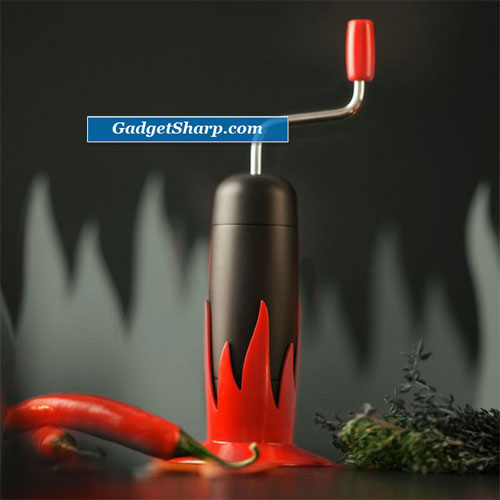 4. Gefu Aromatico Spice and Pepper Mill [amazon]
Easy to fill or refill with the spices Practical flip-up handle for filling Great for coarse salts, peppercorns, spices, and more Comes with five spice labels (chilli, salt, pepper, caraway, fennel) One blank one to label yourself Adjustable ceramic grinding device Cap included to keep your table clean Viewing window lets you view contents
5. Herbs and Spice Slicer Aroma [link]
The original AdHoc SchneidWerk tool of Aroma herbs-and-spices-slicer shreds dried herbs so as to unleash their full flavour.
with original AdHoc SchneidWerk cutting device perfect cutting of dried herbs and spices full aroma suitable for caraway, coriander, sesame etc.