Salt and pepper have always made a royal pairing amongst the seasonings and now they rule over your table inside these cool looking Pepper Mills. Wood, glass, stainless, those salt and pepper mills can not only provide you fresh-ground seasoning, but also work perfectly as a table decoration. Kitchen in every home needs such sets and we hope this post will help to find the proper one. Enjoy!
1. William Bounds Key Mill "WB-1" Pepper Mill [amazon]
* Enjoy fresh-ground pepper every day
* Stainless grinding mechanism comes with lifetime warranty
* Adjustable grind from fine to coarse
* Acrylic see-through design
* Stands 4 inches tall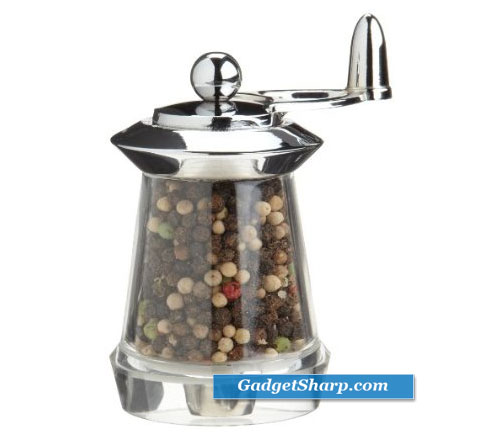 2. Chef'n Mix Pepper Grinder [amazon]
* Innovative and easy to use pepper grinder
* Stainless-steel rasp grinds peppercorns more efficiently; stays sharp and will not rust
* Adjustable grind mechanism
* Sturdy construction; ergonomic handle
* Comes filled with peppercorns; ready to use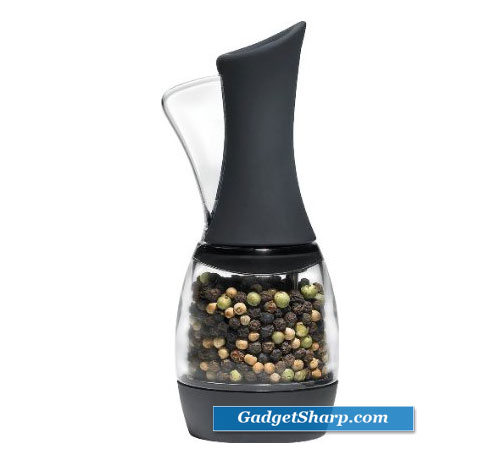 3. Peugeot Olivier Roellinger Pepper Mill [amazon]
* Mill is 5-1/4-inches tall
* The namesake mill for Chef Olivier Roellinger, awarded 3 Michelin Stars and renowned for his expertise in spices and seasoning
* To adjust grind, lift the spring tab and turn the thumbwheel (clockwise for finer grinds, counter-clockwise for coarser grinds).
* Easy-access reservoir allows you to grind a full hopper of peppers into the drawer cavity, or directly into a bowl or on the food.
* Made in France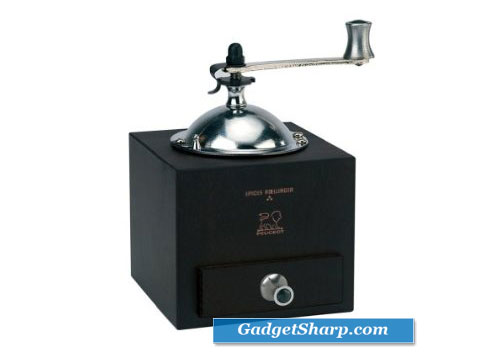 4. OXO Good Grips Pepper Grinder [amazon]
* Handsome as well as functional, so it goes from kitchen to dining room with ease
* Designed with stainless-steel accents and a clear acrylic body
* Has a soft, nonslip grip for comfortable grinding and comes filled with whole peppercorns
* Non-corrosive ceramic grinder won't absorb flavors or odors and is positioned at top so no mess on counters or tables
* Easily adjusts from fine to coarse grind; rests flat upside down for easy refilling; has a 4-3/4-ounce capacity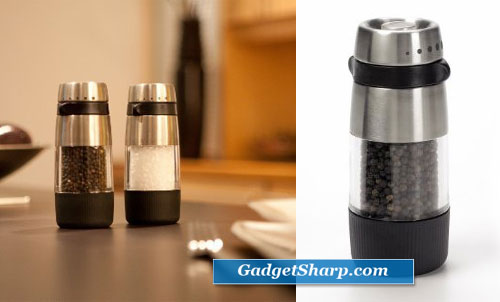 5. BODUM Twin Dual Salt and Pepper Grinder [amazon]
* Space saving design combines salt and pepper into one grinder
* Rotate one direction for salt and the other direction for pepper
* Perfect for seasoning on the go
* Adjustable grind mechanisms to change coarseness of the salt or pepper
* Easy top filling design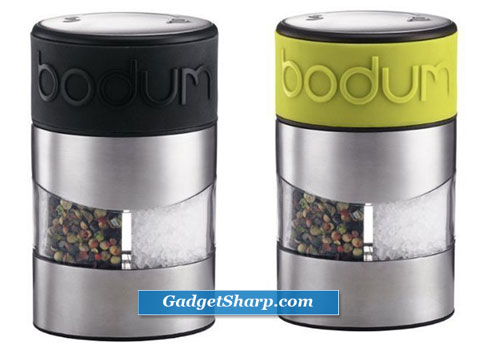 6. Chef'n PepperBall, Black and Clear [amazon]
* Pepper grinder by Chef'n
* Easily adjustable grind mechanism
* Twist off top to refill
* Steel rasp
* Comes ready to use; filled with fresh peppercorns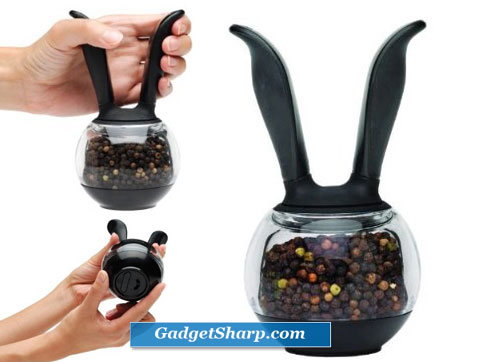 7. William Bounds Salt & Pepper Mills [amazon]
Tradition meets modern-day design with an acrylic mill that complements each other in a clean-and-clear design. Curved shape is easy to grasp and hand-crank using the easy-to-turn lever. Attractive display for convenient use on a breakfast bar or table. Grinding wheels never touch during the milling process, so this mill is guaranteed never to jam or wear out. Exclusive 3-step adjusting ring lets you select a grind with a consistently savory flavor: coarse, medium or fine.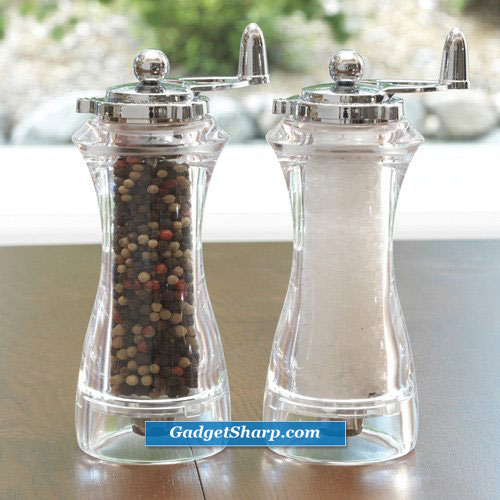 8. Artesio Soft Touch Electric Pepper Grinder [amazon]
* Durable ceramic mechanism easily grinds peppercorns, salt, and spices.
* Seasons accurately with adjustable ceramic grinding mechanism that adjusts from fine to coarse.
* Features an ultra soft textured non-slip grip.
* Includes a built-in light that automatically turns on for clear and precise seasoning.
* See-through container makes monitoring pepper level easy and reveals the grinding action.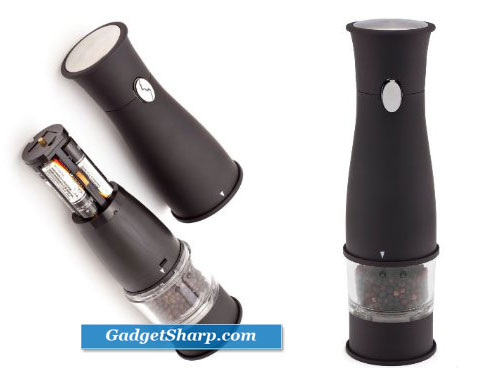 9. The Original Laser Engraved 14" "Wine Bottle" Pepper Mill in Maple Wood [amazon]
* DBeautiful Wine Bottle Shaped Wooden Pepper Mill
* DMade from genuine New England "Hard Rock" Maple & laser engraved with attractive Bordeaux label
* DFully adjustable, hardened-steel Grinding Mechanism that's backed by LIFETIME WARRANTY
* D14" tall - and holds over 2 ounces of peppercorns
* DProudly made in USA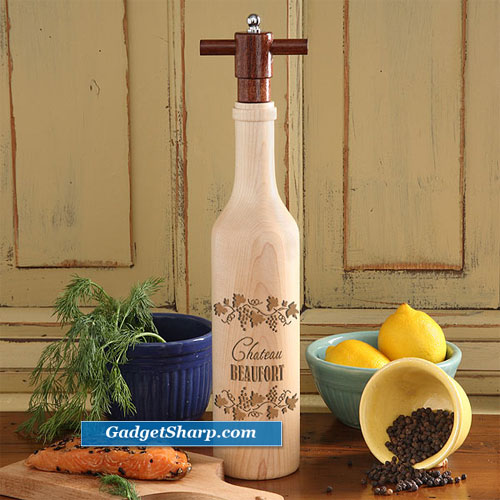 10. Cole and Mason Elixir 5-Inch Pepper Mill [amazon]
* Produced from high quality, crystal clear acrylic
* Durable, adjustable stainless steel mechanism for grinding pepper from fine to coarse
* Designed in England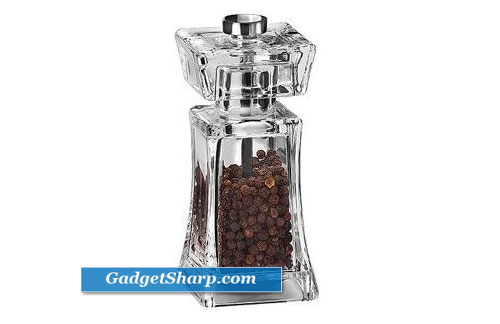 11. Kikkerland Tiki Pepper Grinder [amazon]
* Tiki pepper grinder
* Press nose to grind and dispense pepper
* ABS plastic
* Requires 4 AA batteries (not included)
* Measures 7-1/2 by 3 by 2-1/2-inches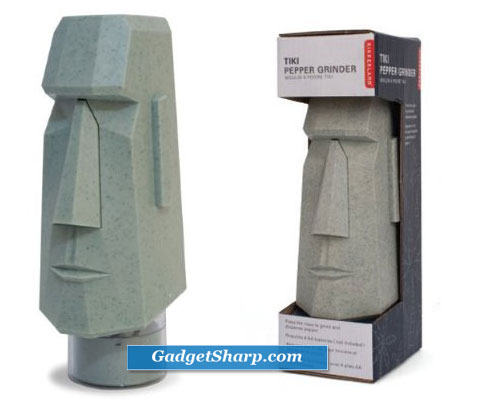 12. Vic Firth Pump and Grind Stainless-Steel Pepper Mill [amazon]
* Innovative "Pump and Grind" pepper mill dispenses spice with speed and ease
* Constructed in sleek stainless steel, the commercial-strength mill features a clear peppercorn compartment for quick content level assessment
* Press the pump to grind pepper in a simple, 1-handed motion
* Compact for easy kitchen storage or travel; includes a lifetime guarantee
* Mill stands 6 inches high with a 1-inch width; weighs 2 pounds upon shipping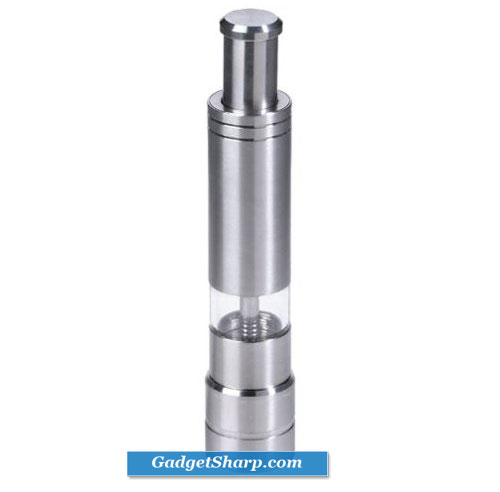 13. Natural Wood Pep-Art Pedestal Pepper Mill [amazon]
Add a bit of art and function to meals with the Pep-Art Pepper Mill. This particular mill features a natural wood body with small painted dots, a black and white checkerboard base and a black top with white polka dots. The pepper mill is hewn from wood and has a ceramic milling mechanism that is backed by a lifetime warranty. It is even signed by the artist himself. Makes a unique gift for anyone with an appreciation for artful cooking.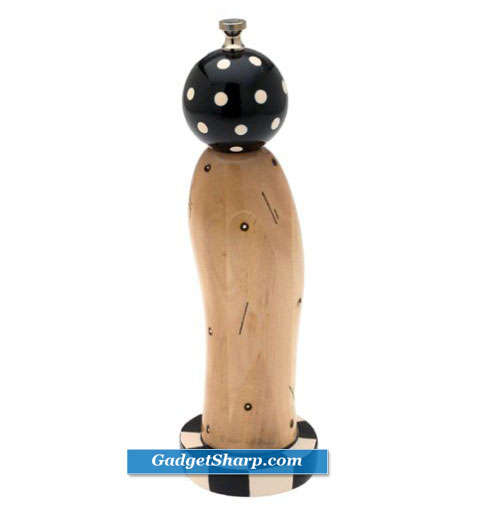 14. Round Automatic Gravity Operated Salt and Pepper Grinder [amazon]
* Ceramic mechanisms accommodate salt, pepper and spice
* No on or off switches-gravity turns the unit on and off
* One handed operation
* Fully adjustable grind mechanism
* Uses 6-AAA batteries(not included)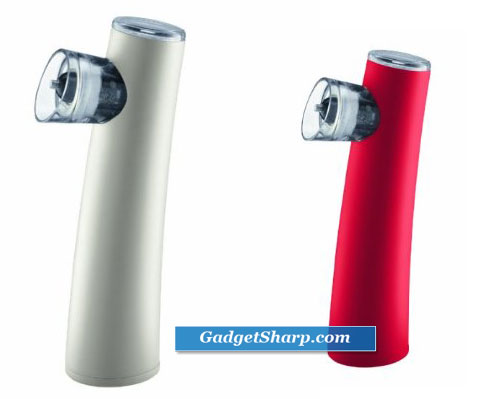 15. William Bounds PepArt Red Gourd Pepper Mill [amazon]
The milling mechanism of the William Bounds pepper mill was patented in 1964. Rather than grinding the peppercorns, the mill crushes them in a unique design where metal is not grinding against metal. The result is a pepper mill that won't jam or wear out. In fact this company has not had to replace a single mill due to wear in its entire 36-year history! Here William Bounds teams up with Ann Arbor artist Robert Wilhelm. His designs are inspired by Native American totems and fetishes and make striking "PepArt" for your kitchen or table.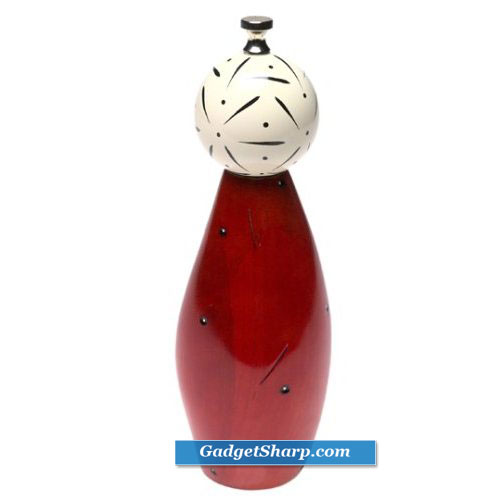 16. Georg Jensen Twist Salt & Pepper Mill Set [amazon]
If, at first glance, the TWIST salt and pepper mills look familiar, it may be that you are thinking of the object that inspired their form: maracas, the musical instrument. Taken in hand, the long handle and round base provide the perfect arrangement for a salt or pepper mill. It is comfortable to hold and easy to work, turning salt crystals and peppercorns into fine, even grains. The silk matte stainless steel is cool and soft to the touch. The designer was inspired by the shape of maracas - he says the idea appealed to his Scandinavian sense of humour. The grinder holds a generous amount and the grinder itself is made of ceramic. Each includes a plastic funnel for easy refilling and there is a function for adjusting the size of the grain. The set is a great gift for your favourite chef - or anyone who appreciates a table setting with personality.