Want to add a little pizazz to your kitchen, check the 17 Modern Oil and Vinegar sets in this post. Chic design is a delight to display and use, whether you're cooking in the kitchen, seasoning salads at the table. Use to serve and store olive oil, balsamic vinegar or soy sauce. Decorative shape fits more comfortably in your hand for better control when pouring. No doubt, any of them can be a great decoration for your kitchen.
1. Rachael Ray Stoneware 2-Piece EVOO Oil and Vinegar Bottle Set with Funnel [amazon]
The Rachael Ray EVOO Dispensing Bottle is uniquely designed for storing and keeping close at hand extra virgin olive oil (EVOO) for cooking and finishing dishes. Spice up a meal with by drizzling your favorite olive oil over a fine pasta dish or simply dab on a crostini to make a tasty little Tuscan treat. A perfect compliment to any meal.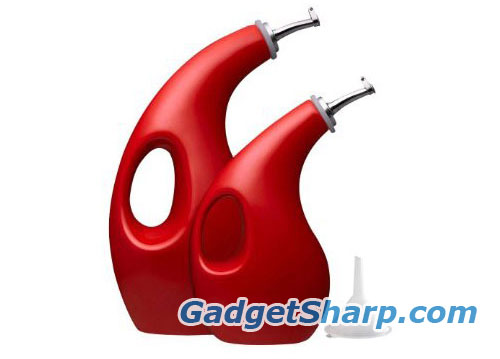 2. Eva Solo Aromagic Oil & Vinegar Carafe [amazon]
Add your favorite oil, vinegar, a couple of chillies, garlic, and fresh herbs to create a variety of mixes. The glass carafe comes with a tightly fitting top. Add your favorite oil, vinegar, a couple of chillies, garlic, and fresh herbs to create a variety of creations.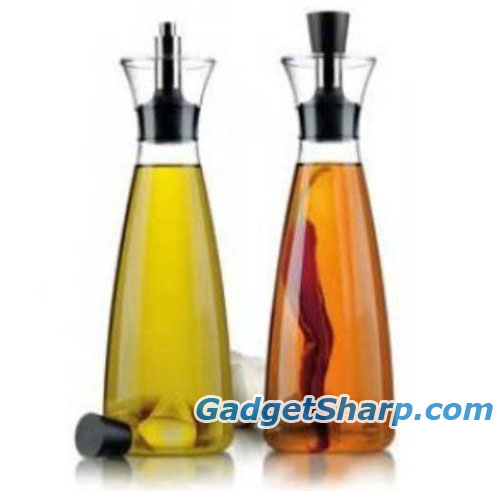 3. Crescent Oil & Vinegar Cruet [amazon]
This crescent-shaped cruet is made for convenient oil & vinegar dispensing in the modern kitchen. The unique shape adds a distinguishing element to any kitchen or table top. The cruet has separate chambers to preserve the distinct tastes yet with the 2-in-1 convenience.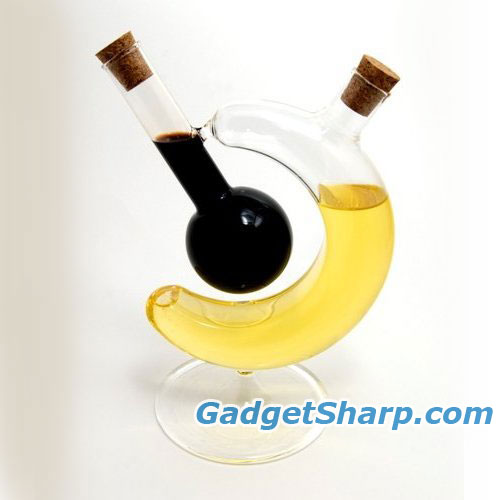 4. Retro Vinegar and Oil Amphora Bottles [amazon]
Made of eco-friendly recycled glass
Amphora retro shape
Available in vibrant colors
Adds colorful elegant touch to kitchen and tabletop
Height: 8in. Width: 6 1/4in. Capacity: 6.1oz / 180ml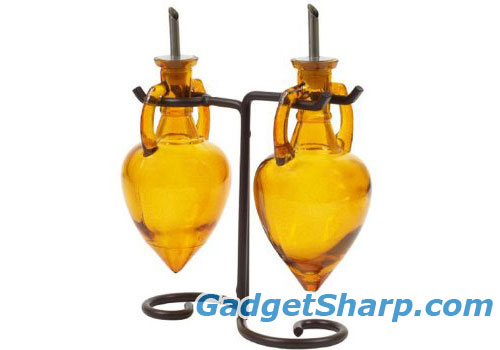 5. Norpro Grape/Oil/Vinegar Cruet [amazon]
As a beautiful and convenient presentation, this Grape Oil/Vinegar Cruet is ideal. Perfect for storing and serving oil and vinegar in one container. Fill the interior with balsamic vinegar to emphasize the shape of the grapes.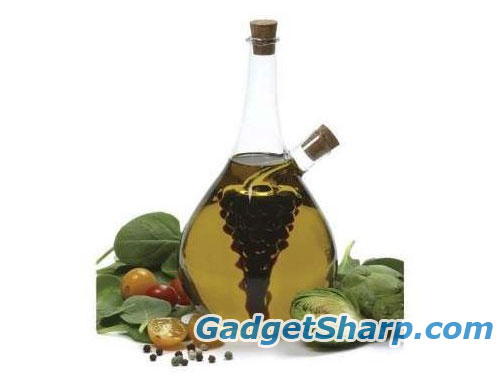 6. Frost Striped Vinegar & Oil Bottles Set with Caddy [amazon]
Dress it up a notch with these gourmet bottles. A must for your favorite olive oils and specialty vinegars. Use them for food preparation or directly on your table. The bottles have stainless steel pouring spouts with plastic caps secured to the spouts. This set features frost striped stylish glass bottles inserted into a handy caddy.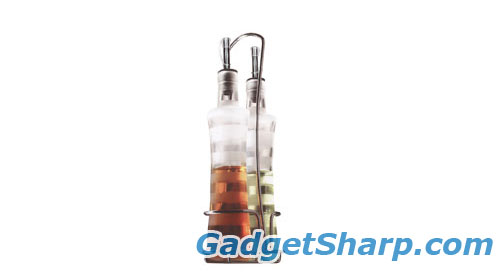 7. OIL/VINEGAR CRUET W/SPRITZER-BX [amazon]
Norpro Vinegar And Oil Cruets
Oil & Vinigar Cruets
Oil And Vinegar Cruet In One
Oil and Vinegar Cruet with Spritzer
Cruet Bottle In A Bottle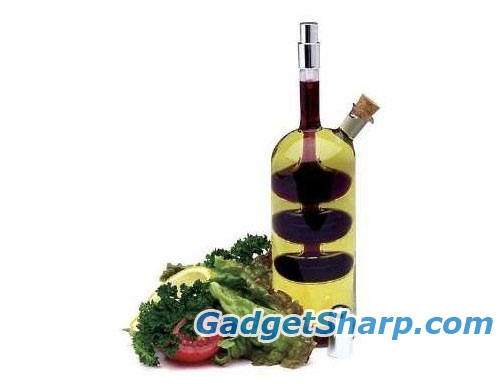 8. Cruet Set 6 Oz. With Wire Rack [amazon]
3-Piece oil and vinegar set includes wire rack with handle
Two stainless steel caps
Two 6-oz. cruets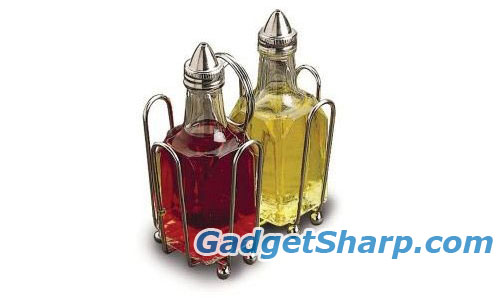 9. Bodum Barrique Oil and Vinegar Set [amazon]
Serve oil and vinegar with contemporary flair
Made of borosilicate glass
Dishwasher safe
Each cruet: 7Hx4" dia.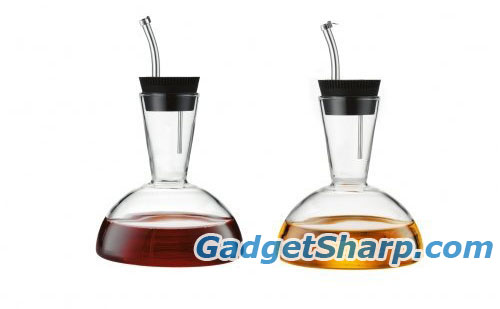 10. Miam.Miam Koda Porcelain Oil and Vinegar [amazon]
Oil and Vinegar set
Porcelain
Safe to use in the dishwasher
This is a really elegant design. Must look good on the table.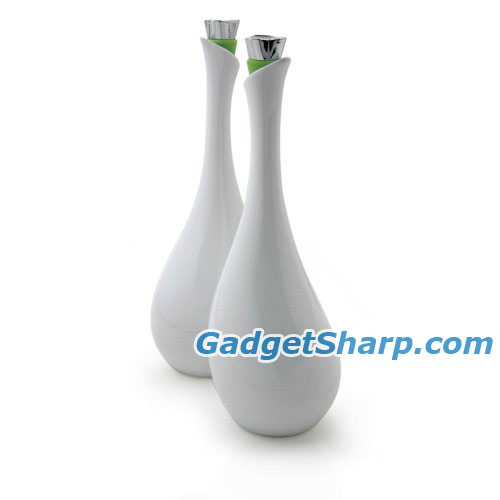 11. Spot on Ceramic Oil & Vinegar Set [amazon]
2.75" diameter x 8"
British style - imported directly from England & not available elsewhere in the USA or Canada
Part of the T&G Spot On range of ceramic kitchen & tableware
Crafted by T&G Woodware - brand leaders in quality kitchen and tableware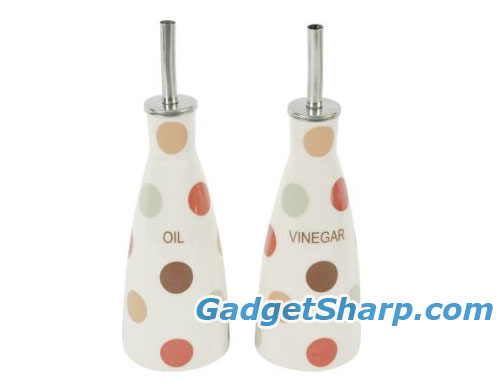 12. Olive Oil and Vinegar Cruet Grape Bunch Design [amazon]
The Grape Cruet oil & vinegar cruet. Each Grape Cluster Cruet is beautifully hand blown by artisans in Europe. Made of borosilicate glass. The grape cruet is elegant, yet not delicate, durable and practical.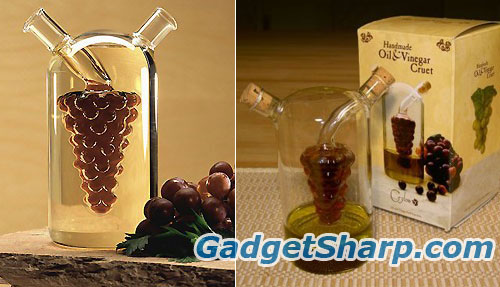 13. Miam.Miam Nebulea Glass Oil and Vinegar [amazon]
Miam.Miam 8-ounce double wall glass oil and vinegar cruet with stainless steel and silicone lids. The pour is regulated. Push on the lid to pour faster. You will never over oil your salad.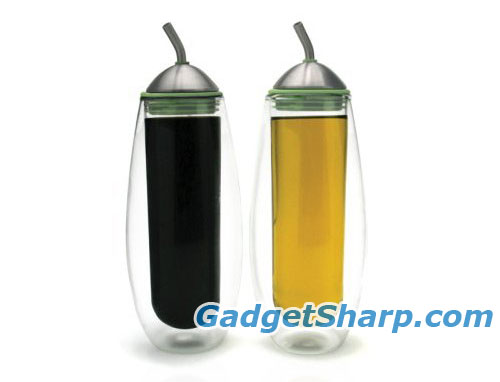 14. Amici Dispensers with Pourers [amazon]
Amici's mouth blown Bella dispenser bottle with pourer is fantastic for serving your favorite salad dressing or Oil and Vinegar at the Table. Each Bella dispenser is 7-1/2-Inch in height with a 16-Ounce capacity and is dishwasher safe.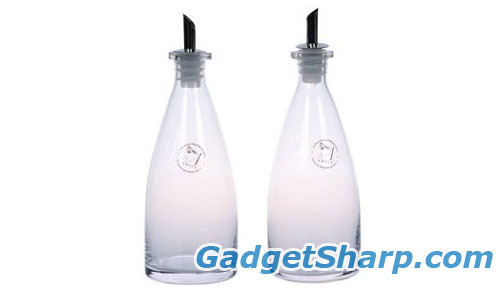 15. Cassia 5 pc. Cruet Set by Trudeau [amazon]
A touch of elegance mixed with a combination of design and function. Let this kitchen classic be the star of your table. This magnificent cruet set includes a light weight stand which holds oil and vinegar bottles and salt and pepper shakers, all made of glass with mirror finished stainless steel tops. Check out the rest of the Cassia collection. Oil and vinegar bottles - 7.5 inches h. Salt and pepper shakers - 4.5 inches h. Total height - 9 inches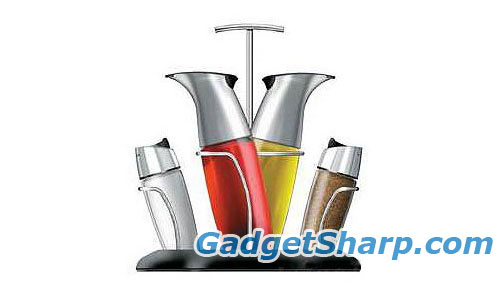 16. Fat Chef Oil and Vinegar Cruet Set with Holder [amazon]
New ceramic oil and vinegar cruet set with holder. Cruets measure approximately 7". The cruets do not have a seal lid. A great accent to your Fat Chef Theme kitchen.
17. Paperproducts Design Dark Olive Cruet Set [amazon]
Paperproducts Design Dark Olive Cruet Set is perfect for everyday or entertaining. Set includes oil and vinegar cruets and salt and pepper shakers on a metal tray with handles. Each porcelain cruet and shaker features painted olive branch.