Thanksgiving puts serious demands on any cook, and therefore makes a great excuse to invest in the latest cooking gadgets. That's why we put together this list of 12 Useful Cooking Gadgets of Turkey, assisting you in your annual demonstration of cooking prowess.
1. Brinkmann 42-Quart Turkey Fryer [amazon]
Turkey never tasted so good! Make great fried turkey in the comfort of your own backyard with the Brinkmann Turkey Fryer. This portable outdoor turkey fryer kit makes it easy to cook for a crowd with its 42-quart aluminum stockpot and 45,000BTU cast-iron burner. Features an over-temperature sensor that automatically shuts off the gas flow for added safety. Includes grab hook, 12-inch stainless thermometer, regulator, vented lid, and 1-ounce seasoning injector.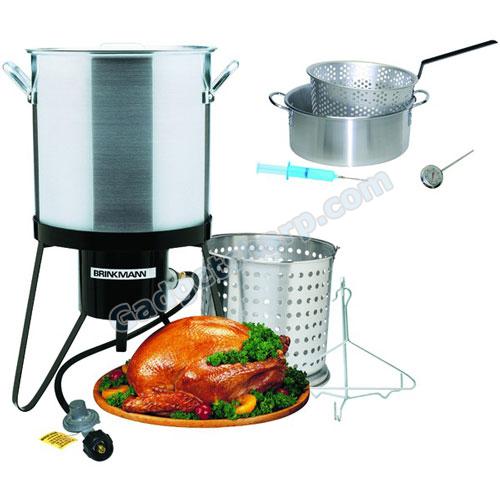 2. Masterbuilt Butterball Professional Series Indoor Electric Turkey Fryer [amazon]
Masterbuilt has teamed up with Butterball to create the best performing, most convenient electric turkey fryer that is indoor safe. This counter top safe fryer will allow you to cook up to a 14-pound turkey; plus, use one-third less oil than conventional turkey fryers. A tap drain has been added to help make clean-up quicker and easier.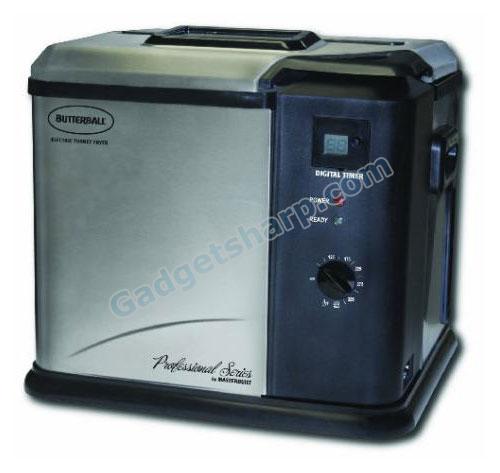 3. Char-Broil - The Big Easy Oil-Less Infrared Turkey Fryer [amazon]
The Char-Broil Big Easy oil-less infared turkey fryer represents the next step forward in utilizing infared style cooking. This patented technology takes the mess and hassle out of cooking a perfect turkey (up to 16 lbs.) or other large cut of meat (chickens, pork tenderloings, or beef roasts). With no hot cooking oil to purchase, splatter, or dispose of, the Char-Broil Big Easy is the delcious, safe and easy alternative to oil-fried turkey. Cooking is done inside a double-wall cylindrical cooking chamber, powered by a fullly enclosed propane burner. Char Broil's patented Heat Wave infard technology delivers juicy, crisp, flavorful results every time. Your favorite marinades can be injected and even dry rubs and sauces can be used for added flavor.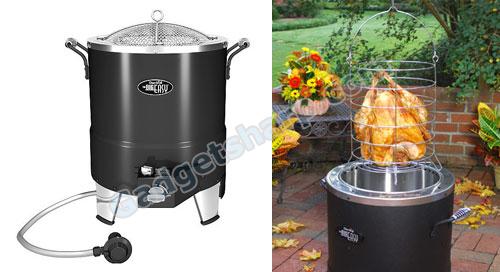 4. Super-fast Water-resistant Digital Pocket Thermometer [amazon]
The RT600C offers a Super-Fast, reduced-tip probe for 5- to 6-second readings. The sealed body of the thermometer features rubberized switch panels, a robust LCD window, and it withstands temperatures to 190?F so you can record peak temperatures in commercial dishwashers using the Min/Max feature. There are many digital pocket thermometers on the market that are similar in shape and cost. BUT, none are this fast! Most of the others have probes that are too short. Some have welded or brazed joints in the shaft which can shelter microbes or are easy to break. And, the body of the RT600C is just plain tougher than the others. Speed, reliability and affordability. The RT600C is a better choice for lab work, food processing and high- volume food service.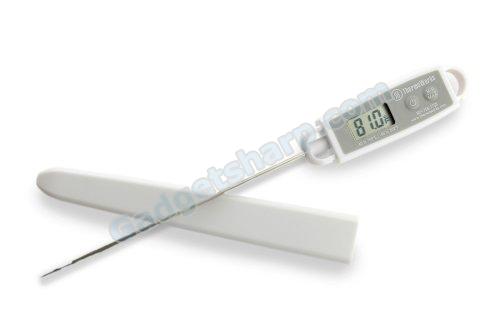 5. Camp Chef TKYC Turkey Cannon [amazon]
The Turkey Cannon is a unique Turkey roasting system for outdoor barbecues and indoor conventional ovens. This versatile accessory allows you to roast fantastic beer can turkey on your standard outdoor barbecue grill or indoors in your oven. Pop open a can of your favorite beverage, pour the liquid into the roasting arm and place the poultry over the top Close the lid on your barbeque grill and let them roast. The Turkey Cannon is fast and easy. The beverage adds flavor and moisture to the poultry creating succulent flavor that will have you coming back for more.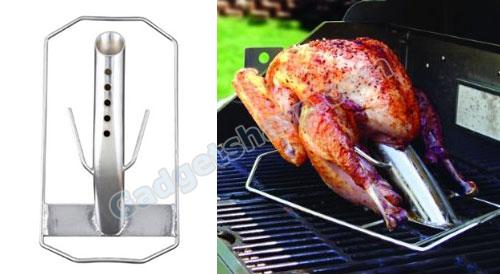 6. RSVP International LFT-2 Endurance Poultry Lifters 2-pc [amazon]
Grab this set of lifters next time you need to remove your heavy bird or roast from the pan onto a cutting or serving surface. The sharp, 5-in. prongs pierce meat easily while the sturdy handles afford a confident grip. Made of 18/10 stainless steel.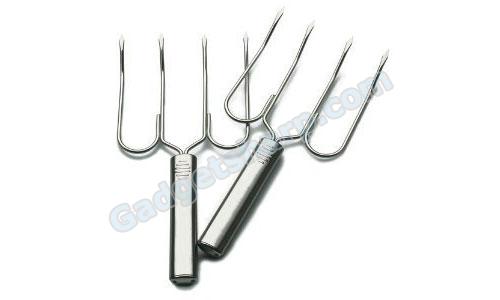 7. King Kooker 26-Quart Aluminum Drain Basket for Turkey Pots [amazon]
Add a drain basket to your turkey fryer for all of your boiling needs. Designed for use with King Kooker's 26-quart turkey pots as well as other pots that measure 11-1/4 by 11-1/4 by 17 inches (width by depth by height), this basket features aluminum construction for optimal durability and easy handling. A durable handle ensures years of safe handling.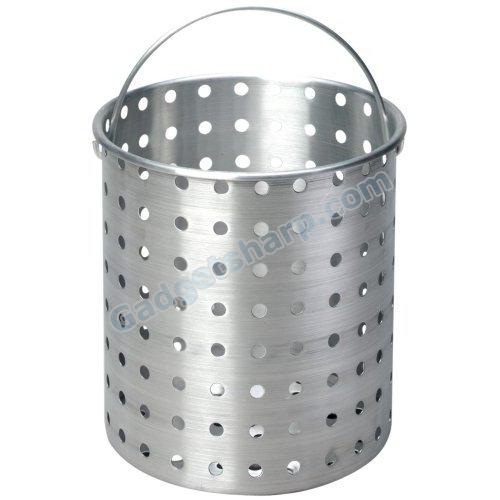 8. Turkey Holder [amazon]
The Two-part Turkey Holder is a pair of stainless steel, bell-shaped baskets that attach directly to a spit rod on your rotisserie. Ideal for rotisserie cooking turkeys, the Turkey Holder is also perfect for shoulders or any other large type of meat.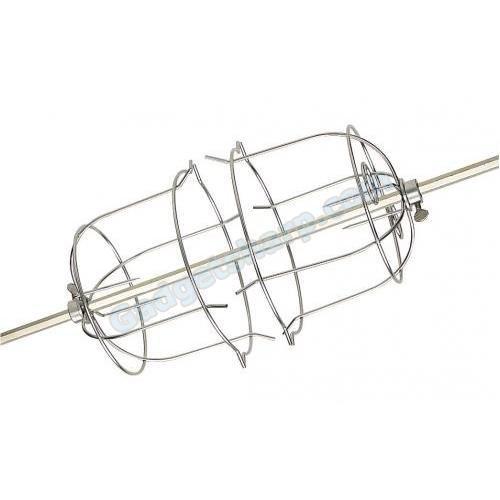 9. Bayou Classic 2-Ounce Stainless Steel Seasoning Injector with 2 Stainless Steel Needles [amazon]
This Stainless Steel Seasoning Injector has a 2-oz. Capacity and comes with 2 Stainless Steel Needles: 1 for Liquid Marinaide & 1 for Minced Marinaide.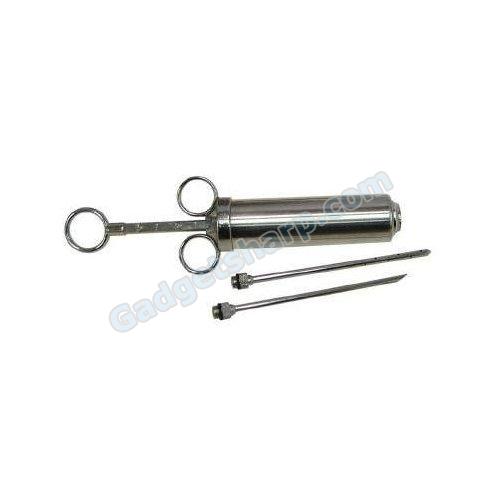 10. HIC Turkey Platter, Porcelain, 17.5 [amazon]
Great for entertaining a crowd, this Arthur Court Oval Turkey Platter features a generous surface area, with the fabulous design and detailing Arthur Court is known for. The motif is a pleasing combination of a large turkey, embellished with grapes and grape leaves, rendering it perfect for mixing and matching with your existing Arthur Court collection. This piece is so elegant and beautiful you may find a permanent home for it as a display piece. This platter measures 21-1/2 X 16 and is manufactured using Arthur Court's signature premium aluminum alloy.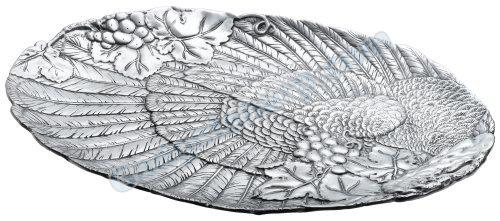 11. Nifty Home Products Non-Stick Gourmet Turkey Lifter [amazon]
Heavy-guage wire lifts the heaviest turkeys out of the roasting pan. The unique easy-grip handles allows user to move meat from the roasting pan to the carving board with ease. The Gourmet Turkey Lifter folds flat for easy storage and features a single-unit design so there are no parts to lose. Easy to clean and dishwasher safe.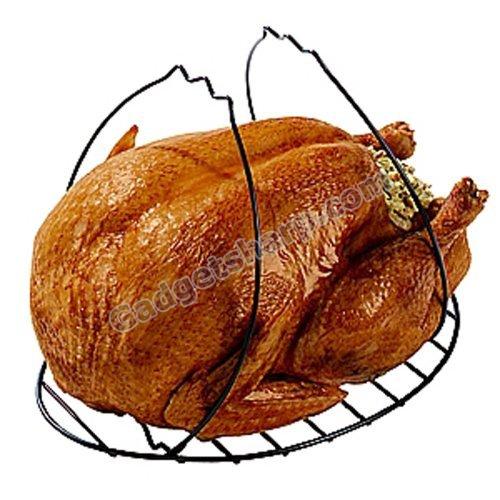 12. All-Clad Stainless Roasting Pan with Rack and Turkey Forks [amazon]
It's kind of like buying your first sofa; purchasing a real roasting pan (tin foil ones from the grocery store don't count) is a marker for adulthood. Don't trust those special occasions and holiday gatherings to inferior cookware. After all you're not just making good food, you're making memories. This superbly crafted roaster comes with a non-stick roasting rack and stainless steel turkey lifters. Now all you need is the bird!