Get kitchens organized with a handy and attractive spice rack! In this post, we rounded up 13 Cool Spice Rack Designs which are designed to revolve, so the spice of your choice is readily at your fingertips. They are appealing to the eye and great help during the cooking. Just a prefect gift idea for novices or seasoned chefs alike.
1. Olde Thompson 16-Jar Orbit Spice Rac [amazon]
This handy, well-stocked spice rack comes with 16 sealed jars filled with frequently used spices. Stainless jar caps bear the names of the spices in clear, black lettering. The rack revolves, bringing all the glass jars into view, so finding the spice of choice is easy. The rack itself is handsome, made with a black base and a matching stainless finial. It fits neatly on any countertop or stores easily in a cabinet. The set makes a great gift idea for new homeowners or newlyweds.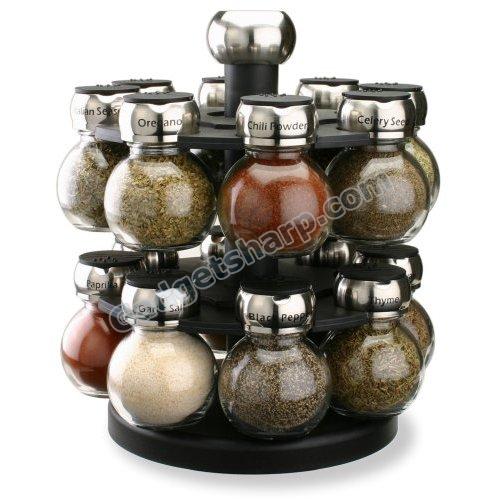 2. Orii Gourmet Garden Flower Spice Rack with 16 Jars of Seasonings [amazon]
This ultra-efficient flower bloom-shaped rack holds 16 of your favorite spices. Each spice is held in a cylindrical glass bottle that fits easily into the blossom rack. The polished black metal screw lids feature shaker openings in varying degrees, so that nothing is left to chance. The ergonomically designed rack is made of polished black plastic and rotates to comfortably put every spice at your disposal. 16 seasonings include basil, marjoram, parsley, oregano, dill weed, coriander leaves, chive, garlic bits, onion slice, onion salt, garlic salt, cinnamon powder, italian seasoning, turmeric, thyme and rosemary.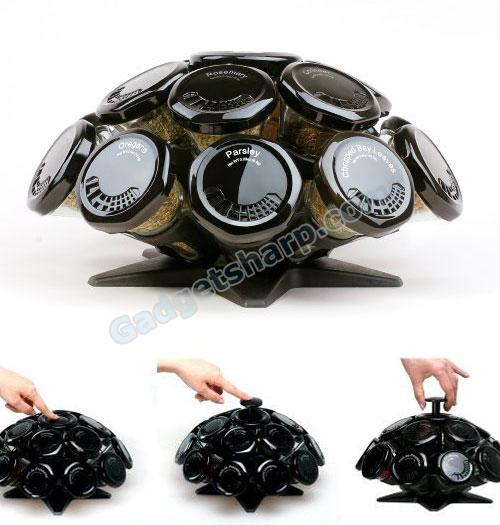 3. Spice Stack [amazon]
Spice StackTM makes organization a simple matter and maximizes space. Three tiers organize up to 27 full-size or 54 half-size bottles. Each tier is equipped with a pull out drawerthat flips down on hinges for viewing at a glance. Has a logical, easy to operate design that fits all cabinets. Drawers are color coded to divide spice varieties.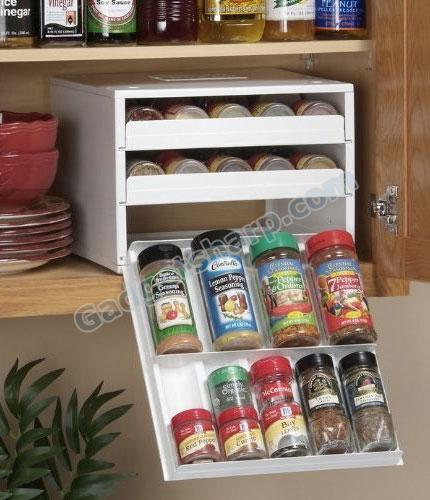 4. Prodyne M-912 Stainless Steel Spice Rack, 12-Bottle [amazon]
Stylish brushed stainless rack sits on counter or mounts on wall. Comes with 12 glass spice -bottle with matte black lids.
5. KitchenArt Pro Auto-Measure Spice Carousel [amazon]
The KitchenArt Professional Series features elegant award winning designs with patented features. These unique and beautiful utensils come in champagne satin finishes. Auto-Measure dial measures 1/4 tsp. with each click. Shakes and pours. 12 canisters. Includes 55 spice labels.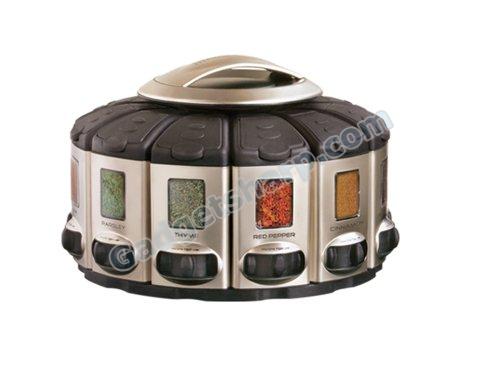 6. Olde Thompson 20-Jar Stainless-Steel Square Spice Rack [amazon]
Get kitchens organized with a handy and attractive spice rack. This model from Olde Thompson is designed to revolve, so the spice of your choice is readily at your fingertips. It comes with 20 glass jars with chrome lids, 16 of which are filled with popular and favorite spices. The spice rack looks equally impressive in the kitchen prep area or on the counter or table top. It makes a great gift idea for novices or seasoned chefs alike.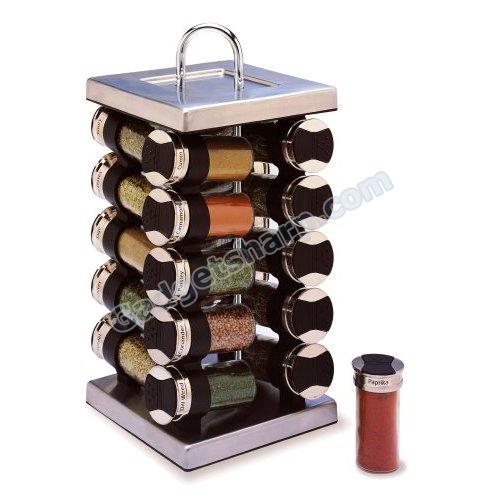 7. Kamenstein 6-Canister Magnetic-Strip Spice Rack [amazon]
A marvel in space efficiency, this spice rack mounts to any wall or door and holds up to 6 spice canisters in place magnetically. The metal strip of the rack securely holds the aluminum canisters in place. See-through lids give a thorough view of the spices at a glance, so it's easy to find the one needed. A sifter side makes it easy to dispense the spices. The set includes 27 spice labels and 6 fresh spices.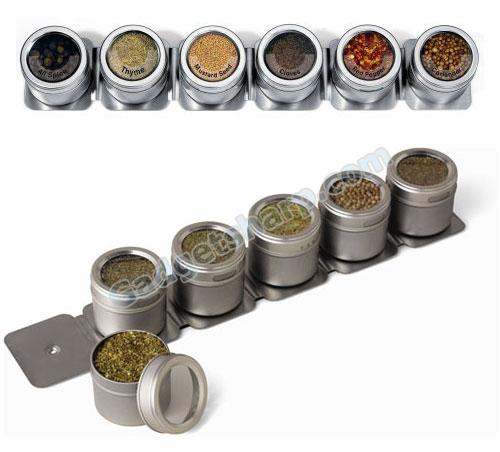 8. Zevro MRS800 Zero Gravity 8-Piece Magnetic Spice Rack [amazon]
With its sleek, modern-looking design, this wall-mountable magnetic spice rack keeps spices within easy reach while saving on counter space. The unit provides six plastic spice canisters, each holding up to 1-3/4 ounces of anything from cinnamon, allspice, and nutmeg to chili power, garlic powder, and basil (spices not included). Adjust the lids from closed to sprinkle or pour with a nudge of the finger for convenient one-handed use. The base of the canisters magnetically attach to the stainless-steel-accented metal shelf, three sitting upright above and three hanging below. In addition, the canisters offer an airtight seal to preserve freshness and clear viewing windows for identifying contents at a glance.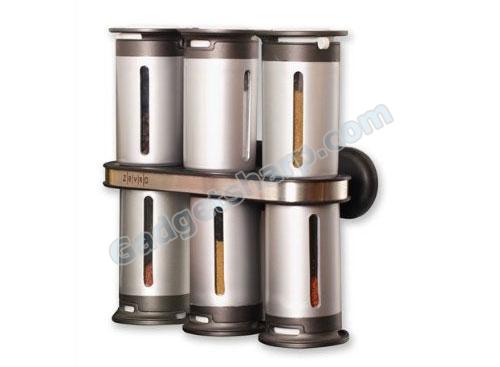 9. RSVP International WID-12 In-Drawer Spice Rack [amazon]
If your kitchen countertops are overly cluttered and walls are filled to capacity, consider this rack as an alternative for storing spices. Its horizontal shape fits neatly inside drawers; the jars recline at an angle so you can easily identify which spice or herb you need. The set includes 12 glass jars with stainless steel lids and a complete set of clear spice labels for you to fill out.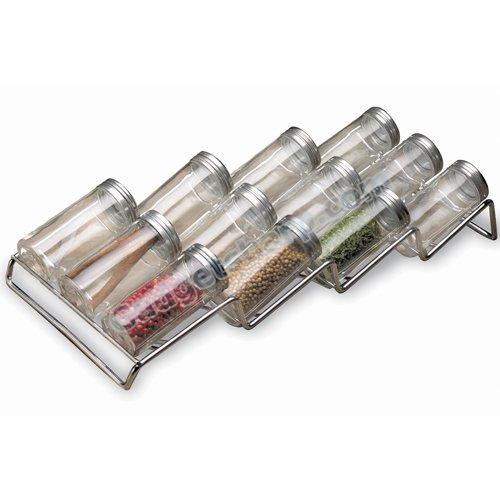 10. Elite Carousel, 8 Auto Measure Jars [amazon]
The KitchenArt Elite Series Carousels features award winning desings with patented features. Rotating base provides easy-access, making it great for storing spice or candy sprinkles. Patented Auto-Measure dial measures 1/4 tsp. with each click. Shakes and pours. 8 spice bottles on a rotating base.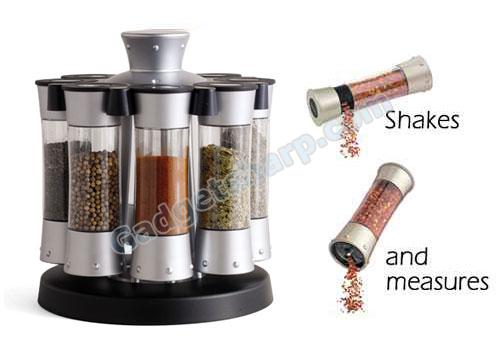 11. Orii Gourmet Spice Pod 27 Jar Triple Tier Spice Racks [amazon]
Space-saving tiered design stores 27 spices in a 12x12 inch footprint, including Spices include onion salt, ground cinnamon, garlic salt, chives, minced garlic, ground turmeric, basil, parsley flakes, rosemary, marjoram, thyme, oregano, cilantro, onion slice, italian seasoning and dill weed.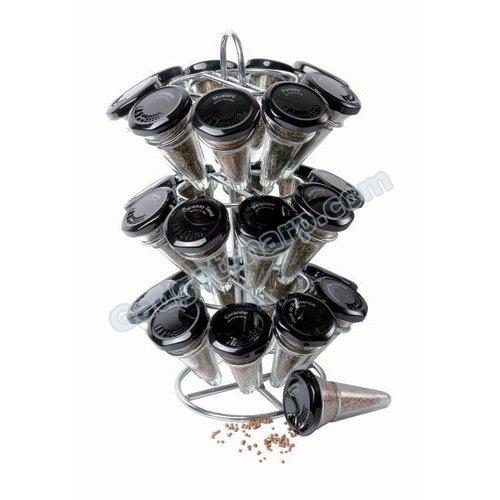 12. Kamenstein 16-Jar Beechwood Revolving Spice Rack [amazon]
This revolving spice rack takes the challenge out of keeping herbs and spices organized. On the countertop or in a tall kitchen cabinet, it holds 16 clear glass jars prefilled with a variety of seasonings. Measuring 10-1/2 inches tall and made of natural wood, the rack maintains jars on their side, so it's easy to read the label printed on the cap. Each rack comes with a different set of common herbs and spices, such as basil, dill, and parsley, plus unique custom blends, such as pizza, Cajun, and fish seasonings.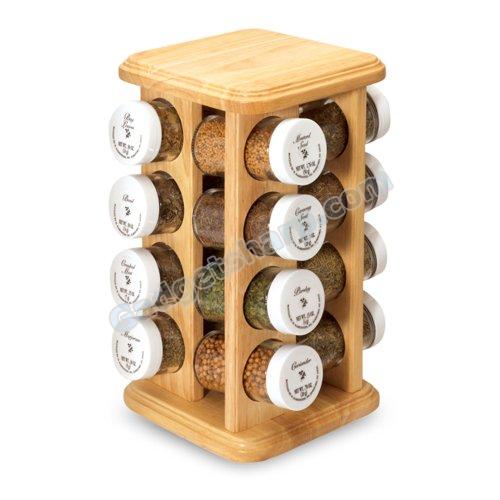 13. 20-Jar Flower Spice Rack [amazon]
Olde Thompson 20 Jar Flower Spice Rack. Contemporary spice rack perfect for countertop storage of your spices. Revolving unit is attractive and functional in design. Unigue flip top lids, with shake or pour feature. Glass jars come filled with 20 of your favorite spices.